The theme of February for the Carolina Hurricanes was that of high highs and low lows. They flirted with first place in the competitive Discover Central Division thanks to an outburst of offense. But, they also had to overcome an injury to their red-hot goalie Petr Mrazek and face a tough schedule to end the month that saw them slide down the standings to the middle of the pack.
Gaining ground will not be easy. The Hurricanes have the Stanley Cup champion Tampa Bay Lightning, and runner-up Dallas Stars to battle against in their division, and also have to manage the emergence of the first-place Florida Panthers and reinvigorated Chicago Blackhawks.
Sebastian Aho and Andrei Svechnikov are two guys the Hurricanes rely upon for offense, but they haven't as dominant this season as they've shown in the past. And with winger Teuvo Teravainen sidelined with a concussion, the Hurricanes needed contribution from their depth. Fortunately, in February, several of those key players evolved their games and stepped up in big ways.
Third Star: Jordan Staal
Make that back-to-back bronze medals for 'Canes captain Jordan Staal, who continues his torrid pace in the 2020-21 season. The 32-year-old center tied for the team lead in goals (six) and points (11) in February, and currently sits just two points off the overall team lead held by Aho, with two fewer games played.
It always felt like Staal should be rewarded more offensively given his size, power and work ethic, but it seems like everything he's touched around the net this year has turned to gold. He looks noticeably more relaxed with the puck, and is setting up teammates with confidence and ease. Of his eight assists this season, five are primary, and of those five, two were direct setups on game-winners.
The only thing holding him back from a higher spot on the podium is longevity. Staal's shooting percentage of 24.1 percent is simply unsustainable, and that started to show in the latter portion of the month – he's currently riding a six-game pointless streak. What's more telling, however, is that he's scored just one goal in 10 combined games against the Panthers, Lightning and Blackhawks – the teams the Hurricanes are battling in the standings.
Staal may be trending downward, but he's still in the midst of the best season of his career statistically, and there's plenty of time to break the spell. With Svechnikov bumped off his line due to the Teravainen injury, Staal's focus may have shifted back to a more defensive mindset. We've seen what he can do offensively this year, he just needs to do it against the good teams.
Second Star: Vincent Trocheck
When Vincent Trocheck was acquired by the Hurricanes at last season's trade deadline, the question on everyone's mind was: could he replicate his 75-point season from just three years ago? Well, after somewhat of a slow start with the Hurricanes last season, it seems he's become adjusted, because his play in February was everything and more than what they hoped for when they traded for him.
Trocheck added 11 February points to his total of 17 this season, which leads the Hurricanes. His 10 goals are also first on the team, and he's also sporting a stellar faceoff percentage of 58.9 percent. The Hurricanes are 4-0 in shootouts this season, and Trocheck has gone 3-for-4 in his attempts, scoring two game-winners.
What I like most about Trocheck's game this season is his ability to pilot his own line. While the Hurricanes' lines have been anything but concrete, Trocheck has played nearly half the season centering Nino Niederreiter and Martin Necas, which has freed up guys like Aho and Svechnikov to run their own lines.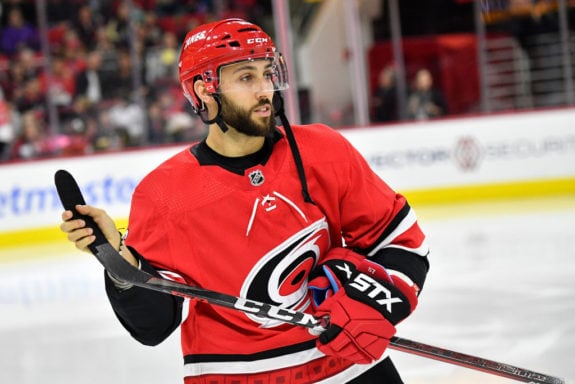 Trocheck can be partly credited for Niederreiter's hot start to the season as well. The Swiss winger is typically a mainstay on the top line with Aho and Teravainen when the 'Canes are healthy, but he has a habit of disappearing when he gets stationed away from the two superstars. Thankfully, it turns out Trocheck and Niederreiter have some chemistry of their own, as Niederreiter has been directly involved in five of Trocheck's eight even-strength points.
The Pittsburgh native's value lies in his rare blend of skills – scoring, speed, physicality and defensive responsibility. Now, the Hurricanes just hope to get Teravainen back from injury soon so they can return to playing head coach Rod Brind'Amour's preferred style of hockey – a deadly, but balanced attack.
First Star: Brett Pesce
Steady, elite, reliable, and now Brett Pesce can add "offensive powerhouse" to his resume. Well, maybe that's an overstatement, but 11 points in 14 February games is pretty good for a guy who's never broken 30 in his career.
The stay-at-home defenseman has always been an invaluable piece of Carolina's blue line, but Pesce has added a new element this season with his improved puck-moving and offensive awareness. The puck seems to be finding Pesce everywhere, and he's been much more deliberate in his decision-making, which has given the Hurricanes yet another piece of offensive pressure. His latest goal, which came against the Lightning on Feb. 25, is a perfect example of his confidence in motion and his willingness to join the rush.
Pesce's emergence comes at a much-needed time while Dougie Hamilton has been struggling to find his scoring touch, and Jaccob Slavin has been trying to regain his step since undergoing COVID-19 protocol in late January. Pesce is now tied with Hamilton for the team lead in points among blueliners, but Pesce's all-around play has made him easily the most valuable defenseman for the Hurricanes this year.
Pesce's body of work this season includes 28 blocked shots (first), 12 takeaways (second), and 22:32 time-on-ice (TOI) per game (second). He's also the main penalty killer for the Hurricanes, logging an average of 3:13 shorthanded TOI.
The great thing about Pesce is he can play with any defenseman on the team. He's spent most of the season partnered with Brady Skjei, but has taken shifts with Slavin and Jake Gardiner regularly as well. Personally, I'd like to see what Pesce can do for a few games next to Jake Bean or Haydn Fleury. The two young defensemen have had their legs moving every night but haven't been able to escape the third pairing. A vibrant player like Bean, who could use an extra line of security behind him, would have his skillset complemented beautifully by the defensive specialist Pesce.
Honorable Mention: Brock McGinn
As great of a month as Brock McGinn had, he sadly just misses the cut in what turned out to be a competitive month for three-star honors. McGinn potted a team-high six goals in February and chipped in four assists, finishing one point shy of the lead for the Hurricanes. He was so hot in February, he had already matched his goal total from last season just 13 games into the year.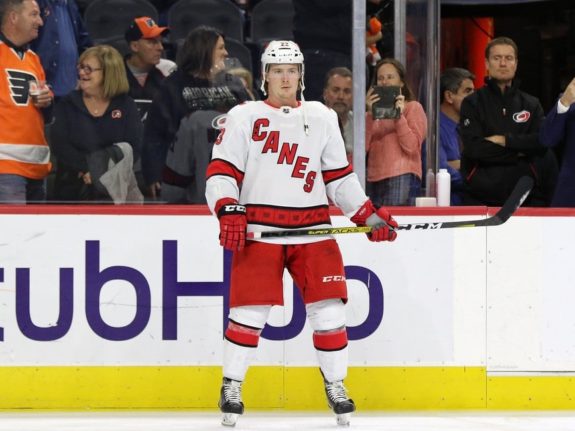 Unfortunately, the knock on McGinn lies with his consistency. He enjoyed a four-game goal streak near the beginning of the month, and exploded for a four-point (2G, 2A) night on Feb. 15 against the Columbus Blue Jackets. But he only has one point in his last six after being recently bumped off the top line with Aho.
With the Hurricanes slowly getting their injured players back, the Fergus, Ontario-born winger will return to his familiar checking role, but it's nice to know he can get it done offensively if called upon.
Teravainen and Mrazek are the only Hurricanes still sitting due to injury. Carolina's recent skid can't be blamed to injuries, however. It was a brutal end to the month with four straight games against the Lightning capped off by a meeting with the Panthers, but the Hurricanes will have a much more forgiving schedule in March, with just four of their 15 games coming against the Florida-based teams.
---
---
Matt Cosman is a Sheridan College print journalism graduate from Oakville, Ontario. I've been with THW since 2019 covering the Carolina Hurricanes, one of my favorite childhood teams. When I'm not in my hockey bubble you can probably catch me jamming out on the piano or losing money at the poker tables.