With the turn of the calendar, February is in the air and the Carolina Hurricanes can take a deep breath now that their early-season struggles are hopefully behind them.
Having only played six games in January due to interruptions from COVID-19 procedures, the Hurricanes may seem like they're behind the pack, but their performance says otherwise. The Hurricanes stormed to a 5-1-0 record, including three straight wins since returning to play on Jan. 28. What's more impressive, is they did that shorthanded, with star players like Teuvo Teravainen and Jaccob Slavin unavailable to play during that streak.
The Hurricanes have had contributions from every part of their lineup, but with the first month of the 2020-21 season now in the books, let's recognize the best, and award the three stars of the month for the red-hot Hurricanes.
Third Star: Jordan Staal
He's 15 seasons into his career and has 965 games under his belt, and this may be some of the most engaged hockey Jordan Staal has played in years. The Carolina captain has certainly stepped up since returning from his absence, with a goal and two assists in two games, but Staal has been a force for the Hurricanes this year at both ends of the ice.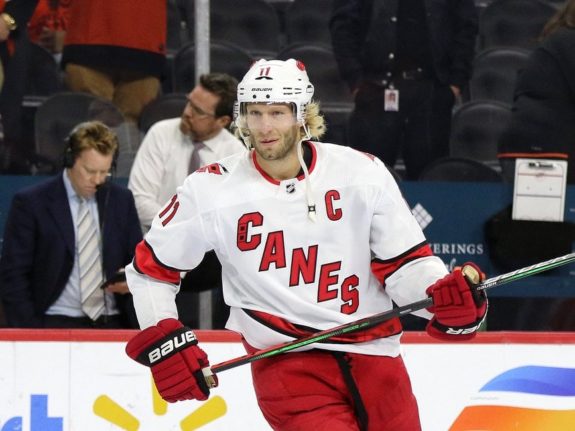 In the four games Staal dressed for in January, the Hurricanes went 4-0-0, and allowed just four goals against. His four points placed him only behind Sebastian Aho, Andrei Svechnikov and Vincent Trocheck for the team lead. Staal is off to a fantastic start considering how snakebitten he was in the scoring department last season. His 27 points in 68 games in 2019-20 was the second-lowest total of his career.
Beyond his improvement in the offensive zone, Staal has been his usual self as an anchor down the middle. He averaged 16:59 time-on-ice per game (TOI) and 3:07 of shorthanded TOI last month – which placed him in the top-15 of NHL forwards. Staal also led the team in hits (14) and was a monster in the faceoff circle, winning a spectacular 65.4 percent of his draws. His faceoff prowess essentially won their Jan. 28 game against the Tampa Bay Lightning, when he was able to gain possession off of the overtime faceoff and eventually set up a beautiful game-winning goal by Martin Necas.
Beyond the stats are the smaller intricacies of the game that Staal consistently excels at. His board play, puck hounding and focused pursuit have been as strong a line of defense as the two defensemen guarding the back end, and his size and strength down the middle have made it nearly impossible for opponents to gain any offensive traction.
Staal is leading by example this season, and combined with the improved play of Aho and Vincent Trocheck, it's giving the Hurricanes a powerful force to combat against at center.
Second Star: Andrei Svechnikov
Andrei Svechnikov has been a juggernaut on offense this season and the main catalyst of the Hurricanes' attack. He tied for the team lead in goals (four), points (six), and shots (19) in January, and developed fantastic chemistry on Aho's wing in Teravainen's absence.
Svechnikov has also shown tactical improvements on the power play, where he scored three of his six points. The 20-year-old has improved his strength and shot release over the offseason, which makes the 'Canes power play threatening from all angles. Through six games last month, they operated at 26.9 percent, which ranked 11th in the league.
The 2020-21 campaign is a special one for Svechnikov as he's vying for his first big contract at the end of this season. That also comes with added expectations now that he's in his third professional year. Head coach Rod Brind'Amour made that clear when he separated the Russian sniper from the No. 1 line with Aho and Teravainen early in the season – Svechnikov is expected to be the spark on his own line to help the Hurricanes create more spread pressure. So far, he's succeeded at that.
Svechnikov has been the Hurricanes' most dangerous player most nights. With the fire of a contract year burning under him, and the prime opportunity to avoid other teams' toughest defensive matchups, he's well-positioned to have an extraordinary season.
First Star: Petr Mrazek
If you're looking for an MVP one month into the season, look no further than Hurricanes netminder Petr Mrazek. In four starts, Mrazek led the NHL in save percentage (.955), goals-against average (0.99) and shutouts (2). The Hurricanes' stellar defensive play has been a huge factor in winning them games this season, and that begins with Mrazek. Unfortunately, just when it seemed like he was finally on the cusp of establishing himself as the solidified No. 1 goaltender, yet another obstacle appeared.
Mrazek was pulled just 2:47 into the Jan. 30 game against the Dallas Stars after 'Canes forward Max McCormick collided into Mrazek in goal. Holding his wrist, Mrazek quickly fled to the Hurricanes' locker room and didn't return. Backup James Reimer swapped in and finished the remainder of the game, picking up a 4-1 win.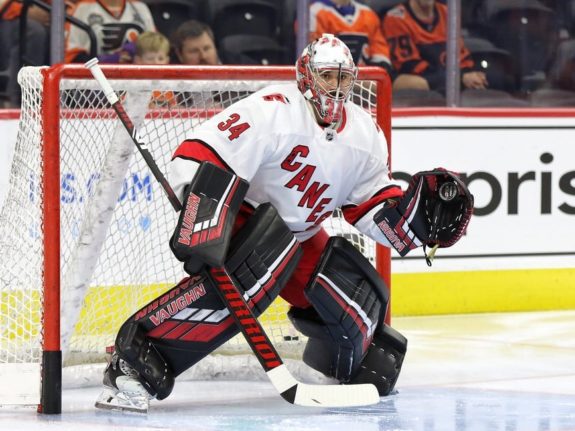 Even if he has only played three complete games, Mrazek's poise in net has been a huge confidence booster. Goaltending has been an issue in Raleigh ever since the glory days of Cam Ward, and it's been somewhat of a rotating door since. Mrazek is a fan favorite with a thrilling style of goaltending to watch, but consistency has always plagued him. Just when it seemed he was off to a vigorous, confident start, it seems the injury may keep him sidelined longer than first anticipated.
The Hurricanes are in good hands with Reimer in the meantime, but when Mrazek gets back, he'll likely resume the No. 1 position. Both goalies are set to become unrestricted free agents at season's end, so they will be fighting every night to prove themselves. In Mrazek's case, as long as he returns healthy, it'll be his job to lose.
Theme of January 2021: Adapt and Overcome
The Hurricanes were thrown a few curveballs early in the season, but were able to adapt and overcome. In such a short season where every game is played within your division, those are great qualities to have in your team.
Carolina will play 14 games in 28 days in February – nine of those on the road – making this a crucial stretch in the season. While they're set to get a slew of roster players back from COVID-19 protocol, Mrazek's future status remains uncertain. The Hurricanes will have Alex Nedeljkovic backing up Reimer in the meantime, and he'll be expected to get some starts down the road in relief of Reimer.
---
---
Matt Cosman is a Sheridan College print journalism graduate from Oakville, Ontario. I've been with THW since 2019 covering the Carolina Hurricanes, one of my favorite childhood teams. When I'm not in my hockey bubble you can probably catch me jamming out on the piano or losing money at the poker tables.