The Buffalo Sabres' first month of the season saw the team go 4-4-2 while playing 10 games in 18 nights. An average record for what is so far, an average team. The majority of those games were against the Washington Capitals. You could (like some) say that the Capitals' tremendous early record is in large part because they played the Sabres so much, but that wouldn't be completely fair, even if it is close to the mark.
Although the Sabres lost three out of four matchups against the Caps, they were all pretty tight games, even if the opposition was without their three-time Hart Trophy winner, their No. 1 centre, one of their top defensemen and their starting goaltender for two of those games. That set of four games – interrupted by a back-to-back against the Philadelphia Flyers – tells you all you need to know about the Sabres so far this season. It can be summed up neatly with a familiar old cliche.
Sabres Close But No Cigar
The special teams have been exceptional. The team is in the top-10 in the National Hockey League in both the penalty kill and the power play. In 5-on-5 play, however, it's been the case more often than not that the Sabres are simply failing to capitalize on their chances when they are able to generate them. However, there are some promising metrics in that regard. The Sabres have led their opponents in scoring chances 7 times out of the 10 games so far and have had more high-danger scoring chances than the other team in 8 out of the 10 games. Also in eight games, their expected goals for was higher than the team they played against. The difference between coming close to scoring and actually putting the puck in the net, though, is what makes a team playoff-bound or a team headed for the golf course.
Close really only does count with horseshoes and hand grenades.
Third Star: Jack Eichel
Captain Jack, the Eichel Tower himself, needs to be better plain and simple. But it's hard to pick on him too much. He leads the team in points with 11, but only has two goals. He did score two shootout beauties, both of which won the match for the Sabres and that counts for a lot. When you consider that he also leads the team in game-winning goals, tying with Sam Reinhart who had the other, Eichel is the reason for three of the four victories this past month. And in a 6-1 drubbing of the Flyers on Jan. 18, he was also huge, notching three assists.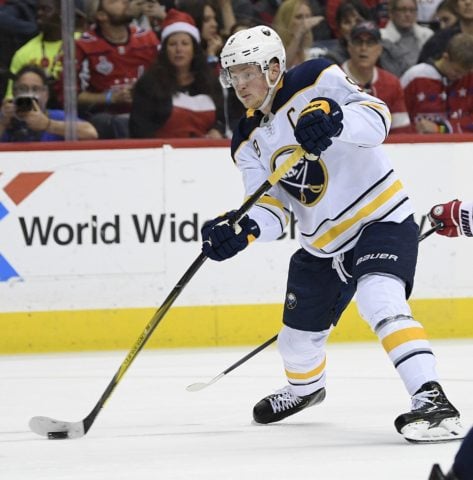 Can the captain be better? Yes. His 5.1% shooting percentage is about half of what it has been in his career. While on the ice, he's being outscored by opponents 6-4. It's worth mentioning again that he only has two goals, and only one of those has been on even strength. But all in all, Eichel deserves some recognition this month for what he's been able to do playing against the opposing squad's stiffest defense night in and night out. In fairness, that's something he should be used to by now. Still, it's safe to say we haven't seen his best just yet. With the Sabres already about 20% through their schedule, he needs to fire up the engine sooner rather than later.
Second Star: Victor Olofsson
Olofsson leads the team in power-play goals (three) and power-play points (eight). He trails only Connor McDavid and Leon Draisaitl for the league lead in this regard. That puts him in some pretty esteemed company. Over the course of his career, he is also right up there with the best. Olofsson's 16 power-play goals put him third in the NHL behind Draisaitl and David Pastrnak who have 20 each since he made his debut in the NHL on March 28, 2019. That's a bit of a statistical stretch, but this player certainly has proven to be a lethal weapon on the man advantage.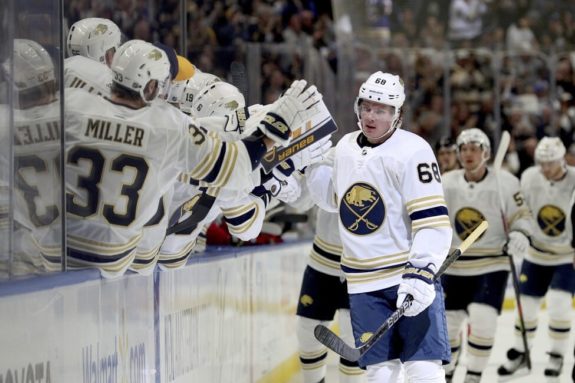 Olofsson is riding a six-game point streak heading into play on Feb. 2, the longest streak of his career. The sophomore slump, a common theme in the NHL, is nowhere to be found in the slick-sticked Swede.
First Star: Rasmus Ristolainen
Remember when the constant chatter in Buffalo was that Risto was oversized and underwhelming? Remember the repeated calls to trade him? I'm not saying 10 good games overrules a myriad of mediocre ones, but let's cut the guy some slack right now. In fact, more than that, let's give the guy some praise. 
Ristolainen is hands down the team's MVP right now. He's doing it all. He leads the team's defensemen in scoring with two goals and six points. He leads defensemen in power-play points with four, good enough for fourth overall on the team and one ahead of Sam Reinhart. Despite having the most ice time out of all skaters, he still leads the team with a plus-three in even-strength scoring. He's a hit monster, leading the team in hits with 35. He is even taking a Zdeno Chara-like stance in front of the net on the power play.
Are Sabres fans going to forget all that he lacked in years past? Probably not immediately, but don't let that throw any shade on the fact that the big, strapping 6-foot-4, 220-pound defenseman is killing it through the first 10 games of the year. And let's also not forget his age. He's 26, and defensemen in this league are like wine: they get better with age.
Honorable Mentions
Sam Reinhart played great before an upper-body injury that saw him miss the two games against New Jersey. On Monday, the team announced that he would be traveling with them to New York City where the Sabres are set to take on the Islanders. His status for that game at the time of writing is still unknown, but Reinhart gets an honorable mention because of his six points and his presence on the power play.
Linus Ullmark has kept the team in some games that they had no business being in, but, he has still let in the odd softie and has been caught out of position more often than he has paid for it, so far. On the bright side, he is one of the best in the league in shootouts and that has come in handy so far this year. He stopped nine of 10 attempts this past month. He's gone 30 for 35 in his career, good enough for a .857 save percentage overall, ranking him second all-time among NHL goaltenders who have faced at least 20 shots and first among active goalies. That's great and all, but Sabres fans would probably all be a little bit happier if the team didn't keep ending up in shootouts.
---
---
Mike Carter is a freelance writer and contributor for the Buffalo Sabres with The Hockey Writers and NHLTradeRumors.Me He is @mikecarterlives on Twitter. Mike has been writing professionally since 2012, with stints as a reporter in northern British Columbia and Edmonton, Alberta. He now calls Salmon Arm, B.C. home.