The San Jose Sharks 3-5-0 record is less than ideal. And with some of the younger players such as John Leonard and Noah Gregor not playing consistently, hope for the future can seem gloomy for Sharks fans.
However, the team does have prospects that have succeeded recently. Even with some junior leagues yet to start their season, this has not prevented Sharks prospects from proving their worth.
Russian Standouts
Recently, Ivan Chekhovich has had an incredible run of form in the KHL. The 22-year-old has 13 goals and 29 points in 36 games for Nizhny Novgorod Torpedo, an incredible total after last season's disappointing year with the San Jose Barracuda.
His run of form has garnered international interest, earning a call up to the Russian national team. His .81 points-per-game is just under NHL standouts such as Evgeni Kuznetsov and Kirill Kaprizov when they were the same age as Chekhovich.
Also surprising many is the Sharks' 2020 third-round selection, Daniil Gushchin. After a season where he scored 47 points in 42 games, he is already outperforming that pace easily. Through 26 games, Gushchin has 17 goals and 38 points in the USHL.
His totals are incredible, leading his team in points and is fourth in the league. Recently, he earned the record for most points scored in Muskegon Lumberjacks history. Utilizing his incredible speed and skill, offense comes naturally to him, and he should definitely be an exciting talent for the Sharks in the future.
College Success
The Sharks have three prospects who have really impressed so far in college hockey. First is Alex Young, who moved from the Alberta Junior Hockey League to Colgate University to play collegiately. With .92 points per game, the 2020 seventh-round pick has transitioned well and leads his team in goals and assists.
His dominant performance on a subpar ECAC team has warranted a Hobey Baker nomination for the best college hockey player. Although not a favorite to win the award, due to a somewhat small point total, it is notable that he's already receiving recognition as a top player at the college level.
2017 fourth-round choice Scott Reedy has also been producing in the NCAA. A right-handed center, he has played very well at the University of Minnesota, putting up seven goals and 18 points in 15 games. His high production is somewhat new, for this is his first season over a point-per-game pace.
NHL-equivalency is a rough estimation tool created by Dobber Prospects, which creates a ratio between a junior or foreign league and how that player would produce points at the NHL level. With his totals, Reedy would be expected to produce 33 points in 82 games, or .4 points per game if he played with the Sharks. It's a rough estimate, but his newfound offensive prowess is exciting and hopefully will continue in the future.
Thomas Bordeleau, who the Sharks selected 38th overall in 2020, has been a force at the University of Michigan. With five goals and 18 points in 14 games, he leads his team in assists and points per game. He is on a stacked Michigan team and has helped earn them their current ranking as seventh in college hockey.
Bordeleau's playmaking is exceptional, and if not for a COVID-19 proximity issue, he surely would have been a force on the gold medal-winning USA World Junior roster. Although early into the season, his exceptional play is indicative of the quality player San Jose drafted.
Top Prospects with Barracuda
Due to some junior leagues postponing their seasons, the Sharks' first and third picks in 2020 have signed entry-level contracts to play with the Barracuda until the WHL begins. In addition to Ozzy Wiesblatt and Tristen Robins, Brandon Coe, the Sharks fourth-round selection in 2020, has played preseason hockey with the Barracuda, but he will return to the OHL when its season begins and is not eligible to play regularly in the AHL.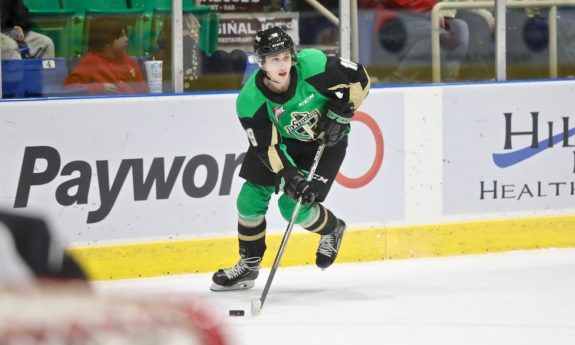 2-2-1 in their preseason, the Barracuda look better than their last season, where they were worst in the AHL. The Sharks' top defenseman prospect, Ryan Merkley, had one goal in his first preseason in San Jose. Joachim Blichfeld, the team's all-star in the AHL last season, was able to light the lamp twice this preseason.
Some notable Sharks' prospects to also score this preseason include Coe, Alex True, and Jayden Halgbgewachs. However, the outlook for the Barracuda is somewhat unknown. Ahead of the third period in a preseason game against the Henderson Silver Knights, the game was canceled due to a positive case of COVID-19 within the San Jose bubble. This has led to the Barracuda having to delay their season's start to Feb. 7th.
Future of the Prospect Pool
The Sharks' prospect pool is more shallow than most of the league, a product of continued playoff contention. However, through consistent, quality late-round drafting and success in recent drafts, the Sharks still have some nice options for the future.
Prospects such as John Leonard, Sasha Chmelevski, Jeffrey Viel, and Brinson Pasichnuk are even getting attention to play with the Sharks, which is super promising to see the coaching staff considers them NHL ready. The Sharks do not have a sensational blue-chip prospect, but many of the club's prospects will be exciting to watch in the future for San Jose.
---
---