After diving into Adam Larsson's career and the importance he has to the team in a recent article, there are always other options available. Although the free-agent defense market may be less deep than the forward crop, there are still options the team could pivot to should they need to replace him on the back end. He has brought a lot to the team during his five-year tenure, but the cap limits make it progressively harder to re-sign players especially if they're on the free-agent market. With the club focused on bringing back fellow teammate and pending unrestricted free agent Ryan Nugent-Hopkins this offseason, Larsson could be the odd man out in order to save cap space and address the team's depth and goaltending needs.
Oilers Defense Heading into the 2021-22 Season
The team will likely move into the offseason expecting Darnell Nurse, Ethan Bear, and Oscar Klefbom all to be healthy and fill roles in the top two defense pairs, ultimately leaving three spots needing to be filled. With young blueliners in Evan Bouchard and Philip Broberg on the rise, one if not both of them should be ready to make the jump into a full-time role with the team.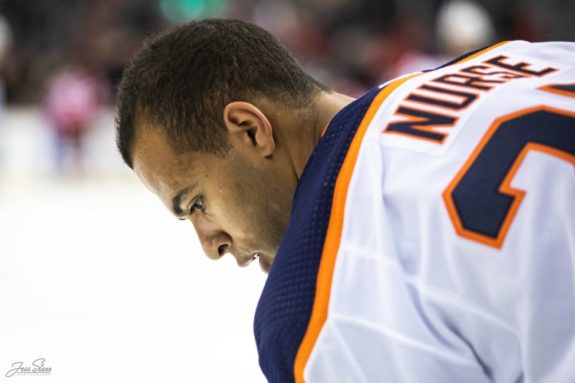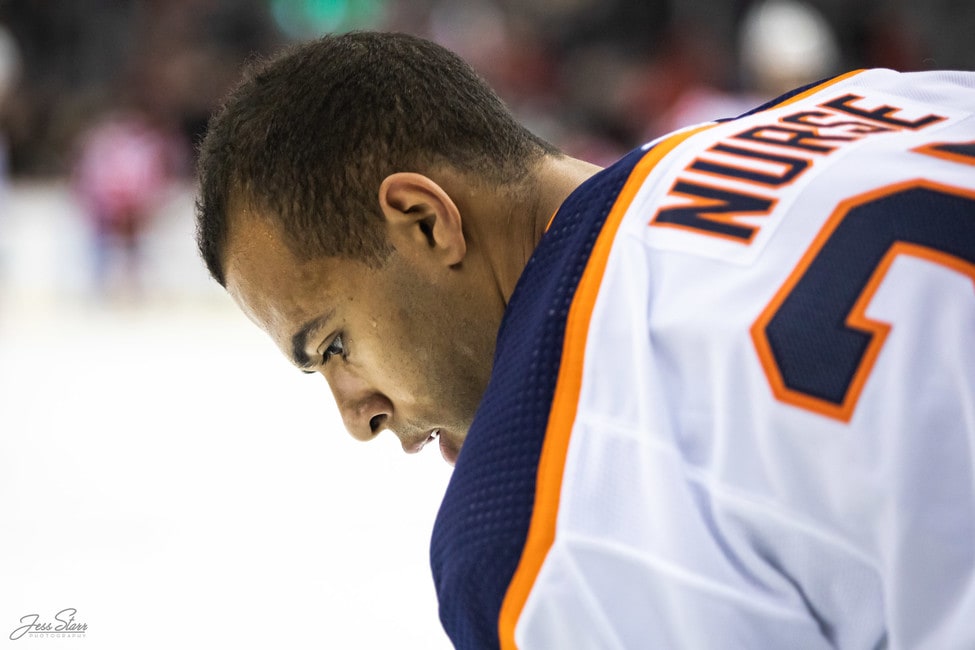 Bouchard has already shown flashes of being a strong option on the blue line after injuries have thrust him into the lineup this season. He has shown the ability to contribute at the NHL level on both the offensive and defensive sides of the puck and should be penciled into the team's plans to begin next season.
Related: Oilers' Darnell Nurse Off to a Hot Start
If all four of the aforementioned defensemen can take on top-four roles on the team, that leaves only two spots remaining for the fifth and sixth defensemen. It is unlikely in this situation that the team would be willing to bring Larsson back to fill a bottom pair role on a deal that will likely require the team to invest a larger amount of precious cap space into.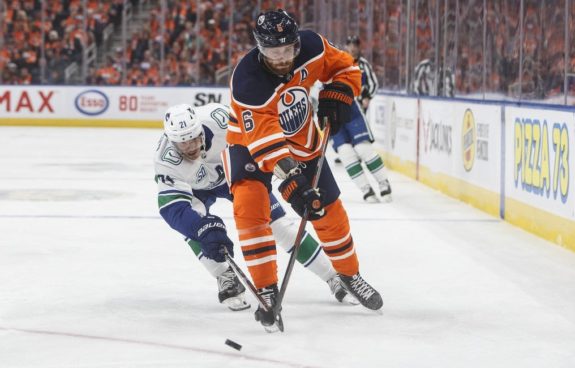 Based on the players that are under contract heading into next season the defense corps is fairly young and maybe too inexperienced. The team may look to add a more veteran presence to give leadership, experience, and depth to what could be a very strong blue line in the near future.
In-House Replacements
The most logical and cap-friendly scenario to replace Larsson if he departs in the offseason would be to hand the reins over to the 2018 first-round draft choice Evan Bouchard. With injuries to the blue line this year he has been able to get an extended look with the team and play in the team's top two defense pairs.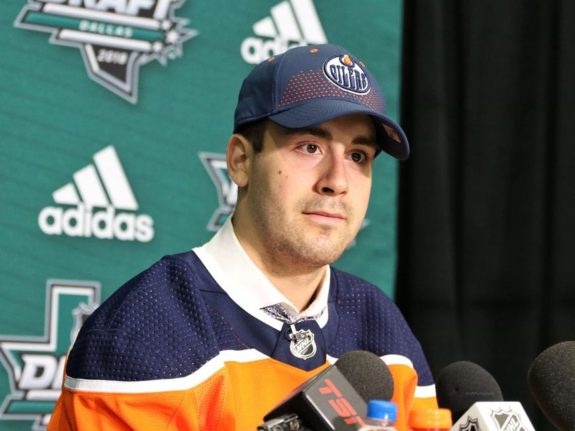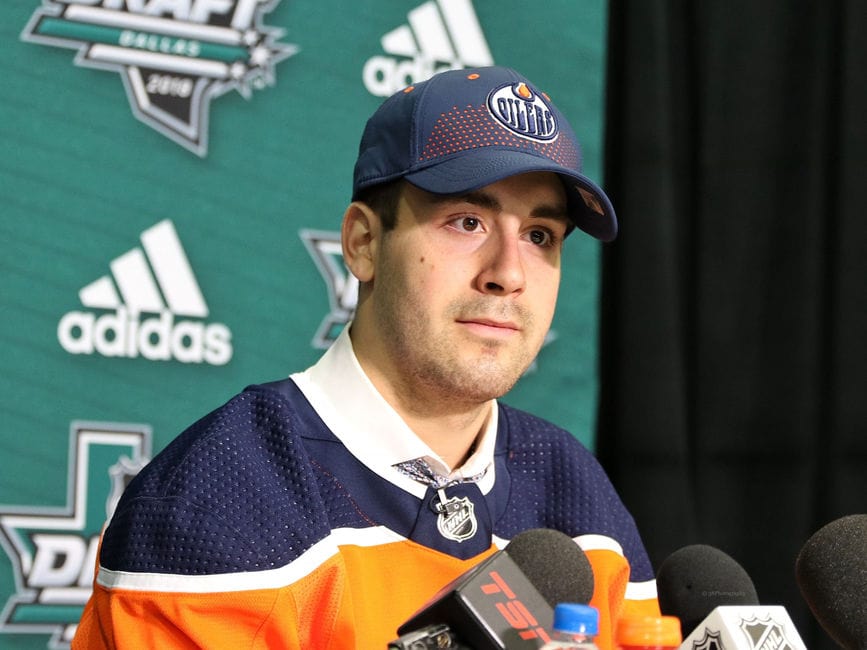 Bouchard may be somewhat unproven and this option will have to be reliant upon how things shake out for the remainder of the 2020-21 season. Bouchard made his pro hockey debut for the Bakersfield Condors in the 2018-19 season during the playoffs, where he was a point-per-game player. He followed that stint up a season later by posting 36 points in 54 games. He began this season playing in Sweden before coming back to North America for Oilers training camp and has been with the team since the start of the year.
With injuries to the blue line, the 21-year-old has been a regular in the lineup and been able to fill different roles as needed on the team. He has shown great versatility in the ability to play both the right and left sides and is getting exposure on the second power-play unit. Through 11 games this season, the blueliner has posted one goal and three assists with a plus-two rating while averaging 14:13 of ice time. With Oscar Klefbom already absent for the season and Slater Koekkoek recently moved to long-term injured reserve, it shouldn't be hard for Bouchard to stay in the lineup even with Ethan Bear returning from injury.
If the Oilers could ensure Bouchard is capable of taking on a top-four role next season, the team would benefit greatly as he is still on his entry-level deal that carries an $863,333 cap hit over the next three years. The Oilers would be able to take almost all of Larsson's current cap hit and bolster other areas of need without creating holes in their blue line.
Top-Four Defensemen Free Agent Targets
Much of how the team approaches the Larsson situation will have to do with the health of Klefbom, and the development of Bouchard. If either Klefbom is not fully healthy next season and cannot return to action or the team deems that the 21-year-old Bouchard is not ready for a top-four role, the Oilers will surely need to be on the prowl for a top-four defenseman.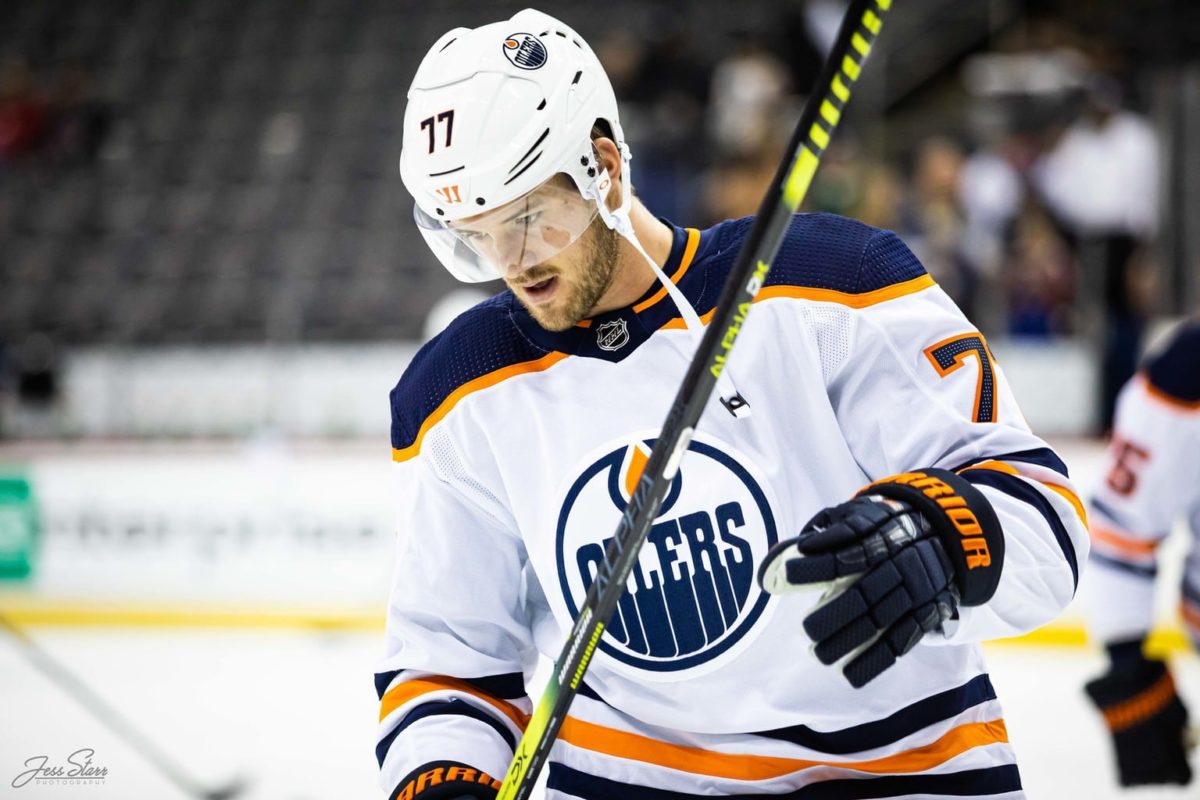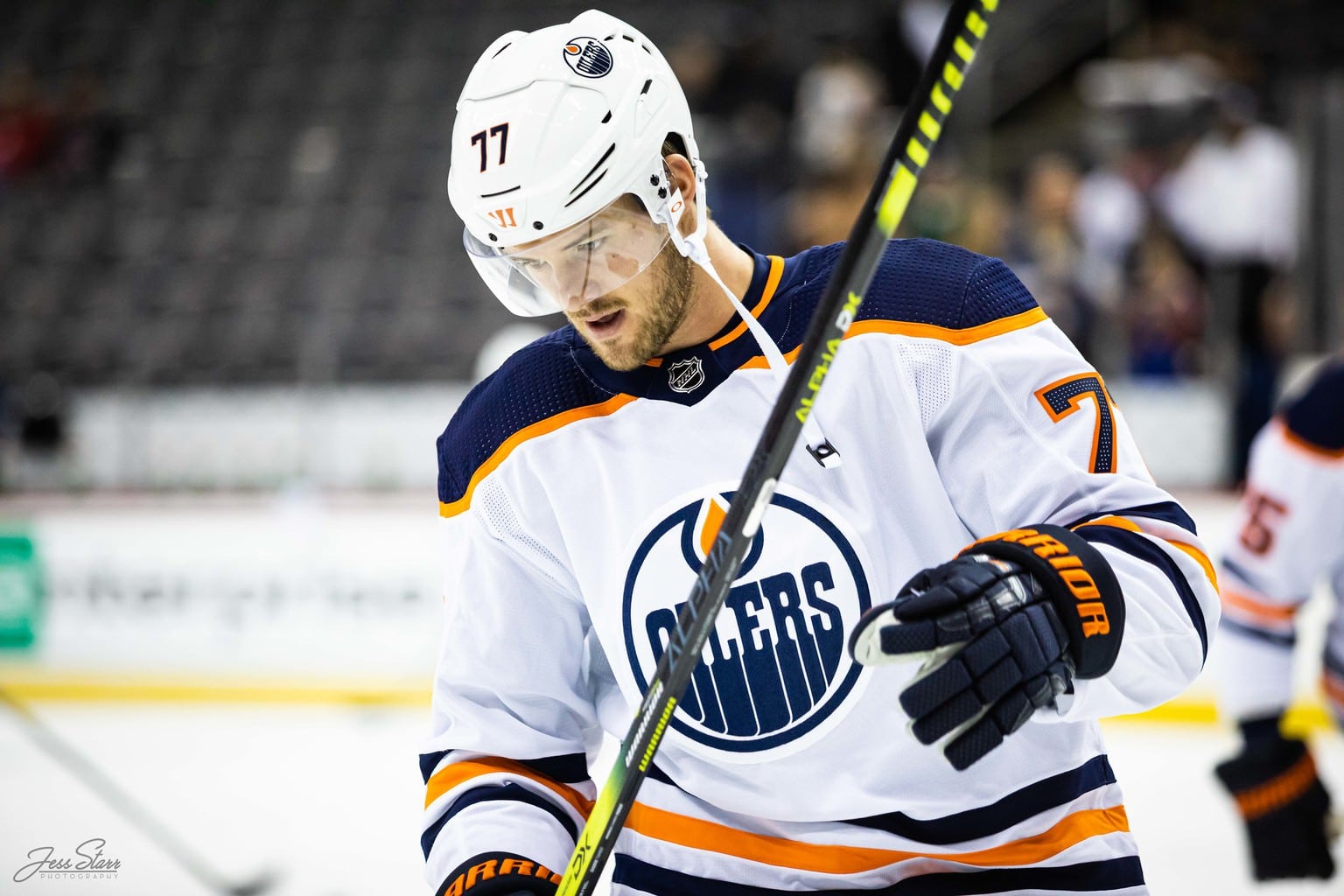 The following options can fill a top-four role until the previously mentioned situations manifest themselves and give the team a sense of security and depth on their blue line.
Niklas Hjalmarsson/Alex Goligoski – Arizona Coyotes (Left Defense/Right Defense)
This pair of Arizona Coyotes blueliners are both set to become unrestricted free agents at season's end and both coming off larger deals. Niklas Hjalmarsson will be 34 years old in free agency and coming off a two-year deal worth $5 million, while Alex Goligoski will be 36 years of age next season and is finishing up his five-year, $27,375,000 dollar deal. Hjalmarsson has been a player who prides himself on playing a sound defensive game, blocking shots, and protecting the net-front while being used in game-closing situations.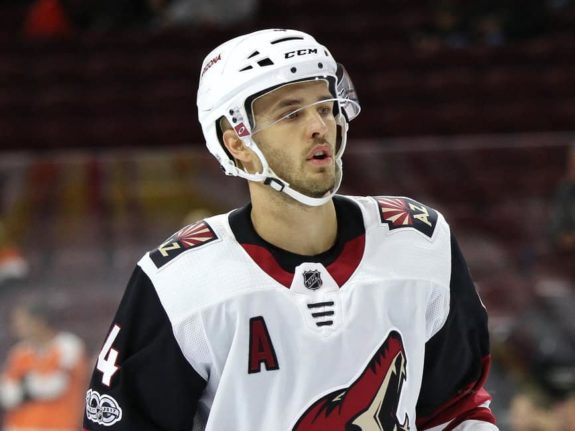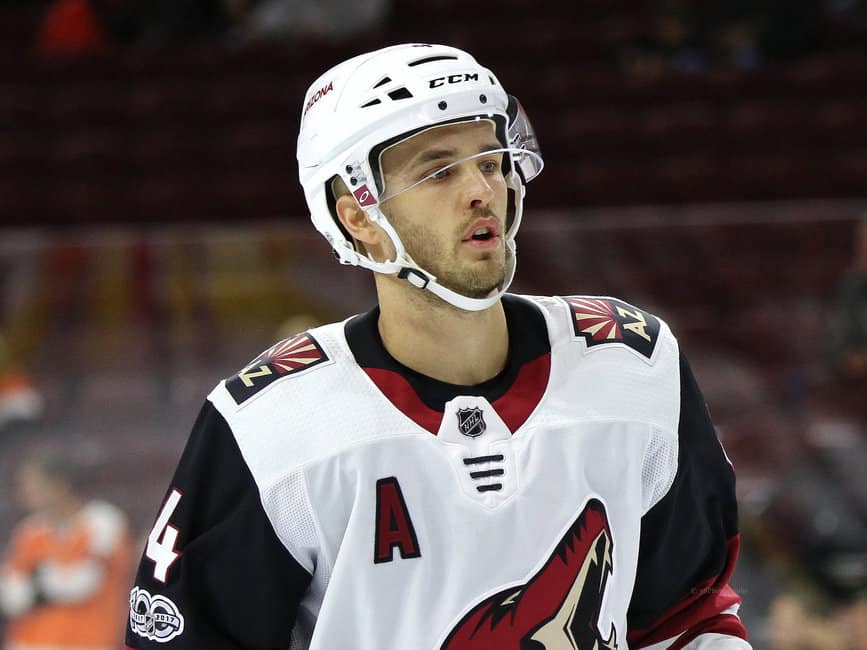 The three-time Stanley Cup Champion is cut from a similar mold as Larsson in terms of playstyle, although he may not be as good of a skater now that he is on the back end of his career. Nonetheless, Hjalmarsson could be a prime target on the market that will likely be willing to take smaller and shorter deals knowing the point he is at in his career, leaving it as a low-risk play for teams interested in signing him. The only caveat with a player like Hjalmarsson is his durability this late into his career. He last played in a full 82-game season back in 2018-19, only appearing in 27 games the following year, although he has played in every game for the Coyotes this year.
Related: Oilers Have Options to Replace Nugent-Hopkins in Free Agency
Goligoski on the other hand has more miles on him than Hjalmarsson does and is also not as defensively responsible. While Goligoski is a few years older than Hjalmarsson, he has been far more durable playing over 70 games in each of the last seven seasons. Even though he is not as similar of a player as Larsson as a defensive defenseman, he is still sound and responsible in his own end. He is a solid two-way defenseman who can contribute on the offensive side of the game, scoring 27 or more points every year since the 2011-12 season.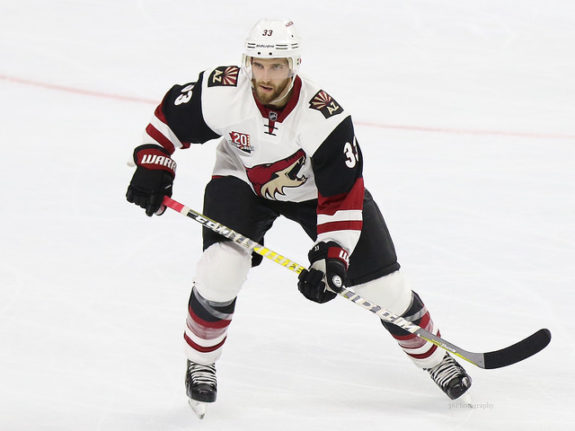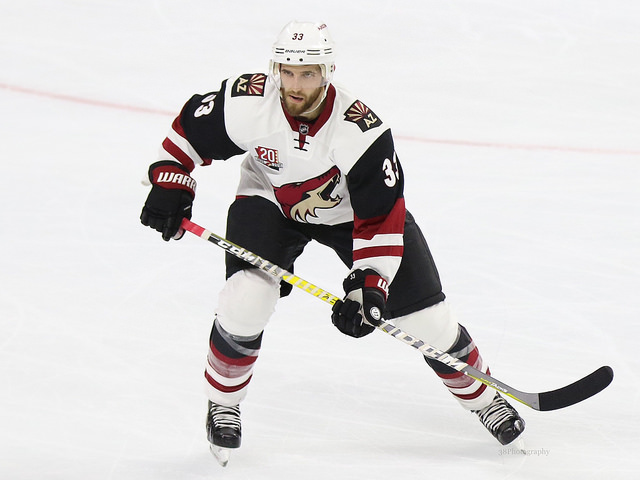 Both players come with Stanley Cup-winning pedigree and experience, which could serve as great mentors for a rather young Oilers defense corps. Both are versatile options with the ability to play both the right and left side, which would provide great depth if lines need to be shuffled around due to injury. The Coyotes have several players needing new contracts and likely won't want to fork out any large sums of money to keep both of these depreciating assets around especially with a prospect like Victor Soderstrom poised and primed to take on a full-time role in the NHL.
Brandon Montour – Buffalo Sabres (RD/LD)
The Ontario-native has not been able to build on his past success since he was traded to the Buffalo Sabres back in February of 2019. Prior to being traded to Buffalo, Brandon Montour looked like he had a bright future as a solid two-way defenseman in the league with back-to-back seasons from 2017-2019 of 30 plus points.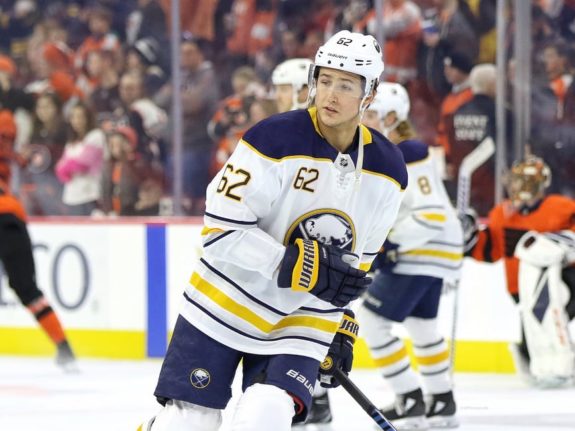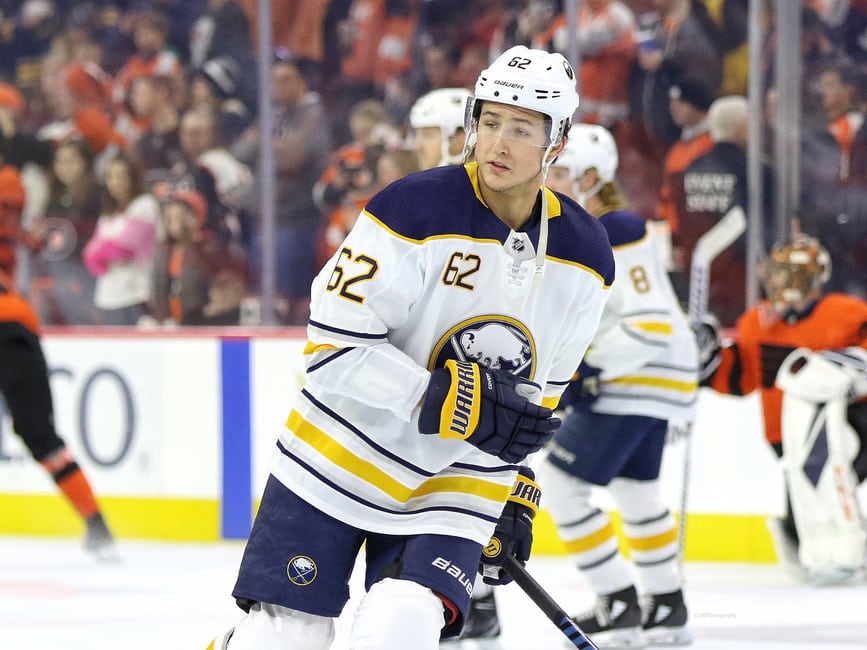 Last season he was able to put up 18 points in 54 games played and only has three through the first 15 games of this season. He will be 27 years old in by the time the offseason arrives and with the Sabres again looking like one of the bottom feeder teams in the league, roster changes could be coming again. His current $3.85 million cap hit would likely be around the range he could expect to get in free agency, and could benefit and find his old form on a better team like the Oilers.
David Savard – Columbus Blue Jackets (RD)
The long-time Columbus Blue Jackets blueliner has spent his whole career with the team and become a reliable member of their defense corps. David Savard is primarily a defense-first player who plays big roles for his team on the penalty kill and game-closing situations, by blocking a boatload of shots. The 30-year-old has 37 games of playoff experience and has scored 20 or more points in five of his nine seasons with the team.
As far as a fit for the Oilers goes, he would basically be a straight substitute for Larsson based on both playstyle and cap hit. Savard's current average annual value is $4.25 million, which is just a shade over Larsson's current cap hit. Savard is also older than Larsson, so for the Oilers to sign Savard it would likely be a situation where Larsson is offered a dollar value that the organization would not want to match, leaving them to pivot to a guy like Savard as a direct replacement.
Top-Six Defensemen Free Agent Targets
If Larsson does decide to find a new home, the Oilers may not have to find a top-four defenseman to replace him directly. If Bouchard proves through the rest of this season that he is capable of taking on an increased role, he could slide directly into Larsson's spot. If this is the plan moving forward, the Oilers could pivot to replacing Larsson with a number five or six defensemen through free agency instead. This move would cost significantly less money to pull off and still give the team enough depth on the back end.
Related: Oilers' 2020-21 Success Dependent Upon Evan Bouchard's Development
Zach Bogosian – Toronto Maple Leafs (RD)
The Toronto Maple Leafs are the latest team to benefit from the sound and steadying presence of Zach Bogosian. He has slotted into their third pair this season and been a player who provides consistency in his own zone. He is coming off a Stanley Cup Championship with the Tampa Bay Lightning in 2019 and played a similar role. He is a depth defenseman who knows his role and will be a great penalty killer and provide physicality and sandpaper to a lineup.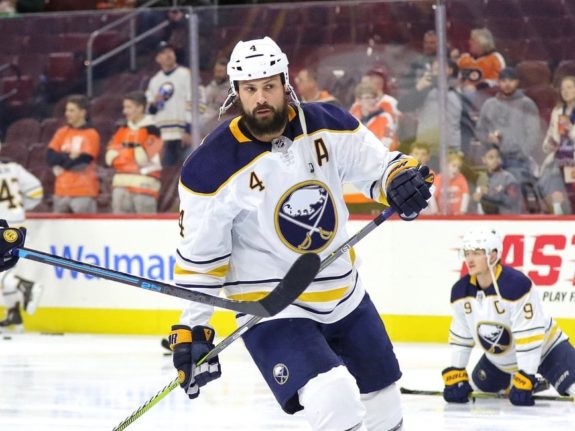 If the team decides to go with a cheaper option to replace Larsson, Bogosian may be one of the best players available to do that. This is his second consecutive season taking less than a $2 million cap hit on a one-year deal, which the Oilers could easily afford without sacrificing defensive stability.
Jamie Oleksiak – Dallas Stars (LD)
The 6-foot-7 defenseman was taken 14th overall in the same draft that Larsson was taken fourth overall. Jamie Oleksiak can provide hits and shot-blocking, which is something the Oilers would need if they lose Larsson. He won't offer much offensively and he has sporadic playing time in terms of games played over his career, playing in a career-high 69 games last season. Despite being the same age as Larsson, Oleksiak also brings 42 games of playoff experience to the table.
Oleksiak plays a similar role as Larsson does in the team's top-four, leaving him as a more than suitable option to take on a third-pair role with the ability to move up in the lineup, giving the Oilers depth on their blue line. He is a left-shooting defenseman, so if he does end up on the team, Kris Russell would be the likely candidate to move to the right side. He is finishing up a three-year deal worth $2,137,500 per year, and even if he does need a slight pay raise, it would still be less than Larsson would likely command.
Ian Cole – Minnesota Wild (RD/LD)
The Minnesota Wild acquired Ian Cole this season in a trade with the Colorado Avalanche that was more of a cap shedding move by the Avalanche. Minnesota received a veteran blueliner on an expiring deal with 12 seasons of NHL experience, including 89 games of playoff experience, and two Stanley Cup Championships. He has a career plus-minus rating of plus-105, which showcases how responsible he is when he is on the ice.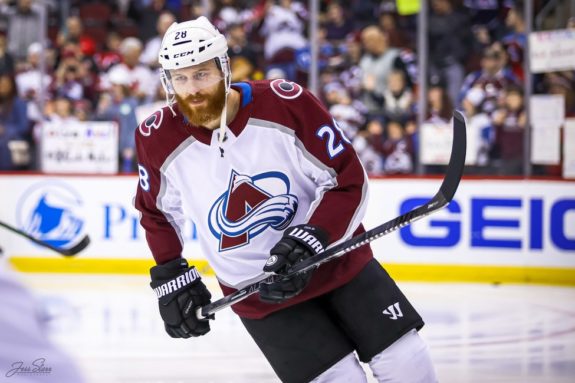 He carries a hefty cap hit worth $4.25 million per year, but it is hard to see a team offering extended-term or that kind of money to a 32-year-old, bottom-pair defenseman. He is a left-shooting defenseman, but can play both sides and also play up in the lineup if needed. If he is willing to take less money to join a team that can compete like the Oilers and take on a lesser role, he would be a welcomed addition.
Keeping Options Open
There is no question that what Larsson has brought to the team over his five-year tenure is significant and the familiarity he has with the organization is irreplaceable. The fact of the matter is this is Ken Holland's team now, and he will start putting his stamp on this team. This offseason will be a big step in seeing the direction of the team moving forward.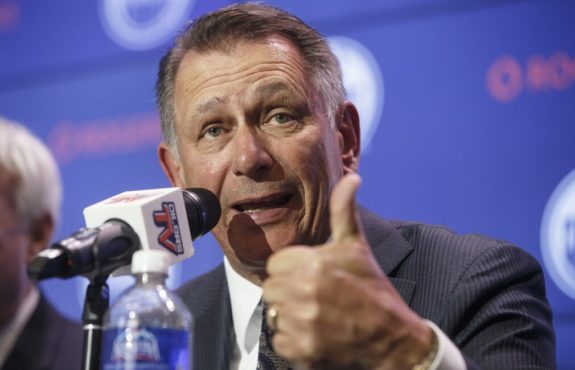 Holland knows what it takes to build a Stanley Cup-winning team and will have to make some tough decisions. There is no doubt that the team will likely explore an extension for Larsson first, but there are a lot of things up in the air that will be influencing the final decision. A veteran manager like Holland will surely do his due diligence in having other options ready like the ones listed above, which could prove to be better for the team's long-term outlook.
---
---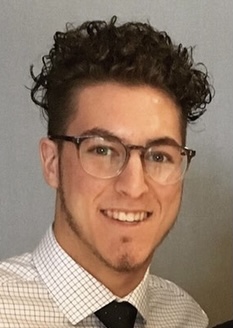 I am a graduate of Seneca Colleges Civil Engineering Technology Program and have turned my obsession for sports into a lifestyle. I have been covering the Edmonton Oilers here on The Hockey Writers since 2019. I love fantasy sports, collecting sports memorabilia and listening to classic rock with a cold one or a coffee in my hand.