In a recent article, we discussed Ryan Nugent-Hopkins' tenure with the Edmonton Oilers and the likelihood that he will move on in free agency. While GM Ken Holland has stated that his focus is to re-sign the former first overall selection, nothing is imminent, and the outcome of this season may play a role in the final decision. The club has several players that will either need to be re-signed or replaced this offseason and without the cap space to do it. The team will either need to rely on prospects to step up and claim roster spots on cheap deals or part ways with some of their pending free agents and find players in free agency at a more team-friendly cost to fill their roles.
Notable Oilers Free Agents at Season's End
It's no secret that the Oilers' goaltending situation is not ideal and the team will likely be actively pursuing an upgrade during the offseason. In order to do that, Holland will need to be very decisive and diligent in handing out contracts to the team's pending free agents, Nugent-Hopkins in particular.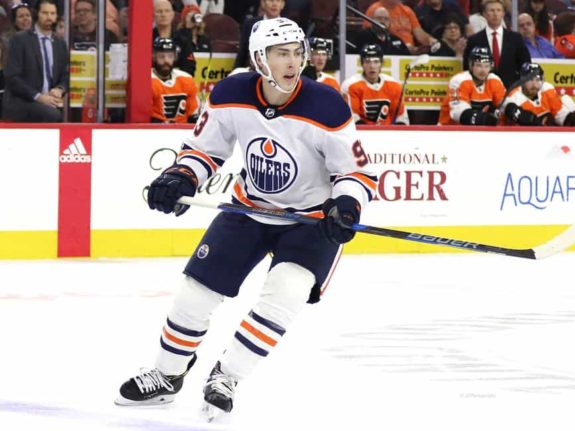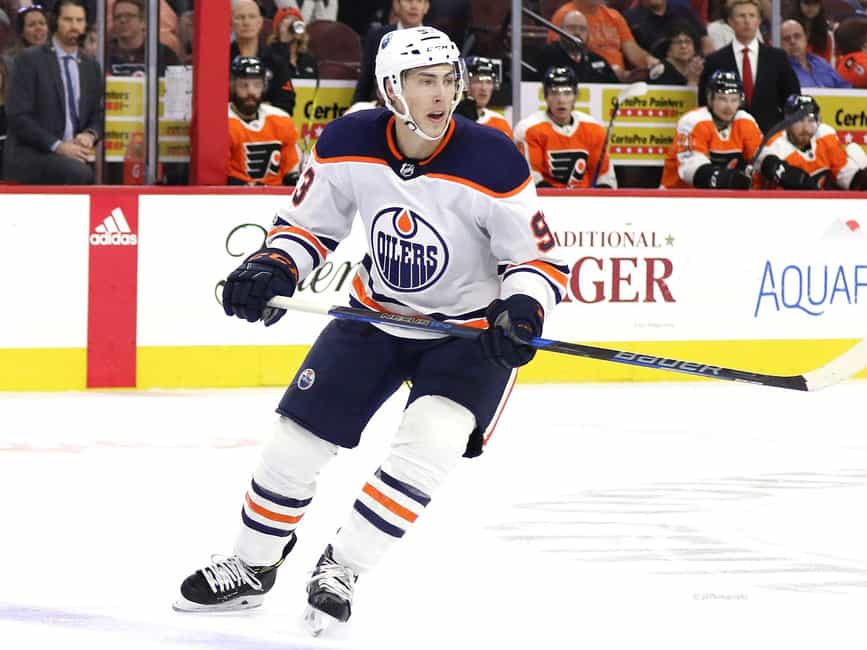 To improve, the Oilers will need to find more effective ways to divide up their salary cap to address the team's needs accordingly. Tyson Barrie and Adam Larsson are both unrestricted free agents, and the team will likely need to retain one of them, despite having players like Evan Bouchard and Philip Broberg ready to make the jump to the NHL.
| Player Name | 2020-21 Cap Hit | 2021-22 Contract Status |
| --- | --- | --- |
| Ryan Nugent-Hopkins | $6,000,000 | UFA |
| Kailer Yamamoto | $894,166 | RFA |
| Alex Chiasson | $2,150,000 | UFA |
| Dominik Kahun | $975,000 | RFA |
| Adam Larsson | $4,166,666 | UFA |
| Tyson Barrie | $3,750,000 | UFA |
| Mike Smith | $1,500,000 | UFA |
Along with goaltending, the team will also need to fill several bottom-six roles. That said, having one player like Nugent-Hopkins eat up a good portion of their spending limit may not be practical for the team's long-term success. Looking at the above table, he sticks out as one who could be replaced through a very deep free-agent forward market. While it may hurt to watch Nugent-Hopkins find a new home, there are several options to replace him on the team's top line alongside Connor McDavid.
High-Floor Replacements
The first group of players have more consistent offensive production. They are safe options, and GMs know what they're getting when they acquire their services. They have continuously put up solid numbers throughout their careers no matter the circumstance.
Related: Oilers' Re-Signing Nugent-Hopkins Needs to Be Top Priority
These players are also highly likely to hit the open market, and depending on their point production this season could come at a discount.
Mike Hoffman – St Louis Blues (Left Wing/Right Wing)
The former Florida Panther had trouble finding a new team this season and was one of the last big-name free agents to come off the board. After signing a Professional Tryout Contract with St. Louis, he looked to be in a good spot on a team that is still without sniper Vladimir Tarasenko.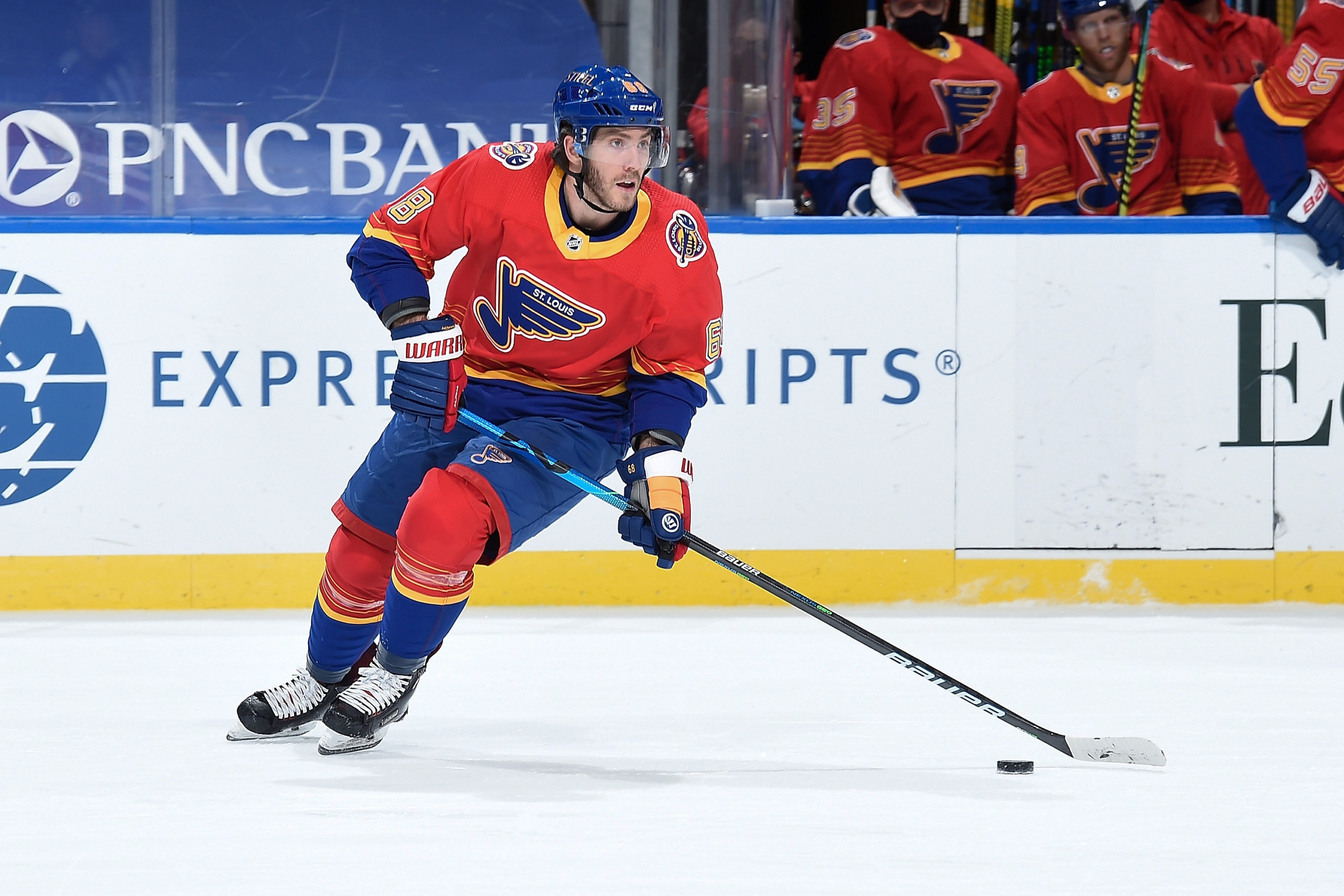 Unfortunately, Hoffman has not had a good start to the season. He has primarily been featured on the team's third line while appearing on the top power-play unit. He has been one of the league's more consistent scorers, having put up six consecutive seasons of 20 or more goals.
Pairing a player with Hoffman's finishing ability with an elite playmaker like McDavid could be great for both players. The only issue is the 31-year-old forward may be looking for the stability of a long-term deal which could be a risk that leaves the team with a depreciating and overpaid asset in a few years.
Tomas Tatar – Montreal Canadiens (LW/RW)
The Slovakian winger falls into a similar category as Hoffman as a durable and consistent goal scorer who will be over 30 years of age next season. He will be looking for his seventh consecutive season with 20 or more goals and enjoyed a career-high in points in 2019-20 with 61. Teams know what type of player they are getting with Tatar, and despite his age, he remains an intriguing option. He has not played with many elite or superstar centremen over the years and was still able to excel offensively.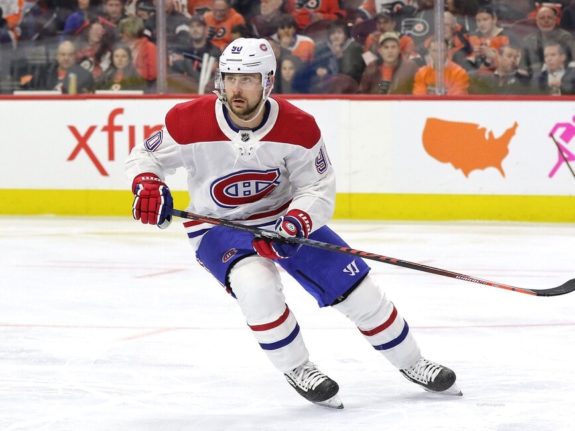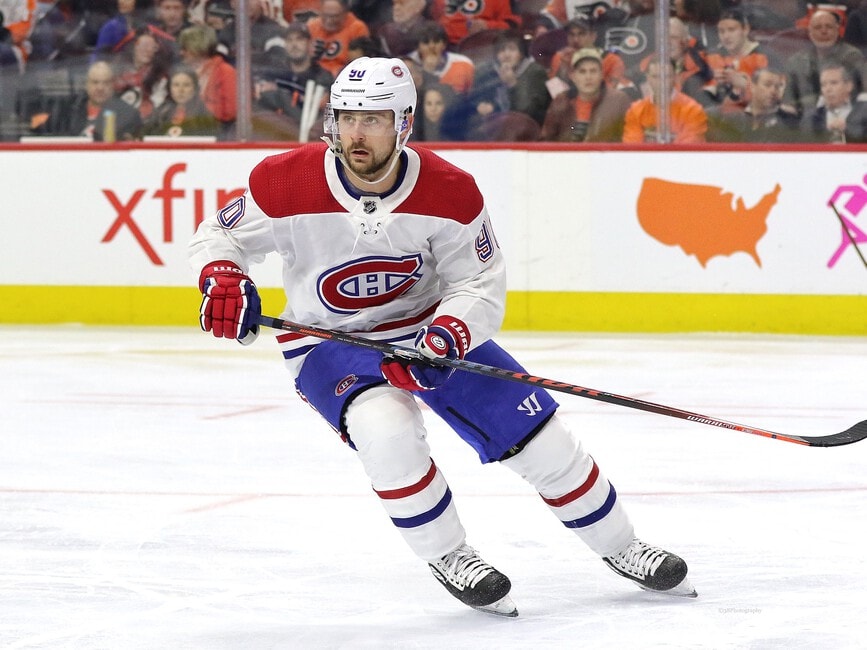 The Canadiens have signed Tyler Toffoli to a long term deal, so the writing may be on the wall for Tatar, and the team may want to address their needs at the center position considering Phillip Danault is also an unrestricted free agent, leaving only Nick Suzuki and Jesperi Kotkaniemi as the team's top two centers. Tatar would likely come cheaper than what Ryan Nugent-Hopkins would command and would provide much higher goal output.
High-Upside Replacements
The players in this category have all shown they can be great offensive options with skill. They could see their output and production benefit from playing on a high-powered offensive team and alongside arguably the best player in the game. These players carry a high risk considering they are less consistent but should come at a more team-friendly cap hit compared to what Nugent-Hopkins will be asking.
Kyle Palmieri – New Jersey Devils (LW/RW)
While Palmieri can put the puck in the net, he has more playmaking ability than some of the players listed above. He has been durable and versatile for the Devils playing 62 games or more in each of the last five seasons. He can play on both wings and has also been able to put up 44 points or more in those seasons despite playing on some underwhelming and subpar Devils teams.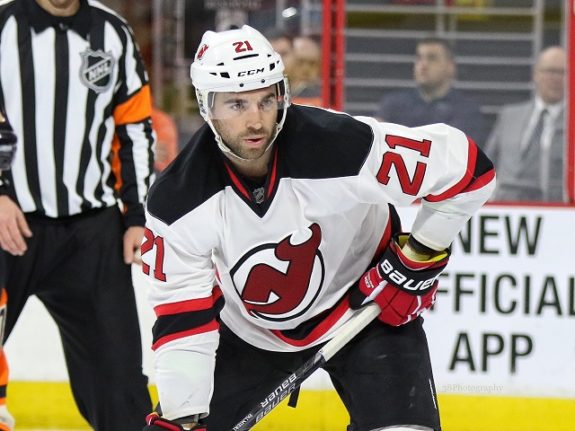 New Jersey will have lots of cap space but also has plenty of holes to fill with and lots of free agents both restricted and unrestricted that will need to be taken care of. Also, keep in mind that Jack Hughes will need a new contract in 2022-23. He has never really played with a true number one center throughout his career and pairing him with McDavid could unlock a new level for the 30-year-old forward who will likely sign a new deal that will pay him more than his current average annual value of $4.65 million in free agency.
Jaden Schwartz – St. Louis Blues (LW)
When healthy, the Blues will be pressed right against the cap limit and have to face some tough decisions in the offseason. With a lot of the team's money tied up in their blue line, they may not have enough space to retain Schwartz with Tarasenko returning and Jordan Kyrou playing extremely well to begin the season. This may mean Schwartz will have to accept less to remain with the team, and we've already seen the Blues walk away from their franchise's captain over negotiations. This could be a similar situation.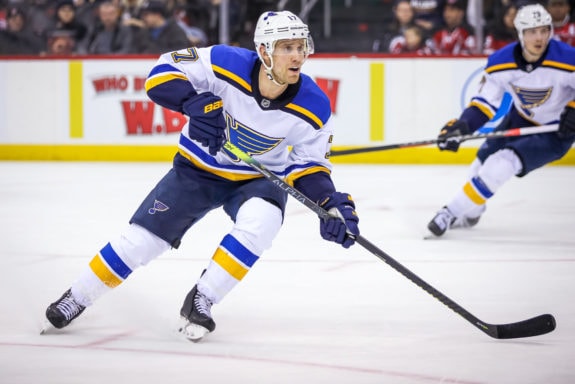 Schwartz is a skilled forward who can add some sandpaper to a line and who goes into the dirty areas to score goals. Injuries have derailed some seasons, but he has a higher upside than the group of players above, putting up 50 or more points in five of his last seven seasons. Schwartz will be 29 to begin the 2021-22 season, which will only be one year older than Nugent-Hopkins, but he is more cost-effective with significant upside on a high-scoring Oilers offense.
Anthony Duclair – Florida Panthers (LW/RW)
The 25-year-old Quebec native is playing for his sixth NHL team in seven seasons since entering the league, so what's one more? He enjoyed a breakout season in 2019-20 with the Senators, where he put up career-highs in goals, assists, and points in 66 games played.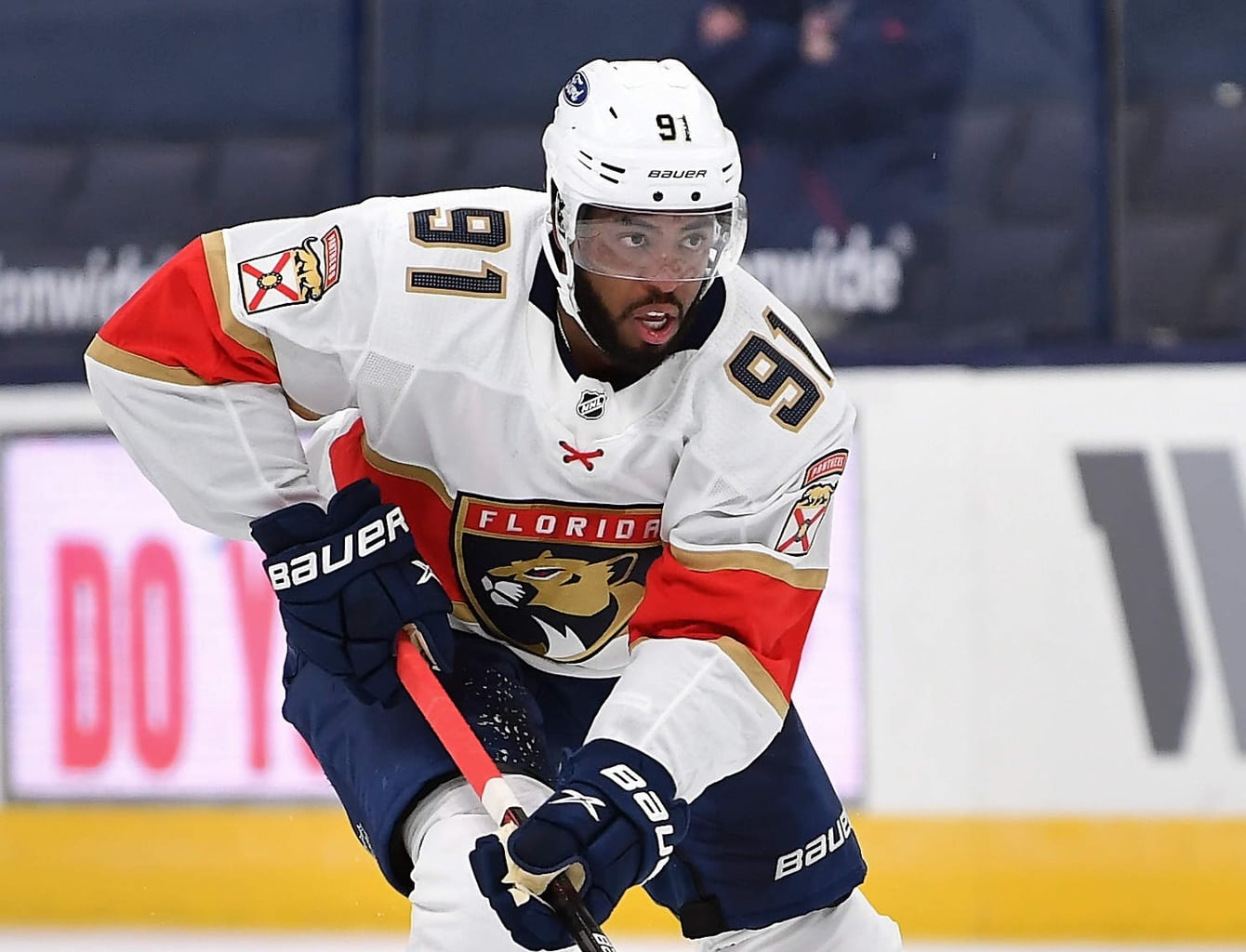 Despite the turmoil and antics, for which he's been criticized, there may still be untapped potential here given his skill set. In Florida, he is showing that he can play top-line minutes alongside franchise center Aleksander Barkov, and his speed and mobility naturally make him a fit to flank McDavid.
"Anthony is a dynamic and highly skilled player who is capable of being a dependable offensive contributor for our team. He possesses tremendous speed and goal-scoring ability and earned an opportunity to be named an NHL all-star last season. 

Florida Panthers GM, Bill Zito
He would come at a significant discount compared to Nugent-Hopkins but carries much more uncertainty based on the consistency of his play. Another hurdle for the Oilers is that the Panthers aren't too pressed against the cap, and if he does have a successful season, they have the right to sign him as a restricted free agent.
Serviceable Options
These options should be no more than a backup plan should the Oilers suffer a similar fate on the goalie market as they did last offseason. These players should only be considered if Nugent-Hopkins is commanding a number that is too rich for the team's blood, and all the previous options discussed have been exhausted.
Brandon Saad – Colorado Avalanche (LW/RW)
Entering the last season of a six-year deal worth $36 million, there is a good chance that Saad will be headed to free agency given the players the Avalanche need to re-sign before next season. The team has to focus on locking up players like Cale Makar, Gabriel Landeskog, and Philipp Grubauer, so Saad will be on the backburner despite his consistency each season.
Related: Oilers' Early Returns On Puljujärvi Are Positive
Since the 2012-13 season, the winger has surpassed the 45-point plateau five times including between 2014-2017 when he surpassed 50. He has a knack for finding the net and can add a physical presence to a line.
Although he is a viable option for the Oilers, it likely won't happen unless Nugent-Hopkins' number is north of $7 million per season because Saad could command a similar salary to Nugent-Hopkins' deal, which doesn't amount to any salary savings for the team.
Nick Foligno – Columbus Blue Jackets (C/LW/RW)
Although Foligno may be the Blue Jackets' captain, that doesn't mean he's a safe bet to return to the team next season. After the Pierre-Luc Dubois trade, Columbus has an obvious need down the middle and must fill that number one center spot. The team also has a lot of depth on the wings, and newcomer Patrik Laine will likely eat up a good chunk of money if he signs a new deal to remain in Columbus.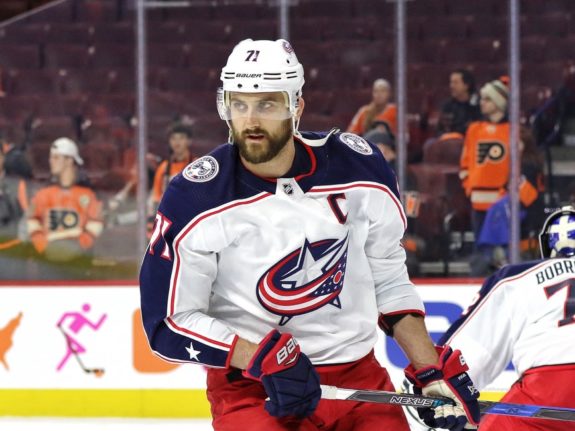 The team also has to consider their future with Seth Jones, Max Domi, and both of their current goaltenders, who all need to be re-signed. That may deter the team from bringing back a 33-year-old at a cap hit above $5.5 million. He may not be the flashiest name on the market or the youngest, but a player of Foligno's stature can bring physicality, skill, and leadership to a locker room, be a calming presence to a young Oilers team and maybe recapture some of the success he had in his 31 goals, 73-point season back in 2014-15.
Home Run Play
While the names above are more reasonable and more likely scenarios for the Oilers to pursue should they lose Nugent-Hopkins to free agency, we need to include the less probable outcome as well. These two players will garner plenty of interest in the open market, but if the Oilers are committed to paying Nugent-Hopkins north of $7 million AAV, they should swing for the fences with these options first.
Patrik Laine – Columbus Blue Jackets (LW/RW)
Let's add another layer to the Laine saga because there isn't enough already. Sure, there is a Finnish connection between Laine and Columbus GM Jarmo Kekalainen but is that enough to keep the sniper and pending RFA in Ohio? As long as John Tortorella is the head coach, there is always the possibility of a fallout, especially with players like Laine, who may not be as versatile and defensively responsible as Torts demands.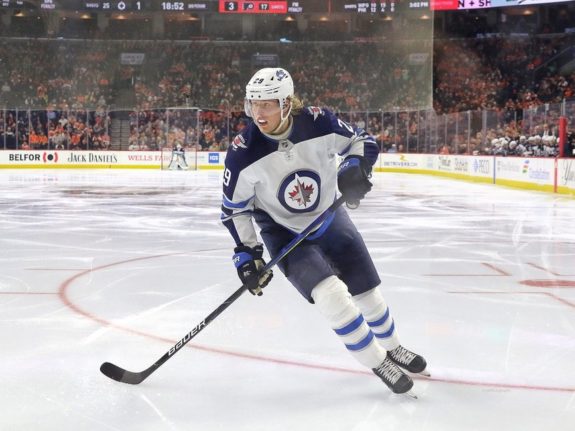 Laine is still looking for his big-ticket contract after signing his two-year, $13.5 million bridge deal with the Winnipeg Jets in 2019, but he has failed to get the term to go with the payday. As previously mentioned, Columbus will face tough decisions both this offseason and in the 2021-22 offseason with several big names up for new contracts, which could limit the money available for Laine. The organization has had a tough time retaining their pending free agents to this point, and although the 2016 second overall pick is a restricted free agent, he could be on the move again.
Why the Oilers should sign Laine to a long-term deal is simple; he is a 22-year-old goal-scoring machine. Pair his elite scoring ability with his speed alongside the game's best in McDavid, and the Oilers could have the best top line in the league, regardless of who the third player is.
If they're prepared to offer big money to Nugent-Hopkins, the Oilers need to do their due diligence and check in on the situation of a player of this caliber at season's end. Although, the restricted free agent tag hinders the likelihood of this happening and would require the Oilers to give up significant draft picks in compensation.
Gabriel Landeskog – Colorado Avalanche (C/LW)
This big fish would be easier to sign than Laine because Landeskog is a UFA and would likely come in at a lower number. Landeskog is a better fit in terms of comparison to Nugent-Hopkins and was taken second overall in the same draft in 2011.
He has captained the Avalanche since the 2012-13 season, and like Hopkins, can play both center and left-wing. He has gone from carrying the bulk of the load offensively to riding shotgun to the team's superstars, Nathan MacKinnon and Mikko Rantanen.
He has been grossly underpaid throughout his career and could take this opportunity to cash in elsewhere. If the Avalanche fail to find success in the postseason, GM Joe Sakic could be forced to make drastic changes to his team. Although Landeskog may be inclined to do what it takes to remain in Colorado, where he has spent his whole career, the NHL remains a business, and anyone is expendable. The Swede could be rejuvenated offensively if he can appear on McDavid's flank game in and game out, especially with the skills he has in his arsenal.
Finding the Right Fit
While most of these players would be legitimate replacements if a Nugent-Hopkins extension cannot be reached, GM Ken Holland will likely need to discuss a move of this caliber with his franchise star before he acts. McDavid will have a say in who he would want on his wing, although it will also have to fit with the team's plans and cap situation. Luckily, the class of wingers who will become free agents this offseason is deep enough that there will be several options at the Oilers' disposal if they run into complications with the Nugent-Hopkins negotiations and are forced to move forward without him.
---
---