At the midseason point of the season, the Ottawa Senators have had a different goaltending experience than they may have thought they would have at the beginning of the season. The well-experienced Matt Murray is just not being consistent at the crease this season. Backup goaltender Marcus Hogberg has been a somewhat effective goalie but is too inconsistent to be relied on. It's the Senators' third goalie, Joey Daccord, who may be the solution to the Senators' hopes.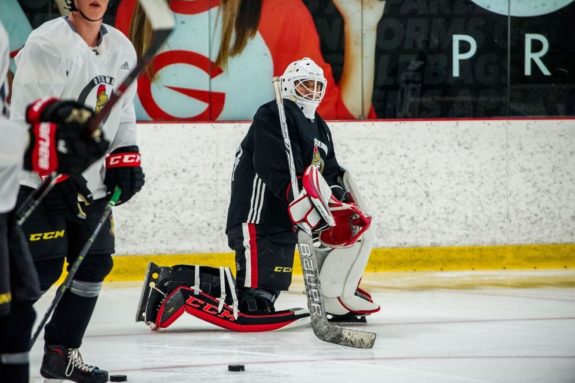 The Senators drafted Daccord in 2015. Since then, he has been a well-discussed prospect in the Senators system, gaining attention via his numbers in the NCAA, ECHL, and AHL. In the 2019-20 season, he maintained a save percentage of over .900 while playing for the Brampton Beast in the ECHL and playing with Belleville in the AHL. When Hogberg got a chance to play for the Senators, Daccord got the chance to prove himself in Belleville. With Hogberg injured, is it time for Daccord to shine again?
Solid in Net
Prior to the start of this season, Daccord played in only one NHL game, where he allowed five goals. Although Daccord's record of 0-2-0 may not indicate this, his performance is what the Senators have been hoping to see from their goaltender since Day 1 of the season. Sometimes records don't reflect the larger picture, like growth, confidence and plays that impress.
In the Senators game on Monday, Daccord took the loss in a 3-2 Edmonton win. But it was in the third period when he turned heads for a sequence of saves against a breakaway by none other than Connor McDavid. (from 'SENATORS AFTERTHOUGHTS: Daccord keeps Senators close, but Oilers take advantage of breakdowns,' Ottawa Sun, 03/09/2021) This was not a simple save, instead a complete denial of McDavid's breakaway that offered three chances at the net. He was able to make the save with the defensive support of Colin White, who somehow caught up to McDavid on the shot and helped Daccord to seal the deal.
This type of play against tough offense is just something you don't expect from a guy playing in only his fifth NHL game.
Transcending Team Stats
In his four games with the Senators this season, Daccord has a GAA of 2.71 and a SV% of .913. In comparison, backup goaltender Hogberg has a GAA of 4.34 and a SV% of .859. Lastly, starting goalie Murray has a GAA of 3.66 and a SV% of .885. These numbers are a result of inconsistency due to poor performance and injuries.
Despite being the third goalie, Daccord's save percentage is relatively higher compared to goalies this season that the Senators had higher hopes for. Their third goalie might be the solution to the stability the Senators are looking for in their goaltending.
Taking a Chance
The Senators need to give Daccord enough chances to prove himself. As he plays more games with the Senators, he will get a chance to show his true potential. Before the game against the Edmonton Oilers, Daccord was seen practicing his puck handling, which is something he later incorporated into the game. This is a sign of him finding his footing and finding his confidence in front of the net. With this comes a level of comfort playing behind the Senators' defense, which is something that had improved in the tail end of the first half.
With the Senators at midseason with the record they have, giving Daccord a chance to prove himself might not be that unrealistic, and it could better set themselves for the seasons ahead.
As Hogberg recovers from his lower-body injury, he may be sent to play for Belleville to regain his game. (from 'Ottawa Senators gradually adjust to busy schedule as NHL season hits halfway point,' Ottawa Sun, 03/09/2021) This is the time for Daccord to make a case for himself. Depending on what happens, he will hopefully be able to earn his first career NHL win.
---
---