It's amazing what a season can do to a team that's trying to turn things around. After a coaching change, a paused season because of the ongoing pandemic and a return to play that saw the Toronto Maple Leafs lose in a qualifying round, it was evident that changes were coming. 
Kyle Dubas brought in a capable defenseman, added some strong depth pieces and now has the head coach that shares the same vision of winning games. As we're over the halfway point of the 2020-21 season, this is a completely different team. 
However, their recent play has come under major scrutiny. After sweeping the Edmonton Oilers, the Maple Leafs loss five of their next six games, including a really disappointing effort against the Ottawa Senators. It's a good thing they have a break in their schedule that allows them to regroup and reset.
Defense Has Come Under Fire
One thing that stood out for the Maple Leafs was their ability to be better defensively. Though, it's becoming a different story. 
| | | |
| --- | --- | --- |
| Statistic | 2019-20 (with Rank) | 2020-21 (with Rank) |
| Corsi Against (shot attempts) | 3,196 (19th) | 1,295 (25th) |
| Shots Against per Game | 31.9 (19th) | 28.6 (7th) |
| Goals Against | 222 (25th) | 79 (14th) |
| Goals against per Game | 3.17 (26th) | 2.63 (10th) |
| High Danger Chances Against | 637 (26th) | 252 (25th) |
While the Maple Leafs have done a great job to limit the amount of shots and goals against, they still manage to allow a large amount of shot attempts against. This is a result of costly turnovers, bad breakouts and poor positioning. Their decision-making with the puck and management has been a real concern as they struggle to connect with their passing and throwing the puck to wrong areas on the ice. 
If you watched that discouraging loss to the Senators, you would know that the Maple Leafs struggled tremendously in that regard. They couldn't make simple clearing attempts and struggled with their coverage. They didn't have anything going for them, which is a phrase that has been used far to often when they don't start on time.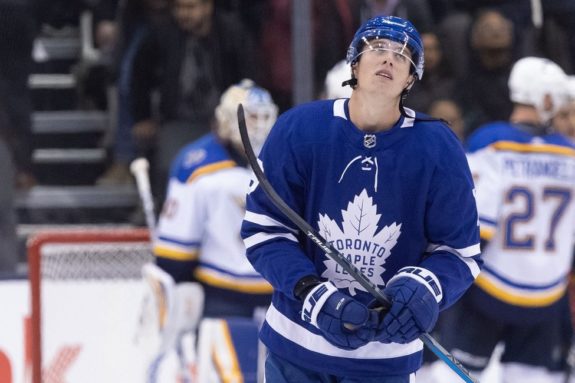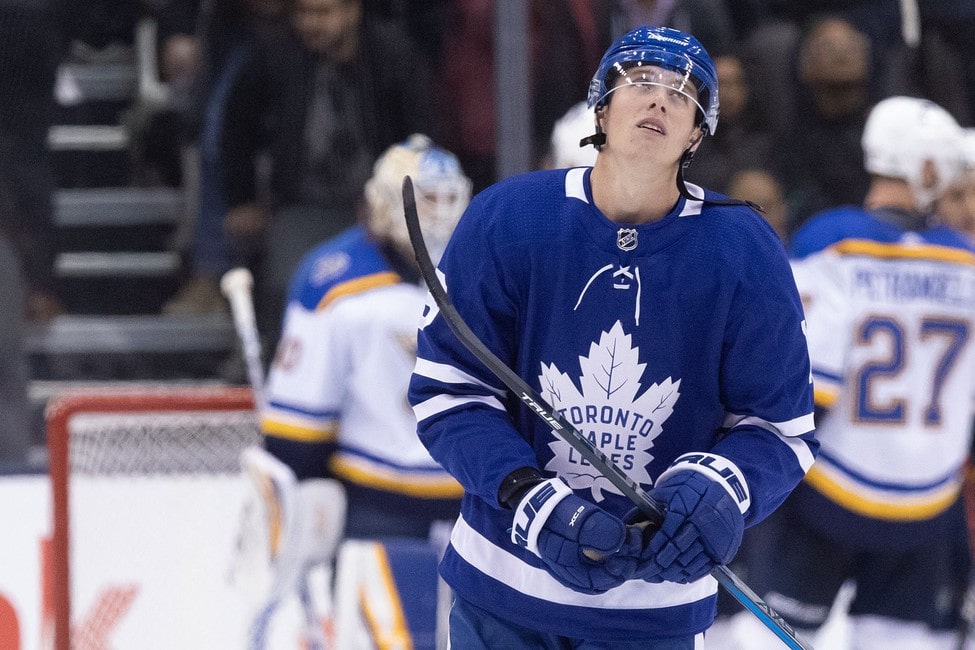 Lately, the Maple Leafs defense hasn't been where it was compared to what we saw early on. Aside from their recent stretch of losing four in five games, they have played better defensively than the previous season. If there's any glimmer of hope it's that they can get back to the way they played early on. What's happened right now is that they're facing their biggest enemy.
Can't Get Complacent
As Luke Fox from Sportsnet writes, complacency could be the only enemy for them as they haven't had many issues this season compared to the past. It certainly looks that way as the Maple Leafs seem to be dealing with the first bit of adversity we've seen all season. 
After their first loss against the Winnipeg Jets, head coach Sheldon Keefe didn't hold back and told things the way it was in regards to the team's errors. "You either have winning habits, or you have losing habits," he said according to David Alter of The Hockey News. "And when you have losing habits, you end up giving up free goals, and then when you don't score enough on the other side of it, you lose games." 
If the Maple Leafs can't shake off their losing habits, that is troubling as other teams are starting catch up to them in the standings. There are times where things won't go their way but they can't have too many of these especially at the wrong time where it could eventually come back and hurt the team. The consistency needs to be there every game and they can't let those bad habits creep in like they did in the past. 
The team is obviously tired during this recent stretch and they could use some rest, but they still can't take any games off and have lack luster efforts. Especially ones like against the Senators. 
Maple Leafs Should Look to Campbell as Starter
On a recent episode of Maple Leafs Lounge, we talked about the goaltending situation and what could be done. Both Alex Hobson and myself agree, that there needs to be a change in net. Hobson even wrote that Jack Campbell could be the starter next season, though he could see an increased role this time around. 
Frederick Andersen's play this season has not met expectations as the starter. Now that we're over the halfway point, the games and points become all that more important. His save percentage is .900 for the season, however, his SV% before coming in relief against the Senators is below .900 four games straight resulting in one win. 
Andersen has not played like a starter at all this season. You can say that there are times when the team hasn't played well in front of him. However, when his team needed him to make a crucial save, it results in the puck being in the back of the net. He's given up quite a few goals that shouldn't have gone in. The Maple Leafs outplayed the Jets for two games and managed only one win. The Jets got the goaltending they needed when it mattered as Connor Hellebuyck was lights out; Andersen was not. 
Which is why the only solution is to go with the goalie that has had any sort of consistency this season, which is Campbell. Although it's a very small sample for this season, Campbell has three wins a 1.33 goals against average and a .951 SV%. Even at even-strength Campbell has a better SV% of .957 compared to Andersen's .916.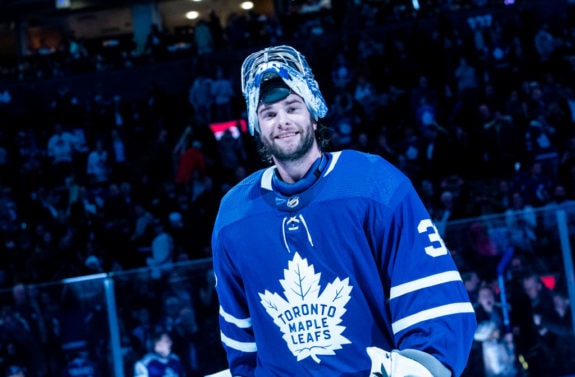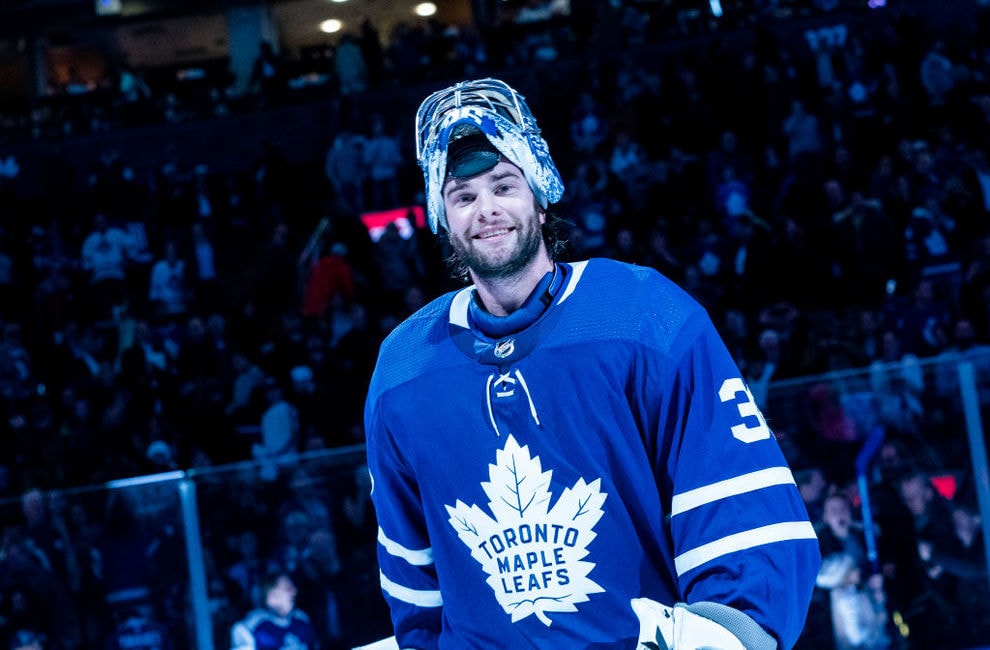 We've seen Andersen make highlight reel saves in the past. However, his inconsistent play in the crease could be an issue going forward. Campbell's calm presence could provide more stability in the crease than Andersen at this point.
Resiliency Shown To Stay In Games
If there was one thing the Maple Leafs improved on, it was play in one-goal games.
The Maple Leafs struggled in that department last season. They ranked 28th in the league with a .400 winning percentage where they won by one goal. As a result, they lost six games in regulation but a staggering nine in overtime, showing their inability to close out a game and hold on to the lead. 
This season, the Maple Leafs have turned that around as they're able to close out games effectively as a result of the improved team's defense. Their winning percentage is now .615 (ninth overall) with eight wins in one-goal games. 
In their first 10 games, the Maple Leafs had five wins where they won by one goal, including three straight. Those kind of games are great for the morale of the team as it gives them confidence that they can close a game and manage to stay in it when the game is on the line. 
An example is their series against the Jets where they mounted a comeback, losing the lead in their first two games, where they lost the first game and winning the second. They fell short 4-3 as Hellebuyck was the difference maker, though they managed to turn up the intensity and battle back on Auston Matthews' late goal.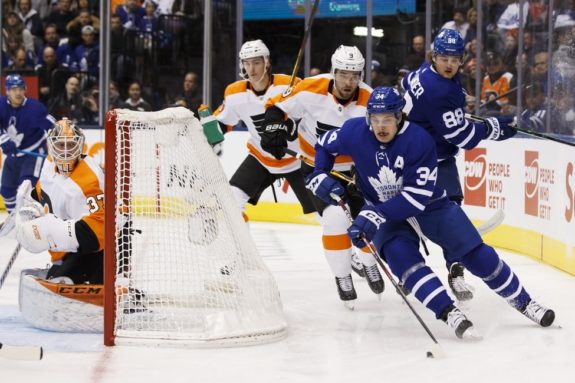 Hellebuyck's stellar play continued into the second game, making a number of great saves as the Maple Leafs had excellent scoring chances. They weren't deterred, as they had to be on their toes defensively in overtime before Matthews scored the game winner. They manage to claw their way back against the Senators, but it was too little too late as they were in a deep hole for that game.
While they haven't done that a whole lot lately, the fact that they're able to close out games better with the lead this season is a good sign for this team. They continue to apply pressure when they need to and know how to defend a lead better. This mentality is what was missing and they need to get that back as that was key to their success early on.
Team Could Benefit From Lengthy Break
The Maple Leafs are now in a stretch where they have a light schedule, with only three games in 10 days. This is the perfect opportunity for them to re-evaluate their situation, work hard in practice and look at the game tape to see what went wrong and improve after this poor stretch of games. 
This was the first bit of hardship that the team has faced all season, even dealing with injuries to key players. After showing improvements to their team defense, the team reverted back to their old habits that plagued them in the past. The breaks in the schedule could rejuvenate everyone so that when game time comes, they'll be more focused and prepared.
Statistics from NHL, Natural Stat Trick and Hockey Reference.
---
---