It's no secret that for the past few seasons the Toronto Maple Leafs have struggled on defense. Under Mike Babcock, the Maple Leafs gave up way too many chances, goals against and their positioning and play in their own end was abysmal. When Sheldon Keefe took over, we started to see some improvement in terms of their defensive play until the season was paused.  
After another disappointing effort in the playoffs where defense was still under performing, they still lacked consistency in order to be successful. The Maple Leafs made it a point that if they want to go far, they're going to have to be better on the defensive side of the puck and be a complete team.  
General manager Kyle Dubas acted on his word and overhauled the Maple Leafs defense by signing T.J. Brodie, Zach Bogosian and Mikko Lehtonen. In the process, he re-signed Travis Dermott to a one-year deal. Early on in the season, things seem to be going in the right direction. The Maple Leafs defense was once a hindrance to their game as it's now becoming a strength as they look to be more structured and reliable.
Against Stats are Noticeably Different
For the first time, in a long time, the Maple Leafs defense appears to be a key reason to their strong 11-2-1 start to the season. Though, their first two games weren't pretty, as well as their 3-1 win over the Vancouver Canucks. Even though they gave up a significant amount of shots against in their 4-2 win over the Montreal Canadiens (35), it was the lowest amount of scoring chances they allowed all season.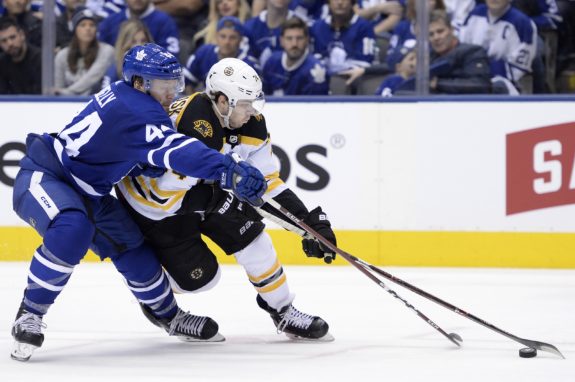 For the most part, their defense has been very steady in shutting down the opposition. The Maple Leafs are 12th in the league in goals allowed at five-on-five with 20. There's also a significant drop in the shots against per game. In 2019-20 they allowed 31.9 per game. Compare that to this season, the Maple Leafs allow 27.9 shots against per game (sixth overall), lowering the amount of shots against by 4. 
That is a major improvement considering that this has been the reason for the team's demise for some time. In addition the Maple Leafs have allowed 2.57 goals against, good for seventh overall in the league. While it's still early on in the season, these are positive signs that the Maple Leafs have started to become more responsible defensively. Below is a look at some of the advanced numbers for the Maple Leafs goals and scoring chances against numbers at 5v5 along with their league rank.
| | | |
| --- | --- | --- |
| Statistic | 2019-20 | 2020-21 |
| Scoring Chances Against | 1,538 (19th)  | 276 (24th) |
| Scoring Chances Goals Against | 137 (28th) | 18 (14th) |
| High Danger Scoring Chances Against | 637 (26th) | 121 (25th) |
| High Danger Goals Against | 93 (29th) | 13 (17th) |
The Maple Leafs numbers in 2019-20 are based on mostly a full season and a larger sample size, but it's still a stark contrast to the 2020-21 season where they've only played 13 games. The chances against are still high, but the Maple Leafs have done a good job at mitigating the amount of goals against off of scoring chances and in the high danger area. For both SCGA and HDGA, the Maple Leafs rank in the middle of the pack, which is better than last season. The team can always continue to improve minimizing chances against. However, it's great to see that the goals, particularly from the high danger area, are fairly low. 
The team wanted to be better defensively and be consistent with their positional play in their own end and it's showing. They aren't chasing the puck and getting caught out of position and there aren't as many miscues. Yes, you see the odd mistake here and there, but it's not as glaring as it was last season or the season before that.
While it comes down to the way the defensive system is being drawn up, it's also coming down to the players that the team has on the blue line and their level of play.
Brodie and Holl Early Standouts
Dubas initially had his eyes set on Brodie where he would've acquired him from the Calgary Flames in exchange for Nazem Kadri. That trade fell through, although he got his man when he hit the free-agent market. The Maple Leafs have lacked a capable partner to play alongside Morgan Rielly as he jumps into the rush and provides the offense. The signing is paying off, as he's become a major staple on the team's defense.
His underlying numbers aren't strong as he's been on for more shot attempts against with a Corsi plus/minus per 60 of -3.74 at all strengths. Seeing top pairing minutes against the team's best competition could do that. Brodie has done a terrific job in doing what he was brought in to do. He breaks up plays and pushes the offense forward with a stretch pass to break out of his zone as well as having a low turnover rate in the defensive zone. 
There have been times this season where Brodie has done a terrific job at defending odd man rushes and negating a scoring chance. These are the kind of plays that will help the Maple Leafs in the long run as they attempt to continue improving on their defensive play.
While Brodie has provided the kind of defense the team has desperately needed on the top pair, the biggest surprise for the Maple Leafs is the play of Justin Holl. He's been a major standout as the team's best defender.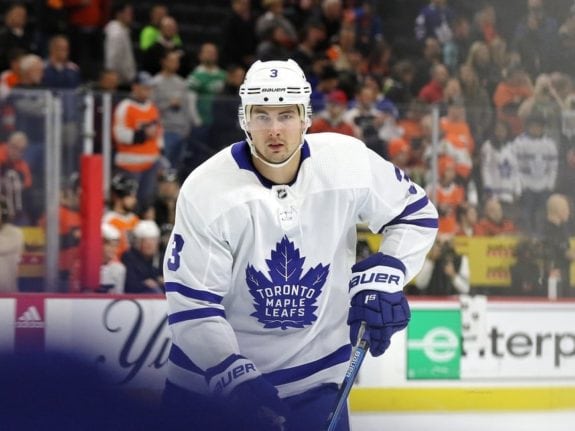 I've stated that Holl could be one of the players on the outside looking in after moves made in the off-season. And I'll admit, I shouldn't have counted him out as he's been playing phenomenally. He's playing the way the coaching staff had wanted him to. He's become a stalwart with Jake Muzzin, even carrying the veteran at times.  
At 5v5 with a minimum of 50 minutes played, he's in the middle of the pack on the team in terms of shots against (92, 12th) and scoring chances against (87, 12th). He has four primary assists and an expected goals for percentage of 54.93, fourth overall. These are pretty impressive numbers for him, seeing top four minutes and providing a strong two-way game. He also recorded a goal and has stated that he'd like to use his shot more often. 
But Holl's game has been taken to a whole new level. Jack Han explains that Holl does two things very well; separating his opponent from the puck to win puck battles and being quick to retrieve the puck. As a result, Holl does a really great job to gain puck possession and start the play to break out of his own zone. Holl seems to execute these strategies perfectly as a result of his skating, reach and strength.
Maple Leafs have Capable Depth on Defense
While the Maple Leafs are starting to turn the page in terms of their defensive play, they now have the depth on the blue line, where anyone can come into the lineup and allow them to succeed.
Bogosian doesn't have the offensive capabilities, but has shown to provide strong coverage in front of the net. Lehtonen struggled in his first few games, but seems to be more comfortable lately as he has three assists in the last three games he's played. Even though Dermott averages just over 10 minutes per game, he has looked really impressive as he's been on for 32 SCA (fourth on the team) and only one goal against at 5v5, with a minimum of 50 minutes played.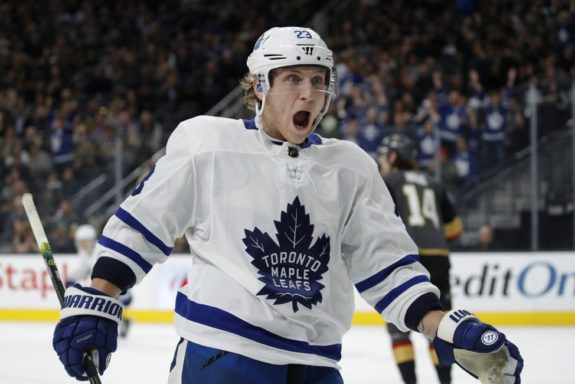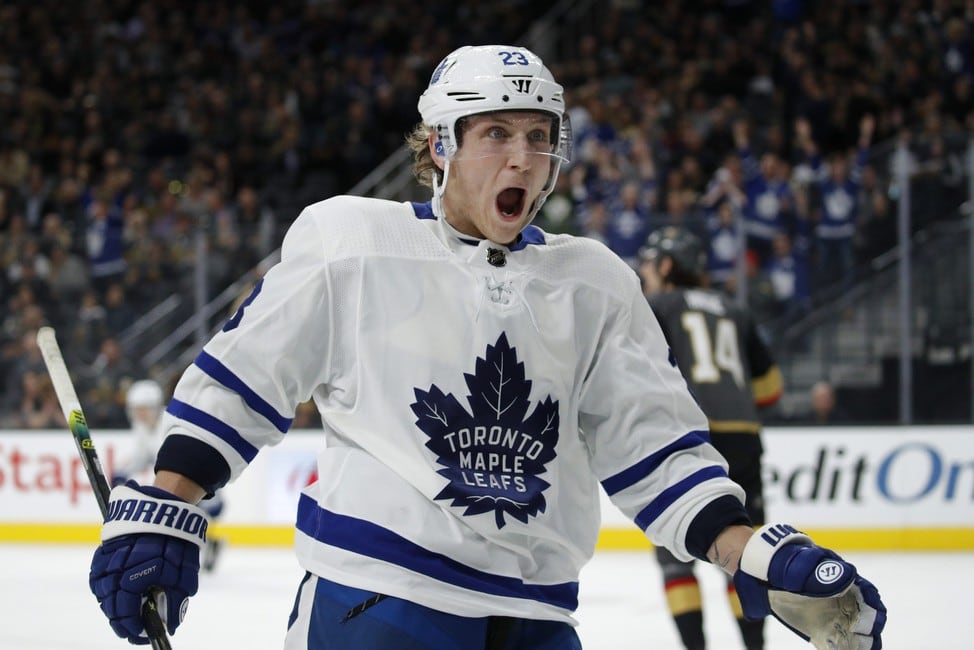 Rasmus Sandin has voiced his disappointment of not seeing any ice time. He hasn't played a game since last season, but he got a chance recently against the Canucks. Overall he didn't look out of place as he was great in one-on-one situations, closed the gaps very well and even added an assist on Auston Matthews' 300th career point. He made the most of his time, seeing only 5:00 minutes of ice time. 
As the season progresses, and if there are injuries on the blue line, they're going to need players to step in and make an impact. The Maple Leafs have the depth that'll allow them to be tough to go up against. Things are starting to look great for the way they manage themselves defensively. Dubas' work to adjust his team's defense is paying off early on.
Statistics from Natural stat Trick, Evolving Hockey and NHL.
---
---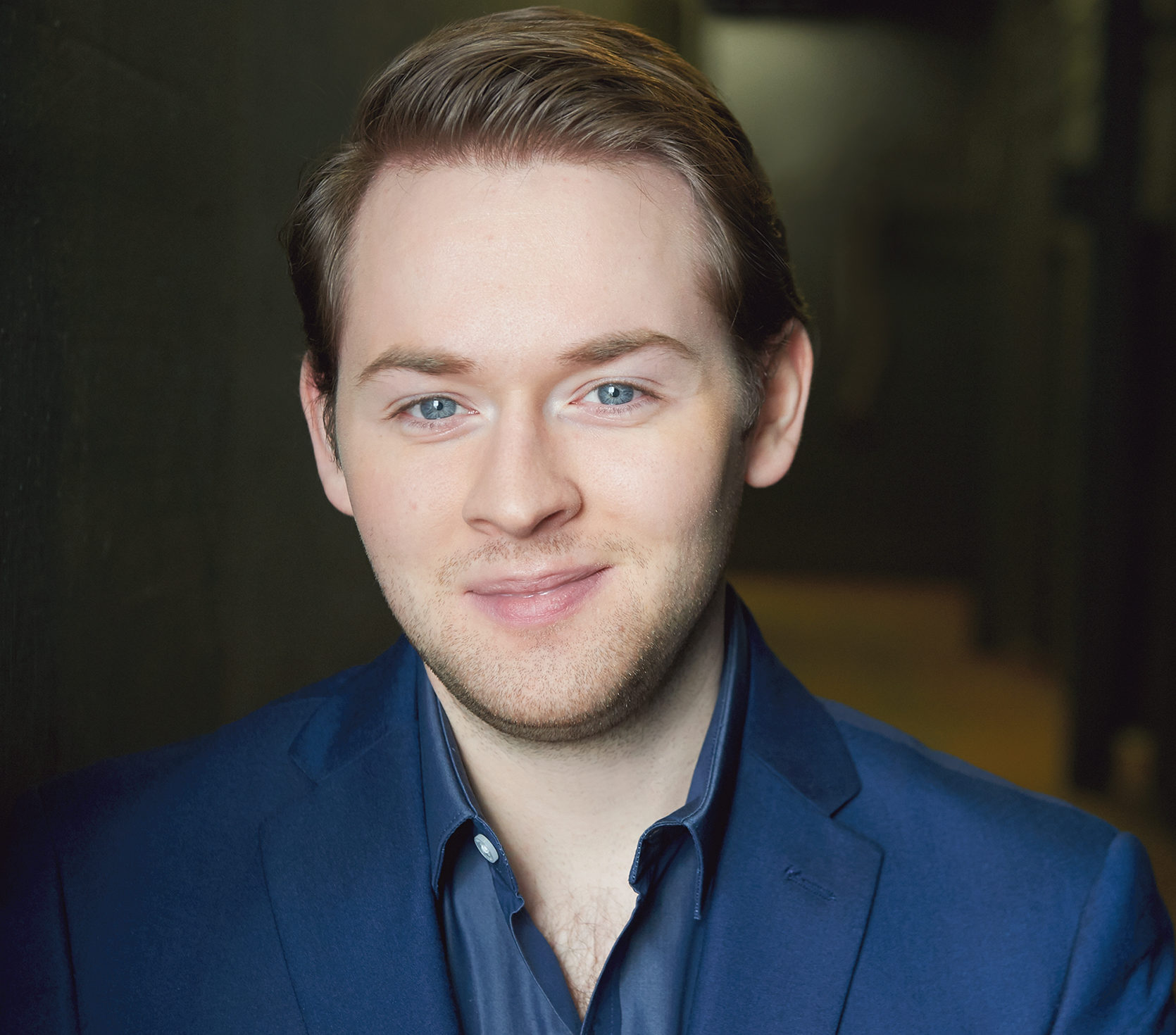 Peter is in his third year with The Hockey Writers, covering the Toronto Maple Leafs and heading the Draft and Prospects section. He has previously interned at The Hockey News and worked on Toronto Marlies broadcasts for Rogers TV. He currently is the co-host of the podcast Sticks in the 6ix and a frequent guest on Maple Leafs Lounge. Aside from hockey, he also enjoys drumming, animation and impressions/ voices.