As he has been all season long when called upon, Jacob Markstrom was the major storyline for the Calgary Flames once again. He set aside 33 of 34 shots that the Vancouver Canucks threw his way, and was magnificent for his team on the penalty kill, as the Canucks went 0/4 on the power play. The victory was without question an emotional one for Markstrom, Chris Tanev, and Josh Leivo, as the trio combined for 828 games played in Canuck sweaters.
Even though the video tribute presented on the jumbotron for all three former Canucks was likely tough to watch for those players, the newest Flames and their teammates found a way to secure their third victory in a row, and hand Vancouver their sixth-straight loss. (From 'SNAPSHOTS: Markstrom steals win for Flames in his return to Rogers Arena,' Calgary Sun, 02/12/21)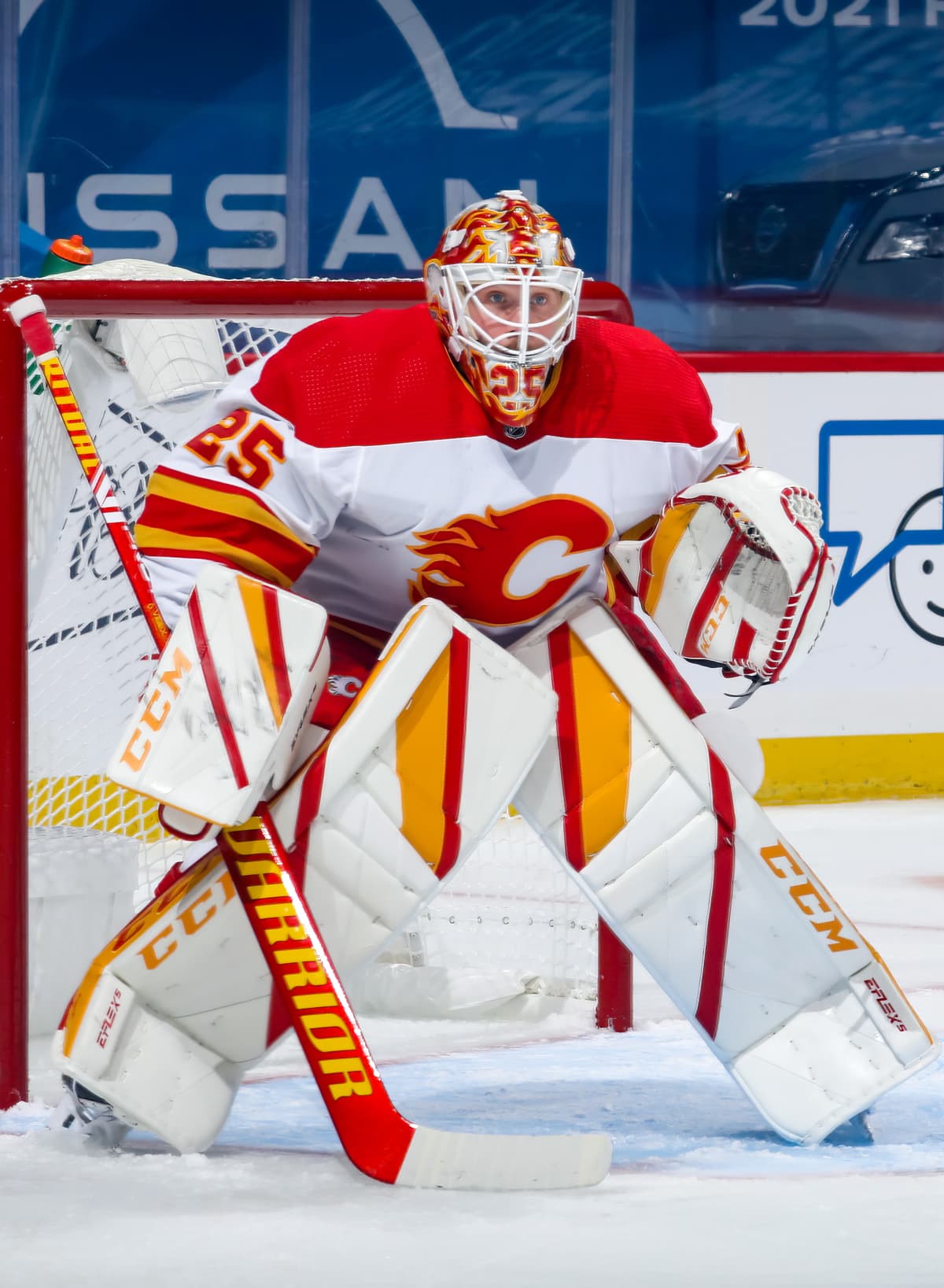 Markstrom deserves all the credit in the world for his strong performance, as he bailed the Flames out, and kept them in a game where they didn't look as engaged as they did in the previous two games played. The win has further solidified the fact that this team still needs to get their offense to contribute more consistently, as Markstrom can't keep stealing the show, but one Flames forward gave his team the life they needed against Vancouver and has been hot to start the season, too.
Breathing Room
The Flames took a step back in terms of their offense, as they just weren't the same team that put up six goals against the Edmonton Oilers on Saturday, but they were also playing an extremely desperate Canucks team. They walked into last night's game having already lost five-straight, and the frustrations of a group desperate for a win transpired into the Flames facing heavy waves of offensive zone pressure throughout the game. Somehow, Markstrom was able to hold his former squad at bay in the crease, and Calgary received two very lucky bounces, as well as one huge game-changing goal.
The first three tallies of the hockey game were very interesting. The Flames' first and second goals were off of deflections in front of Thatcher Demko, and the Canucks' lone goal was a bit of a strange mix up in the crease after Brock Boeser picked up his own rebound, all set up off of a gorgeous feed from Elias Pettersson. It was Markstrom vs Demko, the once teammates in the Canucks' goalie rotation going head-to-head, with Markstrom seeing the better portion of high-danger scoring chances last night. One Flames forward, though, made no mistake on his golden opportunity.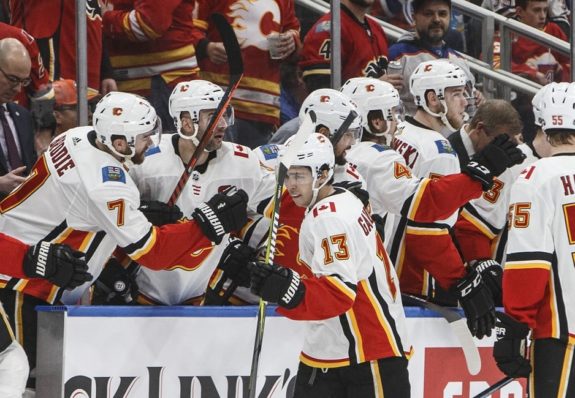 As he has done so well this season, Johnny Gaudreau found a way to turn things around for his team, as he sniped home the insurance-marker his group desperately required. A very well-rested Sean Monahan, who had just stepped out of the penalty box, turned the puck over and sprung his linemate, Gaudreau, in for a breakaway, and he made no mistake to bury his eighth goal of the season. Gaudreau now has 14 points in 13 games and is off to a much better start than last season.
Great Timing
The Flames saved their best period for last, as the goal helped alleviate the pressure that the Canucks had built up all game long, and continued to pour on. Despite Gaudreau not having his strongest game of the season, he managed to show everyone that he can still be deadly on a breakaway, as he gave his team the life they needed to take down a heated Canucks team. Finding the right move to use on a goalie can be tough because your mind is racing while your legs are trying to do the same. For Gaudreau, shooting rather than deking seems to be working so far this season.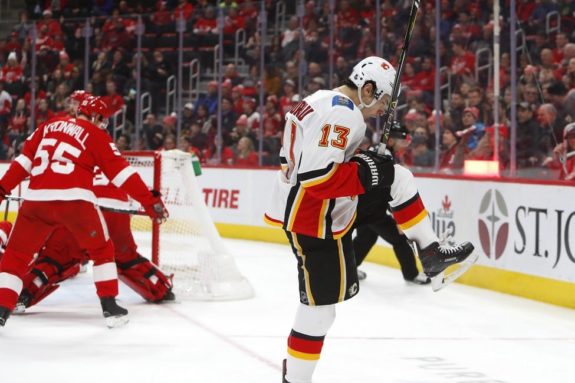 "I'm trying to shoot a little bit more; I think a lot of teams know I like to pass. When I get the shot, I try to take it, when the pass is there, I make it, but I'm trying not to get too cute this year. Just trying to get pucks to the net and they've been finding the net for me," said Gaudreau. No matter how he gets it done, "Johnny Hockey" appears to be comfortable right now, as he's playing some fantastic point-per-game hockey for Calgary. If you thought the Canucks were an angry team on Thursday, just wait until these two teams meet again on Saturday, where Calgary looks to make it four wins in a row, and hand the Canucks a seventh-straight defeat.
---
---
My job as a writer is a dream come true. I wake up every day and remember, this is the kind of job I've wanted since a very young age. In order for me to continue fulfilling that dream, I need you, the reader, to let me know how I'm doing. Feel free to subscribe to The Hockey Writers, and drop a comment regarding anything Calgary Flames. Thank you!