The Toronto Maple Leafs' defence has been the target of much discussion — and criticism — for the better part of the last three or four seasons. We know they've got the talent up front with the big four, but there's always been something lacking on the back end.
General manager Kyle Dubas has attempted to address the problem with various band-aid fixes, including failed experiments with both Cody Ceci and Tyson Barrie last season. This past offseason he went out and signed 30-year-old T.J. Brodie who should be a good fit in the long run but has struggled in his own right thus far.
Related: Maple Leafs' Power-Play Strategy: A Wayne Simmonds' Net-Front Statue
Through all of these changes, though, there's been one constant that has gone under the radar: the emergence of Justin Holl.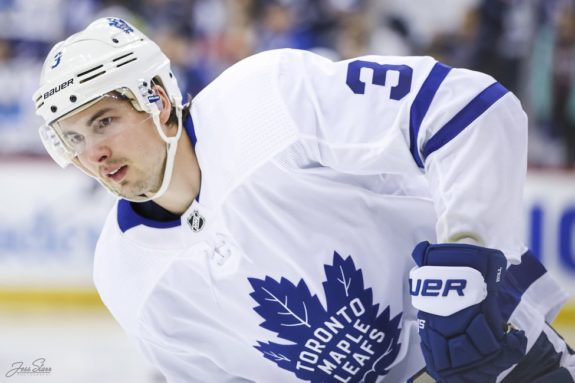 Playing over 21 minutes a night, Holl has cemented himself as a key cog on the Maple Leafs' defence, putting up some outstanding numbers along the way without much fanfare. Let's dig into the 28-year-old's impressive start to the season and try to figure out if this is just a flash in the pan or if he truly is the real deal.
Holl Has Been One of the NHL's Best Defencemen in 2021
What if I told you that Holl has been the Maple Leafs' best defencemen through eight games this season? On a blue line with stars like Morgan Rielly, Jake Muzzin, and Brodie, that sounds pretty absurd. Now, what if I said that he's been one of the best defencemen in the entire league? You'd probably assume I'm crazy. Well, I might be crazy after 2020, but I believe I can make a pretty good case for Holl's standing as an elite defenceman so far this season.

Simply put, Holl has been dominant in every facet of the game for the Leafs — his four points put him in elite company among defencemen league wide, while he's also been able to tilt the ice in his team's favour by shot attempts (CF%), expected goals (xGF%), and actual goals (GF%). Put another way, the Maple Leafs have outshot the opposition 73-39 and outscored them 7-3 at 5-on-5 with Holl on the ice this season. He's done all of this while matching against tough competition such as Edmonton Oilers' star Leon Draisaitl, who he completely shut down in the Leafs' 4-2 win last Friday.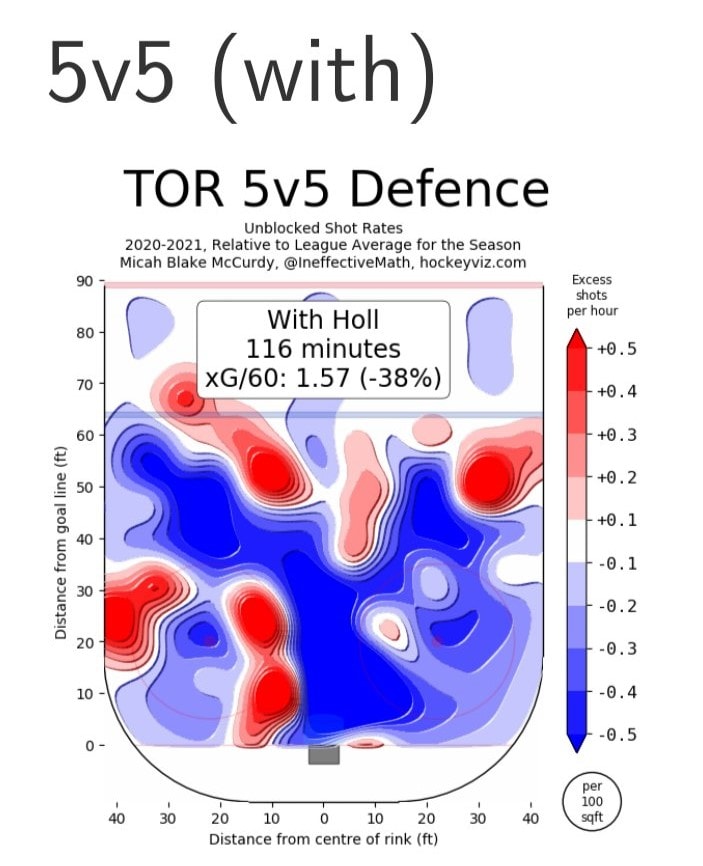 It's primarily Holl's outstanding defence that has allowed him to succeed this year as he simply hasn't allowed opposing forwards to attack the net when he's on the ice. He'll never be the flashiest or most talented player with the puck, but his 6-foot-4 frame coupled with above-average skating and good instincts makes him an effective defender and puck mover.
Related: Kraken Expansion Draft Targets on Maple Leafs Roster
Of course, there will be counterarguments and non-believers. The common belief last season was that Holl only kept his head above water because he was paired next to the steady Muzzin. While that may have sounded like a good argument last season — we'll look into that in a moment — that's certainly not the case this season. In fact, it appears that the opposite is happening.
When Muzzin and Holl play together, the pairing is at about 62% Corsi for (CF), 67% Expected Goals For (xGF), and 62% Goals For (GF), making them one of the most dominant defensive duos in the NHL.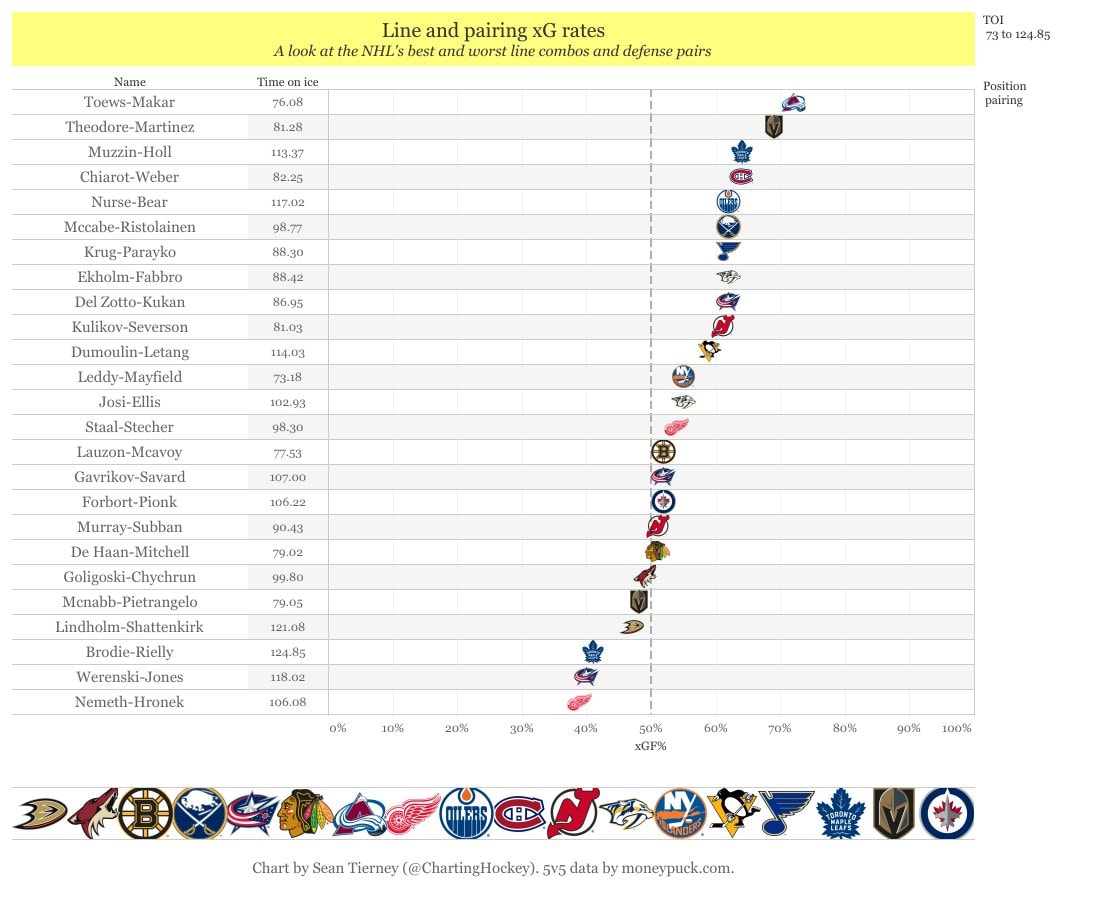 When Holl and Muzzin are separated, though, their 5-on-5 results have been drastically different. In about 23 minutes without Muzzin, Holl's results suffer a bit with his CF falling to 47%, though his xGF is still strong at 58%. When Muzzin plays without Holl, his CF tumbles way down to 39% coupled with a horrible xGF of just 12%. Although Muzzin has only played 21 minutes without his regular partner, he's given up 10 high-danger chances in that time while his team has generated zero. There have been plenty of criticisms about Muzzin's game this season and the numbers seem to bear that out. They also seem to indicate that Holl is the one carrying the pair this season — not the other way around as most would assume.
Holl Has Been Solid Since Last Season
We've established that the Minnesota-native has been excellent this season, but we also have to consider that it's only been eight games — a basically meaningless sample size. Luckily for Holl, the positive results go all the way back to the 2019-20 season.
Related: Maple Leafs News & Rumors: Hutchinson, Andersen, Marner & Anderson
Through 68 games, Holl put up a solid 52% CF, 53% xGF, and 52% GF — good numbers but certainly nothing close to this season's performance. When you look at the numbers relative to his teammates, though, Holl ranks first in xGF% and second to only Travis Dermott in GF%. Curiously, he once again put up better xGF numbers without Muzzin than Muzzin did without him, which somewhat neutralizes the argument that Muzzin did all the heavy lifting last season. We're seeing a continuation of that trend this year, so I think it's safe to say that Holl is a good player in his own right — not only next to an elite partner.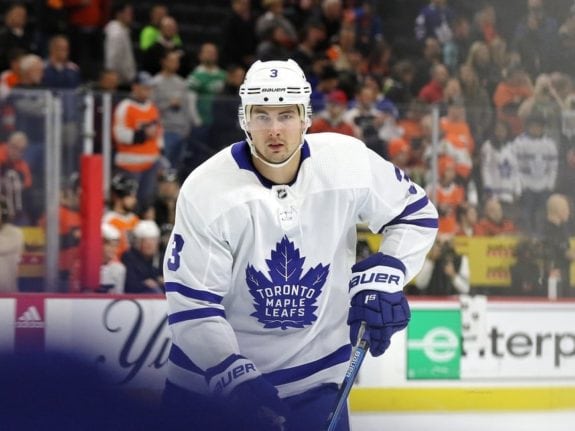 Can we ultimately conclude that Holl is, in fact, an elite defenceman? Maybe not just yet, but if he keeps a similar pace up for the rest of the 2020-21 season, I think we've got to start believing. There's nothing about his game that suggests he's riding insane puck luck, either, and that certainly bodes well for his future results.
We've always heard that the Maple Leafs are in need of a big, steady, right-hand shot defenceman. It looks like they've got exactly that in Holl, and it's about time he's given the respect he deserves.
Stats from naturalstattrick.com
---
---
Chris Faria is a contributor for The Hockey Writers with a focus on the Toronto Maple Leafs. A hockey player and self-proclaimed analytics nerd, his work aims to combine both stats and a deep knowledge of the game. He is currently pursuing a graduate diploma in sports journalism at Centennial College in Toronto.