Although we're just a couple of days away from the beginning of the 2020-21 season, I don't think it's ever too early to start looking towards the future, especially with the Seattle Kraken 2021 Expansion Draft just months away.
In the Vegas Golden Knights' Expansion Draft back in 2017, the Hurricanes escaped relatively unscathed, as a majority of their desirable players & prospects were exempt from selection. The Canes did trade Vegas a fifth-round draft pick to save Lee Stempniak, which was a questionable move at the time and even worse in hindsight. But considering what some other teams lost, to escape the draft losing just a fifth-round pick was a win. 
However, this time around, I can't envision the Canes being as fortunate. With the same protection guidelines in place (either seven forwards and three defensemen, or eight skaters total and a goalie), the team is all but guaranteed to have to expose multiple good players from their lineup, regardless of which format they choose. The good news is that Seattle can only select one player from them. The bad news? Kraken GM Ron Francis, aka former Canes' GM Ron Francis, knows this team and the roster like the back of his hand and is likely salivating at the mouth looking at his options.
It's no doubt that this team is going to lose a key roster player or potentially other assets in an attempt to protect their guys. They do have options, though, and there are multiple variables in play that could directly affect whom the team will protect and/or expose. I'll do my best to cover all of those options below, and then I'll offer my opinion on what I think is the best route to take. Let's begin.
The Forwards
When taking a look at the players who should be protected, the first step is to identify the players that shouldn't be and eliminate them from the equation. A quick look at the team's salary page shows that Brock McGinn, Ryan Dzingel and Jordan Martinook are all on expiring contracts, so it's highly unlikely any of the three are protected (or selected) unless any of the three agree to a contract extension during the season.
The restricted free agent group includes both Andrei Svechnikov and Warren Foegele, who are both in need of protection. Svechnikov's place on the list is a lock, and the hope is he'll be a Hurricane for a very, very long time. Foegele's future is more of a debate. He just re-signed on a one-year deal, but with a loaded pipeline and a bit of a redundant role, he's a question mark. He's definitely an asset that would require protection, but if he's not part of the long-term plans and Seattle has interest, maybe you protect someone else at his expense.
Jordan Staal is an interesting case. His full no-move clause guarantees protection, but could Carolina persuade him to waive it? The fact of the matter is, Seattle, building from the ground up, is extremely unlikely to have interest in a player with a $6 million cap hit and declining production, especially considering the other options they'll have. With three more years on his deal and his family settled in Raleigh, it's hard to imagine Staal taking the risk, but it would give the team a spot to protect someone else. This scenario is unlikely, but it's worth mentioning.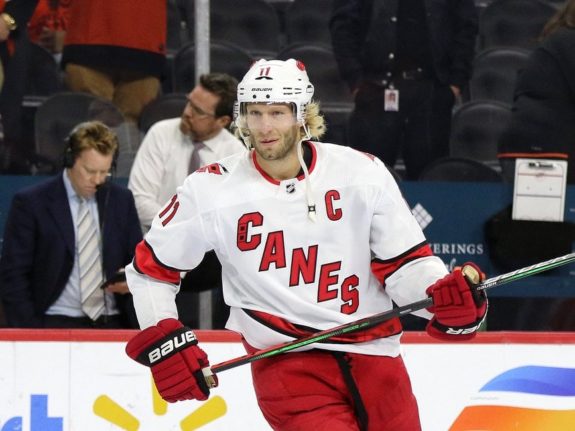 Including Staal, the team has an additional six forwards in need of protection. Sebastian Aho, Teuvo Teravainen, Nino Niederreiter, Vincent Trocheck, Jesper Fast and Morgan Geekie (who's also an impending RFA) round out the group. Martin Necas is exempt. From this group, the only obvious locks are Aho and Teravainen. You can make a case for any of the four other players, but I'll personally wait and see how their individual seasons play out before making that choice.
The Defense
The Canes' deep defensive group has always taken the spotlight in expansion draft talk, and it's pretty safe to assume they'll lose someone from this group. Luckily for the team, the prospect pipeline at the position is very strong. But make no mistake about it, they're likely to lose a good player from their roster who they'd probably want to keep around.
The major wild card in what the Canes decide to do with their defensive protections is the status of Dougie Hamilton, who's entering a contract year and is scheduled to be an unrestricted free agent in the summer. There are three things that can happen. One, Hamilton won't be re-signed and therefore won't be protected. Two, he'll re-sign before the draft, and gets protected. Or three, the team leaves him exposed, with a contract agreement in place afterward (which obviously has its risks).
The hope is obviously that Hamilton gets re-signed, but let's move onto the locks. Jaccob Slavin and Brett Pesce are two of the most cost-effective players in the league and a huge part of the Canes' success and identity. Both are on long-term deals, and the team will protect both. Beyond them, it's hard to give anyone else that designation.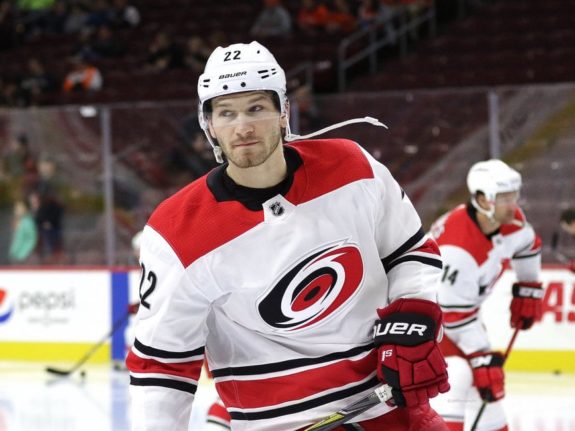 Looking at the rest of the group, Haydn Fleury should be next in line. He's still young, team-controlled, and an ascending player, so he's a guy you want around for the long-term. Brady Skjei and Jake Gardiner are both quality players, but both are on relatively expensive contracts that, if the team is able to shed either of, would probably be wise to do so. Jake Bean is a promising player but obviously can't justify protection as of right now.
There's a good chance that at least three, or potentially all four of Fleury, Skjei, Gardiner, and Bean are exposed to Seattle, and it's hard to envision Ron Francis not pouncing on the chance to add one of those players to his roster. For a new franchise, Fleury or Bean would make the most sense, but maybe the Canes could offer some other assets in return for a selection of Skjei or Gardiner. Time will tell.
Goaltenders
At least the goaltending side of the roster will be an easy decision for Don Waddell and Co. to make, seeing that the team literally doesn't have a single goaltender signed for the 2021-22 season. Petr Mrazek, James Reimer and Anton Forsberg are set to be unrestricted free agents in the summer, and Alex Nedeljkovic will be in the restricted group. So, pick your poison.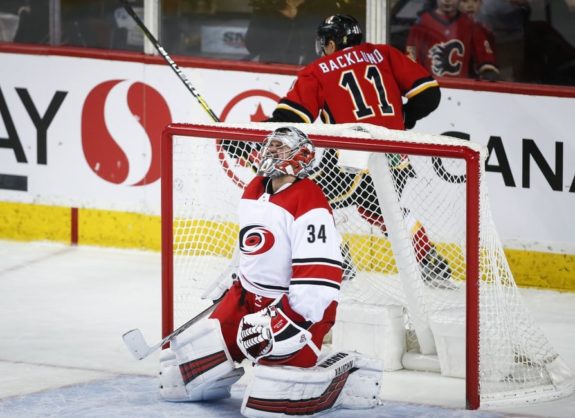 The Canes will have to protect somebody and expose somebody in this spot, and the likelihood is that they'll sign one, or more, of the goaltenders mentioned above before the draft, either as bait or as part of the future (should any of them show worthiness). 
I genuinely have no idea what the team will end up doing here, but I can say with near 100% certainty that regardless of which goalie the team exposes, Seattle will not be selecting them.
The Options
For the sake of actually being able to project possible protection outcomes, I'll be doing so with the thought in mind that Carolina will be signing Dougie Hamilton prior to the draft and therefore protecting him. 
7 Forwards, 3 Defenseman, 1 Goalie
With the seven-forward option, the Canes would be certain to protect Staal (would not need to waive in this scenario), Aho, Teravainen, Trocheck and Svechnikov. Beyond them, the team would have their pick of two players from the group of Niederreiter, Fast, Geekie, or any of McGinn, Martinook or Dzingel, should the team re-sign them.
The three defenders protected in this scenario is a no-brainer, with Hamilton, Jaccob Slavin and Pesce getting protection. As far as the goaltending, flip a coin.
8 Skaters, 1 Goalie
This option is super fun to speculate on but would require a few things to happen for the team to even remotely consider going this route. First off, let's list the players that absolutely justify protection: Aho, Svechnikov, Teravainen, Hamilton, Slavin, Pesce. Those six are absolute locks.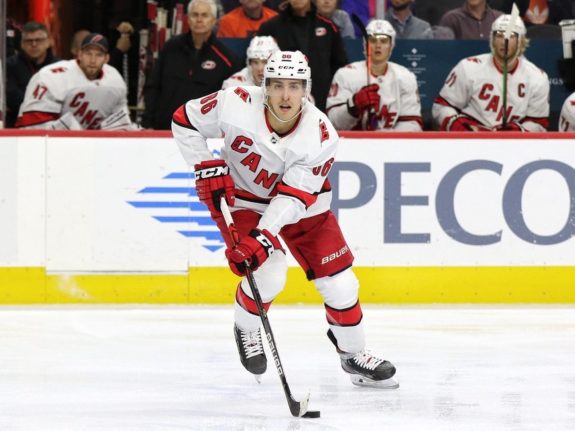 Beyond them, the eight skaters route would leave the Canes just two additional spots to protect players from the roster. Now, remember, Staal is guaranteed protection, so the eight-skater scenario will not be under consideration unless he decides to waive his no-move clause for exposure.
My early pick for the additional two protections would be Haydn Fleury and Trocheck, but the team would have to be willing to expose and potentially lose other key players like Foegele, Niederreiter, Skjei, Gardiner and etc, for this to be a possibility. However, if Fleury emerges how I'm expecting him to, I would hope the Canes seriously consider the possibility to keep him at all costs. Again, the goalie is irrelevant.
Trades
As we saw in the Vegas draft, teams that were in the same position that Carolina is now sent assets like picks, prospects and/or roster players to Vegas to avoid them selecting a certain player. Ultimately, it boils down to how much the team values specific players that they may lose and what Seattle may want in return to not select those players. This scenario is super risky.
As we saw with Minnesota (Haula, Tuch), Florida (Marchessault, Smith) and others, going out of your way to protect one guy can get you burned. We saw some teams give up multiple assets to keep their cores intact, and Vegas laughed all the way to the Stanley Cup Final. I'm assuming teams will be more cautious this time around, but you never know.
The draft is still a ways away, and obviously, the Canes will make a lot of their decisions based on the success or failures of their players during the upcoming season. The good thing is that Don Waddell and the management regime have proven their competence as a whole, and there's reason to be confident that they'll make the right choices when it comes to the Seattle Draft. 
---
---