The Carolina Hurricanes' season is now just one week away from official puck drop, and for the most part, the opening night roster is basically set. With contributing players such as Joel Edmundson, Trevor van Riemsdyk and Justin Williams having departed from the team, the Canes will have to look elsewhere on the roster to make up for that lost production.
One way to do that will be through players returning from injury, as both Dougie Hamilton and Brett Pesce missed significant time last season. The Canes added Jesper Fast as a free agent, and the team will count on him to chip in as well. But a major key for the team will be relying on certain young players to take the next step in their development. Let's take a look at three players who could potentially do that this season.
Haydn Fleury
I mean, did you really expect me to start off this article with anybody else? First off, let me clarify that Haydn Fleury IS GOOD. He's fantastic, and he'll FINALLY get the opportunity to play consistent minutes this season, which will lead to a natural breakout campaign.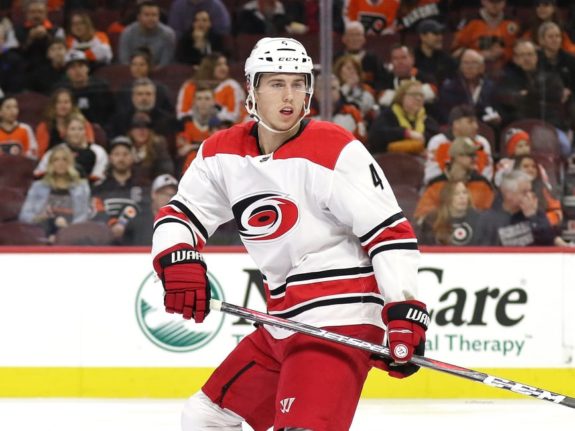 Last season, anybody who routinely watched Canes' games had witnessed the legitimate emergence of Fleury. And if you didn't consistently watch the Hurricanes, you probably still knew about Fleury's emergence because I tweeted about it literally every day. Even with Edmundson, van Riemsdyk and Sami Vatanen unnecessarily taking ice time from him throughout the year, Fleury rightfully earned his place.
In 2020-21, there's no question in my mind that we'll see him sprout into a legitimate force on the back end. Early on in the 2019-20 season, he was playing mild minutes, and despite good showings, was having difficulty establishing himself in the lineup. However, Dougie Hamilton's injury opened up a spot for him, and he ran with the opportunity. He played serious minutes down the regular-season stretch, and his confidence grew, earning coach Rod Brind'Amour's trust and putting a grasp on his spot in the lineup.
When the NHL resumed play in Aug. 2020, Fleury had firmly secured his spot in the lineup, with higher-paid players like van Riemsdyk and even Jake Gardiner being relegated to press-box duty. From there, Fleury played all eight playoff games in the Toronto bubble, averaging over 16 minutes per game and leading Canes' defenders with two goals. He showed off his defensive capabilities as well, with 11 hits and 19 blocked shots in those eight games, to go along with a plus-three rating.
With departures on the team's back end guaranteeing Fleury a spot on the opening night roster, this will be his first full NHL season to establish himself. He's got all the tools coveted in a top defenseman — good size, great skating ability, defensive IQ, physicality and great puck movement. I wouldn't expect an offensive explosion from him, but he can create offense on the rush, and he'll be a huge part of the penalty kill. Likely to play alongside Gardiner or Brady Skjei on the team's third pairing, there's no doubt in my mind that he'll contribute as a big difference-maker for this team.
Martin Necas
Coming off an impressive rookie season, Necas looks like a player who seems set to become a star player. Despite inconsistent ice time and linemates as a rookie, Necas' 16 goals and 36 points showed real promise and a lot of room to grow as he matures as a player.
Since the team drafted him back in 2017, Necas has always been one of my favourites to track. His combination of blazing speed, slick hands and high hockey IQ make him an absolute joy to watch, and his overall well-rounded package of offensive qualities makes him a seriously dynamic weapon and an extremely tough player for teams to contain. Just admire his skill:
Interestingly enough, Necas did a lot of his scoring damage at even strength last season, with 11 of his goals and 27 points coming at 5-on-5. So, despite averaging almost two minutes of power play ice time per game, he had just nine power play points in 64 games, which is an area he can considerably improve upoin during the upcoming season. I'm assuming he'll start on the second unit, and considering the team's lack of options there, he'll really be relied on to lead that group.
One concern I do have with Necas is his strength. Although I don't think it'll really impact his ability to be a high-end point producer (especially in the regular season), it was quite a noticeable flaw during the 2020 Playoffs. I'll never expect him to be a guy that establishes the tone physically, but he was severely overmatched and became a perimeter player in the Bruins series, which led to a drastic drop in ice-time. It's obviously something he can work on, and I do think it's key for his overall development.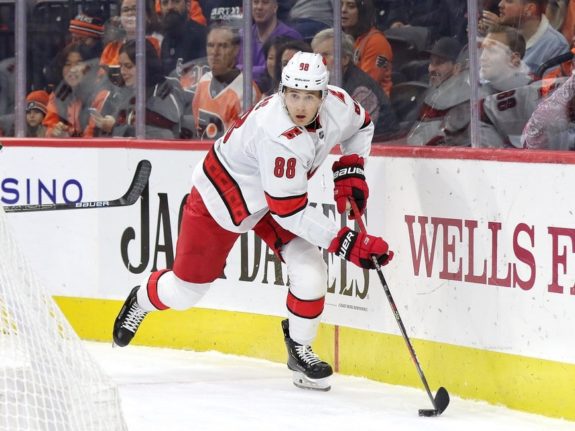 In spite of that, I do think the Bruins series was a great learning experience for him, and Brind'Amour will have him better prepared for those situations in the future. In the 56-game 2020-21 season, I don't think it's unreasonable to expect around 40 points from Necas, especially if he can up his power play production. He'll be a key player to watch this season, and a step forward in his development is vital, seeing as he's among the team's most relied upon options for secondary scoring. I think he has a chance to establish himself among the premier young forwards in hockey this season.
Alex Nedeljkovic
I could've gone with a few different options here, but a nagging feeling in my gut told me to go with long coveted prospect Alex Nedeljkovic. This is a total shot in the dark. Considering "Ned" is currently third on the Canes' goaltending depth chart behind Petr Mrazek and James Reimer, it's entirely possible Ned won't even get a chance. And on the other hand, it's entirely possible he does.
Obviously, he's not a spring chicken anymore. It's starting to feel like he's been in the organization forever, and now at age 25, he's really running out of time to prove himself. But at some point, you have to wonder, what more can this kid do? From winning OHL Goalie of the Year in 2014 to winning AHL Goalie of the Year and the Calder Cup in 2019, Nedeljkovic has proven himself among the elite at his position at every level he's played. So why hasn't he gotten a chance?
It's honestly both a fascinating and head-scratching situation. The Canes have had question marks in goal for years, yet Nedeljkovic hasn't been counted on as a potential answer yet. Despite being signed to a two-year contract by Don Waddell in the summer of 2019, we can't forget that the Ron Francis regime drafted Nedeljkovic, and it's plausible that Waddell and his team don't view him as strongly as Francis did. Despite that, the team had enough hope to guarantee Nedejkovic a one-way salary this season, and he's an impending RFA after the season.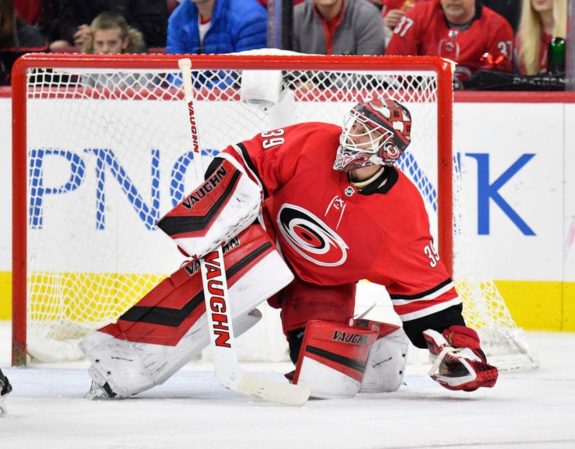 For now, the good news for both Ned and the Canes is the introduction of the "taxi squad," which will permit the team to carry an extra goaltender (they've been reluctant to do in the past). Because of this, all three of Mrazek, Reimer and Ned will travel with the team, and as of right now, it's safe to say neither of the three has a firm hold on the starter's crease. We'll assume that Mrazek and Reimer get the first crack at it, but inconsistent play and/or injury could easily vault Nedeljkovic into playing time.
Looking forward, the Hurricanes currently have no goaltenders under NHL contract beyond this season, so it'll be a massive year for Nedeljkovic in terms of his future in Raleigh. At age 25, if he can't prove he's a viable NHL option at this point of his career, it's hard to imagine that he ever will, especially heading into his seventh year as a member of the organization. With so many question marks in both the short and long-term future of the Canes' goaltending, it's really time for the team to find out whether this kid can be a solution. The talent is there, but can he put it all together?
The Nedeljkovic storyline will undoubtedly be among the most interesting to follow in the coming season. With both Mrazek and Reimer dealing with injuries last season, as well as inconsistent play, I'm optimistic that there'll be an opportunity for Nedeljkovic to get a shot at proving himself. I've always been a believer in his talent, and I still believe he has a chance to be the guy Francis imagined he'd be way back in 2014. Whether he can or not remains to be seen, but a breakout season from him would be very ideal for the Hurricanes.
---
---