Edmonton Oilers fans finally have reason to cheer once again. The team is on the rise and would have more than likely earned a spot in the 2020 playoffs had the regular season played out. They are becoming a more intriguing market to free agents, as defenceman Tyson Barrie reportedly turned down longer term and more dollars to sign a one-year deal with them. And, most excitingly, they have arguably the two best players on the entire planet in Connor McDavid and Leon Draisaitl.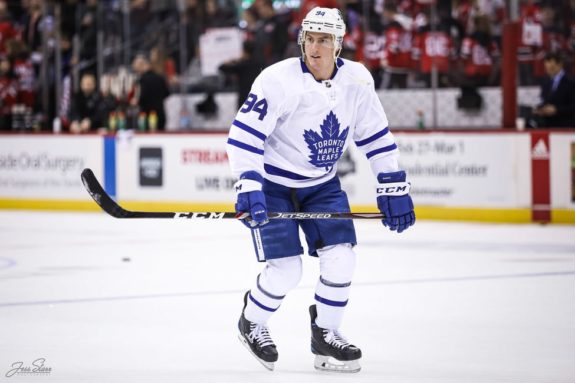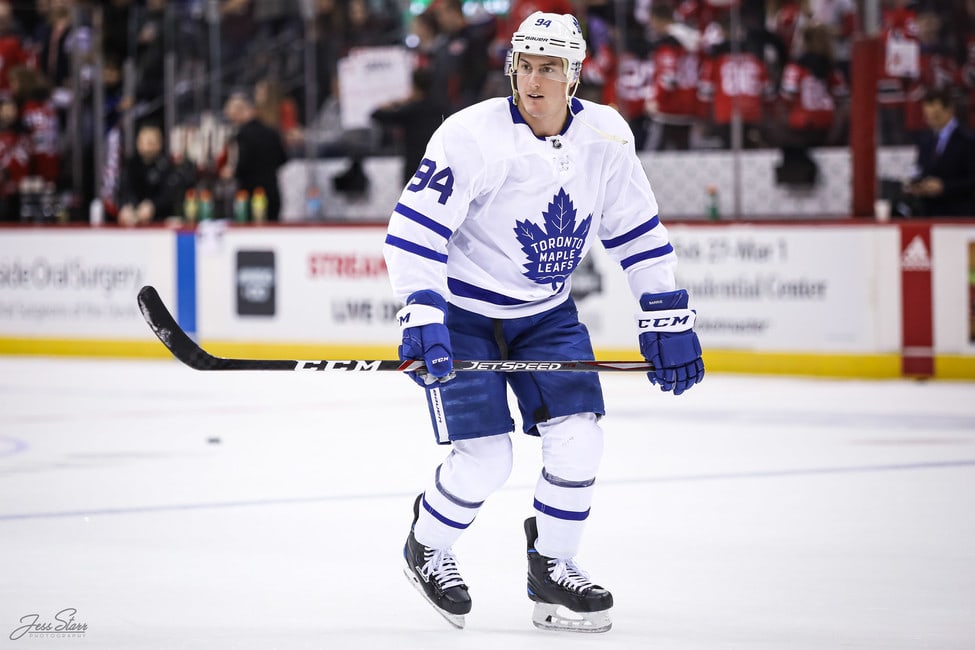 Having optimism regarding this team is a breath of fresh air for Oilers fans, as there was over a decade of struggles, which included finishing near or at the bottom of league standings, and resulted in four first overall picks in six years. Looking back on the Oilers' rosters during those times, you will find players who you may not recognize the names of, many of whom had very brief NHL careers and are either back in the AHL or playing overseas.
There were a few very good players during that time, however, who were robbed of receiving the league wide recognition they deserved. One who comes to mind is Ryan Smyth, who finished his career with 842 points in 1270 games. Another is Shawn Horcoff, who, despite receiving his fair share of criticism in Edmonton, ended his career with a very respectable 511 points in 1008 games. But when it came to being underrated and robbed of what could have been an even better career, there is one player in particular who stands out from the bunch. That player is Ales Hemsky.
High-End Prospect
After just an okay 2000-01 season that saw them go 39-28-12-3 during the regular season and get eliminated in the first round of playoffs by the Dallas Stars, the Oilers ended up with the 13th overall selection at the 2001 NHL Entry Draft. Their management, led by then-general manager and recent Hall of Fame inductee Kevin Lowe, decided to draft a Czech forward by the name of Ales Hemsky.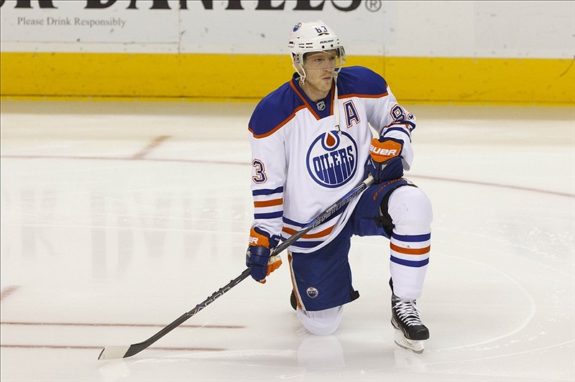 At the time, he was coming off of a rookie season in the QMJHL for the Hull Olympiques, where he put up a team-leading 100 points in 68 games. The Oilers decided to return him to the Olympiques for one more season, where despite being limited to just 53 games, he nearly matched his point total from the season prior with 97. Oilers fans were also able to watch him on the world stage that year as he suited up for Team Czech Republic at the World Juniors. His nine points in seven games tied him for second in scoring amongst all players in the tournament.
NHL Ready
It was clear after that 2001-02 season that Hemsky needed no further time at the junior hockey level, as it simply wasn't competitive enough for him anymore. Instead, the Oilers made the decision to have him play in the NHL that next season. His skill was clear from the moment he arrived in the NHL, but it took him some time to put it all together. His rookie season proved to be more of a learning year than anything, as it took him 26 games to notch his first goal. By the time the season ended, he had six goals and 30 points in 59 games.
Despite being limited to just 59 games, he was not injured at any point but was healthy scratched 23 times throughout the year. While he did struggle at times, he got better as the season went on, and it became clear the coaching staff recognized that and gained more confidence in them, as they chose to dress him in all six of their playoff games that year. Unfortunately, he was held pointless, but it was another great learning experience for the young forward.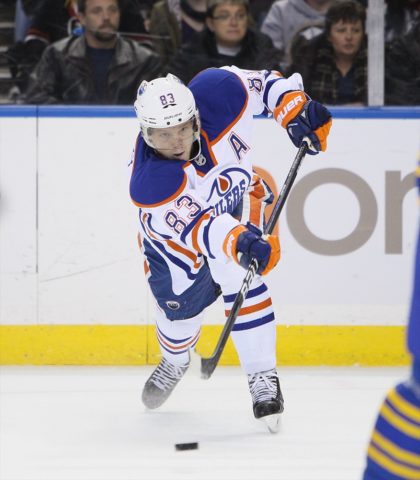 His second season in the NHL, 2003-04, saw his goal total go up from seven to 12, but aside from that, it was not much to write home about. Though Hemsky was able to suit up in 71 games, he only increased his point total by four. While it was disappointing, the team as a whole struggled and missed the playoffs for just the second time in six seasons.
The 2004-05 season turned out to be a lockout for the NHL, meaning Hemsky had to find somewhere else to play. He returned home to the Czech Republic and decided to play for Pardubice HC along with another well-known NHL Czech forward in Milan Hejduk. He finished the season with 31 points in 47 games, and while those totals weren't overly impressive, the opportunities and ice time he received that year went a long way in upping his confidence and ended up playing a huge role in him finding his footing at the NHL level.
Arrived
That following season saw Hemsky turn into a true NHL star. In 81 games played, he scored 19 goals and posted a team-leading 77 points. His skill was on full display that season, as he had many highlight-reel moments throughout the year. That season also saw the Oilers go on a very unexpected run to the Stanley Cup Final.
Unfortunately, they fell one game short of the ultimate goal, being defeated by the Carolina Hurricanes in seven games. Despite the disappointing ending, the season itself was a big-time success. After his fantastic regular season, along with his 17 points in 24 playoff games, it was clear Hemsky had arrived at the NHL level.
Injuries
After leading that 2005-06 team in scoring, Hemsky went on to continue to lead the Oilers in scoring for the next three seasons despite being limited to just 64, 74, and 72 games due to injuries. By the time the 2009-10 season rolled around, Oilers fans were hoping his injury troubles were in the past and that he would be able to withstand an entire season.
The season started out great for him, as he had 22 points in 22 games played and looked like he may be on pace for his best NHL season to date. Instead, he took a dirty hit from behind in a game against the L.A. Kings from forward Michal Handzus. The hit resulted in a shoulder injury that required surgery and ended Hemsky's season.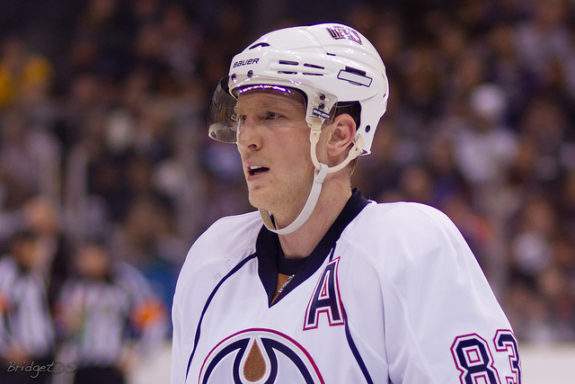 Yet again, Oilers fans hoped for a healthy Hemsky during the 2010-11 season, especially given the struggles of the past year where they finished dead last in the entire NHL with a 27-47-8 record. It was clear from the get-go of that season that Hemsky was still an incredible talent when healthy, and he had yet another great start to the season with 42 points in 47 games.
Hemsky received a vote into the All-Star Game that year but was unable to play due to yet another shoulder injury that once again ended his season. Despite being limited to just 47 games, by the time the season ended, he sat just one point behind Jordan Eberle for the team lead in points.
Decline
That 2010-11 season turned out to be the last great stretch of play we'd see from Hemsky in an Oilers jersey, as despite being just 28 years old, all of his past injuries had clearly started to take their toll. He went on to play two and a half more seasons in Edmonton, posting 82 points in just 162 games, a far cry from what he had done in seasons past.
As the 2014 NHL Trade Deadline neared, it was clear that both sides were looking to move on, and that happened on March 5, when the Oilers announced they had traded Hemsky to the Ottawa Senators for two draft picks. The trade seemed to rejuvenate the 30-year-old, as he formed an excellent connection with Jason Spezza and put up 17 points in 20 games. Those turned out to be his only 17 games in a Sens' sweater, but he gave the fans plenty of highlight-worthy moments in that short time, including scoring what was arguably the goal of the year in the clip above.
Dallas Stars
The 2014 offseason saw Hemsky become a free agent and ink a new three-year deal with the Dallas Stars. His totals once again dropped off to a similar pace of what they were his last few seasons in Edmonton, as he was used primarily on the third line and received very limited time on the power play.
He played out his three seasons with the Stars and was once again a free agent heading into the 2017-18 season. Over his three years in Dallas, he was only able to put up 78 points in 166 games, but the Montreal Canadiens still chose to take a chance on him in free agency, hoping he could turn back the clock and become the star player he was in Edmonton. Unfortunately, he suffered a concussion just seven games in and was unable to return all season, a season that turned out to be the last of his professional hockey career.
Respect Throughout the League
While it may have felt like fans around the league underrated Hemsky, that wasn't the case amongst players. Many players, both opposing and teammates, raved about his raw skill and just how truly talented he was. One, in particular, was fellow countryman Jaromir Jagr, who believed Hemsky would have been able to achieve even greater numbers on a better team.
"Whatever the management wants to do, they'll do it," said Jagr, regarding trade rumors involving Hemsky during his time in Edmonton. "Might be good for him. He's got talent, if he goes to a different team, it would be like a new start. Maybe he could get 100 points. He's that skilled. Sometimes staying in one place won't help players. Maybe that's what he needs." (from 'Jim Matheson: Jagr admits he almost signed with Oilers', Edmonton Journal — 02/22/12) .
Seeing clips of just how special Hemsky was, you have to wonder whether Jagr was indeed right and if a trade earlier in Hemsky's career could have resulted in him becoming a legitimate NHL superstar. The talent was certainly there. Who knows, perhaps if he had come into a different Oilers era, say the one now that has players such as Connor McDavid and Leon Draisaitl, he would have been able to have an even better career.
Retirement
Despite having not played since his short stint with the Canadiens in 2017-18, Hemsky did not announce his retirement until this past May. With the official announcement, his NHL career came to an end, with him having posted 174 goals and 572 points in 845 games. Those numbers are very solid but feel somewhat disappointing as anyone who watched him during his prime could tell he was capable of much more.
Unfortunately, he played on a very bad Oilers team for a lot of seasons that lacked any sort of weapons other than himself. As a result, his career is often not mentioned when it comes to Oilers' all-time greats. Still, there is no denying that despite how bad those teams were, Hemsky alone made them watchable on many nights because you always knew something magical was bound to happen.
---
---