In this edition of Toronto Maple Leafs News & Rumors, I'll share some of the news from the team's third game of the season – a 3-2 win over the Ottawa Senators. The score was closer than the game's on-ice play and the Maple Leafs put together a solid offensive and defensive effort.
Related: Maple Leafs News & Rumors: Timashov, Gauthier & Future Possibilities
The highlight of the game was the play of the team's top line of Auston Matthews, Mitch Marner, and Joe Thornton. The biggest issue of the game for the Maple Leafs was an injury sustained by young Nick Robertson, and that injury will have trickle-down impacts on the remainder of the team's roster. I'll share that news here.
Item One: Auston Matthews Scores First Goal of the Season
Usually, if I remember correctly, Auston Matthews has three or four goals by the third game of the season. This season, it took him the third game to get his first. But that was about the only thing different about it. It was a typical Matthews' goal, a power-play screamer past the goalie (in this case Matt Murray) on a great pass from partner Mitch Marner.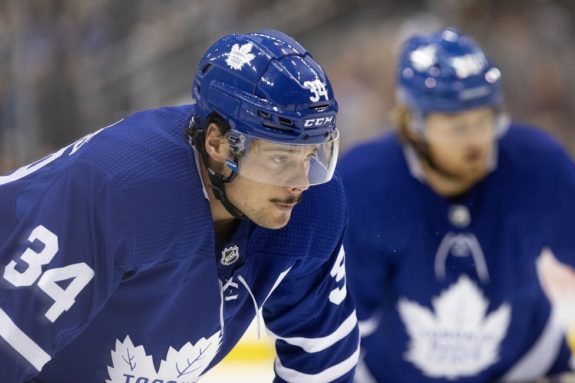 Matthews' third-period goal was the game winner in Saturday's 3-2 win over the Senators. The great young center also added an assist and a team-high six shots on net in 21:50 minutes of ice time. He also won 50 percent (10 of his 20) faceoff attempts. Although Matthews has been playing well, he only had a single assist during his first two games and didn't hit the score sheet during the first of the back-to-backs against the Senators when the Maple Leafs lost 5-3.
However, Matthews is back on his typical point-a-game pace and looks to add more against the Winnipeg Jets on Monday. His stat sheet looks to be in especially good shape if his top line begins to produce as they did during this game. That top line of Matthews, Marner, and Joe Thornton totaled seven points on the night. They look as if they're really beginning to gain some chemistry.
Related: Barons-North Stars 1978 Merger Solved Two NHL Headaches
That chemistry might be even more reason that Matthews has a good chance to be in the hunt for the Rocket Richard Trophy this season. He has one of the NHL's best passers ever in Thornton on one wing and one of the game's best young passers Marner on the other wing – both sliding him the puck on a regular basis. If the Maple Leafs can play the kind of dominant game they put together against the Senators, it could be a record-setting season for this group.
Item Two: Mitch Marner Was In on Every Maple Leafs' Goal in the Game
Marner was a factor on every goal in the team's win with a goal and two assists against the Senators. Marner had the secondary assist on Thornton's first Maple Leafs' goal, scored his own even-strength go-ahead goal during the second period, and ended the evening with the primary assist on Matthews' game-winning power-play goal.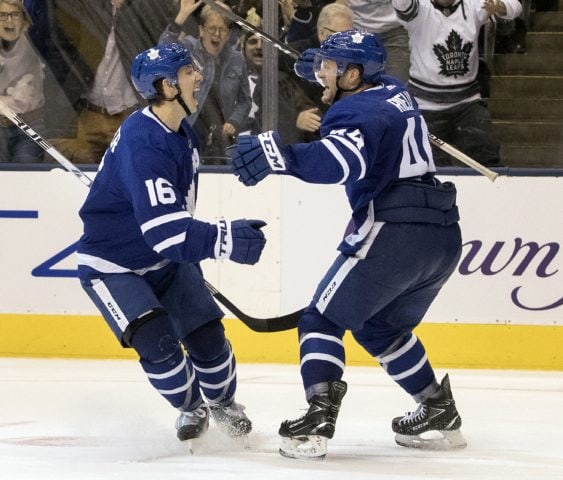 In a game with a surprisingly-close score, given the Maple Leafs' level of offensive dominance (43 shots for Toronto and 21 shots for Ottawa), it was good that Marner showed up strong. He seemed to be everywhere and see everything on the ice. His on-ice vision is as astounding as his passing is good.
Item Three: Joe Thornton Scores First Maple Leafs' Goal
Joe Thornton scored his first goal in a Maple Leafs' jersey in Saturday's 3-2 win. Last night, it seemed that Thornton's addition to the team's roster fulfilled every optimistic hope Maple Leafs' fans and the organization might have had. He looked strong, smart, and worth every penny of the team-friendly NHL league minimum contract he signed with the team.
He especially looked to be a contributing member of the team's top line of partners Matthews and Marner. He's been a strong addition so far, especially given his veteran leadership, knowledge of the game, and just by the good sense of having his head screwed on straight.
The 41-year-old's smile as he celebrated his goal was not so different really than his young 19-year-old opponent Tim Stutzle, who scored his first NHL goal for the Senators. Both beamed with joy. I can't imagine that his presence isn't having a big impact on his young line-mates, who have to know how fortunate they are to have Thornton in their locker room.
Related: Most Games Played By A Goalie in One NHL Season
With his goal Jumbo, which is Thornton's nickname, became the second-oldest Maple Leafs' player in history to score a goal at 41 years and 198 days old. Allan Stanley currently holds the record as the oldest Maple Leafs' player to score at 41 years and 252 days old. That means, if Thornton scores a goal on or after March 12 (and the Maple Leafs are scheduled to play the Winnipeg Jets on March 13), he would become the oldest.
Interestingly, and I heard an announcer say this to Thornton during a post-game interview, Thornton scored his first career NHL goal before anyone on the Senators' top line was born.
It will be interesting to see how Thornton's season goes. He's headed to the Hall of Fame immediately after he retires. Although he plays a different game than most NHL players today – he's never played a game based upon speed – he has great hands, a high hockey IQ, and the ability to see the ice and deliver the puck to his teammates.
Item Four: Nick Robertson Suffers Knee Injury During Saturday's Game
Sadly, although the game was generally one for Maple Leafs' fans to smile about, there was bad news. Young Nick Robertson suffered a knee injury when he got tangled up with a Senators' player along the boards. He didn't play again during the game.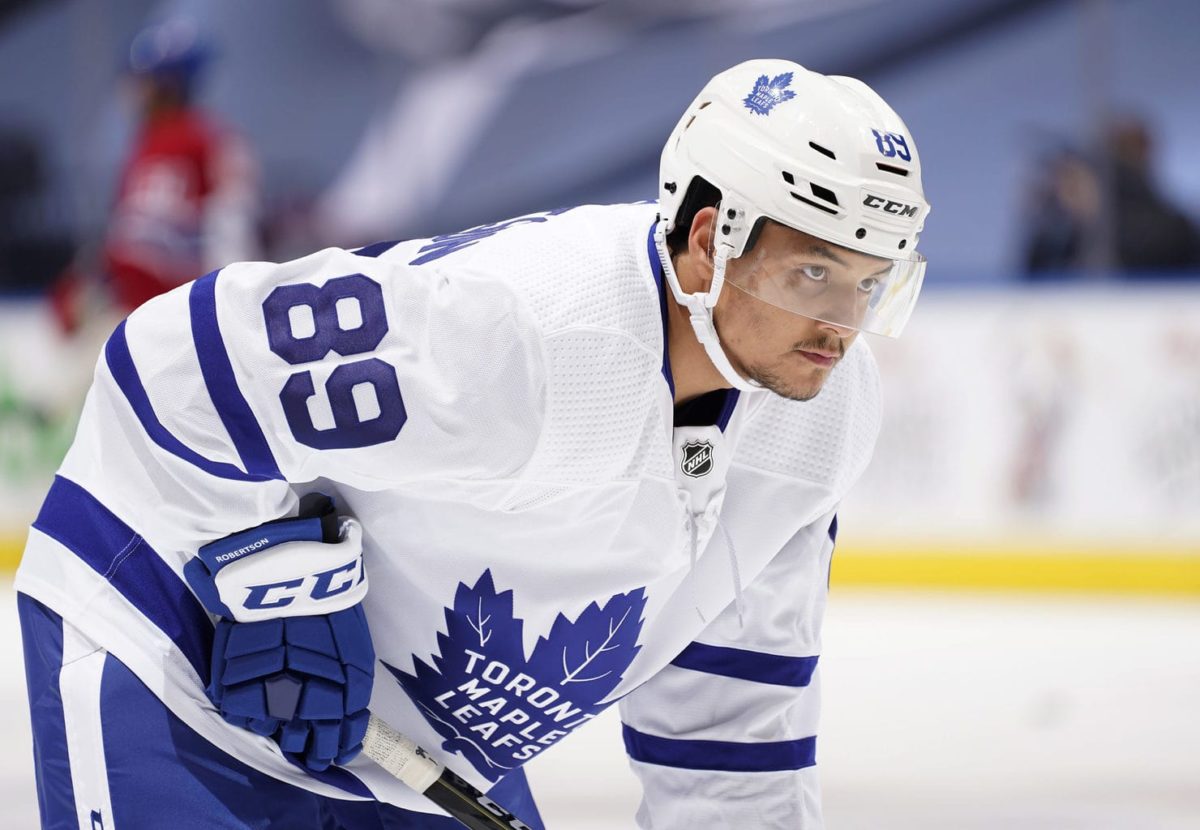 During the first period, Robertson collided with the Senators' Drake Batherson and felt the brunt of the exchange. It was a sad way for the 19-year-old rookie's NHL debut to end. Although it's unclear when Robertson might be ready to play again – he'll get an MRI on his knee injury to see how severe the damage is, the collision looked serious. At the time, I would have guessed he'd likely miss a chunk of time.
After the game, head coach Sheldon Keefe announced that it looks like Robertson will miss some time. However, fans won't know until the results of the MRI have been announced. Prior to his injury, Roberson had skated only 2:20 minutes during his season's debut. 
Item Five: The Maple Leafs Put Aaron Dell on Waivers
The impact of Robertson's knee-injury on the team's salary-cap situation has forced the Maple Leafs to make some tough calls. In one of them, the team announced that it had put goalie Aaron Dell on waivers. Dell was the team's backup goalie in Saturday's game after being a healthy scratch for the first two games.
I expect Dell will be picked up by an NHL team. Specifically, I'm thinking the Edmonton Oilers will jump on that possibility.  
Item Six: Jason Spezza Placed on Waivers by the Maple Leafs 
NHL veteran Jason Spezza was also placed on waivers by the team. He's scored one assist during his three games this season but has averaged only 7:44 of ice time so far. Spezza re-signed with the team during the off-season on a one-year contract worth $700,000. Although he might be picked up, I can't imagine he will be.
What's Next for the Maple Leafs?
The Maple Leafs are scheduled to play the Jets on Monday in Toronto. Although I've heard nothing about any impact on the game, there was news that the Jets' Tucker Poolman had been placed in the NHL's COVID-19 protocol. I trust this only impacts Poolman as an individual player, and I hope it doesn't mean more than that.
Related: Maple Leafs' Rasmus Sandin's Development Derailed For Two Reasons
We'll know more about that obviously prior to Monday's game against the Maple Leafs.
---
---