The New York Islanders hosted a special drive-through event for their fans on Saturday afternoon at their future home at UBS Arena.
In celebration of the Islanders' first home game coming up Monday evening, season ticket holders and general admission fans alike lined up all the way down Hempstead Turnpike and caught a glimpse of the progress of UBS Arena's construction. Towards the entrance of the parking lot, two Islanders-themed ice sculptures stood six-feet tall that had plenty of cars stopping for pictures.
The progress of the UBS Arena has been swift, and Islanders fans sure seem excited about it. "I can't believe how quickly the arena has come together," stated an anonymous Islander fan. "You see blueprints shared on the Islanders social media and they look great, but in person, it's really something else, it's breathtaking. I can't wait to be able to go inside."
Islanders employees shared their excitement for the first fan-engaging event. "We just have so much merch that we planned to give away to the fans," said one Islanders employee helping hand out merchandise. "We felt this was a great way to stay connected to the fan base."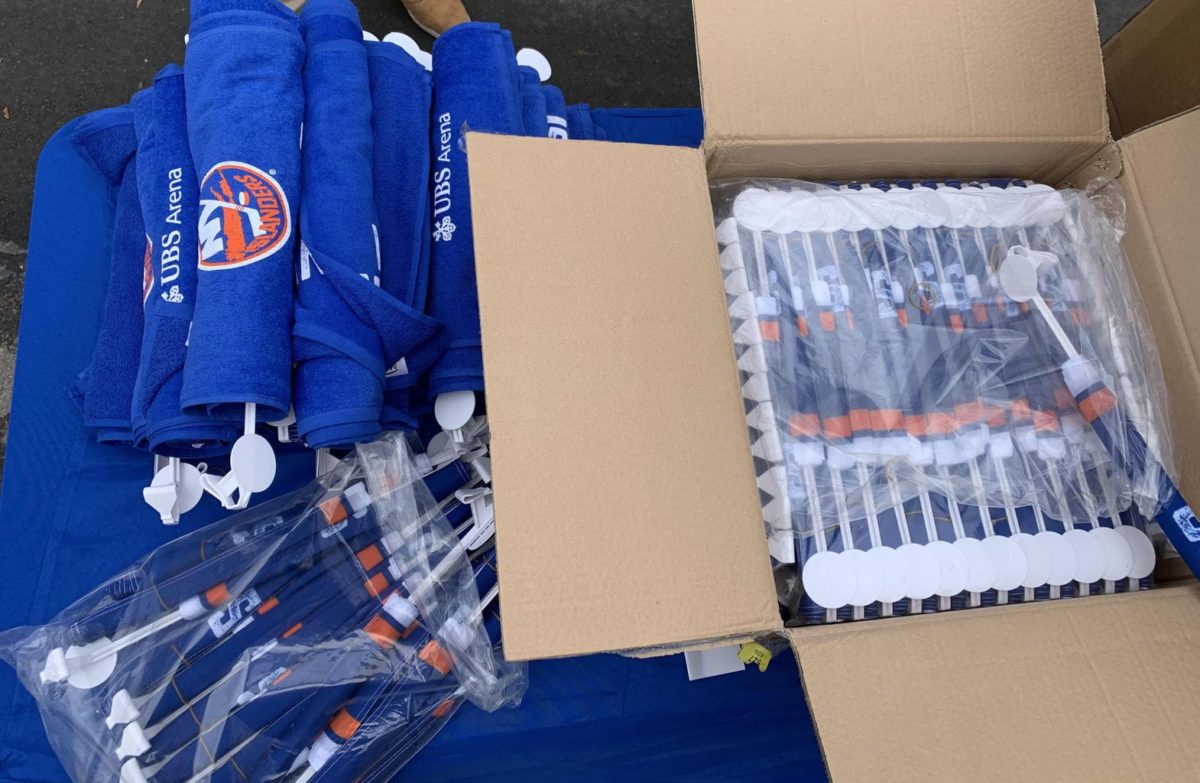 As you already know, COVID-19 changed a lot, so the drive-through event certainly was appreciated, giving the fanbase a reason to leave their house and celebrate their team, in a safe manner. 3,000-plus fans lined up in their cars sporting Islanders gear, honking their horns and chanting "Let's go Islanders."
The giveaway featured Islanders merchandise such as rally towels and flags, and a chance at a picture with Islanders mascot, Sparky, who had fans hooting and hollering from their seats in celebration.
There was no shortage of appreciation for today's event from the fanbase, with everyone sharing the expectation that they might not make it to an arena in the 2020-21 season. "I think it's great, I think it's fantastic," said Dan Fisher, a season ticket holder since 1991. "You really connect with the fanbase and everyone enjoys it."
Islanders owners Jon Ledecky and Scott Malkin received praise for their continued efforts in hosting events such as this.
"This is unbelievable," said Dan Marcotti, a four-year season ticket holder. "The new ownership is fantastic, they know the fans, they know we love the Islanders, and that's why we love them."
This certainly wasn't the first event Ledecky and Malkin have orchestrated to connect with the fan base. "This is great, they've had so many events," said Nicole Johnson, a 15-year fan. "They had a great Halloween event at the [Northwell Health Ice Center], we went to the food drive for Thanksgiving, they really do a lot for the fans."
"It's awesome," adds Brian Gressler, a fan since 1979. "It just shows the commitment to keeping (the fans) happy."
The Islanders organization continues its substantial effort to connect with its fans despite being unable to be in an actual arena. Events like this continue to be planned, and the goal is to host an event at least once a month.
If you missed your chance to attend yesterday's event, check out the video below to see what you missed:
The fans gathering (at a distance), the merchandise giveaway, and the views of the UBS Arena's progress have fans excited for not just the home opener Monday night, and not just the 2020-21 season, but also for the Islanders new home set to open late in 2021.
Want more Islanders content? Check out the Nassaumen Hockey Podcast, hosted by The Hockey Writers authors James Nichols and Jon Zella. Follow on Apple Podcasts, Spotify, and Google Podcasts!
---
---