Before the start of the 2022-23 season, I wrote an article on players within the Toronto Maple Leafs system who could potentially earn a call-up and play meaningful minutes. 
Pontus Holmberg was second on that list. Ever since he played in his first NHL game, he appears to have earned a full-time spot on the roster as he has earned the trust from the coaching staff to be a bottom-six player. After Holmberg was Bobby McMann as he too was every bit impressive in hopes of battling for a spot.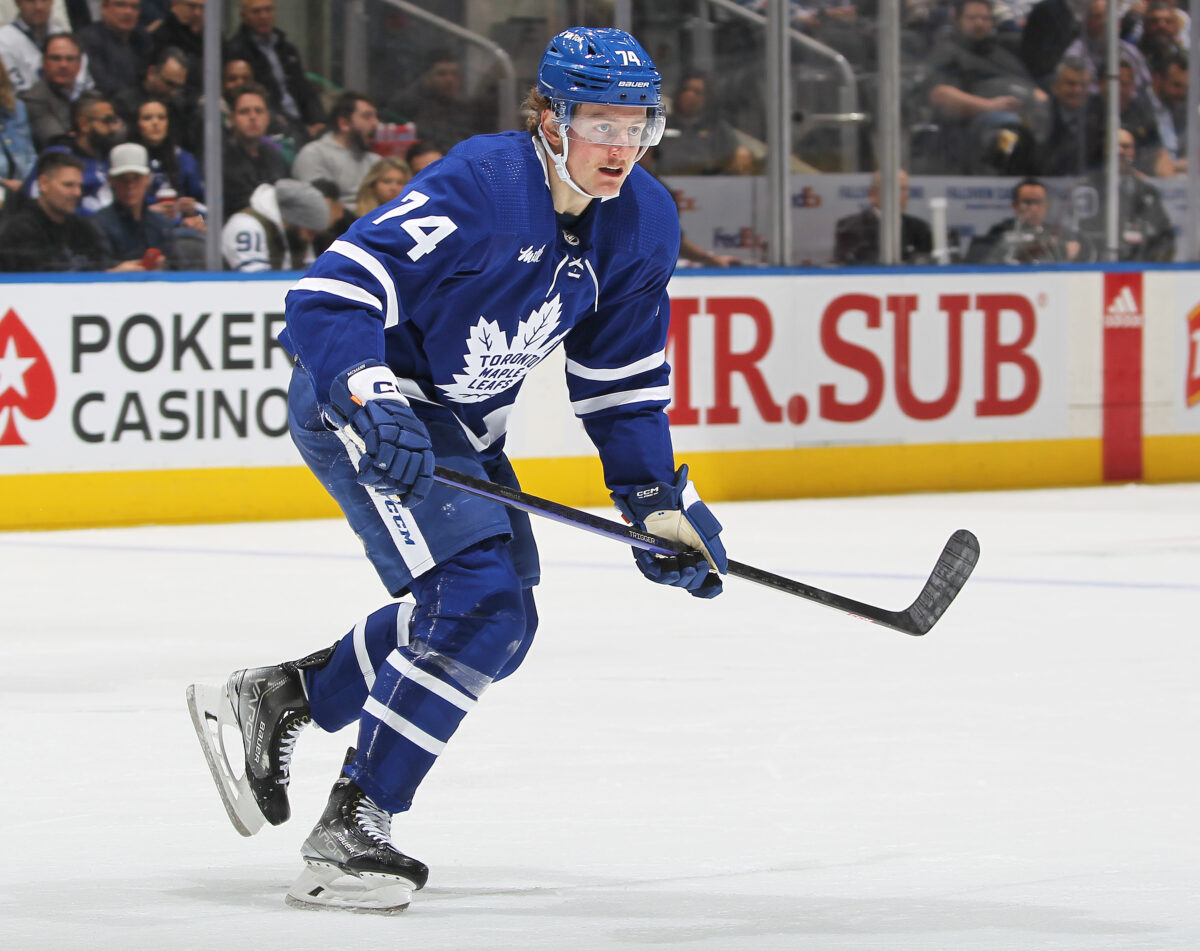 This season, McMann started off in the American Hockey League with the Toronto Marlies and his impact was felt as he was nearly a point per game– 15 points in 17 games with 14 being primary points­. After a long road to the NHL, the 26-year-old was eventually called up after both T.J. Brodie and Auston Matthews were dealing with injuries. Since then, McMann has impressed early on in the games that he has played. He's once again proving to be an underrated signing for the Maple Leafs as he's giving great value as a consistent bottom-six forward. 
Long Road to Debut
It was a long a difficult road to the NHL, but finally McMann stayed with it and worked hard to never lose sight of his goal. After being an undrafted player signing an AHL contract when he was done playing at Colgate University, he would spend time in both the ECHL and AHL. 
It was the 2021-22 season that put McMann on the map as a potential key organizational piece as he was a standout with the Marlies last season with 24 goals and 35 points in 61 games. That would eventually earn him a two-year, two-way contract with the team. 
---
---
After he continued to be a consistent producer, he earned the call-up and made his NHL debut against the Nashville Predators. According to head coach Sheldon Keefe, it was an easy decision to bring him up.
"He is [a] player we really like," Keefe said according to The Toronto Sun's Terry Koshan. "It seems like he has hit the ground running… and has really found his game." (from, 'Recalled Bobby McMann 'ready' if he gets tapped to make NHL debut with Maple Leafs', The Toronto Sun – 01/10/23)
Related: Maple Leafs May Be Stuck with the Roster They Have
With that kind of praise and support from the head coach, McMann must be doing something right in order to be the first one on the list of callups. From that point on, McMann has continued to catch the attention of many.
No Points, Still Impactful
In his debut, many saw why the Maple Leafs were so high on McMann as he could be a diamond in the rough player for this team. While there were some nerves to start, he settled in and displayed his well-rounded offensive skillset.
---
Latest News & Highlights
---
It looked like McMann scored his first career NHL goal in his second game and first shift against the Detroit Red Wings by doing what he knows best, attacking the net. Though it would be eventually called back due to a kicking motion. Despite not registering a point in eight games in the NHL, McMann remains a very productive player for the Maple Leafs in a depth role. 
Through those eight games– a very small sample size– McMann still has some impressive and strong underlying numbers when it comes to offensive production. In playing less than 100 total minutes overall at five-on-five when he's on the ice, McMann has a 56.25 Corsi for percentage, a 58.44 shots for percentage and a 61.65 expected goals for percentage. Even when facing tougher, elite level competition, he has a CF% of 52.9.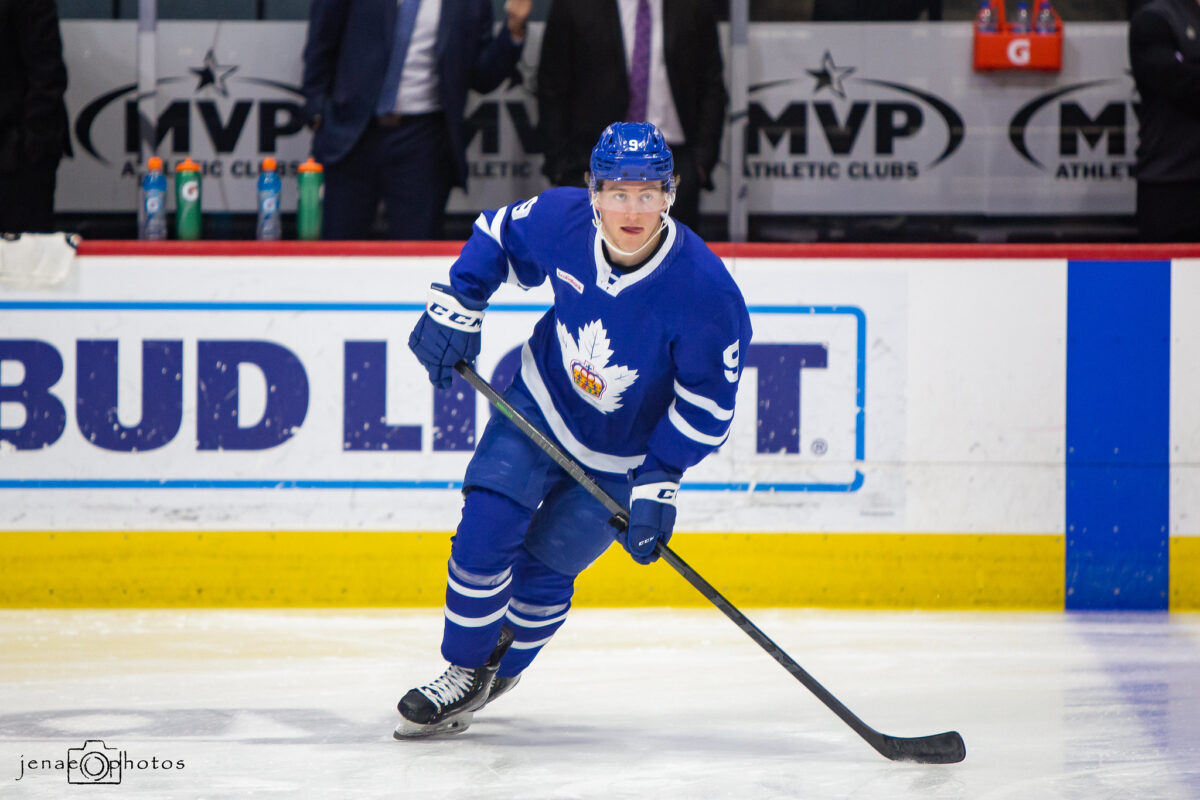 Those are some strong results and numbers. Although he hasn't registered any points, that kind of impact is what's going to get you more minutes and opportunities to convert down the line. As he continues to be a welcoming addition to the bottom-six, he's providing the kind of play for them to be a threat every shift. 
He continues to contribute in more ways than one and that is a big reason why he still remains with the Maple Leafs.
McMann Ideal Depth Player
When the playoffs start, a team's depth is going to be a big factor in those key moments of a game. As we saw with the depth from the Tampa Bay Lightning and Colorado Avalanche, if you have a competitive and quick bottom-six, it'll make a big difference. 
Related: Maple Leafs' 3 Up, 3 Down: Milestones & the Nylander Narrative
If the Maple Leasf were looking to add an energetic, physical and speedy winger ahead of the deadline, they might have found their answer with McMann as he has shown great confidence and poise as a third or fourth-line winger. He could be the ideal depth piece in the second half as he has the speed, strength, smarts and size to be a player who can be relied on in that role. He's aggressive on the forecheck, protects the puck well and does a great job of keeping plays alive in the offensive zone.
That has been a big reason why McMann has excelled to this point– playing to his strengths. And even without the points, he's doing his job to constantly be involved and provide energy on the third line. Jim Ralph, a Maple Leafs analyst gave his thoughts on McMann possibly being a mainstay for the Maple Leafs on Real Kyper and Bourne. 
Even before his debut, Keefe spoke highly of his work ethic and determination.
"He stayed with it and worked incredibly hard," Keefe said according to Inside the Maple Leafs David Alter. "He's been a valuable member of the organization." 
McMann has displayed the character, mindset and skillset to be a key piece for this team for years to come. His attitude and work ethic is always noticeable and is always providing a presence in front of the net. He's constantly put in the effort to get to this point and now he's gone from fringe NHLer to possibly being a key piece for the Maple Leafs as he has the play and mentality they need.
You may also like:
At 26 years old, it's always difficult for any player to make it and find consistent ice time in the NHL, but McMann is proving otherwise. Given the organizational depth of the team, he has made it a point to continue to climb the charts, make an impact and be deserving of the chance to play in the NHL. Given his drive and fortitude, he is the ideal player for a playoff run.
Statistics from Natural Stat Trick, AHL Tracker and Puck IQ.
---
Sign up for our regular 'Maple Leafs Newsletter' for all the latest.