It's the latest edition of Maple Leafs News. The Toronto Maple Leafs are one of the most fascinating franchises in the NHL and for very good reason. They always have plenty of interesting story lines to follow involving the froth office, current players or prospects of the future. You can read the previous edition of Maple Leafs News right here.
This time around, the discussion and examination will focus on Jonathan Bernier, "Uncle" Leo Komarov, and the Blue and White's prospects at the World Juniors.
Bernier Winless No More
Jonathan Bernier was the starter Saturday night against the Los Angeles Kings, the team that drafted him 11th overall in the 2006 NHL Entry Draft. Bernier's confidence had been shaken dramatically this season, but despite that, he came into Saturday's game and played his best hockey of the season.
He finished with a 26 save shutout as the Leafs cruised to a 5-0 win. It was a dominant performance for the Laval native who had been through the ringer for most of the season. It's always nice to beat your former team, and Bernier can officially say that he has done that now. He made many spectacular saves to preserve his shutout and was able to stymie the Kings' attack all night long.
His next game will be telling and will indicate if this performance was simply a fluke or if Bernier has turned the corner and gotten a bit of his confidence back.
Leo Komarov's Complete Game
The man affectionately known as "Uncle" Leo has been tremendous for the Maple Leafs so far this season. When Komarov first broke into the league with the Buds, he was seen as more of a checking forward and agitator. This is primarily how he was used. He was never given a fair shake with skilled players to see if he could contribute offensively.
In the KHL, Komarov proved that he could put up a decent amount of points. His career high is 34, which he set in 2013-14 while playing with Moscow Dynamo. This season he's already at 24 points and is leading all Maple Leafs with 15 goals.  He has now beaten his career high and if he keeps playing the way he does, it looks like Komarov will have his best statistical season ever as a pro.
He's also his usual agitating self and when combining that with his penchant for hard hits and tenacious forechecking, Komarov is a force on the ice.
Maple Leafs Prospects at the World Juniors
Team Canada recently finalized its roster after playing a few exhibition games in Finland. Four prospects were sent back home to their junior teams in Canada. The rest have officially made the team, including Mitch Marner and Travis Dermott, who are both draft picks of the Leafs.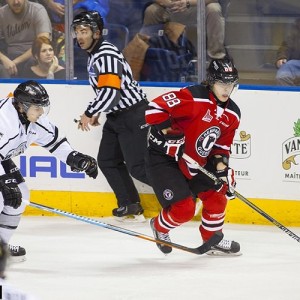 Marner, the dynamic forward, was drafted fourth overall this past summer by the Buds. He will be part of a line that includes Dylan Strome and Lawson Crouse, a returning gold medalist from last year. Dermott is a defenseman with excellent offensive instincts. He'll be used to anchor the blueline on the power-play and will be a threat with his shot.
William Nylander is with Sweden after getting released from the American Hockey League's Marlies. Expectations are enormous for the 19-year-old forward who has a legitimate shot at leading the entire tournament in scoring. Let's not forget about Dmytro Timashov who is a key part of the Quebec Remparts' attack and should be a threat at all times on the ice.
The last Leafs' prospect is Kasperi Kapanen who was acquired in the Phil Kessel deal this summer. He will return home to Finland and aim to use his speed and skill to win a gold medal on home soil.
In the not too distant past, it was a rarity to see more than one Leafs' prospects at the Juniors. This year, through the new and smart drafting strategy, the organization has five different prospects that should all play key roles. It shows that the franchise is on the upswing and that success is coming in the near future.