The Toronto Maple Leafs and Florida Panthers will face off tonight in Game 1 of their second-round series in the 2023 Playoffs. Both teams survived tough series in the first round. 
This was Toronto's first postseason series win in 19 years after defeating the Tampa Bay Lightning in Game 6 on Lightning home ice. Further east in Boston, the Panthers surprised almost everyone by overcoming the NHL's best regular-season team, the Boston Bruins. They, too, won their series with an overtime victory but in seven games.
---
Latest News & Highlight
---
Both teams are expected to provide a good challenge for each other. They met three times in the final weeks of the regular season. On paper, the Maple Leafs have an advantage because of their regular-season record against the Panthers, which was 3-0-1; the Panthers were unable to beat the Maple Leafs in regulation.
Related: Sabres' 2022-23 Review: Looking Back to See What's Ahead
In this edition of Maple Leafs News & Rumors, I'll share what's happening as the teams prepare for tonight's game. 
Item One: The Maple Leafs Are Mostly Healthy
Toronto is relatively healthy, except for goalie Matt Murray, which is old news. Given how the season unfolded, Murray was unlikely to be a factor in the Stanley Cup run anyway – unless, of course, the Maple Leafs suffer some really bad news with Ilya Samsonov. So, that seems like a bit of a wash.
Murray has been out with a concussion since April 2. The good news is that he practiced on Monday. So, he's getting closer to a return if the Maple Leafs need him, but he's not ready just yet.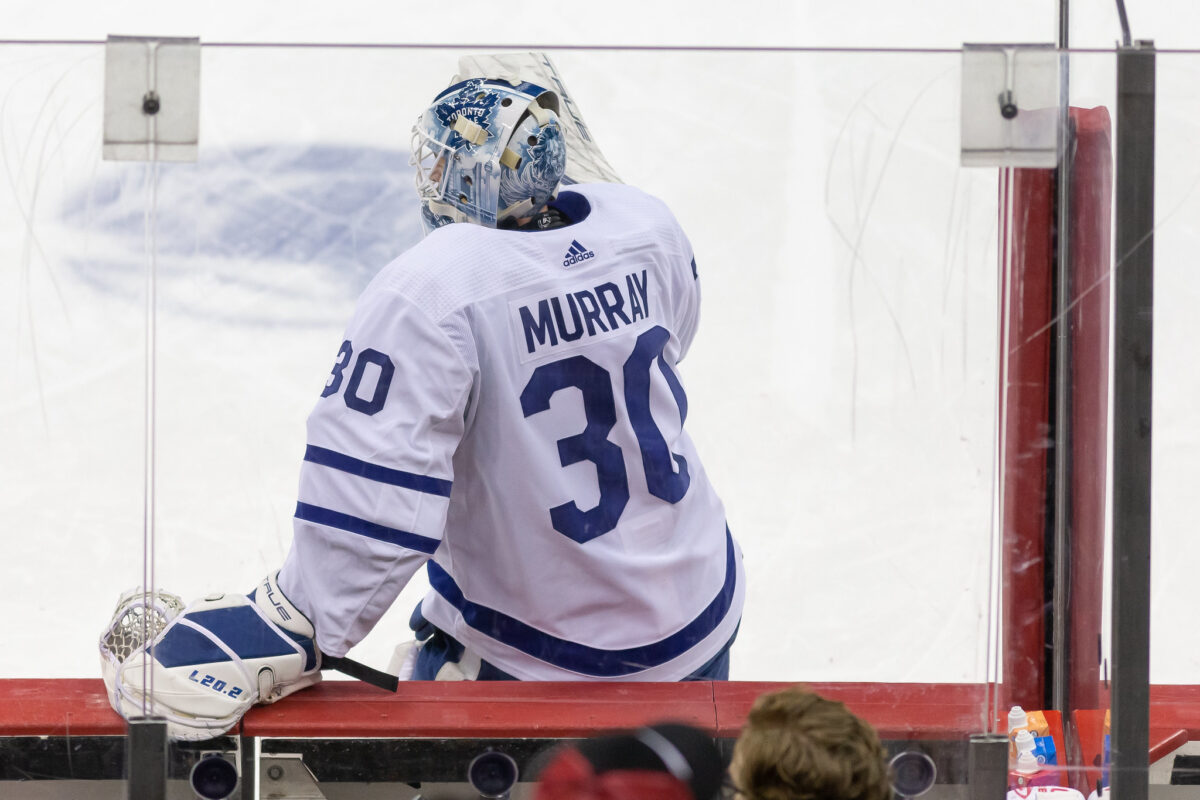 Murray will continue to be the Maple Leafs' third goalie at practice until he receives clearance, which basically means that nothing changes. Samsonov will continue to start with Joseph Woll backing him up. Reports from yesterday noted that Erik Kallgren was sent to the American Hockey League's (AHL) Toronto Marlies. That's also an indication that there was positive news about Murray's recovery. 
Item Two: Panthers' Ryan Lomberg Is Out for Another Week
The Panthers' depth left-winger Ryan Lomberg, a Toronto native, suffered an upper-body injury in Game 1 against the Bruins. While he tried to play through it, he ultimately could not and missed the last three games of the series. The news update from today is that he'll be out until May 8. 
Related: Top 10 All-Time European-Born NHL Forwards
Lomberg has not recorded a point in the postseason. He scored 12 goals and 20 points in 82 regular-season games. 
Item Three: Head Coach Sheldon Keefe Wonders How His Team Will Respond
In reading the conversations and interviews since the Round 1 series clincher, it's plain how much baggage the Maple Leafs carried for not being able to get out of the first round. It had a profound impact on them. In an interesting report (at least for me), Maple Leafs' head coach Sheldon Keefe wondered – even as a coach – about how his team will react heading into Round 2.
Related: Jonathan Toews: Beyond the Glory
Keefe also expressed relief and a sense of accomplishment. However, he also emphasized the need to stay focused and avoid complacency against the Florida Panthers. Specifically, Keefe noted that "It remains to be seen how (finally pushing through) affects us. It certainly is a sense of relief, and you take a bit of a breath. It was a big step and hurdle that we've finally pushed through here to earn the right to play in Round 2."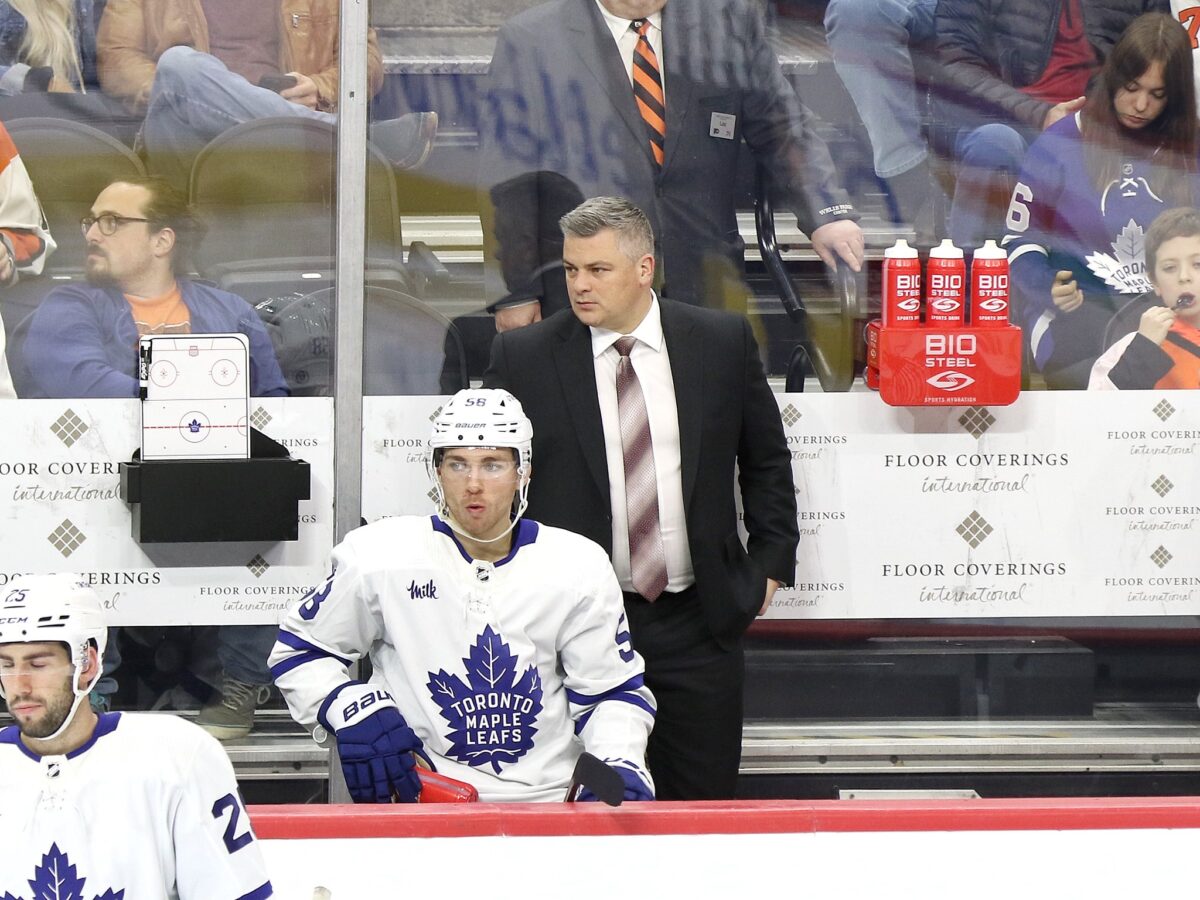 Keefe added, "But now the challenge for us then is to use that as fuel to continue to get better and go rather than get comfortable. You want to be confident. Yet comfortable or complacent, there's no room for that in the playoffs, certainly not in Round 2."

That makes sense to me. In fact, given how both teams got to this point, it would be easy for either one to become complacent. The Panthers might just – deep down – become satisfied with beating the Bruins. How, too, will they react?
Item Four: Maple Leafs' Line Combinations from Monday's Practice
During practice yesterday, the Maple Leafs' lines were as follows:
Forward Line Combinations
| | | | |
| --- | --- | --- | --- |
| Line Numbers | Left Winger | Center | Right Winger |
| Line One | Matthew Knies | Auston Matthews | William Nylander  |
| Line Two | Calle Jarnkrok | John Tavares  | Mitch Marner  |
| Line Three | Michael Bunting | Ryan O'Reilly | Noel Acciari |
| Line Four | Zach Aston-Reese | David Kampf | Alex Kerfoot |
| Extra | Wayne Simmonds | Conor Timmins | Sam Lafferty |
Defensive Pairings
| | | |
| --- | --- | --- |
| Defensive Pairing | Left Side | Right Side |
| First Pairing | Jake McCabe | TJ Brodie |
| Second Pairing | Morgan Rielly | Luke Schenn |
| Third Pairing | Mark Giordano | Timothy Liljegren |
| Extras | Eric Gustafsson | Justin Holl |
Goalies
Starter: Ilya Samsonov
Backup: Joseph Woll 
Third Goalie: Matt Murray
What's Next for the Maple Leafs?
When I pause to think about it, the Lightning series showed that the Maple Leafs have both substance and resilience. The team had not won a first playoff series since 2004, and this victory came after going 0-10 since 2018 in games where they had a chance to eliminate the opposition.
Related: Ex-Maple Leafs' Defenseman Jake Gardiner: Where Is He Now?
Toronto showed so much substance in the series that it seemed to leave even a master of words like Lightning head coach Jon Cooper confounded. How could his team that has made it to three consecutive Finals lose three games in overtime on their home ice?
In fact, the Maple Leafs were the first team in NHL history to win three road games in overtime in a series. That's standing up to pressure.