If the Toronto Maple Leafs thought it would be easy against the Columbus Blue Jackets, they were wrong. They lost their way in the middle period and had no breadcrumbs to find their way home. The result was a 4-3 loss to yet another lottery team. 
The pattern of losing to teams they should beat is a frustrating trend, and Maple Leafs head coach Sheldon Keefe was clearly frustrated after last night's game. When asked about his team's effort, he noted "I can't do the work for them."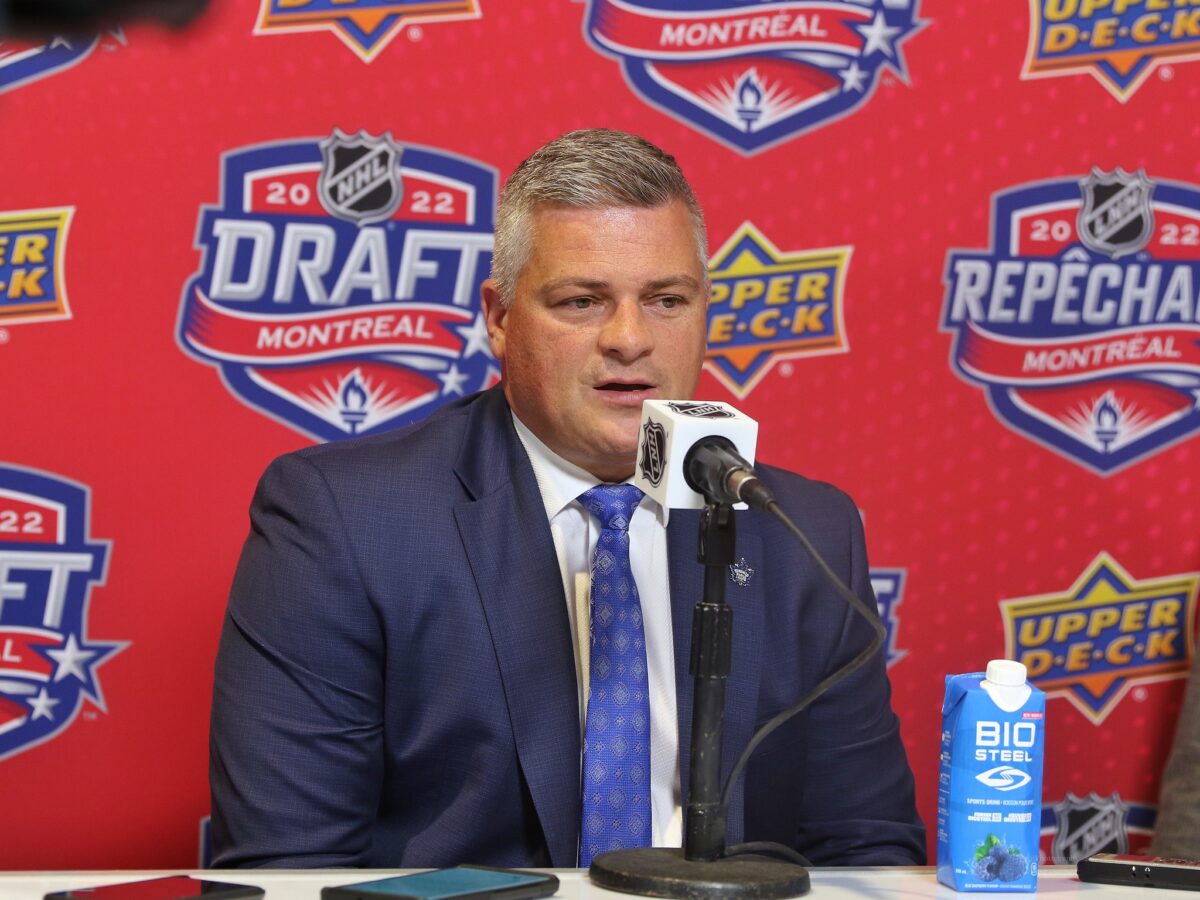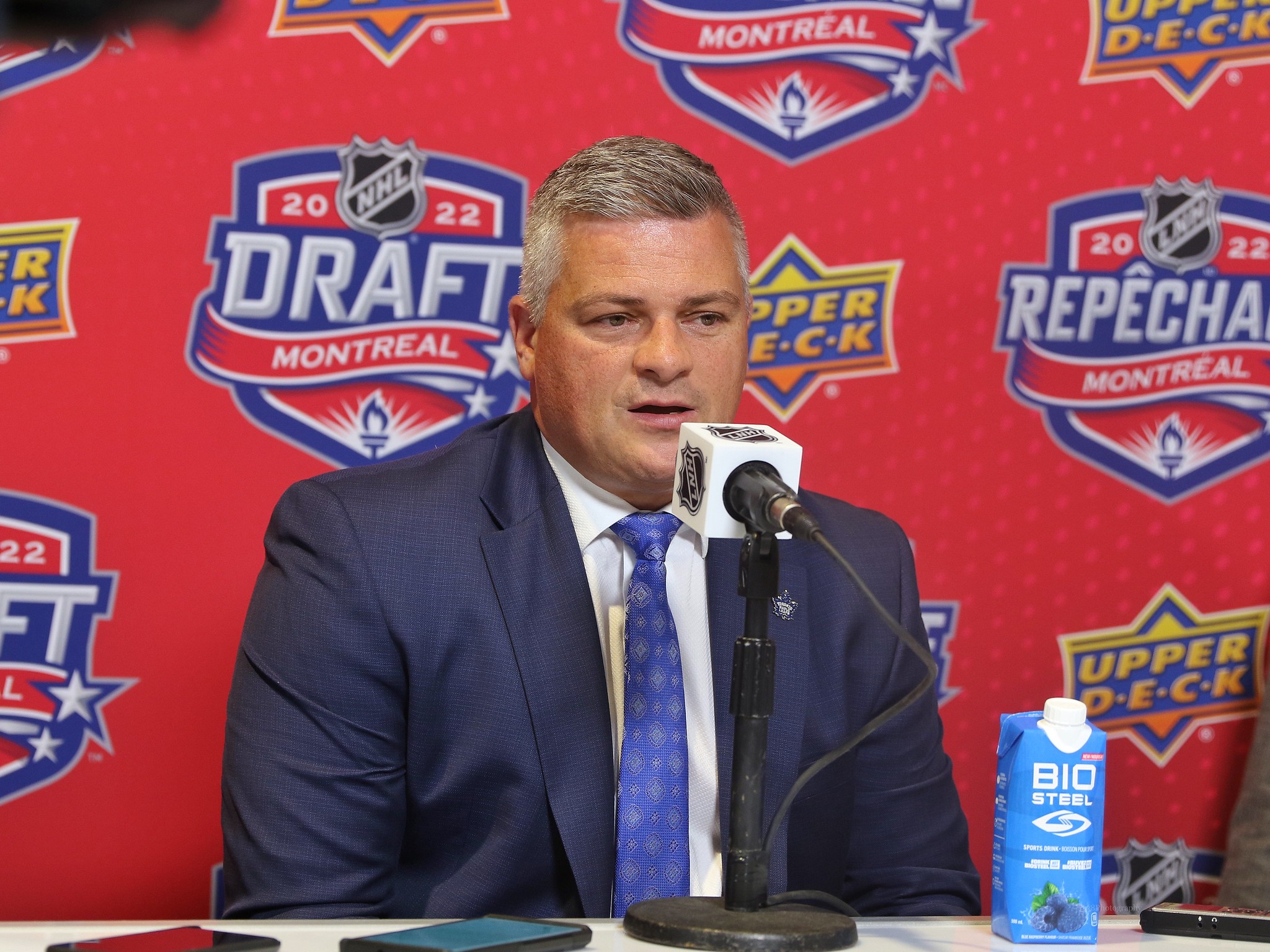 For me, given that this was young goalie Joseph Woll's first start of the season, you'd think a team with this much talent would have been playing hard for their young goalie. But that effort only lasted for a single period. After that, the Maple Leafs allowed a team that is banking on losing but has enough pride to skate, to go stride-for-stride with them for 40 minutes.
Maybe the lesson here is that even a good team can't turn it on for "a while" and expect to pull a game out. It was not a quality team effort. 
Related: Best NHL Goalies of the 1990s
The biggest tale of the tape (the statistics) suggests that the Maple Leafs simply didn't cover on defense. Giving up 40 shots in Woll's first start of the season shows that the team was not able or interested enough to control the game.
Let's see how they play in Woll's next start. Otherwise, this is a game to chalk up to – well – I don't know what. Where's the swagger?
Item One: Joseph Woll Lost the Game But Not the Coach
As noted, Woll had his first NHL start of this season at home against the Blue Jackets last night. In his four road-game starts for the big club last season, he put up a 3-1-0 record with a 2.75 goals-against average (GAA) and a .911 save percentage (SV%). After last night, his GAA got higher, while his SV% got lower.
Related: Joseph Woll: Best Goalie Developed by Maple Leafs in 35 Years
---
Latest News & Highlights
---
The loss wasn't solely on Woll. His entire team struggled in front of him throughout the game, especially on defense. Still, he made 36 saves and stayed calm and determined in the net. As Keefe noted after the game about Woll's performance:
"He was fine. We just gave up too much. Too many shots. Too many things in and around the crease. It makes it a lot harder on him than it should've been."
There was a lot to like in Woll's game, despite the loss. He had a solid effort, considering it was his fifth career NHL game. He stopped 36 of 40 shots and looked poised and confident in the net – it was solid enough for a win. He allowed one goal where he didn't cover the puck; otherwise, it was just not his fault. 
With goalie Matt Murray on injured reserve nursing a knee injury, Woll will have more opportunities to prove whether he can perform at the NHL level. The Maple Leafs will count on him to support Ilya Samsonov for the remainder of the season or until Murray returns, whichever comes first.
Item Two: Morgan Rielly Is Back at 100%
Morgan Rielly scored a power-play goal in the 4-3 loss to Columbus last night. His one-timer that tied the game at three early in the third period came on another nice feed from teammate Mitch Marner. With the goal, Rielly extended his point streak to four games (scoring two goals and adding two assists).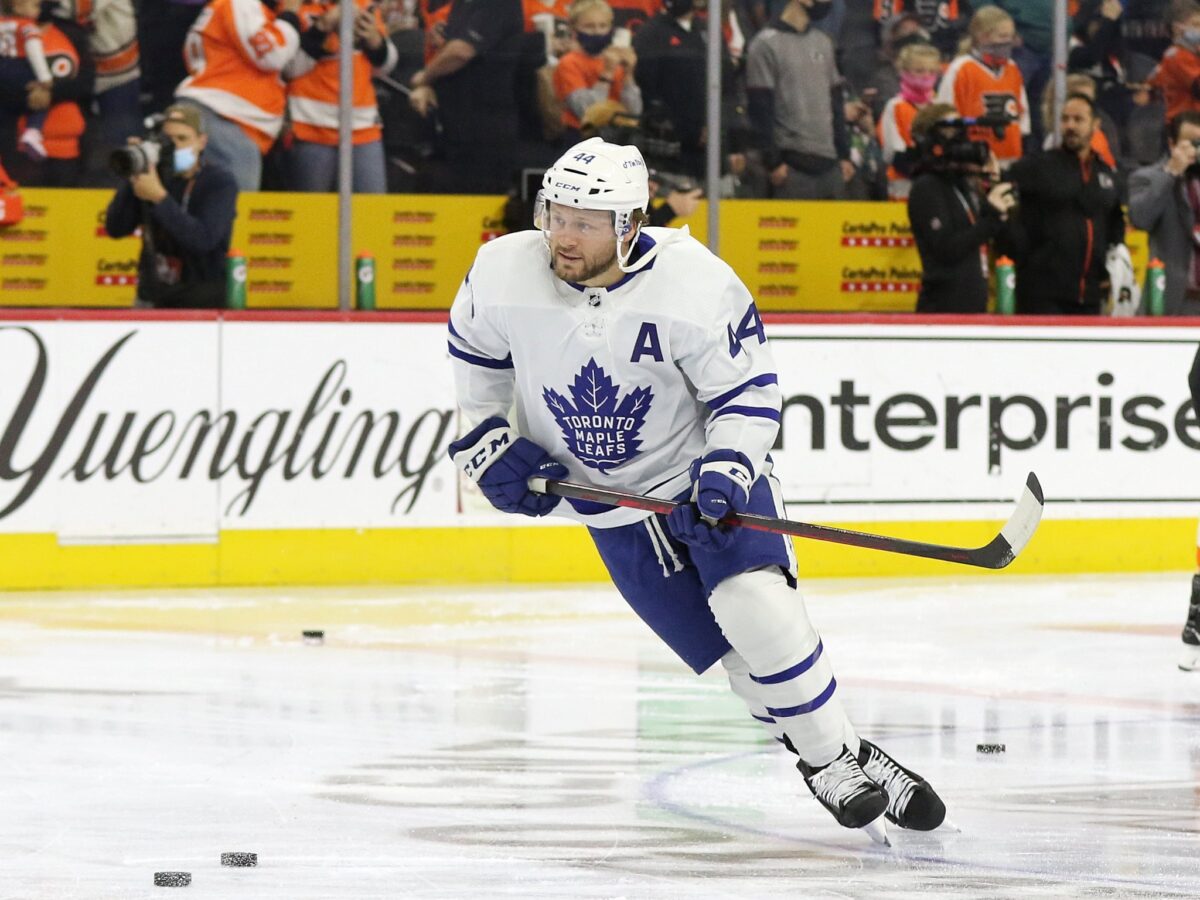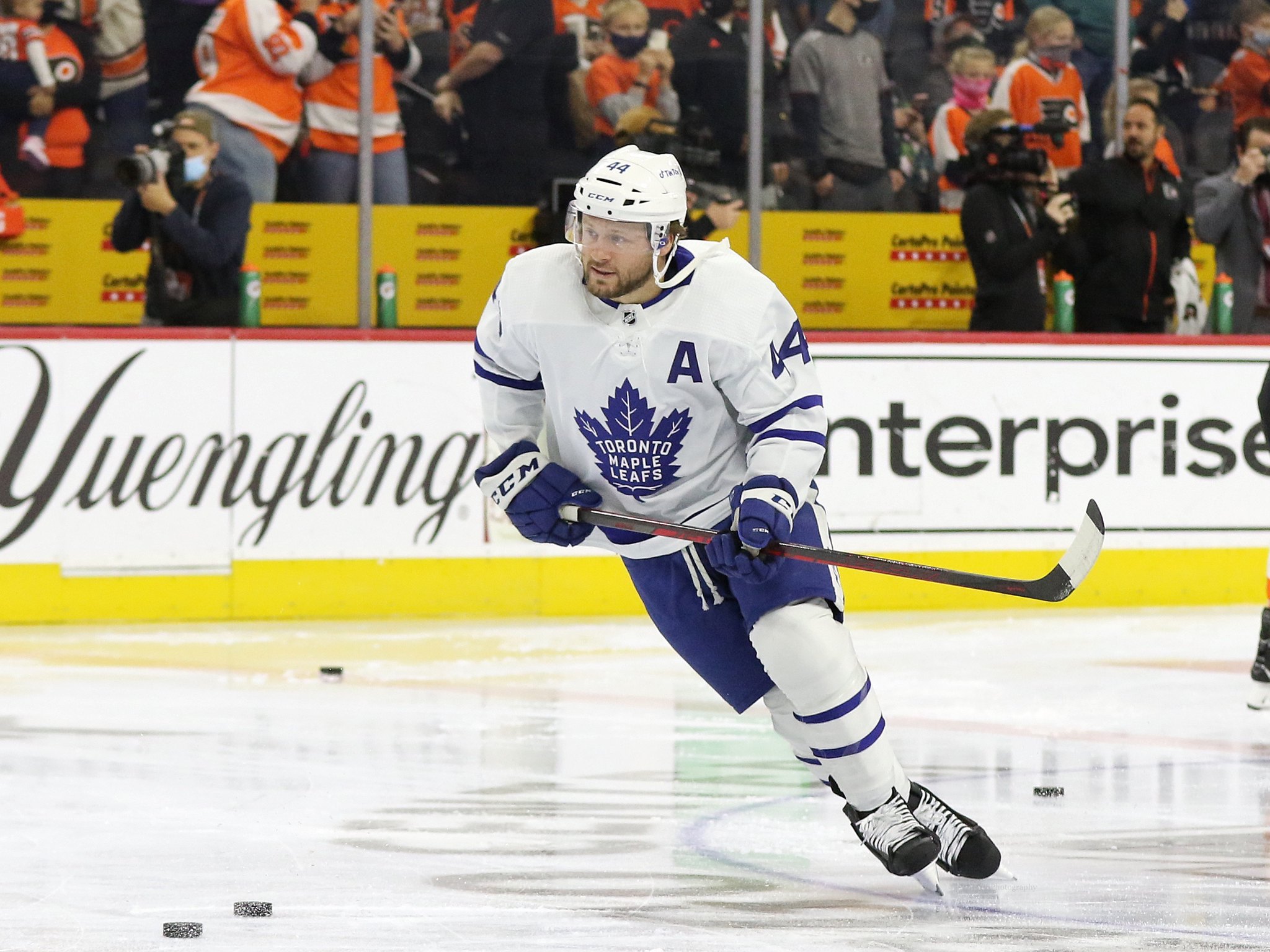 Perhaps even better, his recent play (and his point streak) suggest that Rielly is back at 100 percent after being out with a knee injury. He struggled when he first returned. Now he has regained his quickness and agility, which are essential to his game. Obviously, with Rielly fully recovered, the team now has a more effective blue line.
For those of you who like odd statistics, Rielly's power-play goal was the first by a Maple Leafs' defenseman in 69 games.  
Item Three: Adam Gaudette (Remember Him?) Is Lighting It Up with Marlies
Adam Gaudette, who was signed over the summer to compete for a bottom-six role, passed through waivers and was moved early to the American Hockey League (AHL). However, in the AHL he's had a solid season, and his scoring ways have returned. 
Related: Maple Leafs Commentary: Getting a Handle on Adam Gaudette
Gaudette has probably been forgotten by most Maple Leafs fans; however, the organization is likely watching his play with the Marlies. It's impressive. He now has scored 20 goals on the season in only 38 games. He was also the first Marlies' player to hit the 20-goal mark this season.
For the Marlies, Logan Shaw has scored 17 goals this season, and Alex Steeves is third on the team with 16 goals. Shaw is the leading Marlies' scorer with 37 assists (for a total of 54 points in 47 games).
What's Next for the Maple Leafs?
It's interesting to follow Shaw. He's a 30-year-old native of Nova Scotia, who's playing well with the Marlies this season. He's young enough and inexpensive enough (NHL league minimum) to become a trade asset if the Maple Leafs are to make a move before the deadline.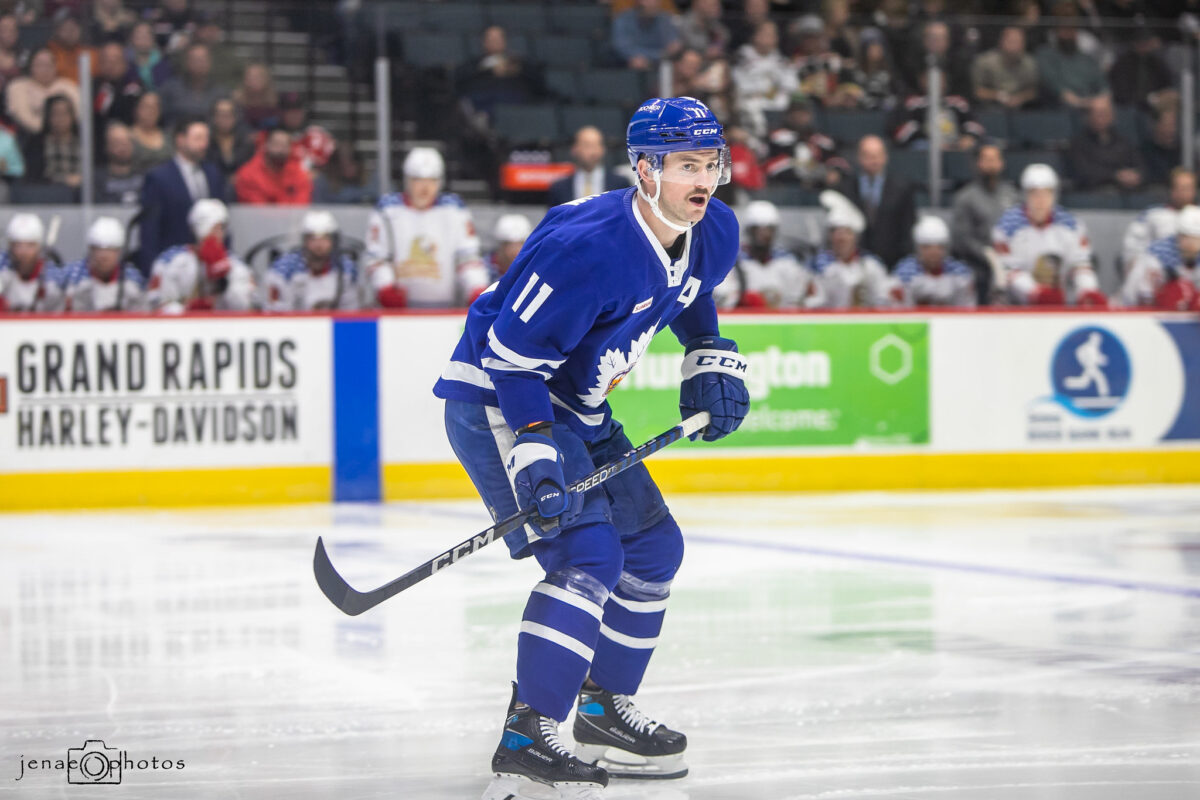 Shaw has played 232 games with several NHL teams, including the Anaheim Ducks, Florida Panthers, Montreal Canadiens, Winnipeg Jets, and the Ottawa Senators. He's shown this season that he can still play good hockey and contribute offensively. Could he be moved in an upcoming trade?
You may also like: