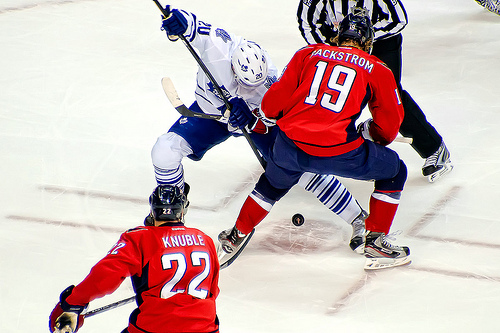 Maple Leafs Panel is a weekly feature that is published every Monday here on The Hockey Writers. It is a feature where THW Toronto Maple Leafs correspondents Lukas Hardonk, Mark Ascione and Alex Mamalis answer three questions that concern the Maple Leafs each week. To catch up on previous editions, click here.
Question: Nazem Kadri has been up and down between the Maple Leafs and the Toronto Marlies for the last two seasons, which some consider to be hurting his development. Would you say the Leafs have unintentionally been 'toying' with Kadri's potential?
Lukas Hardonk: We all know about how successful the American Hockey League has been in turning NHL prospects into full-time players in the big league, and ones who have seen plenty of success themselves at that. That's all that needs to be said about the AHL; we've heard plenty about it already. However, just because the AHL has worked for some doesn't mean it's right for all and that's exactly the case when it comes to Kadri.
The young Marlie/Leaf has produced well in the minors and has made some of the necessary adjustments to play in the NHL while there, but he hasn't been able to translate that into NHL success. It's hard not to believe that the constant curiosity and worry that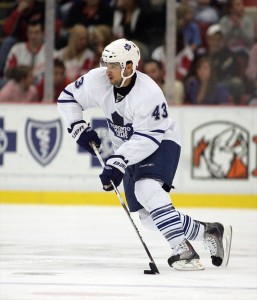 Kadri must carry with him has had no effect whatsoever on his development. Maybe it's time to give him a home for a full season and allow him the chance to succeed completely under one system.
Mark Ascione: I don't think they've 'toyed' with him. Kadri has done some very nice things when he has had an opportunity with the Leafs. It's somewhat unfair to look at his NHL stats and say he's only got 19 points in 50 games because he hasn't been given the chance in those 50 games to be a top-six player, which is his potential. It's clear he has offensive talent, but to be honest I don't think Kadri was the difference in the Leafs making the playoffs or not.
There are parts of his game that required work; in 2010 he was still somewhat small and easily moved off the puck and his defensive game needed maturing. He's come a long way in those areas in 2011-12. That said, I really had no issue with leaving him with the Marlies and allowing him the year to play and be a very good player at that level. Frankly, the Marlies have a good chance to be successful in the playoffs this year. To have Kadri be a part of that, a leader on a team that is doing well, would do great things for his development, which only makes him a better player in my opinion. I do look for him to win a spot out of the 2012 training camp.
Alex Mamalis: By no means have the Leafs been toying with Nazem Kadri; he's played in 50 big league games over the last two seasons. He's been given opportunity, just not the right opportunity. Many pundits will point to Kadri's lackluster NHL production (19 points in those 50 games) as a major reason why Toronto isn't giving him an elongated chance yet. That statement is precisely why I believe he hasn't been toyed with, but still not given the right opportunity to succeed.
The problem with Kadri is expectation. Being a top draft pick in a ridiculously large hockey market will do no one favors, especially a budding star who still needs time to improve. The Leafs have done a poor job in dealing with Kadri's expectations by not sheltering him enough. Placing him on the third line while playing 13 minutes a game is only setting him up for failure and scorning from everybody outside the organization.
In conclusion, have the Leafs been toying with him? No, he's received opportunity, but they have not been giving him the right opportunity and have only been sending him into a direction with no light at the end. Once they give him that opportunity, I can almost guarantee you that we will all laugh at thought of ever asking these questions.
Question: Certain players have seen their ice time shift night in and night out since Randy Carlyle took over behind the bench, especially those who play a checking role. Just how much time should the checkers receive per game?
Lukas Hardonk: It's hard to make anything out of a player's ice time when the head coach is a brand new one considering he doesn't know much about his roster and somewhat of a feeling-out process takes place. That's what appears to have happened since Carlyle took over in early March as proven by the likes of David Steckel and Tim Connolly, who have seen their ice time anywhere from 14 to 22 minutes and 13 to 21 minutes respectively over their last five games.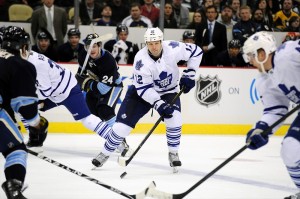 Obviously Steckel and, more recently, Connolly have taken over checking roles since coming to Toronto, which leaves us wondering how much these types of players should play per game. They certainly contribute along the boards and have the ability to grind things out, but their names don't pop up on the scoreboard very often. It's difficult to put an exact number on how much they should play, although about 16 minutes per game sounds about right.
Mark Ascione: Ideally, I'd say you'd want the top line getting 20+ minutes, as offensive players tend to thrive on more ice. But a line matching system means the checking line will see more minutes.
This issue comes up because Carlyle was running his checkers out for 20+ minutes and generally your checkers are not offensively gifted. But this team has had a big problem with defensive play and if the checkers are effective at limiting the opposition's best players, then that's the system they have to play. It's a big departure from Ron Wilson's more 'run-and-gun' style system.
At the risk of not giving a direct answer, until the defensive play improves all-around, the checkers should see a lot of time if they are effective in limiting the opposition's chances.
Alex Mamalis: Obviously this question comes from Randy Carlyle's peculiar decision to play David Steckel and crew 20+ minutes this last week. I'll say this: I think this matter is getting more attention than it should based purely on the fact that he's playing Steckel that amount over someone else. Carlyle is a line matcher, that much we know. However, he doesn't really have the roster to play that game yet. This has forced him to resort to use and work with what he has rather than changing his style.
The line of Steckel, Connolly and Crabb was used as Randy's shut down unit. If you've ever watched a Ducks game, you'll know Carlyle believes in a very structured top-six, bottom-six lineup. His third line is always his shutdown line and he relies on it to wear out other teams' top lines by keeping a cycle going in the opposing teams' zone. He doesn't have the most suited players for that job, so he's using what he has and that's why this is getting so much attention.
Question: After watching the Leafs and how each member of the roster has played this season, name one player who deserves to stay and one who deserves to go, and why.
Lukas Hardonk: Leaving the obvious (Kessel, Lupul, etc.) out of this one, the player who most deserves to stay seems clear: Tyler Bozak. Many have questioned his play at times and see him as at tradeable asset, but he has held down the No. 1 spot at centre for much of the season and would be a very useful third line centre when the Leafs find a true No. 1 centre. He has all the attributes needed; he can skate, score, play physical and is energetic.
Who needs to go isn't so easy given the Leafs' rough second-half, but one sticks out a little more than the others. Tim Connolly has struggled mightily this season and at a cap hit of more than $4 million, it's tough to keep him and play him with your bottom-six guys. He is a veteran with another year on his contract who has proven that he can be an elite play maker in this league. Surely there is at least one team out there that would be interested.
Mark Ascione: If we're talking about guys who might be 'on the bubble' to have a job with the Leafs next season, then I'd say one player who deserves a spot is Matt Frattin. He had some hard luck to start the season, hitting posts and not scoring until his 17th game. His numbers don't really show it, but he's got offensive skill. He also works pretty hard and plays with a lot of energy. If he shows that same kind of work ethic in training camp, I think he could win a spot.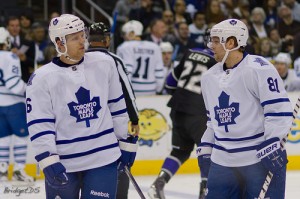 One player I think could be moved out would be Colby Armstrong. He's a likeable guy and I just said he could be an effective checker in the last question. That's because I am not sure he would be traded, but he's been plagued with injury since coming to Toronto. Instead of a gritty winger who could add 15 goals and show some leadership, he's almost an afterthought on this roster and at $3 million per year, he's just too expensive.
Alex Mamalis:  Joey Crabb is most deserving on my list to stay because his contributions are vastly underrated. Firstly, he anchors the teams penalty kill to a tee and yet no one notices. Since the new year, the Leafs only allowed eight goals on 51 opportunities. That's quite impressive compared to pre-New Year and he's been at the forefront of it. Not only are his defensive contributions impressive, but he's also managed to put up 11 goals, 25 points and a plus-three rating over 14 fewer games than anyone else. He more than deserves to stay.
There are a few players with my nomination on the list of those to leave, but Tim Connolly is on the top. For $4.75 million, he's on pace for a career low 35 points while being inconsistent defensively as well. To the critics who say he hasn't been played with Kessel and Lupul enough: in the simplest of terms, he has. He was given ample opportunity to find a niche on that line during various points of the season, yet he's continued to fail on all fronts. There's only so much failure a team can try to withstand before shaking things up. At that salary, it would make more sense for another team take a gamble on Connolly's return to valid production, not Toronto.
Follow the panel on Twitter: Lukas Hardonk, Mark Ascione and Alex Mamalis.