No doubt the 2011-12 season has been a great disappointment in Toronto. Fans are unhappy there's no playoffs. The team has a number of issues needing to be solved. Despite those negatives, LeafsNation should know there are positives to be taken from the 2011-12 season.
In past years, the Leafs resided in the bottom of the standings early, then attempted a long climb into a playoff spot. This season, they held a playoff spot until February, and then, unfortunately, collapsed. Still, it's a positive that they were able to start well and maintain that for the first four months.
But, more than the overall team positives, there were some individuals who had their own positives, or at least, represent positives going into a season where a turnaround is going to be necessary.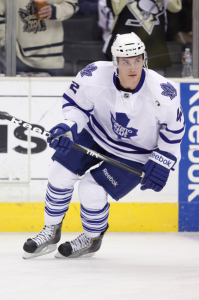 5. Tyler Bozak
Brian Burke feels signing undrafted US college free agents is like finding a wallet… you don't give up any assets for what could be a good NHL player, ready to step in right away. Burke has not always been correct, but Tyler Bozak may turn out to be one of those 'found money' players.
Bozak's initial 37 games in 2009-10 showed promise, but after he posted only 32 points (15G, 17A) and a glaringly poor -29 through 2010-11, some wondered if he'd stick as an NHLer. That question has been answered in 2011-12, with career highs in goals (16), assists (28) and points (44) while improving to -8 in 70 games. Granted, Bozak has spent the bulk of the season playing with Phil Kessel and Joffrey Lupul, and obviously was a huge beneficiary from their wonderful seasons. The three have chemistry, and it was apparent that Bozak was the Leafs' best option between their 2 best offensive weapons.
Bozak isn't the long term answer for the Leaf top line. He was slated to be the third line centre, and Toronto should be hunting for a bigger, more offensive player to improve the first line. But Tyler Bozak's bounceback year is evidence that he can indeed be a solid 2nd or 3rd line player, capable of 40+ points. At 26, he still needs to hone his defensive skills to go with his speed and faceoff ability (currently 27th in the NHL at 53.1%) to give Toronto a very solid two-way centre. He won't evolve into the number one centre the team needs, but Bozak will give Toronto some depth down the middle.
4. Randy Carlyle
Coaches have unique styles, and that is a perfectly reasonable description of Randy Carlyle's style. He's a defensive coach, quite different from Ron Wilson's more run-and-gun system that seemed  to suit some players.
Normally, this gritty style could mean friction between players and coach, but Toronto has two young goalies, and a large but not mobile defensive corps. A run-and-gun offense benefits from goalies who can be game-stealers, making amazing saves and weathering long cycles from the opposition. It needs a speedy defense who can get back, and forwards who cover off defenders who pinch or jump into rushes. The Leafs have none of those things.
Carlyle's system may not be exciting, because it stresses defensive responsibility first. The result should be that the Leafs spend a lot less time under siege in their own end. The speedy players on the roster should still be able to get their chances, but the hope is the team will less often be a goal or two down before those chances arise.
Maybe just as important, Carlyle has been a contrast to Wilson in his demeanor with the media. He has been candid about his team's performances, acknowledging that the fans deserve better than they've been getting. He says plainly that players have made errors, and that the coaching staff has not done an adequate job of preparing the team. For those who say there's been no accountability under Burke and Wilson, Carlyle presents a refreshing change.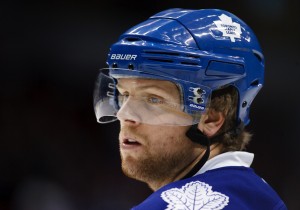 3. Phil Kessel and Joffrey Lupul
Burke made a great leap of  faith when he acquired Lupul. Returning from a spate of injury and illness, Lupul teamed with Kessel to spark the Leafs offense late in 2010-11. The chemistry continued into 2011-12, as the two sizzled like a house on fire, ranking among the league's top five scorers for a large part of the season. As 2o11-12 winds down, Lupul has missed 13 games and slipped to 25th overall in scoring, though Kessel has managed to hang in the top 10.
Lupul has posted career highs in assists and points, with 67 points in 66 games, and +1 rating before he went down with a shoulder injury. Kessel has 37 goals, 41 assists in his 79 games, and has a -12 rating (though he was even at the beginning of March). The production is there for these two.
The positive thing for LeafsNation is that these are not players catching lightning in a bottle. Kessel is in his 6th NHL season, Lupul his 8th, so they are known commodities. These young veterans are under contract for another season. If Burke is able to find a true NHL first-line centre to put between these wingers, it could evolve into one of hockey's best lines.
2. Mikhail Grabovski
Toronto's second line centre saw his production drop somewhat after a career year in 2010-11. Still, Grabbo reached the 50 point plateau, and was rewarded with a 5-year contract extension.
The bottom line on Grabovski is this: he isn't a number one centreman, and he does at times go through point droughts, but he is currently the best centre in the Leaf organization. He has shown he can be a consistent 50+ point producer. He has speed and is a creative playmaker.
Grabovski often seems shy in interviews, perhaps conscious of his English not being perfect, or perhaps just because his shyness is a personality trait. On the ice, however, Grabbo is anything but shy. While he isn't a hitter of note, he plays bigger then his 5'11", 183lb stature. Over his Toronto career, we've seen him get scrappy against the Kostitsyn brothers, and this season he engaged Chris Neil in his first NHL fight. Last year he took two crushing hits from Zdeno Chara, and stayed in the game to score twice. He's simply a gamer who plays with a ton of heart, and brings it night after night.
If the team can bolster the first line, look for Grabovski and his linemates to get more offensive chances and post higher numbers.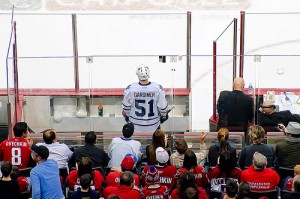 1. Jake Gardiner
From training camp on, it was apparent the Leafs had someone special in Gardiner. He was impressive enough to beat out Keith Aulie, one of Toronto's top defensive prospects, for a roster spot. Ron Wilson thought enough of him he played him over Cody Franson.
He's played with poise, and an unexpected maturity level for a 21 year old first year NHL defenceman. His numbers tell the story. He is 10th on the team in scoring, with 5 goals and 22 assists, and he is 10th in rookie scoring (tops among defencemen). He has averaged over 21 minutes of ice per game, though he is a -5.
Gardiner is a puck-mover, and is quickly growing into an exciting offensive defender. He will never been a stay-at-home guy. He was misused to some extent at points this season as a penalty killer. In time, his defensive game will get stronger, and he will learn the to play his position better. As he is now, Gardiner is a player with very good hockey sense, good offensive vision, and he should continue to develop into something of a star on the Toronto blue line.
Bonus: The Leafs own their own first round draft pick.
One further positive is that while fans, players and management would likely have preferred to see playoff hockey, for the first time since 2009, the Maple Leafs hold their own first round draft choice. As of this writing, it was the 5th overall choice. There has been some speculation as to who could be available when the Leafs make their selection. But, whoever the player is, it's quite possible that Brian Burke will be able to address an organizational need, perhaps acquiring a player who could step right into the lineup.
For what it's worth, the Maple Leafs currently have 3 players who were drafted 5th overall: Tim Connolly (NYI 1999), Phil Kessel (BOS 2006) and Luke Schenn (TOR 2008).