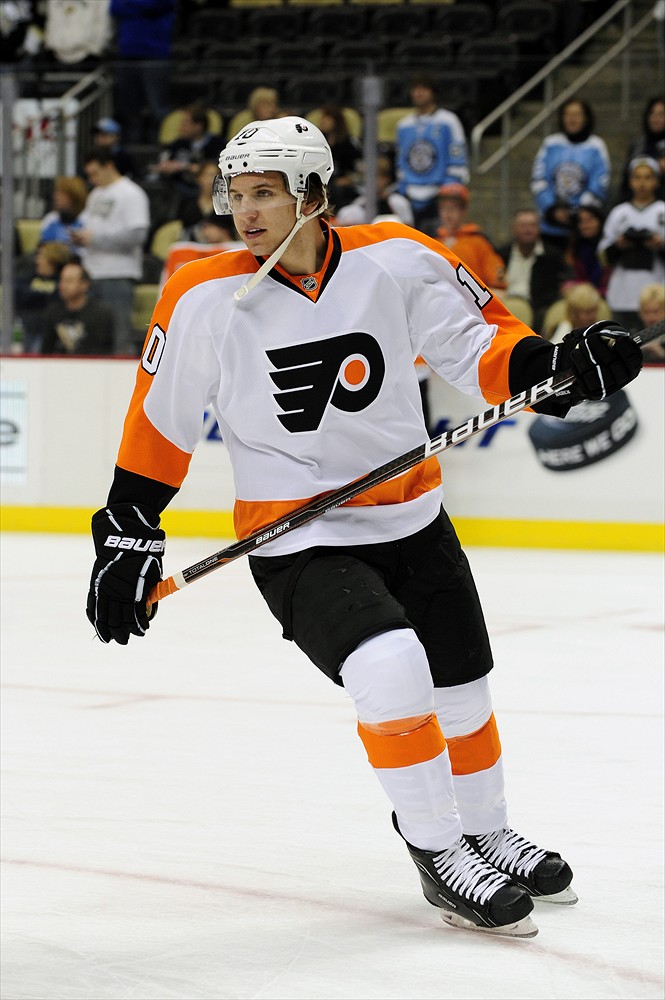 Each spring some player shocks the world and plays above and beyond what everybody was expecting from them on the national stage. In 2008, R.J. Umberger put up 10 goals and five assists in 17 games. In 2009, Claude Giroux had a great all around series against the Pittsburgh Penguins, scoring two goals and three assists in six games. When the Flyers made their run to the Stanley Cup Finals in 2010, Ville Leino had seven goals and 14 assists in 19 games, a Flyers postseason record for points scored by a rookie. Last year was no different when James van Riemsdyk was absolutely dominating in the two series against the Buffalo Sabres and Boston Bruins, scoring seven goals in 11 games.
With all the youth on this current roster, there's five guys I could see breaking out, with Sean Couturier, Brayden Schenn, Matt Read, Jakub Voracek, and Wayne Simmonds comprising that list. From those five, I think I can narrow it down to just two. Couturier will likely be used in a more defensive role, going out on the ice alongside Max Talbot and Zac Rinaldo as the Flyers' shut down line. Read is another tricky one, as he hasn't stuck on the same line or position for a while, jumping from wing to center on the second, third, and fourth lines. If the Flyers continue to get the same production out of him that they got in the regular season, they'll be happy.
Read is likely going to be a Calder trophy finalist when all is said and done. Simmonds is another guy who exceeded expectations in the regular season. Coming off a down year for the Los Angeles Kings, Simmonds was thrown into the trade that sent Mike Richards to the Kings and Schenn to the Flyers, and despite that, he has been an integral part of this team for the whole year, not to mention how good he has been of late. Each of those guys are important to a successful playoff run, but I think it's going to be Schenn or Voracek (or both) bursting onto the scene over the next few weeks.
After the Flyers traded Mike Richards and Jeff Carter last summer, Schenn was the most hyped player coming to Philadelphia through those trades. The younger brother of Toronto Maple Leafs' defenseman Luke Schenn, Brayden was widely regarded as the top prospect not playing in the NHL last season. He seemed to be an untouchable for the Kings in trade talks. And then all of a sudden on June 23rd he was traded to Philadelphia. It seemed to be a given that Schenn would leave training camp as the third line center for the Flyers.
Instead, Schenn has had a roller coaster year. During camp Schenn sustained a shoulder injury and was forced to start the season as a member of the Flyers' AHL affiliate Adirondack Phantoms. When he was finally called up to the Flyers, he played in a few games before breaking his foot. He was forced to work his way back from that injury, played in a few more games before sustaining a concussion in early December. Since returning from that injury Schenn hasn't missed a game and while he hasn't scored as much as was expected from him (he has 11 goals and five assists) but has played well while not scoring.
Schenn has been playing exceptionally well lately on a line with Simmonds and Danny Briere that has been providing the team with a lot of offense lately. I think one of the reasons that Leino was so good in that run two years ago was that he played on a line with Briere, the same opportunity Schenn is going to have. Briere has been one of the best players in the postseason since the lockout with 93 points in 91 games. Assuming Briere plays up to that level, Schenn is going to be on the ice when a lot of scoring goes on.
Schenn has also been playing a lot more physically lately, this was clearly seen in Sunday's game against Pittsburgh when he showed he wasn't afraid to mix it up with guys like Sidney Crosby and Evgeni Malkin. Schenn was the spark of the brawl in Sunday's game between not only the players but also a shouting match between the coaches. It's almost guaranteed that there is going to be an epic first round matchup between the Flyers and Penguins and Pittsburgh and their fans are going to be targeting Schenn, something that should fire him up.
Jakub Voracek was a part of the Flyers' other blockbuster deal last summer when he, the eighth overall pick in last year's draft (Sean Couturier) and a third round pick came over from Columbus for Jeff Carter. After being the seventh overall pick in the 2007 draft, Columbus was willing to part with him thinking that they were getting one of the NHL's premier goal scorers. Looking back on it now, the Flyers stole Voracek and Couturier as Carter only played in 39 games for the Blue Jackets before being dealt to Los Angeles.
Voracek currently has three less points than he had all last year, some might think of that as a down year. If you have watched Voracek play all season, you would think differently. Voracek has been one of the best players at even strength and on the powerplay all year long. Lately, he's been out in some key defensive situations too and as recently as last week was a part of the Flyers' shut down line with Couturier and Max Talbot. In five games against the Penguins this year, Voracek has picked up two goals and five assists and was one of the best players on the ice in Sunday's matchup.
His best play came when he found a wide open Wayne Simmonds next to the net to give the Flyers a 3-2 lead. Voracek will be even more important to this team's playoff chances if James van Riemsdyk isn't at 100% at the start of the playoffs. Voracek has only gotten to play in the postseason once when he played in four games for the Blue Jackets his rookie season. All year long Voracek has been one of the smartest players on the Flyers when he has the puck on his stick, watch out for him to step his game up in a major way.
Ryan is a student at Penn State and fanatic of all Philadelphia sports teams. He has written all through high school and college covering various different sports.