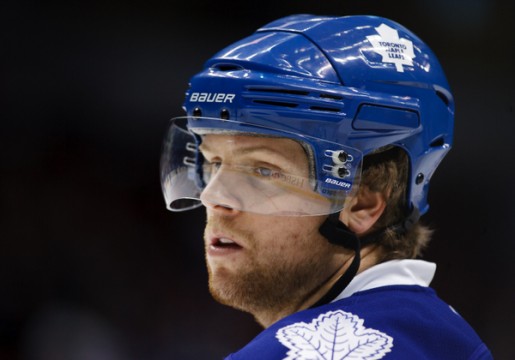 When asked about his response to the fans heckling, Phil Kessel told TSN's Jonas Siegel "we're not playing well, so what do you expect?"
One thing is for sure for Toronto Maple supporters.  This team will have to get the 'good feeling' of winning from somewhere else.  Unless they are able to defeat the Montreal Canadiens in the final game of the year, it's a good bet that the Leafs have already won their last game of the 2011-12 season.  True Leaf Fans are probably okay with that.
With 4 games to go, the Maple Leafs sit in 5th last place in the entire NHL, just 1 point above the Minnesota Wild and 2 points behind a quartet of teams who look like they're improving and moving away from Toronto.  All 4 teams behind them in the standings including Minnesota, Montreal and Edmonton have 5 games remaining and a real chance at surpassing the Leafs.
The Good News:  Toronto will have the benefit of a top 5 draft pick for the first time since they selected Luke Schenn in 2008 and this draft selection appears to be getting better every day.  The Maple Leafs fan base, although upset with the way the year has concluded, will find solace in the fact that the Leafs' management team will have a chance to draft an elite world beater type player in the upcoming NHL Entry Draft.  This player could also potentially be a player that steps in immediately which could go a long way to appeasing the faithful.   While some like to speculate that the Leafs brass have been quick to pull the trigger on deals in the past, I'll say here now that there is little to no chance that Brian Burke moves this pick.
The Bad News:  At this time, it appears as though everything is lost and there is absolutely no sense of winning in this market.  The Toronto Maple Leafs have lost often and badly (see 7-1 defeat to Philadelphia last night) and this is not a fun environment for any player, coach or management type.  This is especially true for young players who have yet to find any consistency in their game, who lack confidence on and off the ice and who are always being asked about it.  Let's face it; they are in desperate need of some success.  I could name half the roster here, but Schenn, Bozak and Kulemin immediately come to mind.  Hopefully for Leaf fans, Prospect Nazem Kadri (seen below) and the Toronto Marlies can go deep in the AHL Playoffs and bring some sense of victory to the dressing room and help to revitalize this franchise.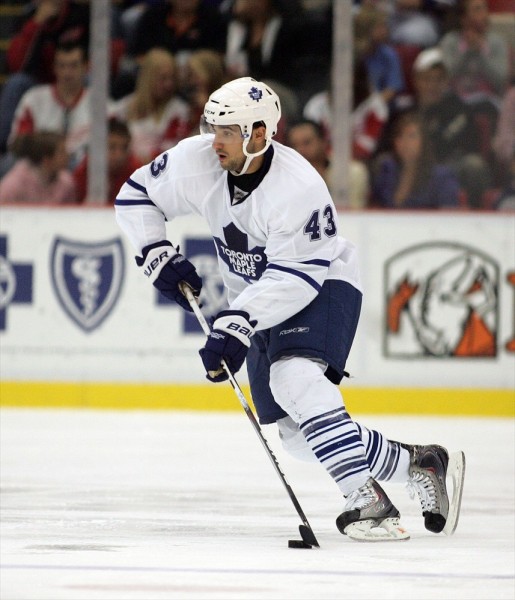 Let's go Blue Jays: So is it okay that the Maple Leafs frustrated fan base decided to cheer "Let's go Blue Jays" during the game?  Emphatically, I say yes.  The Blue Jays may be the most exciting thing in the city right now and many of us can't wait for them to start playing.  I would much prefer cheering for the Baseball club down Bremner street than throwing waffles or even booing the home team.
In fact if you've been to any game at the ACC you know that it's good to hear anything.  Compared to arenas like 'ScotiaBank Place' in Ottawa and the 'MTS Center' in Winnipeg, the ACC is like a library.  The only time that fans cheer is when their team scores or if there is a fight.  The only opposing player that gets booed in Toronto is Daniel Alfredsson.  Quite frankly, that just doesn't cut it.  And while it's not the fans fault, it certainly doesn't make for a great playing environment when your club is lacking confidence.
On the plus side, it's been worse:  Here is when a Leaf fan decided to throw waffles on the ice.
Let's admit, Leaf fans are some of the most passionate, dedicated and vocal fans on earth, but you wouldn't know it from how they are at the ACC.  Some say that winning will bring the noise, I think it's the noise that will bring the winning.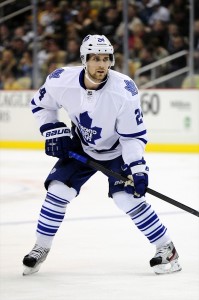 Last night's game against the Philadelphia Flyers was an absolute stinker.  Everything that could've gone wrong did, just ask John Michael Liles who looked uncharacteristically weak on defense.  Even the loudest fans alive could not have helped the Buds defeat the Flyers.  And while I support the Leaf fans that booed and cheered for the Blue Jays, I do caution them not to put too much stake in last night's game.  If you've ever flushed something down the toilet, you'll know that no matter how badly it fights to try and get back out, it almost never does.  The Leafs season is in the toilet and it's going down and the best you can do is just to watch it go down.  And be expressive about it.  You have every right to watch it go down how you want, whether you choose to watch it with a paper bag on your head or with a pocketful of Eggo Waffles.
And if I'm grasping at straws, one of the ways the Leafs could learn a little bit about winning in Toronto, is to actually take the fans advice and watch a few Blue Jays games.
By the way, don't forget to check out Mark Ascione's piece on 5 things about the 2011-12 NHL season here: https://thehockeywriters.com/five-things-about-the-maple-leafs-in-2011-12/
Twitter: @StonemanStephen | Email: stoneford@yahoo.com | Stephen's archive
For every Maple Leafs article on THW, follow @THW_MapleLeafs  on Twitter.