The Stanley Cup Playoffs are a week away, so I thought it would be appropriate to comprise a list of the top 10 most important players for the Chicago Blackhawks come playoffs time. The 'Hawks are currently sitting in the 6th spot in the Western Conference, but are only 2 points behind division rival the Detroit Red Wings, and 1 point behind the Nashville Predators. Chicago has 4 games remaining, including a 1 o'clock matinee with the Red Wings to round out its season. It should be an exciting finish here for Blackhawk Nation.
10. Dave Bolland
Dave Bolland doesn't play with the same flash and pizzazz that teammates Patrick Kane or Marian Hossa play with, but he is an invaluable piece to the Blackhawks playoff puzzle. In 43 Playoff games, Bolland has racked up 14 goals, 20 assists, and 3 shorthanded goals. This season, Bolland is winning 49% of his faceoffs, scored 18 goals, dished out 17 assists, and scored 3 shorthanded goals. Bolland's faceoff skill and penalty killing ability will be crucial if Chicago has any hope of making another Stanley Cup run. With questions still surrounding Jonathan Toews' health, Bolland has to step up into a bigger role for the 'Hawks come playoff time.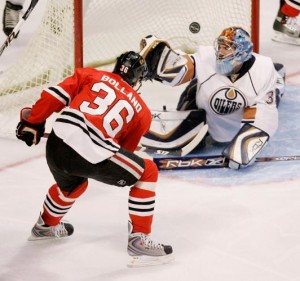 9.  Ray Emery
To say the Blackhawks goaltending this season has been underwhelming is an understatement. Ray Emery has been a disappointment for the 'Hawks this season, and rarely performed like the Ray Emery he was before his hip injury. The bright side? Emery is a playoff-tested net minder who helped the Ottawa Senators to the '06-'07 Stanley Cup Finals with a record of 13-7 with a 2.26 and 3 shutouts. Corey Crawford will most likely begin the playoffs as a starter, but if he falters, Emery is a battle-tested backup who has been deep in the playoffs before.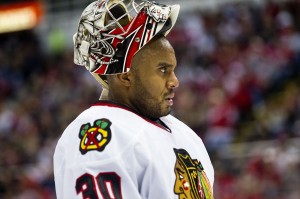 8. Brent Seabrook
There is only one word to describe Brent Seabrook in the playoffs: Horse. Seabrook is the guy Chicago is going to lean on to defend the opposing teams' top line. Seabrook is used to carrying the load on defense with a career playoff average of 24:23 per game. The Western Conference is loaded with talented players like Pavel Datsyuk, Henrik and Daniel Sedin, Jamie Benn, Henrik Zetterberg and Anze Kopitar. Seabrook's physical play and shot blocking ability make him one of the most defensively-reliable defenseman in the league. If Chicago plans on going deep in the playoffs, its going to rely on Seabrook to help take pressure off its porous goaltending.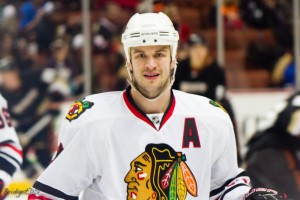 7. Andrew Shaw
The exciting rookie has brought a little bit of everything to the table this season for the Blackhawks. Along with his skill and goal scoring abilities, he brings a grit and tenacity to his game, something the 'Hawks have been missing since Dan Carcillo went down with a season-ending knee injury. The Belleville, Ontario native has been a bit of a surprise for the 'Hawks this season, as not many people predicted the 20 year-old 5th Round draft pick to become such an integral part of this years team. The playoffs are a time when teams rely on their bottom six forwards to provide a spark. Whether it be a goal or a big hit to swing momentum, Shaw is going to have an impact on the game if he brings his grit and his lunch pale to work every game. Look for Shaw to play the same sort of role that  Kris Versteeg played in Chicago's Stanley Cup run in 2010.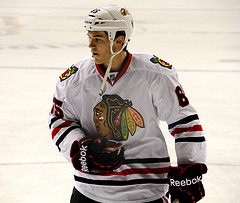 6. Patrick Sharp
Sharp is the Blackhawks' pure sniper. He hit the 30 goal mark for the third time in his career this season with 31, and more are surely on the way come playoff time. Sharp has found good chemistry this season playing alongside Marcus Kruger and Victor Stalberg. Sharp has not only established himself as one of the best shooters in the NHL, but one of the more clutch shooters. Three of Sharp's 22 career playoff goals have been game-winners. Chicago will be looking for some more playoff magic from Sharp this year, especially with the poor goaltending the team has endured all year. Aside from scoring goals and putting up points in the playoffs, Sharp brings a much needed veteran presence to the 'Hawks dressing room.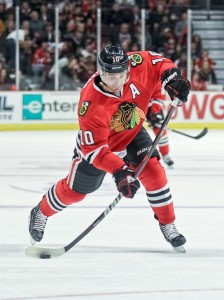 5. Patrick Kane
Patrick Kane thrives in the playoffs. If you don't remember, just look up his cup-clinching goal against the Flyers in the 2009-2010 Finals. In 45 playoff games, Kane has 20 goals and 28 assists. The former number 1 overall pick from the London Knights has shown why he was worthy of such a high selection by his regular season numbers, as well as his playoff performances. Kane's point production has slipped this season (73 pts last season, 61 pts this season) but the playoffs offer a new season and a time from Kane to shine. This season, Kane has moved to centre where he has looked very comfortable. But with the (hopeful) return of Jonathan Toews and the emergence of Andrew Shaw, Kane may be better served on the wing during the playoffs. Wherever Kane does end up playing, he is sure to provide some clutch goals and jaw-dropping dangles come playoff season.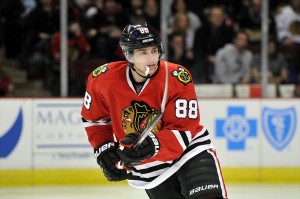 4. Duncan Keith
Much like Seabrook, Duncan Keith is a horse for the Blackhawks come playoff time. In each of Keith's three trips to the playoffs, he has never averaged less than 24 minutes per game. During the Stanley Cup run, he was averaging 28:11 of ice time per game. That's almost half the game Keith was averaging on the ice. When paired with Seabrook, they are one of the most dominant and intimidating pairings in the league. Keith has a silky smooth stride making him one of the better puck moving defenseman in the league. In last years  playoffs against the Vancouver Canucks, Keith played the role of goal scorer recording 4 goals in a 7 game exit from the postseason. He is currently serving a 5 game suspension for an elbow on Canucks forward Daniel Sedin. If the two teams meet again in the playoffs, look for Keith to be a big factor in what will be a physical series.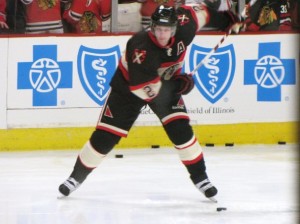 3. Marian Hossa
Hossa is in the midst of his best season in terms of point production since the 2006-2007 when he had 100 points with the Atlanta Thrashers. He has 29 goals and 45 assists to lead the 'Hawks in scoring. He especially has picked up his play in the absence of Jonathan Toews. Hossa needs to continue his revival season by helping carry the point scoring load for Chicago. Hossa ranks 7th among active players in career playoff points with 97, and ranks 11th in game-winning goals with 8. Hossa's playoff numbers speak for themselves, but he needs to rise to the challenge of a tough Western Conference if he wants to raise the Cup for a second time.
2. Corey Crawford
Hot goaltending, special teams, and secondary scoring. Those are the keys to the playoffs. The world saw what Antti Niemi did for Chicago when they won the Cup, and that is the sort of performance that Crawford must have if Chicago is to make a deep playoff run. The constant back and forth of Crawford and Emery between the pipes this season has been nauseating. It's time for Crawford to come to the forefront and take the playoff starter role. Good goaltending spreads confidence in a dressing room faster than a bad stomach virus. When the guys on the bench know they have a stalwart between the pipes who is going to keep them in the game, game in and game out, then the whole team begins to click. Crawford has to take the next step as a playoff goaltender if he wants remain the 'Hawks goalie of the future.
The former Conn Smythe Award winner has been sidelined with a concussion since February 19, but has begun to skate and should be ready for playoff time. Toews is a point-per-game player in the playoffs with 46 points in 46 games. He is the engine that really gets the Blackhawks going. Toews plays in all 3 phases in the game and succeeds in every one of them. He is excellent at taking draws, winning at an absurd 59.4%. Toews brings a certain calm to the dressing room when he is in the lineup. The addition of Toews makes the 'Hawks an even deeper team up the middle with Bolland, Shaw, Kruger, and the recently converted Patrick Kane. If Toews returns and plays like the Toews of playoffs past, look for Chicago to be playing in late May and maybe June.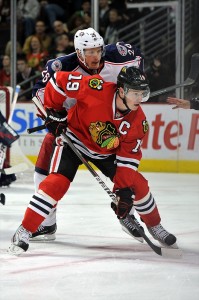 Here's to an exciting playoff season. Happy Hockey everyone.