With the fantasy hockey season approaching the final stages in some leagues, the Fantasy Hockey Panel discusses which players can give managers the extra production needed at such a crucial point of the fantasy season. This week, Fred Poulin, Peter Harling, Brandon Landry, and myself, Anatoliy Metter, will attempt to shed some light on questions that fantasy managers might have been asking themselves lately.
Here are this week's questions and topics:
What should fantasy managers make of Kyle Okposo's recent hot hand (Add/drop/insert into lineup) and other streaking Islanders such as Frans Nielsen and Josh Bailey?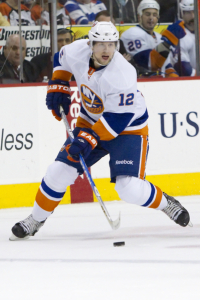 Fred Poulin: Currently playing on a line with Frans Nielsen and Josh Bailey, Okposo has recorded 5 goals and 1 assist for 6 points in his past 4 games for the Islanders. The former 1st round pick has now 41 points on the season and is on pace to approach his career-best of 52 points in 2009-10. Okposo is worth a waiver-wire pick for the Islanders last five games as he's been rolling lately. As for Nielsen, one of the most underrated players in the NHL, he has notched 3 goals and 4 assists in the 4 games, along with a +6 rating. Nielsen has 43 points this season and is a nice addition to any team looking for scoring at center. Finally, Bailey is coming off a five-point game against the Penguins yesterday, which gives him 12 points (3 g and 9 a) in his last 6 contests. While Bailey, a former first-rounder, seems to finally play to his potential, I would stay away from him as he is as inconsistent as they come.
Peter Harling: If you already own these players, yes insert them into your roster if you have room. Okposo is a streaky player so cash in on him while he is hot. Often teams that are mathematically eliminated from post season play during the final stretch of the regular season often perform well. Perhaps they are playing for a job next season, or simply the removal of pressure to make the playoffs, whatever the reason they are producing so cash in!
Brandon Landry: Okposo has shown throughout his career that at both the collegiate and professional level he has the skill and drive to be a top-line player. Unfortunately, he has faced a few speed-bumps with the emergence of Matt Moulson and P.A. Parenteau which has made it very difficult for him to excel. The St. Paul native is recently broke his career high in goals with his 20th of the 2011-2012 season, but he is not exactly being given the advantages in linemates and powerplay time that he was handed in years past. Even while seeing limited minutes, with only a week remaining in the season he is as hot and trustworthy as any sitting on the free agency or waivers. The second member on the Long Island second line is Josh Bailey. He has picked up seven points in his past two contests while playing at least 16 minutes in ten straight games. With members of the Islanders exchanging their composite sticks for titanium clubs, the young kids are being given a chance to play gigantic roles and Bailey is taking full advantage. He is worthy of a pickup in most formats while only sitting owned in 1% of leagues on Yahoo!. The third member of the trio is underrated two-way center Frans Nielsen. The Great Dane is finally taking advantage of his usual 17+ minutes and is playing larger chunks of time on the extra-man than his two planks. He is also worthy of a pickup if in dire need of depth.
Anatoliy Metter: At this point of the season, fantasy managers might just want and need to turn to options such as Nielsen, Okposo, and Bailey. Okposo has scored a goal in four straight games and it is apparent that he is comfortable playing alongside Nielsen and Bailey. Nielsen, Bailey, and Okposo have been the catalysts of the New York offense lately and the team is playing much looser and with much more confidence. All three players are widely available in Yahoo! formats and could help any manager, especially with the playoff rounds under way.
Nielsen has 7 points (3 Goals, 4 Assists) in his last four games while Okposo has posted 6 points (5 Goals, 1 Assist) in the last four contests. Josh Bailey has also been raising eyebrows with his 12 point performance (3 Goals, 9 Assists) in the last 6 games, but all three Islanders should be considered for a pickup at the very least. With the trio clicking as line-mates, head coach Jack Capuano will probably increase the line's ice time for the remainder of the season as the players will try to finish off the season on a high note.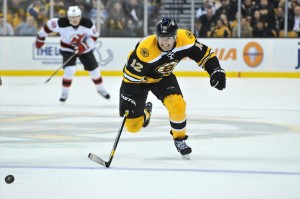 Are Brian Rolston and Rich Peverley worth some consideration for a pickup in deeper fantasy hockey leagues?
Fred Poulin: The veteran Rolston has been rejuvenated since the Islanders traded him to the Bruins. In his last 8 games with Boston, the 39 year-old Rolston has recorded an impressive 3 goals and 9 assists for 12 points along with a +9 plus/minus rating. The experienced winger knows how to win and the Bruins are 5-1-1 in their last 7 games. Grab him if you're looking for production down the stretch. As for Peverley, he just came back to the line-up after missing 19 games because of a major knee injury, so he'll need a few games to find his groove and rhythm. He is not worth a grab.
Peter Harling: Absolutely! The Bruins as defending Stanley Cup Champions are poised for another long and deep playoff run. The loss of Nathan Horton will hurt, but provides opportunity for players such as Peverley, and Rolston.
Brandon Landry: Brian Rolston is taking advantage of his second stint with Boston while having points in seven of his last eight clashes. He is playing a very similar role to Sergei Samsonov's when last year he was dealt at the deadline to Florida and managed to scoop up 14 points in 20 games. He is very difficult to scoop up on free agents knowing he could go ice cold for the next week and one should find an alternative source of points in their respective leagues as the Bruins seem to have set up a 'scoring by committee' system and the return of Rich Peverley is eating up a few minutes of ice time that the grizzled veteran once held. Peverley would be a wise pickup late in the season as the unheralded former Thrasher has managed to concoct 35 points in his last 41 contests and has been playing a regular shift with potential Selke-nominee Patrice Bergeron and scrappy-scorer Brad Marchand. Rich has also played top powerplay minutes for the Bruins since his return.
Anatoliy Metter: Rich Peverley has registered a goal since his return to the Boston lineup and Brian Rolston has been red-hot with 12 points in his last 8 games. Rolston's scoring streak ended in his last game, but managers might still want to keep their eye on the veteran and see if the steady production continues. Fantasy managers in deeper leagues should consider picking up Rolston, but those in shallower leagues are better off taking a flier on Peverley. Without Nathan Horton in the lineup, Peverley was seeing an increase in his ice time and production, but he suffered an injury and was shelved for a little over a month. Peverley had a little under 18 minutes of ice time in the Bruins' most recent contest and his production should see an uptick in the final weeks of the fantasy season and into the Stanley Cup playoffs.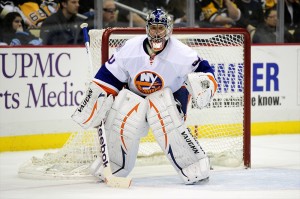 With some fantasy managers deep into their playoffs, who can managers rely on in the absence of injured netminders such as Jimmy Howard, Evgeni Nabokov, and Ben Bishop?
Fred Poulin: The crop of available goaltenders is very thin at this time of the season. With Tomas Vokoun battling injuries and Michal Neuvirth struggling, I would grab rookie netminder Braden Holtby of the waiver-wire who is only owned at 11% on Yahoo! Holtby has 2 wins this season in 5 games with one shutout.
Peter Harling: Injuries are part of hockey and part of fantasy hockey as well. Having a back up who can step in is important. Howard will be back soon so I would not panic with him. Bishop will miss a few weeks and Anderson may start every remaining game with the Sens so there is concern there. Look towards Al Montoya to see some starts down the stretch as both Nabokov and DiPietro are injured.
Brandon Landry: One netminder who should be coveted by these managers is Al Montoya. Montoya has managed to stop 42 of 45 shots in the past week from a team that is being compared to the prolific high goal-scorers from Edmonton in the '80s. The Isles plays Boston, Ottawa, New Jersey, Winnipeg and Columbus for the rest of the season and with the respect Long Island gets along with teams resting their stars, the former-first round-pick should have a chance to win every night of the week.
Anatoliy Metter: A serious injury to a goalie can possibly derail a long playoff run for a fantasy manager. Jimmy Howard is expected to be due back soon, but Evgeni Nabokov and Ben Bishop look as though they will be shelved for the rest of the regular season. Ben Bishop is out with a groin injury, but the Sens will have a healthy Craig Anderson back in net for them. On the other hand, the Islanders are not going to the playoffs and Jack Capuano will probably start Al Montoya for the final 5 games of the season. The Isles also signed veteran backup goalie John Grahame, but the netminder does not hold much fantasy value.
Fantasy managers should try to snag Montoya as he has had two solid efforts against the Penguins on Tuesday and Thursday night. Montoya was called upon to start the third period of Tuesday night's contest when Nabokov suffered a lower-body injury and the Big Cubano responded by saving 21 of 22 third period shots in a 5-3 Islanders victory. While Montoya wasn't under siege on Thursday night, he stopped 26 of 29 shots for his eighth victory of the season and will look to close out the 2011-2012 season on a strong note. Fantasy managers should trust Montoya as the Isles are playing very loose hockey at this point of the season and are definitely a confident bunch after going 4-1-0 on a road trip and sweeping the Penguins in a home and home series.
In a season full of great goaltending performances, what are the chances that Jonathan Quick and Pekka Rinne challenge Henrik Lundqvist for this year's Vezina trophy honors?
Fred Poulin: This year's race will be one of the closest Vezina race ever as Marc-Andre Fleury, Brian Elliott and Jaroslav Halak will also battle Rinne, Lundqvist and Quick for the precious hardware. My choice would personally be Quick who has been tremendous for the goal-starved Kings, currently ranked 29th in goals scored per game. With a better offensive support, Quick would easily have 40 wins instead the 33 he currently have. With a spectacular 1.93 GAA, an excellent .930 save percentage
and a league-leading 9 shutouts, Quick deserve the win this very important trophy.
Peter Harling: Jonathan Quick is his real competition. Quick is right on par with Lundqvist in terms of GAA , save percentage, and shut outs. While Lundqvist comes with more of a pedigree than Quick he also plays for a much stronger team. The remaining games in the regular season will tip the balance one way or the other as I see these two in a dead heat.
Brandon Landry: Both Rinne and King Henrik have struggled in the past month when comparing their numbers to every other part of the season, while Quick has emerged and is heard in just about every conversation on elite goaltenders. Lundqvist sits tied with Quick for first in goals against of goalies with over fifty starts. Although, the Are native holds the solo lead in save percentage. When looking at the defense in New York which include the midseason signing of Anton Stralman, rugged no-namer Stu Bickel and at one point with a Marc Staal coming off a serious concussion, it's truly incredible and unexplainable how Lundqvist remains at the top of the goaltending class. For this reason, Lundqvist should be holding the Vezina while having more hardware in his sights.
Anatoliy Metter: Henrik Lundqvist should be this year's Vezina trophy winner, but Jonathan Quick is giving the Swede a run for his money. Pekka Rinne has also been a rock in Nashville, but the netminder would definitely be a dark-horse to win the honor. Lundqvist is 3rd in the league in terms of GAA, Save Percentage, and shutouts, and is one of the main reasons that the New York Rangers occupy the number 1 spot in the Eastern Conference. In contrast, Jonathan Quick and the Kings are fighting for their playoff lives in the Western Conference, but the American netminder has done everything in his power to make the post-season a reality for the Kings. Quick has registered a league leading 9 shutouts and is currently 4th in terms of Save Percentage and tied with Henrik Lundqvist for GAA. Quick and Lundqvist will likely finish neck and neck  in this year's Vezina voting, but King Henrik should be receiving the honor when all is said and done.