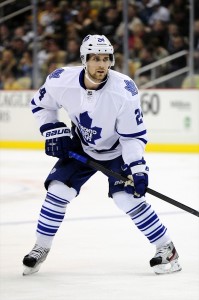 In Toronto, a 5-16-3 run since February 6 has eliminated the Maple Leafs' from the playoffs, again. You'd think LeafsNation would be used to an early spring. But it's different this season. On February 6, the team sat 8th, 1 point behind 7th place Ottawa with 3 games in hand. The All-Star game featured 3 Leafs, and Phil Kessel and Joffrey Lupul were having a wonderful year, among the top scorers in the league. But by March 30, the Leafs sit 14th, with only 4 games remaining.
The disappointment is crushing. Over 3 years into Brian Burke's mandate, there was hope that the long playoff drought would end. It won't. It's not like it's a near-miss, and it's caused everyone to wonder if the first half of the season was mere illusion. It's made for lots of speculation as to what happened. Here are 5 reasons which have contributed to yet another early exit for Toronto.
5. Inexperienced goaltending.
Goaltending has not been the major reason the Leafs struggled to win games, but it has been a contributing factor.
James Reimer played well in 37 games to end 2010-11, and feeling Jonas Gustavsson would improve on a disappointing 2nd year, Brian Burke decided he had the goaltending he needed to make the playoffs. Early on, things looked good. Reimer started 4-0-1, until injury put him out with 'concussion-like symptoms'. Gustavsson posted an 8-5-0 record while Ben Scrivens filled in with a 2-4-1 record in his first NHL games. But since Reimer returned December 1, he has a 10-14-3 record, while Gus has been 9-12-4. Overall, Reimer carries a 3.10GAA and .900 Sv%, while Gus is slightly better at 2.92 and .902.
Both goalies have played well at times. Yet neither goalie has been consistent, or had 'game-stealing' performances. In fact, Reimer has been very beatable over his trapper, Gus has a habit of giving up one 'bad goal' per game and is often caught deep in his net, and both have been seen as dropping to their knees too early. Some speculate the François Allaire method is ruining these goalies, others say Reimer may have been rushed back too early from his injury.
Might things have gone differently if Brian Burke had found some veteran insurance for the crease? Possibly. The Leafs did not miss the playoffs due to poor netminding, but they really never got enough goaltending to steal the extra points needed to stay in the playoff chase.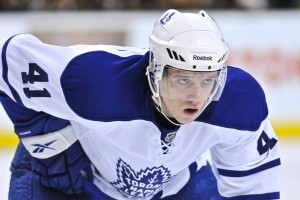 4. Too reliant on the top line.
The offence hasn't really been as good as it could have been.
The top line had a very good year, all at or near career-high offensive numbers. But Grabovski, MacArthur and Kulemin, who contributed 80 goals and 177 points in 2010-11 have fallen off to 49 goals and 117 points, in large part due to Kulemin's drop from 30 goals to just 7. Tim Connolly, ostensibly signed to centre Kessel and Lupul, has been demoted to the third line with Lombardi and Armstrong. That trio has missed 83-man games and scored just 21 goals at a cost of $11.25M.
The Leafs are in the top third of the league for goals scored with 218. Kessel-Bozak-Lupul accounts for 77 of those, over 35%. Adding Grabovski and MacArthur's 42 goals, those 5 players account for 55% of the Leaf's offense. Note though that during the February-March slide, Grabovski was goalless throughout February, while MacArthur has not scored in March, and that Lupul has been sidelined with injury since March 6.
Also at issue, the Leafs are 26th in the NHL in goals for versus goals against when 5-on-5, possessing a ratio of only 0.85. Combined with a penalty kill that spent large parts of the year operating in the mid 70% range, it meant the Leafs were scoring, but also allowing themselves to be scored on frequently. Fans recall a stretch of 8 consecutive games where Toronto allowed the opposition a 2-0 lead, a number of times being down 1-0 in the opening minutes of the game. The Leafs simply don't have the scoring to overcome those deficits.
3. Brian Burke was unable to make any deals at the trading deadline.
It was a quiet trade deadline around the NHL. At that point, the Leafs had slipped to 10th, 3 points out of a playoff spot, and gone 2-7-1 in the past 10 games. The GM may have thought his team would turn things around. But, it should've been apparent that there were issues with the Leaf lineup – the goaltending was unspectacular, the offense inconsistent, the defense mistake-prone. A trade may have been what was needed to turn things around.
Unfortunately, Burke has in some ways painted himself into a corner with his roster. He has a number of high-priced underperformers who still have at least a year remaining on their contracts. These are veterans who may have helped playoff-bound teams, but the contracts make them unattractive trading commodities. He has a number of young players, but these are players the Leafs intend to build around, meaning Burke is reluctant to deal them.
In the end, Burke was unable to address issues such as adding size up front, improving the blue line, or solidifying the goaltending. Burke eventually chose the option of changing his head coach, but that the team has not broken out of its funk, it seems apparent this lineup needs improvement.
2. A poor bottom-6 forward group.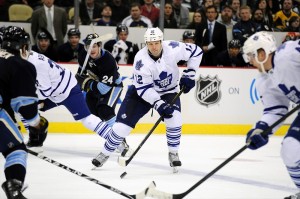 There was hope the bottom-6 forwards would be an improved group. Adding Tim Connolly would allow Tyler Bozak to play third line centre. A healthy Colby Armstrong would provide grit and some scoring. Matthew Lombardi and Philippe Dupuis could provide speed and defense, while David Steckel's faceoff prowess and Matt Frattin's scoring would help. Mike Brown and Colton Orr add toughness. It didn't work out that way.
Connolly began the season injured, but it was apparent that Kessel and Lupul would have their best success with Bozak. shuffling Connolly down the roster. Connolly, Armstrong and Lombardi have missed 83 games and scored only 21 goals. Dupuis had no points and was a minus player in 30 games. Steckel has won his share of draws and is emerging as something of a checking center under coach Carlyle, but he has not been great defensively. Brown has been effective, but limited to 45 games, while Orr and Jay Rosehill were kept on the roster most of the season as scratches, getting only 31 games between them. Frattin eventually found himself with the Marlies to develop further, and Kulemin has found himself among the bottom-6 due to his scoring woes.
In general terms, this group has been a letdown. Frattin and Kulemin are young, and both provide elements the Leafs need like energy (Frattin) and sound defence (Kulemin). But as a group, the players who've seen 3rd and 4th line duty provided little offense, inadequate defense and a dearth of tough, gritty play. Though advanced stats would likely tell more of the story, anecdotal evidence says they get hemmed in their own end far too often, are not tough on opponents, and rarely win puck battles. The bottom 6 just didn't do enough to help the nightly effort.
1. A mistake-prone, ineffective defensive corps.
Likely the largest factor in the Leafs' dismal season has been an inconsistent, at times completely ineffective collection of defencemen.
Seemingly, regardless of the combination the coach puts out, the result has been giveaways, missed assignments, pucks deflected into their own net. Dion Phaneuf is among the top 15 in D-man scoring and Luke Schenn is the NHL's leading hitter for defencemen. But, the Leafs place 5 of their blueliners among the top 30 for giveaways by defencemen, and only Carl Gunnarsson places in the top 50 for shot blocking.
Individually, Jake Gardiner has played well, but as a young rookie, makes his share of mistakes. Cody Franson has been kept in the press box, though when he does play, he's been among the better of the blueliners. Phaneuf began the year strong, but has tapered off and has made numerous poor decisions thoroughout the year. Schenn seems to have regressed in his development, with some outlets wondering if he's lost his confidence. John-Michael Liles appeared to be a steadying influence, but since returning from injury and signing a contract extension he's been error-prone, as has Carl Gunnarsson, who is likely wilting under the strains of a long, losing streak. Mike Komisarek has been, at best, adequate, but more often than not, he's continued to draw the ire of fans with the same ineffective play that's plagued his Toronto tenure.
Going into next season…
Overall, team defense was the major issue for Toronto. The team is 28th in goals allowed per game at 3.13. That high goals against is a combination of forwards who cannot win battles in their own end, defenders who make too many mistakes, and goalies who are not able to steal games. While players like Kessel and Lupul had nice seasons, without 2 very solid offensive lines, 3 goals against is too high a hurdle to clear if you hope to win games. The question is can Randy Carlyle, a noted line-matcher and defensive-minded coach, take what was a run-and-gun style team and make converts of his players? Perhaps a simpler defensive system can turn players who've been booed by the faithful into stalwart defenders.
Further, GM Burke has to hope his young goalies can improve, or that he can find a solid option through trade or free agency. The troubling thing is, the Leafs have little cap room. Four noted underpeformers (Connolly, Armstrong, Lombardi and Komisarek) eat up $15.75M of cap room. Three defenders who struggled in the second half, Phaneuf, Liles and Schenn, take another $13.875. That's almost $30M on 7 players who need to be better if Toronto will improve, or else Burke has to find a way to move them out. One way or another, the Leafs must find away to overcome the weaknesses that caused this collapse. It's likely Brian Burke's job depends on it.