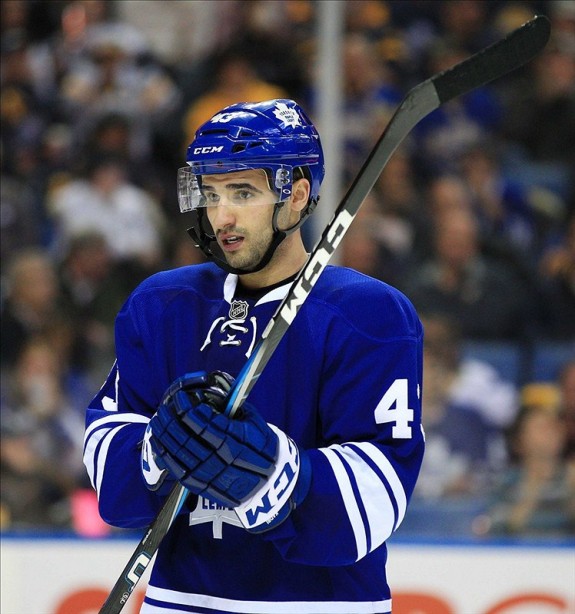 Maple Leafs Panel is a weekly feature that is published every Monday throughout the season here at The Hockey Writers. It's a feature where THW Editor Lukas Hardonk as well as THW Toronto Maple Leafs correspondents Mark Ascione and Stephen Stoneman answer three questions that concern the Maple Leafs each week. To catch up on previous editions, click here.
Question: Given his impressive production thus far, should Nazem Kadri be given a larger role on the Maple Leafs' roster or should the coaching staff keep him where he has succeeded, in a third line role with some power play time?
Lukas Hardonk: The production from Nazem Kadri this season has been a total surprise to me. Heading into the season, I wasn't even sure he would make the team. Not only did he make the team out of training camp but he has also turned into one of the Leafs' most prolific players this season. And if he is one of their most prolific, why isn't he being given a chance with other top-notch forwards?
Without taking anything away from Matt Frattin and Leo Komarov, Kadri's current linemates, there is no doubt that Kadri needs to be surrounded by better players to reach his maximum potential. With Phil Kessel unable to score, this may be the perfect time for Randy Carlyle to shuffle the lines and try Kadri with Kessel for at least a game. If things don't work out, then go ahead and return him to the role where he has been successful through the first eight games.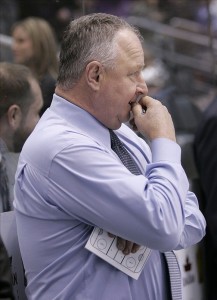 Mark Ascione: I think Kadri's role will expand in time. He's playing very well. He's playing a better game defensively than his earlier callups and he still has that creative flair out there. I doubt there's any question about his conditioning or game-readiness having played in the AHL during the lockout but I suspect that Kadri's current ice time is part of Randy Carlyle's coaching strategy for him.
He's still proving himself at the NHL level. Carlyle has given him a role; he's on a third line that is expected to provide some offence but not be relied upon for maximum minutes per night. He's done well there. If Clarke MacArthur is out for an extended period and Phil Kessel continues to miss the net, we may see Kadri on the top line but I think Carlyle wants to shield him as best he can and let the kid evolve.
Stephen Stoneman: Nazem should be given exactly what he has been given. As his coach, Randy Carlyle is trying to assess whether he can be a number one center and in spurts I certainly think he can be that, so you experiment. Is he the future captain of the club? Probably not but Dallas Eakins' interview with Ron MacLean on Hockey Night in Canada talks to the character that he has shown and that he has earned everything that he has received. From here they really just need to let him play and succeed or fail or both.
Question: There has been plenty of concern from Leafs fans over the amount of ice time being given to certain defencemen. Who on the Leafs' back-end has impressed you the most and which defenceman do you have concerns about, if any?
Lukas Hardonk: The most concern from Leafs fans is obviously directed towards Mike Kostka, who spent plenty of time in the AHL before finally making it to the big leagues. Kostka played very well for the Marlies and has certainly played well enough for the Maple Leafs to remain in the NHL but there is no doubt that he is getting too much playing time. With a minus-six rating and 10 penalty minutes through the first eight games, he shouldn't be averaging anywhere near the 25:39 minutes per game─second on the team only to Dion Phaneuf─that he has.
The most impressive thus far is just as much of a surprise as Kostka's play for the Marlies. It's not Jake Gardiner, neither is it Carl Gunnarsson nor John-Michael Liles or any other defenceman you might guess. Instead, Mike Komisarek has played so well this year that he has received less minutes than most would argue he should be getting. Once known as a pylon on the Leafs' blue line, Komisarek has been one of their most reliable this season.
Mark Ascione: I've been impressed by three defencemen: Mike Kostka, Mike Komisarek and Cody Franson. Kostka of course was something of an unknown commodity and he's played fairly well as a top pairing defender. Komisarek's troubles in Toronto are well-documented but I think he's quietly providing solid defence when in the lineup. Franson seemed to be misused by the previous coach and now given an opportunity, he's providing defence along with some needed offence from the point.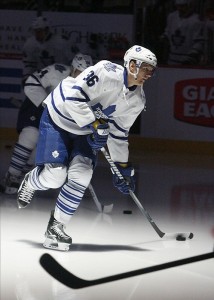 My concerns are for Carl Gunnarsson and ironically, Kostka. I always saw Gunnarsson as a quietly steady defender; a good, solid second pair guy who got the job done. Unfortunately, he seems to have struggled so far this season. I think he's been the weakest of the Leafs on the blueline. As for Kostka, I am just not sure he's capable of playing a top pairing role over the long haul. Also, I am not sure if Carlyle is relying so heavily on the top pair to the detriment of guys like Franson and Komisarek, who could be getting more minutes.
Stephen Stoneman: The two defencemen whose name starts with "Fra" have impressed me the most. Cody Franson has a big shot and a big body but above all else, he hits the net and gets the puck through in the offensive zone. Mark Fraser presents the opposition with an additional threat for the fisticuffs and when you have the top two pairing playing in the thirty minute range, having your bottom two defecemen in the penalty box for fighting doesn't hurt you.
I've been most concerned with John-Michael Liles. At a $3.8 million cap hit, he needs to be a top-three defender and quite frankly he hasn't been. Carlyle's style is less about the run and gun and more about the safe play. There is nothing in Liles' play that is safe. We're only eight games in but I am confident that Liles will come around. One positive in Liles' game is that he knows how to throw the body effectively. He is not a big checker by any stretch, but he knows when and how to take the man.
Question: The Maple Leafs appear to have begun to put a lot more attention on the enforcer role. Is this something they should continue to do or should guys like Frazer McLaren and Colton Orr be down with the Toronto Marlies?
Lukas Hardonk: The Maple Leafs really got away from the idea of the tough guy last season when Brian Burke and Ron Wilson made the decision to keep Colton Orr in the minors while giving Mike Brown just 50 games of action. This worked out well for the team for the first half of the campaign but may have been part of the reason why the team collapsed in the New Year. Now a balance needs to be found.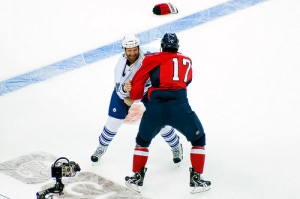 With Brown, Orr and now Frazer McLaren, the Leafs certainly do not have a shortage of toughness on the fourth line. At some point, though, one or two of them will need to be sent down in order to make room for David Steckel, whose faceoff abilities can be key to the penalty kill. A certain level of toughness is needed to avoid getting bullied by teams like the Boston Bruins but it would be unnecessary to include each of those three in the lineup every night.
Mark Ascione: This team still struggles in the toughness and size departments. I like old-time hockey and I have no problem with fighting. I like Mike Brown's game because he does add a lot of energy and toughness and he has contributed a little to the offence. Colton Orr contributes less. His hockey skills just aren't at a level I would like for him to be secure in a roster spot. I'll be interested to see if new acquisition Frazer McLaren adds more than just muscle.
For the time being, I would not replace Brown and Orr only because there aren't many prospects ready to step in. But I would like to see the guys who provide toughness also have more hockey ability in time.
Stephen Stoneman: Colton Orr wins fights and for that reason he should stay on the team. I think as the team gets better, Mike Brown's role will diminish. He is a great team player and on occasion last season gave the team the pep that they needed. Unfortunately for him, with the advent of Leo Komarov and to a lesser extent, now Frazer McLaren, I think Brown's days with the NHL club are numbered. On the notion of whether or not you need fighters, I agree hands down.
Follow the panel on Twitter: Lukas Hardonk, Mark Ascione and Stephen Stoneman.
Lukas, a student at the University of Ottawa, covers the Toronto Maple Leafs on a part-time basis for The Hockey Writers. Contact Lukas at lukas.hardonk@gmail.com or follow him on Twitter, @LukasHardonk.