Here's a nugget of truth that everyone knows, but when you see that truth in action it really sinks in. The Toronto Maple Leafs' Wayne Simmonds is one strong hockey player.
Related: Maple Leafs News & Rumors: Brodie, Simmonds, Lehtonen & More
During yesterday's 3-2 victory over the Calgary Flames, Simmonds made an old-school power-play move that both showed his strength and allowed him to score his first goal as a Maple Leafs' player.
Simmonds Became a Wall
Late in the second period, the Maple Leafs went on a power play. During that power play, Simmonds set up shop in front of Flames' goalie Jacob Markstrom. The result of his presence was that Simmonds was able to accept a pass from Mitch Marner; and, then, when attempting to pass the puck backwards through the crease, the puck actually bounced off his right skate into the net past Markstrom. That goal gave the Maple Leafs a 2-1 lead with less than a minute left to play in the second period.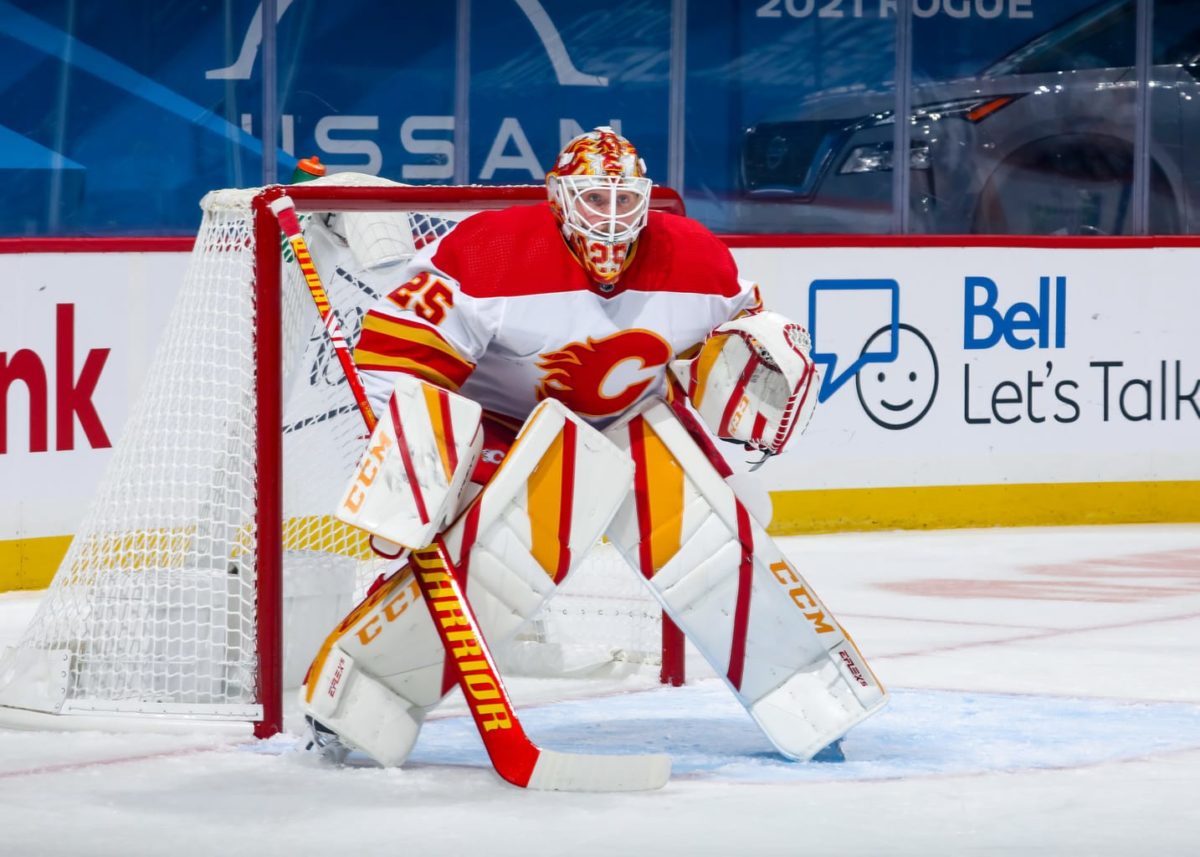 It was a typical power-play goal in that, with a body in front of the net, the puck can start bouncing around and off things in the crease with a chance to travel anywhere – including finding its way past the goalie. In fact, the puck started bouncing, and eventually – as it happened – it did find the back of the net. Goal Maple Leafs!
Related: Why the Vezina Trophy Deserves Its Name
During that power play, Simmonds philosophy seemed simple. He simply became a statue in front of the net and dared the Flames to try to move him. They couldn't. In fact, for much of the power play, they didn't even try. As a statue, Simmonds was tough for Markstrom to see around.
Simmonds' Strength Makes Him Uniquely Valuable to the Maple Leafs
Simmonds is a physical force, and as a result of his work in the crease, his team went on to beat the Flames by a 3-2 score on Sunday. Simmonds, who had signed with the Maple Leafs as a free agent during October, scored his 500th career NHL point and his 100th career power-play goal. He hadn't scored a point in Toronto's first six games of the season. 
Yesterday, it was a Simmonds' power-play goal that helped his team win. But his strength has also proven valuable to the team in other ways. For example, during his first game with the Maple Leafs against the Montreal Canadiens, with Toronto down 3-1 in the second period, Simmonds took his physical play out on the Canadiens' Ben Chiarot in a fight.
After the game, his Maple Leafs teammates suggested Simmonds' engagement helped motivate the team to a comeback 5-4 overtime win. While Simmonds isn't going to fight in every game, his grit and energy can be a big part of his value to the team and a reason the organization added him during the offseason. 
Related: Whitecaps, Riveters Tied Atop Standings After Day 2 of NWHL Season
After the Canadiens' game, teammate John Tavares noted, "The intensity, the attitude and the engagement from him shift in and shift out and being involved physically, being around the puck, skating, moving his feet and being hard to play against, all those intangibles … it's a great message for the group and it's what we're looking for." (from "LEAFS SNAPSHOTS: Revamped Senators will be a much tougher out in Battle of Ontario," Terry Koshan, Toronto Sun, 15/01/21).
Simmonds Power-Play Strategy Can Be Summed Up By the Phrase: Hey Guys Aim at Me!
Simmonds spoke about the team's power-play success against the Flames during an interview after the game. In the video below, you can hear the Maple Leafs' forward talk that both power-play units have found success this season.
In Other Words, Simmonds Presents Himself as an Option
I suppose there's a difference between Simmonds saying "Aim at me!" and his suggesting to the media that his goal is to "get in front of the net" and to "get loose" so "I present myself as an option for the other guys."
In the end it seems to bring a similar result.
Simmonds presence offers the Maple Leafs two different styles of power play, and Simmonds suggested, "we have two great units. I don't think it matters which unit is on the ice at this moment." His assessment was that "both units are clicking really well."
Related: Maple Leafs News & Rumors: Matthews, Campbell, Simmonds & More
Of his time with the Maple Leafs, he thinks that "it's been great so far and we'd like to continue to improve."
Welcome to the Maple Leafs Wayne Simmonds. You certainly are fun to watch on the power play.
---
---