Whether you want to see the Ottawa Senators make the playoffs this season or tank for another top-5 pick, every fan takes an interest in line combinations and defensive pairings. 
Sens fans on Twitter have not been shy to show their level of discontent with head coach D.J. Smith's lineup decisions to start this young season. However, the team's top line of Brady Tkachuk, Josh Norris and Drake Batherson has been together since training camp and gets more impressive every day. 
They seem to dominate every shift they have at 5-on-5, and their puck control on the power play is something that this fanbase is so un-accustomed to that it's laughable. But with a record of 1-2-1, is loading up the top line the right recipe for success for this young Senators team?
Who Else Can Step Up?
Other than the line of Nick Paul, Chris Tierney and Connor Brown, the rest of the forwards have struggled, to say the least. 
The X-factor in any decision regarding a shakeup for the forwards is rookie Tim Stützle. He's missed the last few games with a nagging injury the team is labeling as day-to-day. When he does return, he will likely slot back beside Derek Stepan and Evgenii Dadonov on the second line.
The problem is that Stützle is likely the most skilled player on this team, and his linemates have not shown well so far this season. He needs more skill around him to work with.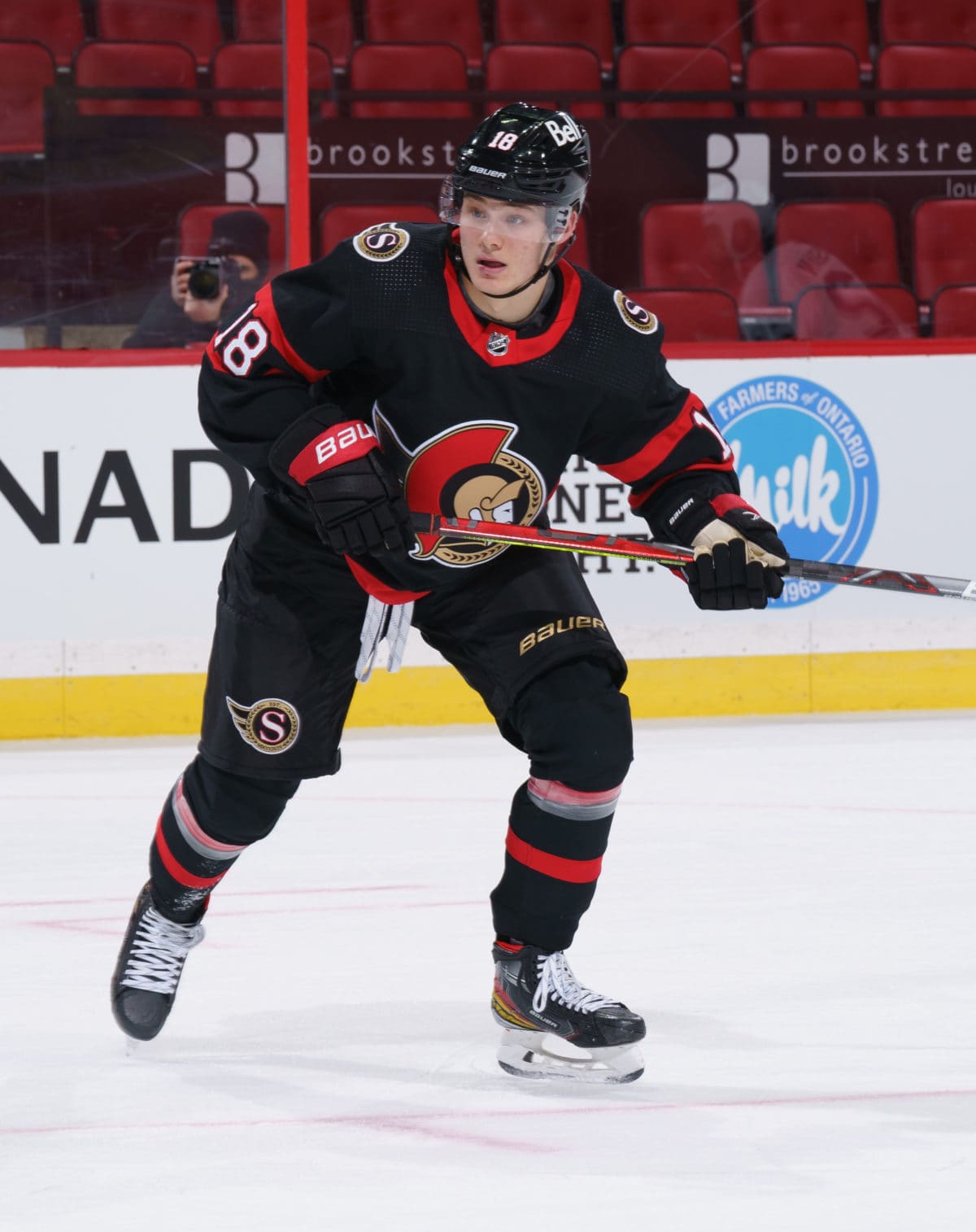 One solution would be to have Stützle play with guys like Alex Galchenyuk or Colin White, who have been bouncing back and forth from the press box early on this season. But since it doesn't seem like D.J. Smith wants to mess with the structure of his lineup, what if he broke up that top line?
Each of those three could surely carry their own line, so spreading out the attack might be a good solution moving forward. 
Stützle needs players that can skate with him, and Norris might be the best skater the Sens have had up front in a long time. I'd like to see what the two of them could do together. If the team means to transition Stützle to the middle at some point this season, I think he would work wonders with Tkachuk and/or Batherson flanking him.
They'll Play Together Regardless
The best part about line combinations is that they're never set in stone. Every game, they change depending on who has legs on any given night. There's nothing stopping Smith from throwing the three of them out there every now and then when the team needs some momentum or a goal. 
Around the NHL, there are countless examples of teams using this strategy. The Leafs don't hesitate to throw Auston Matthews, Mitch Marner and John Tavares out every now and then. The Oilers go with Connor McDavid, Leon Draisaitl and Ryan Nugent-Hopkins sometimes; the difference is both of these teams spread out their attack for most of the game. 
At some point this season, the Sens need to consider doing the same once Stützle starts to gain more confidence. It's difficult to judge the team right now with him out of the lineup, but as the rebuild continues, having one line provide all the offense is not a recipe for success.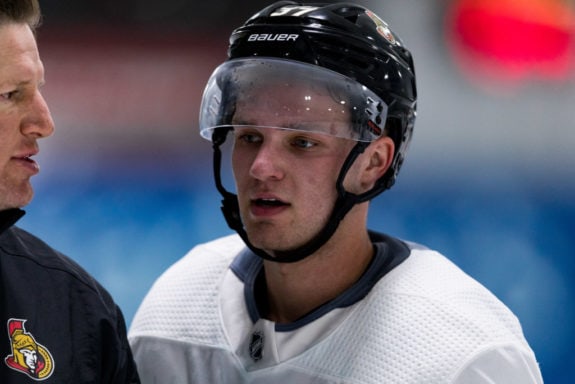 Batherson has established himself as an incredible playmaker so far, while Norris can wire the puck, and Tkachuk is a beast down low. This combination of players does not need to play every single shift at 5-on-5 together when they dominate every power play shift they have.
While Stützle remains out of the lineup, loading the top line is not necessarily a bad idea. But when he returns, Smith should share the wealth a little more up front.
We'll see how they fare on this road trip.