Timothy Liljegren was once regarded as a top-two pick in the 2017 NHL Entry Draft. He had everything that teams would want in an offensive defenseman as he possessed great mobility and a strong shot from the point. At one point, he even drew comparisons to Erik Karlsson. 
However, he missed some significant playtime during his draft season as he battled mononucleosis and he struggled to find his game. As a result, his draft stock took a hit. Fortunately for him, the Toronto Maple Leafs were there to scoop him up at 17thoverall. Then assistant general manager Mark Hunter praised his puck moving and skating abilities. 
The Maple Leafs recently called up Liljegren to join the taxi squad. Since being drafted, he has used this time to better his game and become a major force not just offensively, but on the defensive side of things as well. We're seeing the wait pay off, as he's becoming a defender that the Maple Leafs had envisioned. With a strong start to the 2020-21 season with the Toronto Marlies, Liljegren has shown that he is deserving of this call-up as he continues to make his case to be in the NHL.
Experience is Helping Him
Liljegren is now in his fourth season in the American League. Surprisingly, he's only 21-years-old. He's still learning, but has taken major steps in his development since he entered the league back in 2017-18. That season, he won a silver medal for Sweden at the World Juniors and was on the roster when the Marlies won the Calder Cup.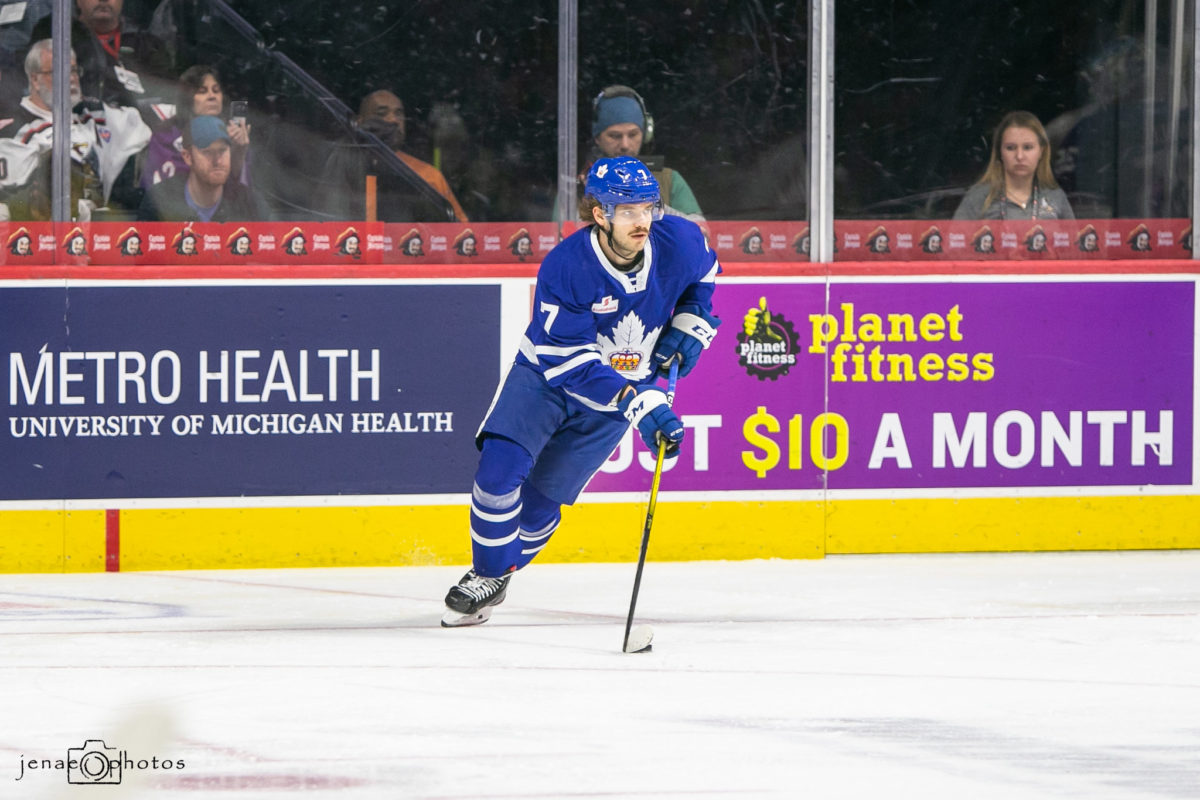 Seeing early success in North America, Liljegren got a chance to be part of the big club last season as the Maple Leafs endured quite a few injuries on the blueline. There were times where Liljegren showed his skillset in his ability to move the puck and provide some stability in his own end. In 11 games, he recorded his first NHL assist and point. However, there were times where he seemed nervous, which is to be expected whenever you see your first stint in the NHL. He had a Crosi For percentage of 44.2% seeing more shot attempts against than for.  
Over the past few seasons, Liljegren has been getting more ice time and has an increase in responsibility, as he's now the Marlies go-to defenseman on the team's top pairing. THW's Mathieu Sheridan points to his confidence with the puck as a major reason for his success. Last season we saw his best production yet as he recorded five goals and 25 assists for 30 points, finishing in the top 25 among defensemen in points. The improvement with and without the puck was noticeable. 
So far Liljegren has a goal and five assists in eight games and, according to head coach Greg Moore, has been a big reason for the team's success while he gains more confidence as the season goes on. Finding his footing and that improvement to his game in his fourth season is very crucial for a potential call-up. At the moment, he's continuing to impress and the Maple Leafs should be taking notice.
Improved Defensive Play
Maple Leafs head coach Sheldon Keefe is very familiar with Liljegren as he coached him before getting promoted as the bench boss for the Maple Leafs. When he was still with the Marlies, Keefe gave high praise for Liljegren's ability to adapt and change his play from one that focused on offense and puck movement to stability and reliable defensive play. He is now emerging as two-way threat.
Josh Simpson, who is an analytics intern for the Sarnia Sting, tracked a number of Liljegren's stats in the first two games, focusing in on his breakouts, entries and entries against and more. I highly recommend you read his work and give him a follow as his work is remarkable.
Timothy Liljegren has been very good through two games with the #Marlies this season. Exiting DZ with control often and with efficiency, defending the rush very well, and creating for his teammates in OZ. #LeafsForever

*Ignore the bonkers high NHLe number, he's played two games. pic.twitter.com/cLqrgSVsoz

— Josh Simpson (@joshsimpson77) February 18, 2021
While Liljegren's breakout attempts and controlled percentage is great in regards to his ability to carry the puck and move quickly in transition, his defensive numbers really stood out as he's very efficient defending and breaking up plays upon entries into the defensive zone. If we round up, he breaks up 70% of the entries that he faces and averages 25 breakups per 60 minutes. 
For a player that was known for his mobility and puck control, he's certainly embraced rounding out his game to become a major force at both ends of the ice. Liljegren has shown the consistency factor that will allow him to succeed and potentially be a really great addition to the top-four at some point. His speed allows him to close gaps quicker and the added weight allows him to separate the opponent from the puck with such ease.
If you think that two games may be a small sample, seeing the rest of the games that Liljegren has played still supports the numbers that Simpson tracked. Early on in the Marlies season, we are definitely seeing those plays that will allow him to thrive as an NHL player. 
This is what Liljegren is so good at.

Starts in the middle, so that the forward pretty much has to try to beat him to the outside. Then cuts him off completely.

As Belfry would say, he knows how to play the dots. pic.twitter.com/v1tVD35yve

— Kevin Papetti (@KPapetti) February 21, 2021
This clip shows Liljegren's blend of speed and smarts. He uses his speed to close the gap on the puck carrier. He uses his strength to outmuscle the opposition and has the advantage to get control of the puck. He then makes a quick move to avoid losing the puck and then gets it off quickly to his defensive partner. This defensive awareness is what was inconsistent in the past from Liljegren. The fact the he's got stronger allows him to thrive in those one-on-one battles, where he now has a greater chance of coming out on top.
Fourth-year Marlies veteran Timothy Liljegren (21 years old) seems to be quite comfortable and confident at the AHL level. pic.twitter.com/ZhvSc9rkMy

— Nick DeSouza (@NickDeSouza_) February 24, 2021
This next clip shows a great mix of patience, composure and strength from Liljegren. As he gets control of the puck in the corner, he's immediately faced with pressure form the attacking forward. After a hit is made, he breaks loose and maintains control of the puck. Although it's a risky move to carry the puck in front of the net with an opposing forward there it was his only outlet. With his speed and body positioning, he's able to evade the attack and clear the puck at the blue line.
Should He See Game Action?
The short answer is, yes. Absolutely. Though there are still a few obstacles for him to overcome.
The Maple Leafs already have a defensive unit that has played much better than the previous season with their emphasis to tighten up in their own end. Heading into camp, it was pretty much set with the NHL experience they brought in with T.J. Brodie and Zach Bogosian. Liljegren was already on the outside looking in.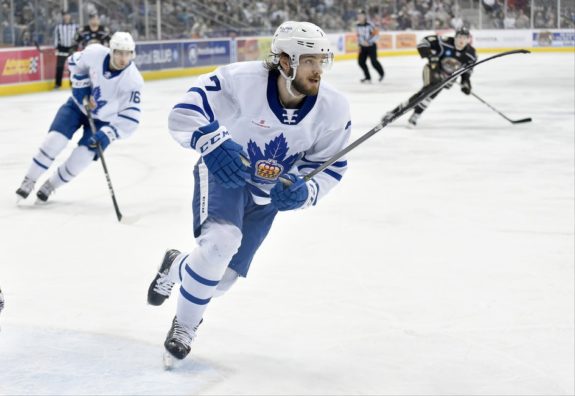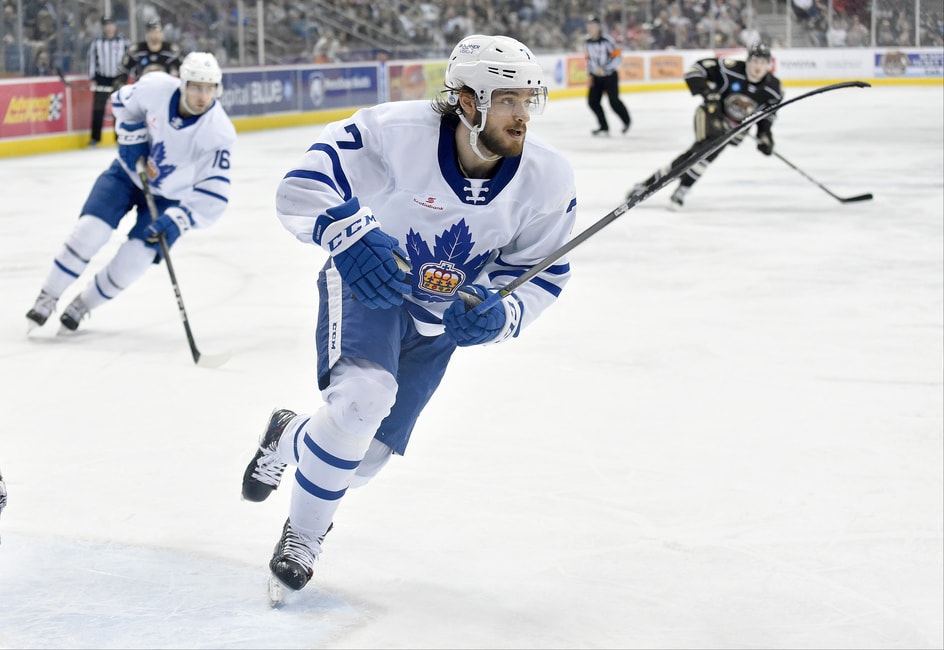 But now, Liljegren has an opportunity to try and steal a spot and run with it. If he continues to play the way he has with the Marlies, he could be the equivalent to Travis Boyd, being a permanent fixture in the lineup after showing that can provide consistency when he's on the ice. He has the chance to be in the lineup, prove his worth and make a difficult decision for Keefe. 
How many games he plays remains up in the air. The fact that Liljegren has been here before should serve as some reassurance that he's just one step closer to being a mainstay in the Maple Leafs top-six. He's come a long way since being drafted and the experience he's learned help pave that path.
There's a chance that maybe he does get sent down, if he doesn't get in. But if he does play and he makes an impact, he could very well stay up.