In this edition of Toronto Maple Leafs News & Rumors, I'll look especially at the roster changes happening within the organization. Fortunately, the Maple Leafs can make a variety of roster changes because the team has the advantage of great depth within its bottom-six players. Furthermore, it seems that head coach Sheldon Keefe is trying to create opportunities for a variety of depth forwards to suit up as part of the team's strategy.
Related: Maple Leafs' Matthews & Tavares Call Out Team: No Response & No Gas
As well, there's also flexibility within the team's defensive corps. Personally, as I've written before, I'm looking forward to the possibility that young Swedish defenseman Rasmus Sandin will have an opportunity to play soon. Defenseman Travis Dermott has been in and out of the lineup – and perhaps not always because of poor play. It just seems that coach Keefe is taking advantage of the possibilities the team has with its defense.
Item One: Rasmus Sandin's Eager to Play This Season
Rasmus Sandin is eager to play this season. As the 20-year-old defenseman admits, "It's obviously a little frustrating. It was a very long time ago that I played a game. But we're hanging in there, having fun in practice. Great to be back with the guys."
In fact, it's been almost an entire year (11 months) since Sandin last skated in a hockey game that meant anything in the standings. Furthermore, the fact that his team has been successful this season won't help him get into the competition. The Maple Leafs have started the season with a 7-2-1 record, which is good enough to put them first in the North Division.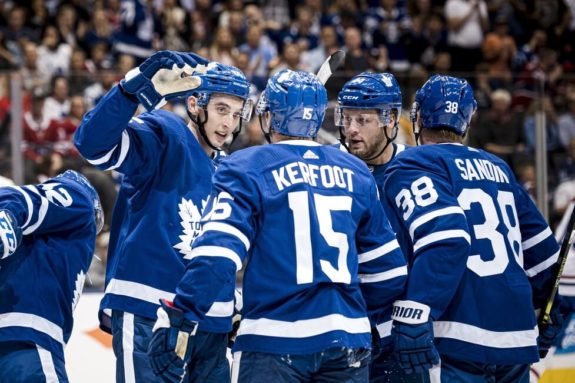 Sandin noted that he would be ready when he gets his chance; and, he isn't wasting time stewing about his lost opportunity. Instead, as he notes, "I'm getting a lot of opportunity in the gym, and getting stronger too. I feel like my skills have gotten better and my shot as well [is better]. I just look at it as something [good] to try to bring out on the ice when I get a chance."
However, it remains unclear when that chance might present itself. Sandin was promoted from the taxi squad Sunday. But, I'm uncertain that means he will play soon.
Related: Remembering Toronto Maple Leafs' Glory
Three things seem to stand in Sandin's way to the ice. First, as noted, the team's success thus far doesn't suggest that changes are necessarily beneficial. Second, the Maple Leafs have no injuries to speak of on their defense, and that limits change. Third, KHL rookie Mikko Lehtonen is a notch up on Sandin on the depth chart. That means that, when Keefe decides to rotate players into the lineup or use the team's 11-forward, seven-defencemen lineup, Sandin's still in waiting.
Item Two: Jack Campbell's Leg Injury Is Healing
According to coach Sheldon Keefe, Jack Campbell's leg injury is healing. However, that doesn't mean that the vague timeline for his return – "week-to-week" – has changed. There's no word on when he'll be back.
Item Three: Nick Robertson Skated Monday for the First Time Since His Injury
There's good news on the Nick Robertson front. His knee injury is obviously improving because on Monday he skated for the first time since his injury on Jan. 16. Sadly for Robertson, the game in which he was injured was also his season's debut.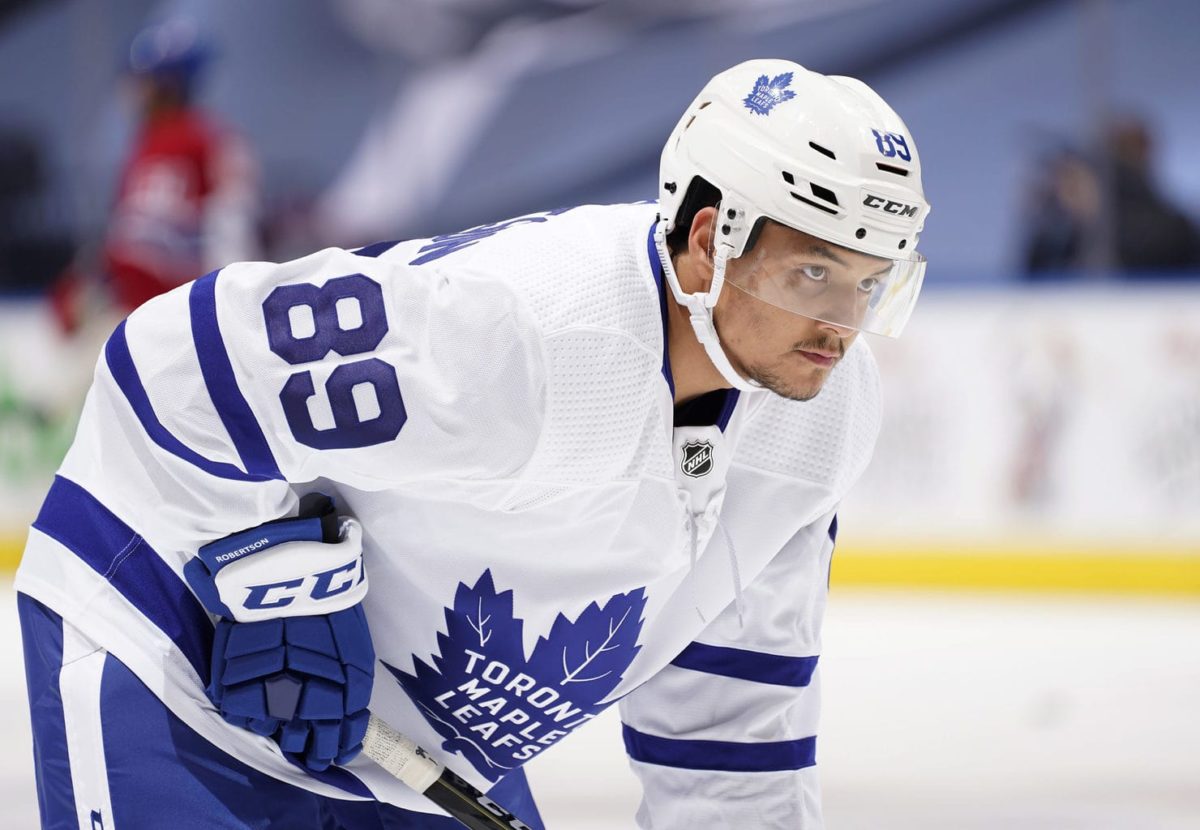 Robertson is making progress; however, similar to Campbell, nothing changes with the timetable for his return to the ice. Robertson was projected to miss four weeks, and he's still projected to miss that same four weeks.
Item Four: Joe Thornton also Skated Monday for the First Time Since His Injury
Another good news story is that Joe Thornton skated for the first time on Monday since he fractured his rib on Jan. 20. Again, however, it's the same story as with both Robertson and Campbell. Although coach Keefe notes that Thornton is making progress, there's no change to his status of the timetable of the forward's return. It was believed Thornton would miss at least four weeks due to his injury, and his four weeks aren't up yet. 
Item Five: Engvall, Spezza, and Hutchinson Assigned to the Team's Taxi Squad
Three players were moved to the Maple Leafs taxi squad – at least for the time being. They included Pierre Engvall, Jason Spezza, and Michael Hutchinson.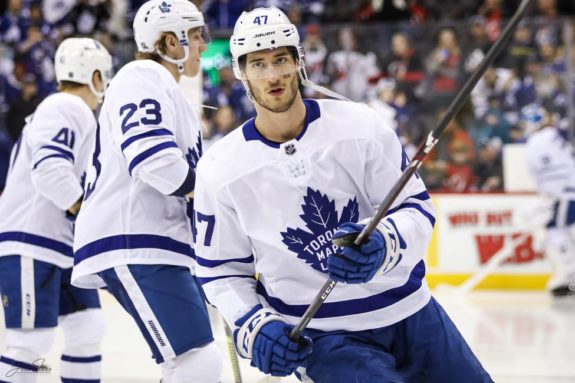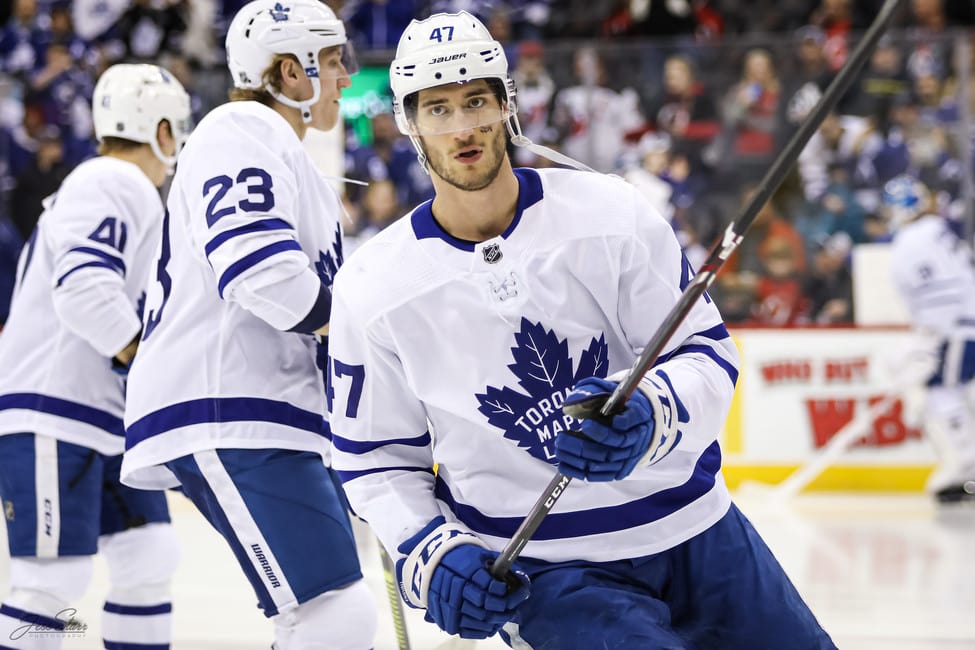 Engvall will probably stay on the taxi squad for a short time before he's called up for the game against the Canucks. Engvall has played four games this season but hasn't scored a point.
Spezza has scored four points in his last four games and has also averaged 1:26 of power-play ice time. I expect he'll be moved back to the big team for the Canucks' game on Thursday.
Related: Six Lock Up Top Seed, Boston Blanks Buffalo to Tie Series
Hutchinson move is likely only on paper as well. He'll continue to dress and serve as starter Frederik Andersen's backup until Campbell is able to return. He'll return to the team's active roster just prior to the Canucks' game as well.
Item Six: Adam Brooks Moves the Other Way, from the Taxi Squad to the Active Roster
Adam Brooks was activated from the taxi squad on Sunday. He's played in only one game this season, but that game was successful in that he scored a goal. Look for the 24-year-old Brooks to be on the ice for the Canucks' game.
What's Next for the Maple Leafs?
Because the Maple Leafs don't play again until Thursday night against the Canucks, the main group of players spent today off the ice. However, more than 10 players engaged in a "skill development" session. These players were mostly bottom-six and taxi squad players, but the group also included backup goalies Michael Hutchinson and Joseph Woll. (from "Maple Leafs put on work boots during day off," Lance Hornby, Toronto Sun, 01/02/21).
That unique workout allowed the main group of players to gain a second day of rest. The team has been playing almost every other night since the compact NHL season began. The team flew home early Sunday morning after a successful Western road trip where it picked up seven of a eight points in four games.
---
---
The Old Prof (Jim Parsons, Sr.) taught for more than 40 years in the Faculty of Education at the University of Alberta. He's a Canadian boy, who has two degrees from the University of Kentucky and a doctorate from the University of Texas. He is now retired on Vancouver Island, where he lives with his family. His hobbies include playing with his hockey cards and simply being a sports fan – hockey, the Toronto Raptors, and CFL football (thinks Ricky Ray personifies how a professional athlete should act).
If you wonder why he doesn't use his real name, it's because his son – who's also Jim Parsons – wrote for The Hockey Writers first and asked Jim Sr. to use another name so readers wouldn't confuse their work.
Because Jim Sr. had worked in China, he adopted the Mandarin word for teacher (老師). The first character lǎo (老) means "old," and the second character shī (師) means "teacher." The literal translation of lǎoshī is "old teacher." That became his pen name. Today, other than writing for The Hockey Writers, he teaches graduate students research design at several Canadian universities.
He looks forward to sharing his insights about the Toronto Maple Leafs and about how sports engages life more fully. His Twitter address is https://twitter.com/TheOldProf