The Toronto Maple Leafs have signed veteran centre Joe Thornton to a one-year contract at a league minimum $700,000.
Thornton is coming off a one-year, $2 million contract he signed with the San Jose Sharks. To get him at that price is great value for a centreman who can still be very effective. Before signing with the Maple Leafs, Thornton agreed to play for HC Davos until the NHL season resumes.
One Last Chance for the Cup?
Thornton has been known for being one of the most dangerous playmakers in the league. He is close to reaching 1,100 assists (sitting at 1,089) and has tallied over 1,500 points. He's reached the 100-point mark three times, played in six All-Star games and was a Hart and Art Ross Trophy winner in 2005-06 finishing first in assists (96) and points (125). From 2005-06 to 2019-20 Thornton is first in assists with 828 and third in points with 1,088.
While he may not be the offensive producer that he was in the past, Thornton can still play the game with a lot of intensity at 41-years-old. Since he turned 35 back in 2014-15, Thornton recorded 237 assists and 315 points. Usually the production starts to decline at that point, but he recorded over 50 points four times in that span while still playing meaningful minutes with the Sharks.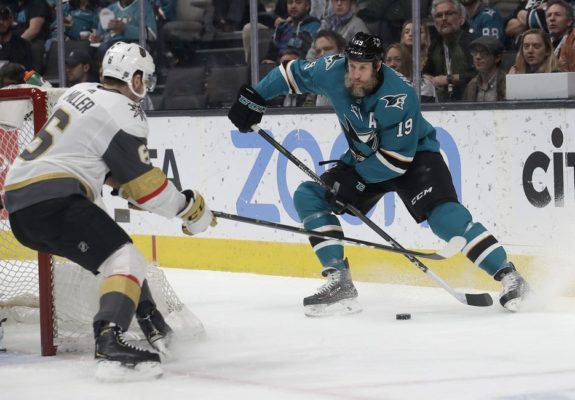 While he's getting up there in age, it's becoming more apparent to Thornton that his chance to win a Stanley Cup is running out. When the trade deadline passed back in February, Thornton was very frustrated that he wasn't moved to a contending team to achieve that goal.
Even though he's been loyal to the Sharks since being traded from the Boston Bruins back in 2005-06, Thornton was willing to move on to help the team and reach his goal.
Time is running out for Thornton. The closest he came to winning it all was back in 2015-16 losing to the Pittsburgh Penguins in six games. He had another opportunity in 2018-19, but ended up losing to the eventual Cup champions St. Louis Blues in the Western Conference Finals.
What the Maple Leafs Will Get
The Maple Leafs know what to expect of Thornton. He'll be in a depth role, playing bottom six minutes and could possibly see time on the second power play.
At the forefront, the Maple Leafs depth at centre ice just got a whole lot better. With Auston Matthews and John Tavares occupying the top two centre spots, Thornton is most likely going to be the third line centre while Jason Spezza will be on the fourth line.
Despite being in the bottom-six, he can still be an offensive contributor that will be good for 20- 30 points. Similar to Spezza coming in last season, Thornton will provide a great veteran presence to help a young team that's looking to make a deep run.
---
---