The Toronto Maple Leafs opened up their first trip out west in the Scotia North Division with a visit to the Saddledome in Calgary on Sunday and started off on the right foot with a 3-2 win over their new divisional opponents – the Flames.
While it's safe to say that no Maple Leafs player or coach will call it a pretty win, highlights don't show up in the standings and the two points are significant for a team fighting for a top three spot in their division this season.
Pretty or not, there are still a number of things that we can takeaway from the Maple Leafs effort on Sunday and with that, here's a look at some thoughts from the Maple Leafs victory.
Brodie's Back
It was a weird return for Maple Leafs' defenceman T.J. Brodie as he returned to Calgary for the first time since signing with Toronto. And while there were no fans to share in the moment with the 30-year-old, the Flames did put together a small video tribute to their former blueliner.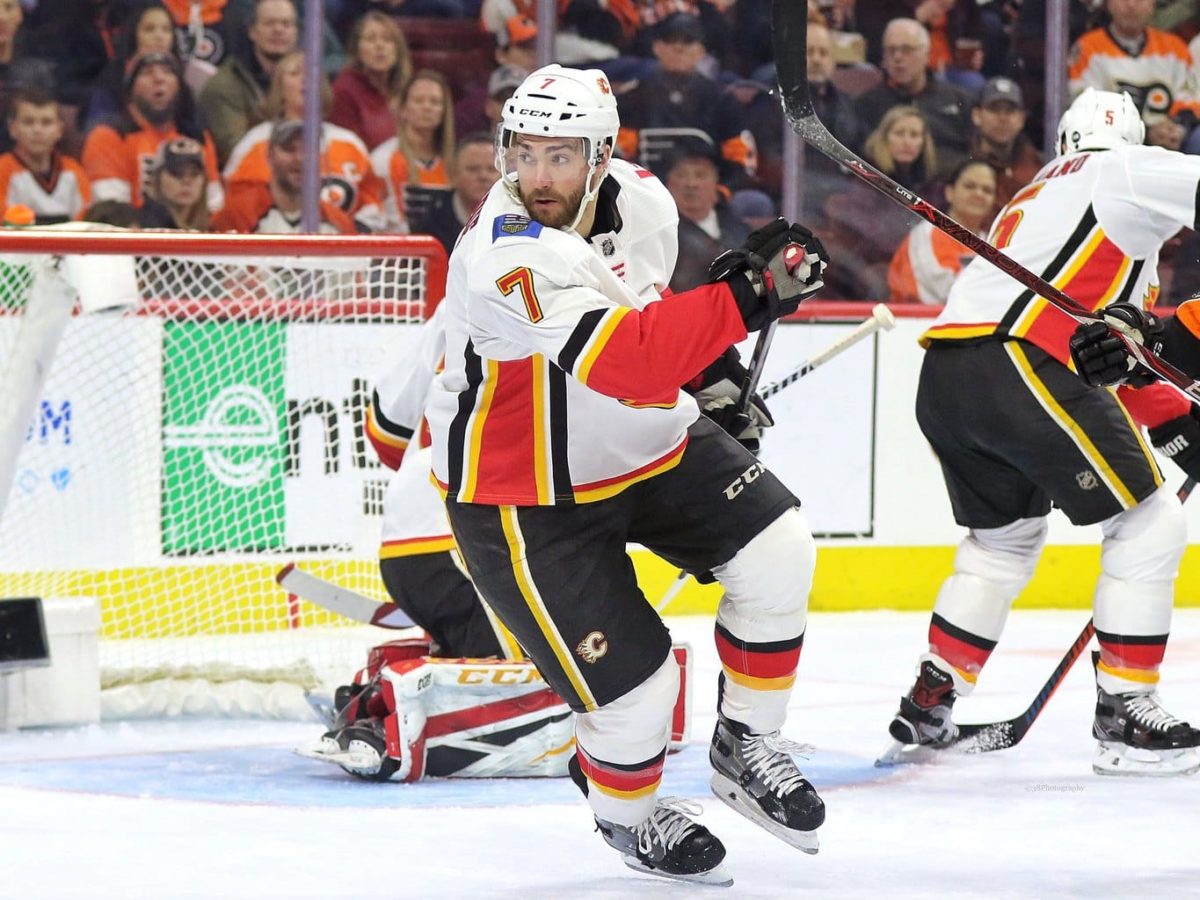 As for Brodie, he's been a force for the Maple Leafs on the back end this season and that continued on Sunday against his former club. He may not have got on the scoresheet, but he finished the game with over 22 minutes of ice-time and came up with some defensive plays that helped keep the puck out of the Maple Leafs net.
On the season, Brodie has three assists in seven games and has added some much-needed leadership on the team's back end. He's able to play in all situations for the Maple Leafs and, while his return to Calgary didn't include fans to cheer him on, it was clear by the cheers he got from both benches that he's deeply valued by teammates – past and present.
Mixed Emotions on Matthews
Auston Matthews was back in the Maple Leafs lineup after missing one game with upper body soreness and it helped as he was able to score the eventual game-winner for his team. The goal, was his first career goal against the Flames in eight games against them, and it's even more noteworthy as Calgary was the last team that Matthews had yet to score against in his career.
While he was a force for the Maple Leafs, playing nearly 22 minutes and blocking three shots, Matthews still seemed to be a little off when it came to his overall game. He shied away from the physical play which hasn't been how he's played this season so far – getting involved physically – but he still made every effort to create on the offensive end.
Regardless, Matthews will have one more day to continue his recovery, if in fact it is a lingering issue, before the Maple Leafs take on the Flames again on Tuesday.
Marner's Quick Milestone
In a not-so-pretty win, the Maple Leafs did have some big moments for a couple of players from an individual standpoint. The first was Mitch Marner who had two assists in the game giving him 10 points to start the year.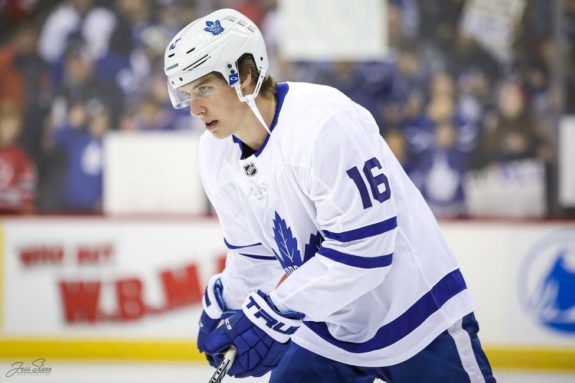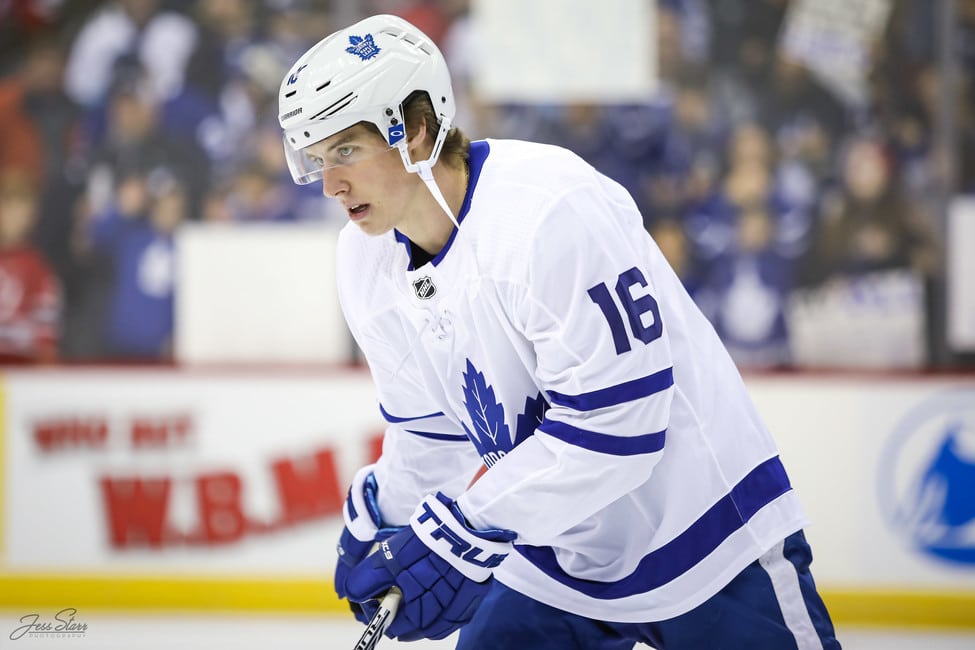 His first assist – on the game's opening goal by Jake Muzzin – Marner recorded his 300th career NHL point and did so in just his 307th game. What makes it even more impressive is that Marner became the third fastest player in franchise history to reach that milestone behind just Syl Apps who did it in 284 games and Charlie Conacher who did it in 294 games.
Related: Babcock Bombs as Former Leafs Coach Tries to Clarify Marner Drama
As for his 10 points this season, it puts him in a three-way tie to start the year for the NHL's scoring lead with Connor McDavid and Anze Kopitar. That's not bad for the 23-year-old in his fifth season with the Maple Leafs.
Wayne Train is Chugging
The other player that achieved an individual feat on Sunday was Wayne Simmonds. The 32-year-old veteran scored his first goal as a member of the Maple Leafs with just over 30 seconds to go in the second period on the power play.
And while it wasn't exactly a pretty goal, the tally was also Simmonds 500th career point. Simmonds signed this offseason with the Maple Leafs and through seven games has one goal and 17 penalty minutes – including a big fight to motivate his team in the season opener.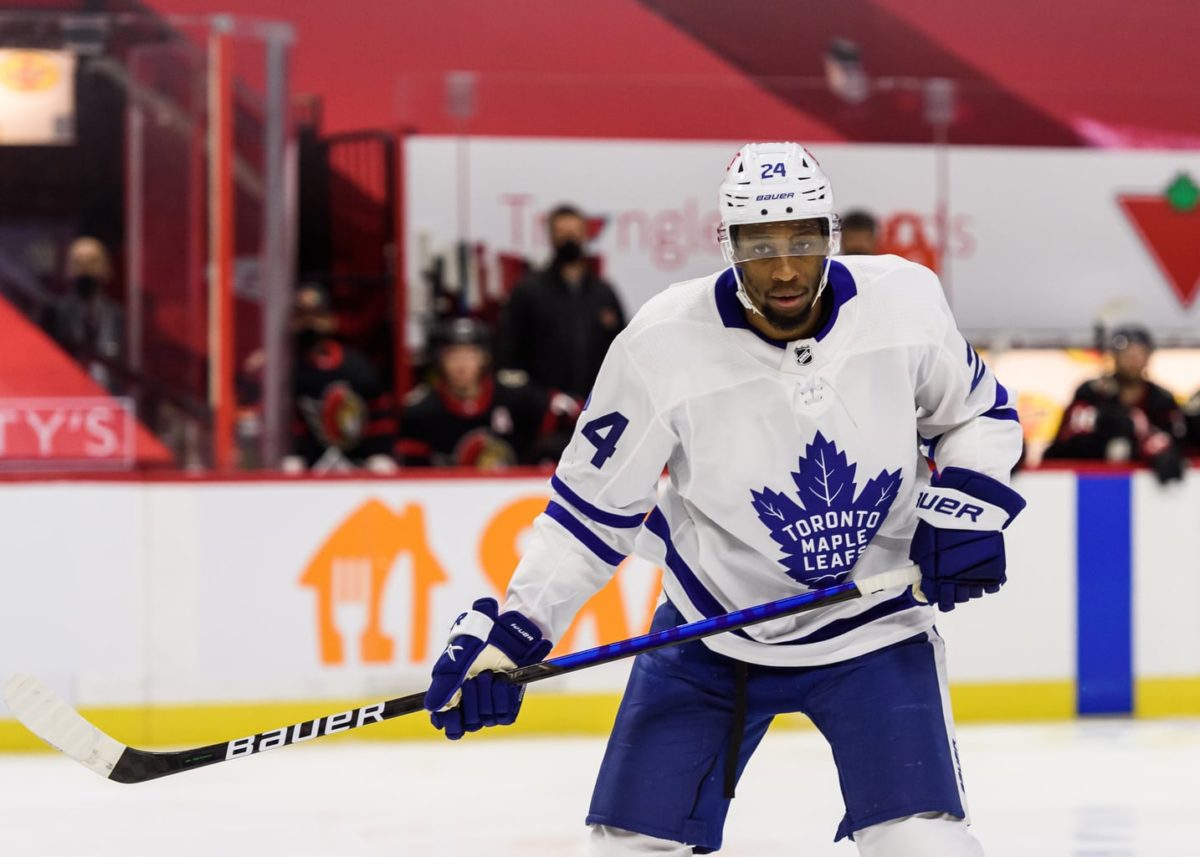 Simmonds wasn't paid for his offence, but I'm sure both him and the Maple Leafs were happy to see him get involved on the offensive side of the puck on Sunday night.
Also Worth Noting…
Jack Campbell started his second game of the season for the Maple Leafs and picked up his second win. He has a 2.00 goals against average and a .923 save percentage so far and could see more time if he continues to perform like this for the team.
Morgan Rielly also picked up three assists in his team's win – assisting on all three of the Maple Leafs' goals. The effort gives the Maple Leafs' longest tenured player four points through seven games and ties him with Justin Holl for the most points by a Maple Leafs' defenceman this year.
As for the team, the Maple Leafs will take on the Flames again on Tuesday and we'll be back with more takeaways following that contest.
---
---