In this edition of Toronto Maple Leafs News & Rumors, I'll offer insights about Joe Thornton that former San Jose Sharks teammate Logan Couture shared in a recent article in The Athletic. I'll also look back at the history between new Maple Leafs signee Jimmy Vesey and incumbent third-line center Alex Kerfoot when they played together at Harvard University.
Related: Maple Leafs Become Chapter in Vesey's Puzzling Career
Finally, I'll consider what might the near future of Nick Robertson in light of recent Maple Leafs signings.
Item One: Logan Couture Calls Maple Leafs Players Fortunate to Play with Joe Thornton
When the Maple Leafs signed Joe Thornton, general manager Kyle Dubas knew that Jumbo Joe wasn't the player he used to be. However, the organization still wanted him as a member of the team, even if it wasn't in a leading role. It's speculated that the Maple Leafs will be employing Thornton as a third-line center; and, in that position, they believe the former Art Ross and Hart Trophy winner will help the team a great deal. In fact, although I've heard of depth "players," it might be that Thornton will become a "depth leader" with the team.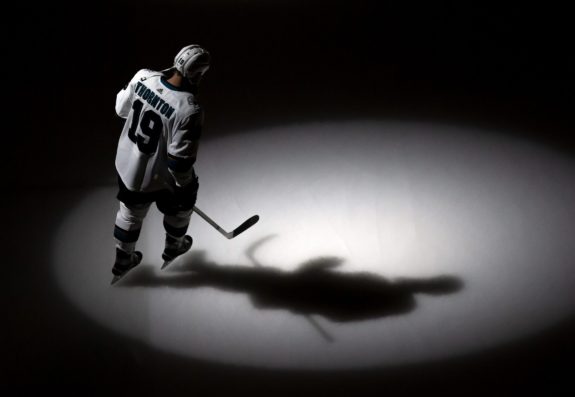 There's no doubt about it, Thornton has a huge fan in former-teammate Logan Couture. Couture was absolutely raving about the gift that's in store for the Maple Leafs players when they play with Thornton next season. Just the way Couture talks – going on and on – is convincing.
In an article by Kevin Kurz in The Athletic, Couture was quoted as repeating, "There's no doubt in my mind. No doubt in my mind Joe Thornton can still be an effective NHL player. No doubt." (from "Joe Thornton leaves Sharks for Maple Leafs: 'I'm still kind of numb about it,' The Athletic, 16/10/20).
Couture was also clear that, even at the age of 41, Thornton has plenty to offer as a player – but, as he notes, Thornton brings more than that with him to Toronto.
Obviously, Couture thinks very highly of his former teammate, because he went on: 
"I've watched him every day. It was a privilege to watch him every day in practice, and how hard he trains off the ice. The way he takes care of his body. … He's going to help that team a lot. All those players are going to be very lucky to have spent at least one year with him as a teammate. They'll learn a lot about the game, a lot about how to be a better teammate and better person. People in Toronto, those players, are very fortunate."
When Thornton decided to sign with the Maple Leafs, it ended Thornton's 15-year career with the Sharks and also his time with Couture. It will be the first time in Couture's NHL career that he'll skate on a team without Thornton on it.
Item Two: Trading Andreas Johnsson Sets Up a Harvard Reunion in Toronto
Here's wishing well for Andreas Johnsson as he suits up with the New Jersey Devils next season. He's quite a story. From a seventh-round (202nd overall) draft choice in the 2013 NHL Entry Draft, to a 20-goal scorer with the Maple Leafs during the 2018-19 season, he now has a chance to play in the top-six with the Devils. If he plays with Nico Hischier or Jack Hughes, he should become a scoring leader on this rebuilding Devils team.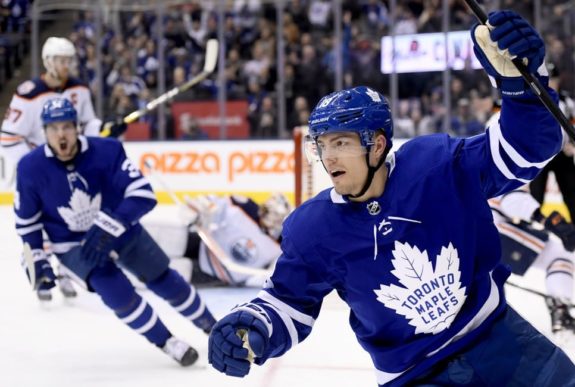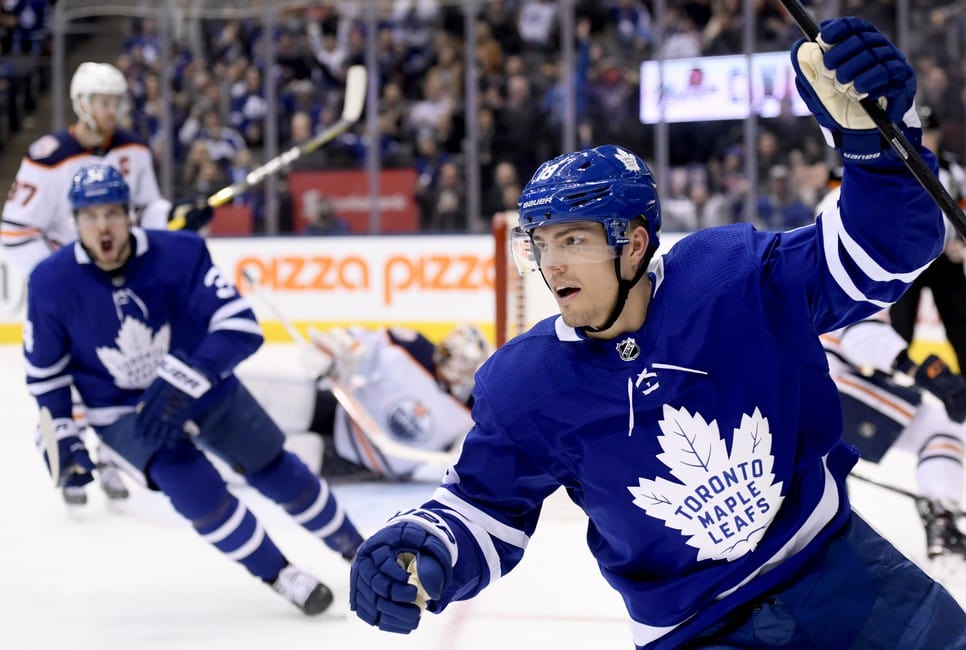 However, the Maple Leafs believed it was more sagacious to part ways with a winger than a center/winger, so Dubas moved Johnsson and kept Alex Kerfoot – at least for now. That might change with the acquisition of Thornton, but right now there's no hint of what Dubas is thinking.
Kerfoot's solid as a depth center and was a revelation during the postseason as a penalty killer. He adds value to the team. What's suddenly become interesting is what might happen after Jimmy Vesey signed last week with the team. Vesey and Kerfoot played together with the Harvard Crimson. In fact, Kerfoot became a Harvard captain the season after Vesey graduated.
Vesey ended the last two seasons of his Harvard career being centered by Kerfoot on the Crimson's first line. If you watch this YouTube video from Harvard Athletics, you can get a sense of how good Vesey was carrying the puck and as a scorer. 
Is there a chance Vesey might get some time on Kerfoot's wing again with the Maple Leafs; and, perhaps even just as they did at Harvard, bring back some of the magic they had about six years ago? In 2015-16, they were the two top point producers on that team, with Vesey No. 1 and Kerfoot No. 2.
Item Three: What About Nick Robertson After the Signings?
In light of the recent Maple Leafs signings, what's likely to happen with Nick Robertson?
Here's what we know: unless the rules are changed in the AHL, which is unlikely, Robertson is too young to play there. I also believe he's too good to spend another season in the CHL where, in 2019-20, he scored 55 goals in 46 games for a Peterborough Petes club record 1.2 goals-per-game.
Related: Who is the NHL's Top Goaltending Prospect?
We also know that, as a result of his stellar play and character, Robertson won the CHL Sportsman of the Year, and a host of Petes' team awards – the Executive Award as MVP, the Outboard Marine Veterans Trophy for combining sportsmanship and ability, the Bill Bennett Memorial Award for most points, the Ed Rowe Memorial Award for most goals and the Molson Cup Three Star Award. (from "Nick Robertson named Peterborough Petes MVP, sweeps four other awards, Peterborough Examiner, 05/06/20).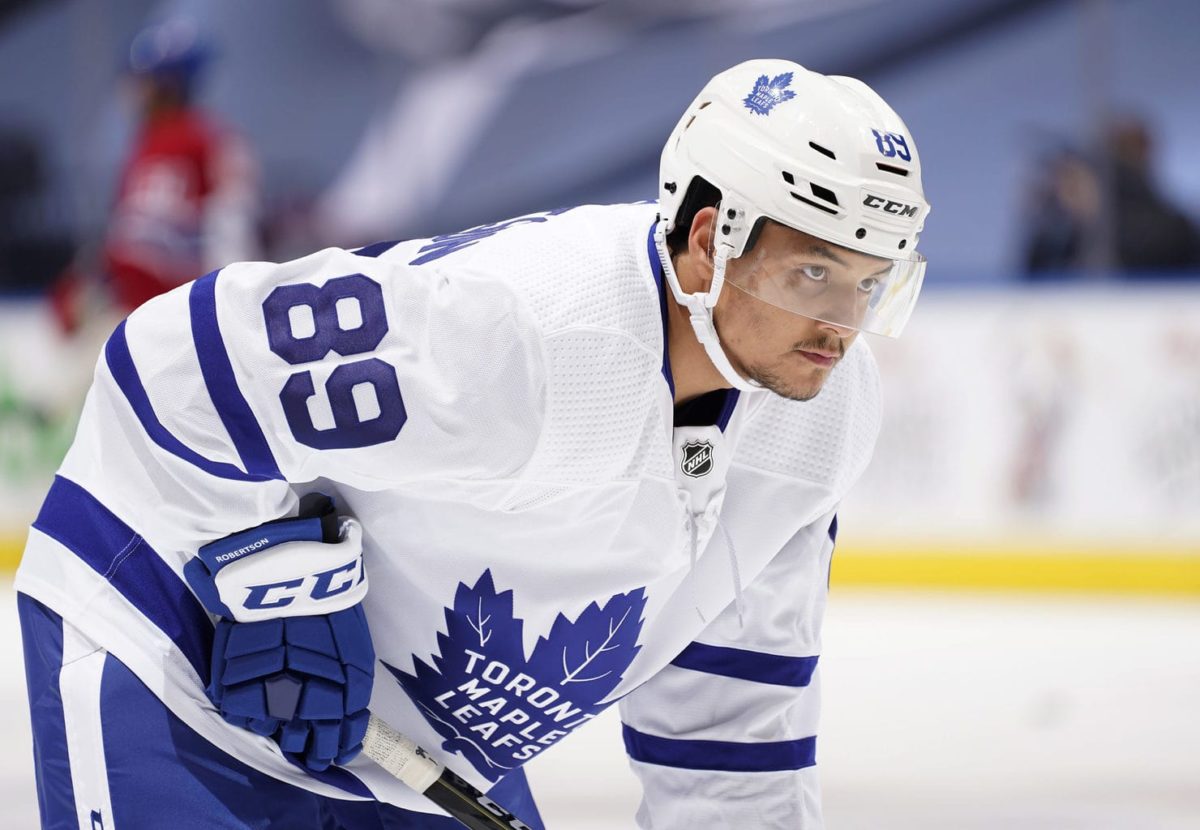 It seems clear to me that Robertson has developed all he can at the CHL level. If he can't play in the AHL, he needs to play in the NHL. Last season, the Maple Leafs obviously felt he could impact the postseason, and he scored his first NHL goal. It's likely the organization thinks he's ready, but where does he stand with the team's new signings playing next season?
Interestingly, signing Thornton probably helps Robertson. He'd be a great winger for Thornton, who's the ultimate set-up man because he thinks pass first. Robertson, at least thus far in his young career, thinks scoring first. As a result, logic suggests that signing Thornton actually helps Robertson's chances to make the roster. I can't imagine a situation where the team won't find Robertson a spot in the lineup given his skills and fit.
What's Next for the Maple Leafs?
I believe Dubas is thinking ahead toward how next season will likely be played. Given this season's history and the likelihood that the 2020-21 season will also be modified, there's likely to be a lot less travel and a lot more back-to-back games. In fact, there are rumors of a Canadian division.
Related: Maple Leafs News & Rumors: Malgin, Pietrangelo & More
Toward those ends, Dubas is loading up on depth talent, which would allow him to give his experienced players some time off as needed. Dubas might also have a bit of a revolving door between the Maple Leafs and the Marlies (just down the hall, really) and might engage in some waiver-exempt movement between the NHL and the AHL teams.
There's still so much up in the air about next season. However, if you're going to ice a line-up of aging warriors who need an occasional night off, this coming season might be the season to do so.
---
---