It's funny how quickly things move in the world of professional sports. The Pittsburgh Penguins won the franchise's fifth Stanley Cup on Sunday night, becoming the first group to repeat as champions in the salary-cap era. However, before their victory was even 24-hours old, news broke that goaltender Marc-Andre Fleury did indeed agree to waive his no-movement clause back in February and all of a sudden, it's time to worry about what's to come. Things are going to change for this team — though, not drastically — and the end of an era is approaching.
Sometimes, we need a reminder to slow down a bit and enjoy what's happening with this special lineup…
100 days until Training Camp 😳

— Rick Tocchet (@RealRocket22) June 12, 2017
Fleury will enjoy this summer with the Cup much more than last. He was an integral part of this team's success this time around and honestly, without him, the Penguins likely don't advance past Columbus. Matt Murray entered the playoffs with an undisclosed lower-body injury, which meant Fleury needed to take the reins when stakes were at their highest. He was nothing short of phenomenal in shutting down the Blue Jackets and President's Trophy-winning Washington Capitals. And interestingly, when you consider that his willingness to waive his no-movement clause in February — prior to the NHL's trade deadline — is possibly the reason Jim Rutherford didn't trade him it means that decision may have saved Pittsburgh's season.
Imagine if he declined, got traded, and Murray couldn't start the postseason. To clear things up, let's visit the details behind his no-movement clause.
No-Movement Doesn't Mean No-Trade
Common questions that surface during this conversation revolve around the difference between a no-movement clause and a no-trade clause. They're commonly mistaken as the same thing, but they're quite different. Below is a great explanation of the two, courtesy of CapFriendly.Com.

Fleury has a no-move clause in his contract, but he falls under the first bullet point above which states, "the clause can specify a modified no-trade clause that limits the NTC to a certain number of teams". According to TheFourthPeriod.Com, Fleury's limited no-trade clause includes a 12-team no-trade list, meaning he can provide the Penguins with up to 12 teams he's unwilling to accept. Of course, that also means the other 19 teams are fair game, and Fleury could be traded to anyone that isn't included on his list without his consent.
That's an extremely important piece of this clause.
While Fleury agreed to waive his no-move clause for the expansion draft, that does not mean he's guaranteed to be a Golden Knight later this month. In all actuality, it means there's no shortage of scenarios that could play out for the veteran netminder. Personally, I do believe he'll end up in Vegas, based on early rumblings of a potential deal between Las Vegas and Pittsburgh. But expect things to get quite interesting over the few days.
Possible Scenarios for Marc-Andre Fleury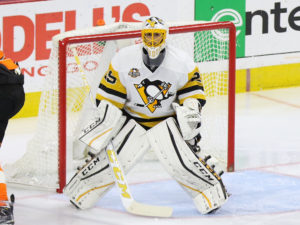 First, the easy scenario. Since Fleury waived his NMC, he'll be exposed while Murray is protected. Vegas takes Fleury in the expansion draft and it ends there. The downside? Pittsburgh receives nothing in return for a goaltender that was arguably the leading candidate for playoff MVP just a few weeks ago.
Their prize would be cap relief, of course.
The second scenario is Pittsburgh working out a deal to trade Fleury to Vegas for some sort of asset, and an agreed upon name to be selected in the draft. It's hard to imagine a deal that makes sense for Golden Knights' general manager George McPhee, since he's been very open about wanting to keep draft picks and build from within but it's something that can't be ruled out.
Lastly, and most interestingly, Fleury could be swung to another franchise via Vegas in a larger deal. Imagine a team in need of a goalie, like, the Flyers for example — working out a deal with McPhee to acquire Fleury and then deal him to Philadelphia — since Pittsburgh obviously isn't going to trade him directly to them. Expansion rules would allow this to happen. It would obviously depend on how Fleury's contract is written, and whether or not an addendum to move his no-trade clause with him is completed during the transaction but again, something that can't be ruled out.
No matter how bad of a taste it would leave in the mouths of Penguins' fans.
The assumption is, Fleury will be the Golden Knight's first starting goaltender in franchise history. Rumors have been swirling that his family visited Vegas to look at houses and schools already, and there's little reason to believe anything more is in the works. However, no one is going to do the Penguins — back-to-back Stanley Cup Champions — any favors. Nothing is off the table, and if a team feels Fleury could get them over the hump and into contender status, especially after his postseason run, they'll come calling.