Twitter is the most polarizing creation in the history of mankind. I might be exaggerating, but its existence has created a completely different way for fans to react to everyday events, including what their favorite NHL team does or doesn't do.
Just 15 years ago, you would have to call a local radio station to get your opinion heard by more than just close family and friends. Today, you can pull your phone up and shout out your opinions in 140 characters or less. Or more. Or in a GIF. And the whole world can see it.
This has led to a rise in 'armchair GMs' or fans who think they can run their team better than the men getting paid to do it. Fans are constantly calling for trades, free agent signings or coach firings. Sometimes, they get it right — most of the time, they flop. Luckily, these fans don't make the decisions for the team.
But what if they did?
Today, we're going to look at some Twitter trades for the Winnipeg Jets and see how they would actually look and if there is any chance of it actually happening.
Trade 2017 NHL Draft 13th Overall Pick for Cory Schneider
Would you trade #nhljets #1 draft pick in June straight up for NJ goalie Corey Schneider ?

— thesawch (@thesawch) March 29, 2017
The rumors are out that the New Jersey Devils may look to trade Cory Schneider, their number one goalie. Schneider struggled this season behind a weak Devils squad, posting a .908 save percentage while 60 games.
That said, Schneider has a .922 career save percentage, including .924 last season behind a similar Devils squad. In a weak 2017 NHL Entry Draft, Schneider would be worth way more than a 13th overall pick. The Devils would look for that pick, plus a prospect like Marko Dano or Nicolas Petan to help the offence.
Assuming this fan was magic though and was able to make this trade, the Jets would have a really good starting goaltender who would carry them into and through the playoffs, ultimately ending with the Jets as Stanley Cup winners within two years.
The Devils would regress even more, unable to fill the void in their net without grade A prospects in the pipeline. Devils GM Ray Shero would be immediately fired and there would be a riot in the streets. Not even Nolan Patrick would be able to pull the franchise from the ashes and the team would be sold to Salt Lake City who have no interest in a team, but the NHL wants to avoid Quebec City at all costs.
Tobias Enstrom and a 2nd Rounder to Vegas
Methinks the #nhljets trade a 2nd rounder to @GoldenKnights to take Enstrom. To fill the void, the #nhljets sign Alzner.

— Bernie Dowhan (@BernieDowhan) June 1, 2017
The Jets have an expansion draft conundrum. Enstrom has to be protected, potentially exposing a good defender or a few good forwards. The quick fix is asking him to waive his no-trade clause then making a deal with Vegas to pick Enstrom.
This isn't actually a bad idea. I think a second round pick is too much to give away for Enstrom — my guess is Vegas would take him for a third and maybe next year's fifth. The Golden Knights and George McPhee have said they want to build through the draft so they will take all the picks they can get. The Jets would be ridding themselves of some cap space.
Karl Alzner is nowhere near the offensive defender that Enstrom is, but he's left-handed. The Jets have a full right side, but outside Morrissey (and the departed Enstrom in this scenario), they have no one on the left side. It's likely that Alzner (assuming he would choose Winnipeg) wouldn't sign for as much, which would give them more cap space for players like Nikolaj Ehlers and Jacob Trouba.
Well, Bernie, that's not a horrible suggestion. Congratulations!
Three Calls, Three Trades
#nhljets fan tweet: Trade Petan for O'Reilly and a 1st. Trade Enstrom for Parayko. Trade Dano for Vasilevsky. Easy. Do it Chevy. 3 calls.

— Garth Shindle (@gshindle) May 20, 2017
HAHAHAHAHAHAHAHAHAHAHAHAHAHAHAHAHAHAHAHAHAHAHA….
I'm sorry, that was unprofessional. Let's look at these three trades and see if there is a shot at any of them.
Nic Petan for Ryan O'Reilly and a 1st Rounder
Career stats for Nic Petan: 19 points in 80 NHL games. Career stats for Ryan O'Reilly: 361 points in 570 NHL games. O'Reilly is only four years older than Petan.
So, in conclusion, the Buffalo Sabres would not trade O'Reilly for Petan straight up. If the Jets wanted O'Reilly, they would need to give up their own first and Petan. Maybe that's enough.
If the trade did happen, the Jets would not only get a decent prospect in the first round to add to their pool, which is already considered the best in the NHL by The Hockey Writers but would get an outstanding second line centre. Either O'Reilly or Bryan Little would move to the third line, pushing Adam Lowry to the fourth, giving the Jets the best centre core in the NHL.
The Sabres, meanwhile, would get a good second or third line centre who can set up plays and carry the puck when paired with great players. This trade isn't even close. The Jets would win this all day long.
Enstrom for Colton Parayko
The 24-year-old Parayko has been outstanding for the St. Louis Blues since entering the NHL. He had 35 points last season and has not peaked yet. Enstrom hasn't touched that number since moving to Winnipeg.
More than the stats or the ages, the biggest issue with this trade is that Parayko is a right-hand shot. That wouldn't solve anything for the Jets, who already have three great defencemen on that side in Dustin Byfuglien, Jacob Trouba and Tyler Myers.
If the Jets made this trade, Enstrom would serve as a good third pairing defenceman for the Blues, while Parayko would play the left side with Byfuglien. However, being an RFA, Parayko would need a new contract. Cheveldayoff would push for a bridge deal, Parayko would sit out for a month before coming back, then demand a trade at some point, citing a logjam on the right side. This sounds really familiar.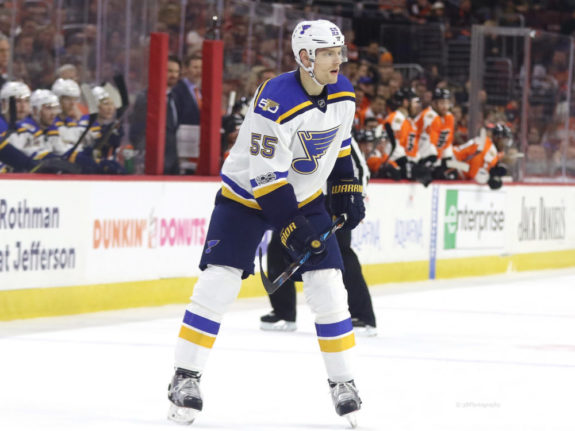 Marko Dano for Andrei Vasilevskiy
The Jets would love to have a goaltender like Vasilevskiy in the crease next season. One major problem though. The Tampa Bay Lightning traded Ben Bishop last season just so they could hand Vasilevskiy the starters job. That player is a very firm no, no matter what you offer.
Further, Dano is not a good trade chip. To get Andrew Ladd, the Chicago Blackhawks gave up Dano and a first round pick. That was for Ladd, a player who the Jets had a replacement for in Ehlers, and eventually Laine. The Lightning have no replacement and I'll argue passionately that Vasilevskiy is a more valuable player than Ladd.
But maybe you fooled Steve Yzerman. Good for you — that's not easy. But now you have a starting goaltender, along with the best top six and one of the best defensive pairings in the NHL. Start planning the parade.
The Lightning have a good third line player who does nothing to help them because they can't stop letting goals in and they finish in last. Then they lose the draft lottery and pick third overall.
I really hope Garth is kidding. I really, really hope.
Other Twitter Trades
Connor McDavid for Manitoba Hydro: Actually a pretty solid trade. Manitoba Hydro is 100% renewable energy from water. McDavid is full of 100% renewable energy from Gatorade, the official drink of the NHL.
Kyle Dubas for Kevin Cheveldayoff : I don't think you can trade GM's, though that would make for an incredible interesting trade deadline day.
Tyler Myers and 13th for Noah Hanifin: I don't think Carolina makes this trade, but it would probably make Jets fans quite happy.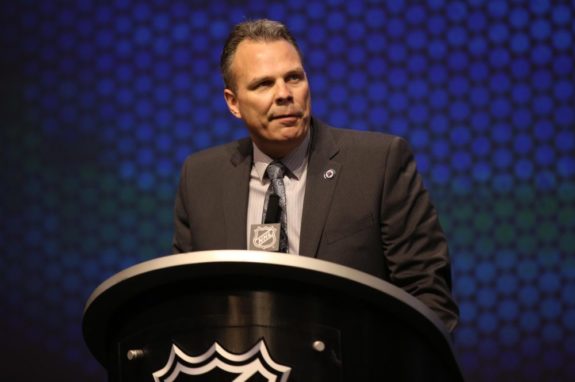 Making a trade isn't easy. I am very happy that I get to analyze the trades instead of making them because you never know what's going to happen. However, when it comes to Twitter fan trades, it's safe to assume that it will never happen. But keep dreaming.