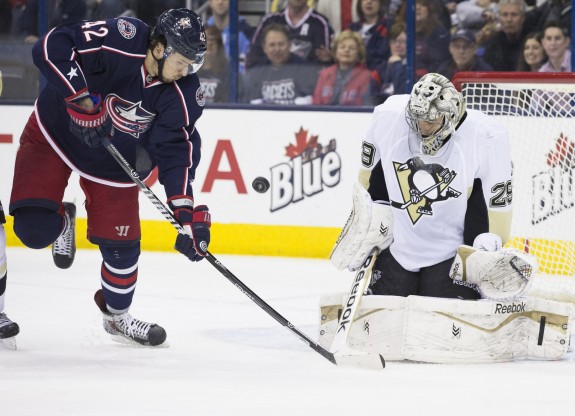 Marc-Andre Fleury hasn't played in more than one playoff series per year since 2009-10. He's either lost in the 1st-round or been replaced before a 1st-round series was over. If this pattern continues, this might be Fleury's final season with the Pittsburgh Penguins. Fleury must earn four victories against the Columbus Blue Jackets or he won't be representing the Penguins against their 1st-round playoff opponent next year.
Fleury will be in the final year of his contract next season. As we've learned, general manager Ray Shero will sign a player that he plans on retaining a year before their contract expires. If Fleury fails to perform for the fourth straight post-season, Shero won't be having discussions with Allan Walsh – Fleury's agent – to extend his client's contract.
A trade would likely be in the works to ship Fleury out of town. Another playoff debacle from Fleury will drain the last of the Penguins' confidence in their franchise goaltender. The team will never again believe they can win a playoff game with Fleury between the pipes. Shero will have no choice but to search for another starting net-minder who is able to perform under the pressure of the post-season.
Many fans demanded that Fleury be traded after he was pulled against the New York Islanders, last year's 1st-round playoff opponent. The Penguins were fortunate to ride the hot play of Tomas Vokoun and get out of that series in six games. Vokoun's stellar play carried the team to the Eastern Conference Finals. The fact that the Penguins made it that far lifted some of the burden off of Fleury.
Starting Wednesday, all of the goaltending duties rest on Fleury's shoulders. There's no back-up swooping in to save the team as Vokoun did a year ago. The Penguins re-called Vokoun, but he hasn't played a game this season at the NHL level.  If he's called upon in the playoffs, don't expect Vokoun to be sharp.
Jeff Zatkoff has the ability to handle back-up duties in the regular season. But when it comes to the playoffs, Zatkoff doesn't have the talent or experience to save the day if Fleury falters. If Zatkoff plays, the Penguins are in trouble. He didn't play in back-to-back games all year.
However, Fleury should benefit from playing the Blue Jackets. They're in the playoffs for the first time since 2009. Collectively, this Blue Jackets' group is light on playoff experience. The speed and physicality of the playoffs are drastically different from the regular season. No matter how much the Blue Jackets believe they're prepared, most teams have to lose a playoff series before they can find post-season success. Look at the Penguins against the Ottawa Senators in 2007. The Penguins were outmatched and overwhelmed.
Another thing favoring Fleury is the visit he had with a sports psychologist last summer at the direction of Shero. According to Rob Rossi of the Pittsburgh Tribune-Review, "seeing a sports psychologist over the summer has helped him [Fleury] "channel things." Rossi goes onto write that Fleury was worried about trying to "please everybody."
"I've got to find ways, when people say I had a bad game, to not worry about it," Fleury said. "That's it, really. I've got to say, forget it. Onto the next one."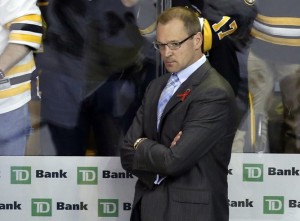 Following the Penguins' playoff exit last year, Shero and Dan Bylsma gave Fleury a vote of confidence that he would be the starting goalie heading into this year's playoffs.
"We were in a situation where Tomas Vokoun went into net and won the third and fourth games of a series for us and continued to play in our net," Bylsma said. "But Marc-Andre Fleury is a guy who's going to come back to our team and he's going to be the No. 1 goalie. He's going to be the franchise goalie. He's going to be this franchise's goalie." (The Canadian Press – www.tsn.ca)
That's why Fleury is going to be under the microscope starting Wednesday. Ironically, Fleury must please everyone – the fans, his teammates and the organization – if he plans on finishing his career in Pittsburgh. Fleury is too talented to underperform in four consecutive playoff series, right?
Do you believe Marc-Andre Fleury will rebound this post-season?
Justin Glock has covered the Pittsburgh Penguins for The Hockey Writers since 2011. As a lead writer, his Penguins knowledge traces back over two decades. For any requests, please feel free to contact Justin via email: JGlock10@gmail.com.