Habs' GM is a First Time Seller
One week away from the February 29th NHL trade deadline, the Montreal Canadiens sit in the sixth spot in the Atlantic Division, eight points out of the last Wild Card spot in the Eastern Conference. In order to make the playoffs, the Habs would have to leapfrog five teams ahead of them, also out of the playoffs. If not mathematically impossible, let's just say that we can put a cross on their hope to have a chance to compete for the Stanley Cup this season.
Everything has been said and written about the Canadiens' monumental collapse and more so, about the team's inability to cope with the loss of league MVP Carey Price. After all, team GM Marc Bergevin, after inheriting a team which had finished 28th in the overall standings and dead last in the Eastern Conference, had changed the culture by implementing a winning attitude, his team finishing amongst the tops in the East for three consecutive seasons.
Bergevin, whose pedigree was quite impressive coming in, was a rookie General Manager and what he had done with this team brought him countless accolades and respect not only from Habs' fans, but from everyone around the league. Each year prior to this one, he found himself as a buyer at the trade deadline, looking at improving his team for a playoff run. For the very first time in his career however, he finds himself on the other side of the table, listening to other playoffs bound GMs wanting to get his pending free agents.
PENDING UFAs
The Canadiens' brass has met and has decided on their game plan prior to the trade deadline, particularly about what to do with their five pending unrestricted free agents. While Bergevin likes to keep his cards close to his vest, it has been reported that he is exploring the possibility of trading Dale Weise and he is thinking of keeping Paul Byron. Ideally, here's what I would like to see happen:
Ben Scrivens (G)
With Carey Price out and still no date on his return, Scrivens will likely finish the season in Montreal. It is too late to try to improve at that position so he should finish the season forming a tandem with Mike Condon.
Tom Gilbert (D)
The team's intentions became quite obvious when head coach Michel Therrien used Gilbert over 22 minutes against the Coyotes, more than 24 minutes against the Avalanche and was on pace for similar numbers prior to suffering an injury in the second period against the Flyers. Considering that Gilbert averaged just over 16 minutes of ice time per game all season, he is being showcased and should be traded by the deadline.
Tomas Fleischmann (LW)
While he has been a pleasant surprise, Fleischmann is expendable. Reliable defensively, the veteran forward has tallied nine goals this season and he has some playoffs' experience. He will bring quality depth to a contender and should be traded.
Paul Byron (LW)
When the Flames waived him and the Canadiens picked him off waivers, several Calgary fans were upset to see him gone. Byron is a fast skater who excels on the penalty kill, as proven by his five points in only 39 games, good for second in the NHL. Although undersized, it is not too surprising to hear that the Canadiens are thinking of re-signing him.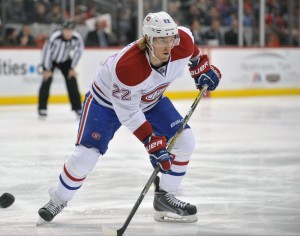 Dale Weise (RW) 
I admit being a little big shocked to learn that the Canadiens are entertaining trading Weise as he has been a very helpful player since being acquired from Vancouver in a trade for Rafael Diaz. Standing at 6 foot 2 inches, he has great speed and can play in any situation, even filling in on the top lines from time to time. If the Canadiens trade him, it might be because he is having his best season, already at 14 goals, and his salary demands might be too rich for the team.
2016 DRAFT PICKS
Seeing what the Toronto Maple Leafs received for Roman Polak and Nick Spalding, it is not hard to imagine Bergevin salivating at what the return might be for his own pending UFAs. Trevor Timmins was only given 5 shots at last year's NHL Draft but it looks like he might be a busier man this summer.
Here are the Canadiens' picks at the upcoming 2016 NHL Draft held in Buffalo:
1st round pick
2nd round pick
2nd round pick (from Minnesota via Buffalo – Josh Gorges trade)
3rd round pick
4th round pick
5th round pick (from Vancouver – Brandon Prust trade)
6th round pick
* They have traded their own 5th and 7th round picks for Brian Flynn and Torrey Mitchell.
Bergevin will likely add to that by Monday next week and while he likes to build through the draft, some of those picks could very well end being used to seek immediate help on a team in desperate need of a shakeup. Either way, keep your eyes on the Canadiens this week, as it should be fun… and fans need a bit of fun right now.