If you thought the Toronto Maple Leafs had reached rock bottom, think again.
The 2016 NHL Trade Deadline is quickly approaching, meaning all 30 NHL teams will be unable to complete any trades following 3:00 P.M Eastern Standard Time (EST) on February 29th, effectively solidifying all NHL rosters for the remainder of the season.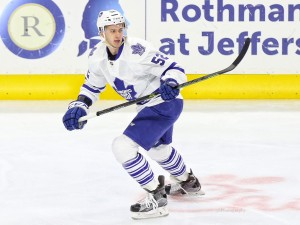 For the Leafs, it's safe to say that the their roster, and their lineup in particular following the deadline, could be one of the least skilled to ever play an NHL game.
In 2015-16, the Leafs' season has thus far played out exactly as expected, as a lineup laden with little talent and littered with trade bait has struggled to not only win games, but simply score goals on a consistent basis. However, as we are all aware, this is exactly how Mike Babcock's first year as Head Coach was designed to unfold. With very few of their high-end prospects having seen NHL ice to date, a decision made famous within the Detroit Red Wings' organization, the Leafs have instead focused on exclusively playing players whose trade values could be increased with inflated playing time and a season spent under Babcock's guidance.
So, with the deadline approaching, this is, quite honestly, the day which the Leafs, and Leafs Nation as a whole have been waiting for all season. The date, and the numerous returns which the Leafs will undoubtedly accrue, will come to measure the true success of the Leafs this season. The quality of returns garnered from the departure of numerous players will have an immense impact on how the team progresses through their rebuild, and whether Toronto is looking at a short-term rebuild, or long-term pain.
With all the agony that Leafs fans have been through this season, and that they will certainly endure in coming years, let's have a little fun by predicting the Leafs post Trade Deadline lineup, because it will be ugly.
---
The Good, the Bad and the Ugly
In what marks an incredibly rare feat of incompetence, nearly half of the Leafs' regular roster appears to be available via trade, if not virtual guarantees to be on the move.
With Dion Phaneuf already traded to the Ottawa Senators, Shawn Matthias to the Colorado Avalanche and Roman Polak and Nick Spaling to the San Jose Sharks, here is a list of Leafs who could be on the move come February 29th.
| | | |
| --- | --- | --- |
| Trade Bait | Pay | Term |
| Kadri | $4.1 Million | RFA 2016-17 |
| Grabner | $3 Million | UFA 2016-17 |
| Komarov | $2.95 Million | UFA 2018-19 |
| Polak | $2.75 Million | UFA 2016-17 |
| Reimer | $2.3 Million | UFA 2016-17 |
| Winnik | $2.25 Million | UFA 2017-18 |
| Spaling | $2.2 Million | UFA 2016-17 |
| Parenteau | $1.5 Million | UFA 2016-17 |
| Hunwick | $1.2 Million | UFA 2017-18 |
| Arcobello | $1.1 Million | UFA 2016-17 |
| Boyes | $700 Thousand | UFA 2016-17 |
This is an immense list, with all of these players having logged a considerable number of games in a Leafs uniform this year.
Not mentioned here are Jared Cowen nor Milan Michalek, two players acquired from Ottawa who have yet to play a game with the Leafs this season. With both injured, it is difficult to measure their value with the Leafs, however, it has been rumored that Cowen could be bought out following the season, which could make him potential trade bait as well.
Most interestingly could be the situation surrounding James Reimer, who could be dealt if he is unable to work out a contract extension with the Leafs. Although he certainly will not be the Leafs goaltender of the future, Reimer could provide Toronto with two to three years of solid goaltending while the Leafs' rebuild and prospect progression continues.
[Related: The Leafs Must Be Smart with James Reimer]
Having seen this list, it is clear that the Leafs lineup will be drastically altered following the coming trade deadline. Most notable will be the many changes throughout Toronto's forward lines, as the majority of players likely to be dealt play at either the center-ice or wing positions.
But before we look at what will likely be following the deadline, lets take a quick glance at the Leafs current forward and defense lines, which have fluctuated greatly this season alongside a seemingly endless number of injuries. What is important to keep in mind however, is the looming return of three forwards in Tyler Bozak, Joffrey Lupul and James Van Riemsdyk, who once healthy, will help improve a border-line American Hockey League lineup.
Current Lineup (As of Feb. 22nd)
| | | |
| --- | --- | --- |
| Left Wing | Center | Right Wing |
| Grabner | Kadri | Parenteau |
| Greening | Holland | Leivo |
| Leipsic | Arcobello | Winnik |
| Clune | Froese | Boyes |
| | |
| --- | --- |
| Left Defense | Right Defense |
| Rielly | Corrado |
| Gardiner | Percy |
| Marincin | Loov |
Goaltending
James Reimer
Jonathan Bernier
Following the Matthias, Spaling and Polak trades, the Leafs lineup is incomprehensibly thin, with AHL players retaining a vast number of spots on the current NHL roster. Yet, it will only get worse as the deadline approaches, especially so considering the large number of Leaf players who are still expected to be dealt in the near future.
So, here we go. It's time to predict the Leafs' post Trade Deadline lineup, if possible. For this projection, we will be generating a lineup under the assumption that the vast number of players listed on the Trade Bait list will in fact be traded prior to the looming deadline.
What is important to keep in mind are those currently injured, as they will not be listed in the lineup despite their imminent returns.
Projected Post Trade Deadline Lineup
| | | |
| --- | --- | --- |
| Left Wing | Center | Right Wing |
| Komarov | Kadri | Nylander |
| Greening | Holland | Leivo |
| Leipsic | Froese | Winnik |
| Clune | Carrick | Boyes |
| | |
| --- | --- |
| Right Defense | Left Defense |
| Rielly | Corrado |
| Gardiner | Percy |
| Marincin | Loov |
Goaltending
Jonathan Bernier
Garret Sparks
Now, while you comprehend just how poor the Leafs' lineup could truly be following the deadline, here is the explanation behind a number of the choices I made in organizing the nightmarish situation as seen above.
Forwards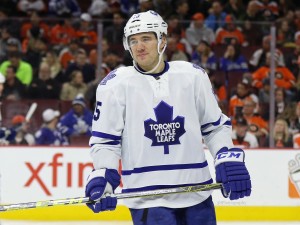 The forward position, as previously mentioned, is where the Leafs' roster will undoubtedly undergo the greatest amount of change. I projected that all of Grabner, Parenteau and Arcobello would be traded, while Winnik, who has a year remaining on his contract, would likely stick around for an additional season before being traded late in the 2016-17 season. Further, Brad Boyes, who has failed to produce on a consistent basis with the Leafs, is likely therefore of little value to competitive NHL teams, and will probably play out the season in Toronto.
In terms of those who will replace the departures, William Nylander could certainly be called up late in the season in order to gain some much needed NHL experience. Although he likely would not play out the remainder of the Leafs season, considering the potentially long playoff run looming with the Marlies, it would bode well to provide Nylander with a taste of NHL action. Otherwise, Sam Carrick, who has experience with the Leafs at the NHL level, could be a potential call-up to fill a depth role within the lineup.
However, with Bozak, Lupul and Van Riemsdyk set to return before the season comes to a close, all of these potential changes to the Leafs' forward lines could become extremely flexible, especially so in Nylander's case.
Defense
On defense, there likely will not be any significant changes, as the Leafs' top blue-liner available has already been traded in Roman Polak. Unless the Leafs decide to move on from Martin Marincin, the only other trade involving a defender could be T.J Brennan, who despite leading the AHL in scoring at times this season will become a UFA at year-end. His offensive abilities could make him a desirable depth upgrade to a playoff bound team.
Goaltending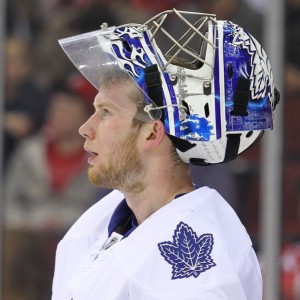 James Reimer has been excellent for the Leafs this season, and as such could garner a tremendous return in a potential trade. A pending UFA, Reimer has enjoyed the best season of his career thus far in 2015-16, ranking highly league-wide in both Goals Against Average and Save Percentage. As a result, he will be highly sought after as the deadline approaches, especially so considering as a pending UFA, he will likely command a contract of significant term and salary, one which the Leafs may be unwilling to pay with Jonathan Bernier signed through 2016-17.
If Reimer was to be traded, as I have projected, not only would the Leafs collect a significant return, but it would also allow Garret Sparks and opportunity to gain consistent time in an NHL crease, a decision which would bode well for his future considering he showed great promise in limited playing time earlier in the season.
---
So there it is, my projected Toronto Maple Leafs post Trade Deadline lineup. Undoubtedly, there are more than a number of readers who will disagree with what I have envisioned, so please comment your thoughts below!
What ever your opinion may be, we can all agree that the 2015-16 NHL Trade Deadline will not only be extremely entertaining, but ultimately, it will be of utmost importance to the Leafs' future.