Marcus Johansson took eight shots on goal Tuesday night against the Columbus Blue Jackets, a career high. His willingness to shoot the puck more has led to arguably his best start to a season in his professional hockey career.
The Swedish forward, a 2009 first round pick by Washington, has recorded eight goals on the year already, his total from an 80 game 2013-14 season under Adam Oates.
Johansson entered Tuesday night's game third in shots per sixty minutes at 7.68 of Capitals forwards with over 100 minutes of five-on-five time. Only Captain Alex Ovechkin (11:56 shots/60) and versatile forward Eric Fehr (10.28 shots/60) ranked higher than Washington's current second line winger.
Johansson has played exclusively with Andre Burakovsky and Troy Bouwer on the Capitals' second forward line of late and like many of the team's forwards, the trio has had success in puck possession along with netting goals.
"He's playing really well. He's skating, he's shooting pucks, he's getting big goals for us. I think he's enjoying himself, and I think [his] line is has got a little bit of chemistry. They seem to work a puck in the offensive zone quite well. I'm happy for Marcus getting two. I was hoping he'd maybe get three." –Barry Trotz
Entering Tuesday, Burakovsky and Johansson had combined for a 54.9 corsi-for percentage when on the ice together, along with the fact that the pair had scored 70% of the five-on-five goals when on the ice. Away from Burakovsky in limited action, Johansson has a 45.1 CF% in just over sixty minutes of play, albeit an extremely small sample size.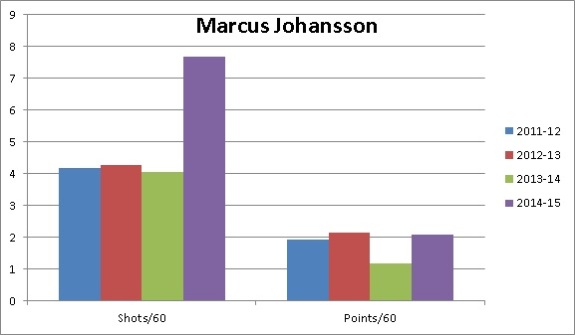 Troy Brouwer adds an interesting dimension to the Capitals second line and throughout the lineup. He's their best net presence on the line which head coach Barry Trotz has noted as a crucial part of offensive success. In 114:55 with Johansson, Brouwer has posted a 48.0 CF% and a 53.8 CF% when not on the ice during five-on-five action with the 24 year old Swedish born Caps' draftee.
"I think our whole line has been playing good. We have been playing in their end a lot, and you have to get guys to the net to get something out of it, and we have been doing that. It's a good feeling when it pays off." –Marcus Johansson
Johansson is on pace for an absurd 43 goals. That simply won't happen, 20 goals for the 2014-15 campaign by the forward is reasonable if he continues to gets pucks on net. His career high in shots came last season (107); he needs just 70 more shots in the remainder of the season to match that. His 21.6% shooting percentage is unsustainable. His first goal scored Tuesday night was the product of a lucky bounce from Troy Bouwer, giving Johansson the puck right in front of the Columbus net. The perfect case of right place, right time.
Marcus Johansson Best Suited For Wing
Barry Trotz attempted to give Johansson a chance to grab hold of the second line center spot in training camp and during preseason. Andre Burakovsky has earned that role and has a great chance of keeping it throughout the remainder of his rookie season.
According to faceoffs.net, Johansson won 95 of 274 faceoffs last season, an atrocious 34.7% success rate. During the 2013-13 lockout shortened season, the faceoff site reported Johansson posted a 46% win rate over 87 faceoff opportunities. When used at center exclusively, Johansson seemed to fall into more of a playmaking role, he was reluctant to shoot. When he played with top line players such as Alex Ovechkin and Nicklas Backstrom, Johansson was more likely to give Washington's top players the puck.
"I think his overall confidence [is strong this year]. He's skating like he can; we all know that he is one of the better skaters in the league, and when he is moving like he has this season, he is creating opportunities and he's getting opportunities for himself. If you look at that wraparound goal, without speed there's no way you can do that, and he's got the speed and the talent to do that, so it was a very nice goal." –Mike Green on Marcus Johansson
One of the best attributes of Johansson's game is his speed. He's able to gain entry into the offensive zone because of his skating and while not a physical player, can usually manage to keep control of the puck when in the corner against an opposing defenseman. He rarely takes penalties and that only adds to his value as a key player.
Future For Johansson With Caps
At only 24 years old, Johansson is still under team control and is scheduled to become a restricted free agent following the 2014-15 campaign. After earning a reasonable four million dollars over the last two seasons following his entry level deal, Johansson is set for a bit of a raise. In terms of production, Johansson has averaged just over half a point per game in his brief, but successful NHL career.
A three to four year deal that pays Johansson between 3-4 million dollars annually is a reasonable scenario for the young forward and Caps' GM Brian MacLellan. With the blue line seemingly setup for the future, other than Mike Green's unrestricted free agency, Washington has key decisions to make at the forward position. Determining Tom Wilson's role along with the upcoming contract extension possibilities with Joel Ward and Troy Brouwer, Johansson is important.
Capitals Win Third Straight, Top Jackets 4-2
Beyond Johansson's two goals Tuesday night, Alex Ovechkin added a pair as he skated with regular fourth liner Jay Beagle on the Capitals top line. Beagle fed Washington's Captain with a creative drop pass for another Ovechkin goal. Tuesday night as Ovechkin's third multi-goal game this season and his 88th of his illustrious career.
Marcus Johansson's first two-goal game since Jan. 9, 2012.

— Adam Vingan (@AdamVingan) November 12, 2014
Braden Holtby (5-3-2) received another start in goal for Washington, recording 24 saves on 26 shots. The Capitals once again held their opponents to under 30 shots on goal, the biggest change in their play this season and a result of a summer shopping spree on the defense. Holtby improved his save percentage to .903, 34th in the NHL. His goals against average (GAA), a far more team friendly statistic, currently sits at 2.54, 20th in the league. He has allowed two goals apiece over his last four games, following four straight in his previous three contests.
Washington has outshot their opponent in 12 of their 15 games this season and improved to 3-0 against Metropolitan Division opponents this season. The Capitals pulled into third into the division for the time being and host the New Jersey Devils on Friday night.