The Canucks are 11-5-0, and sitting in third place — a place where not many expected them to be.
Before the season (or perhaps before the draft), a majority of Canucks observers — and fans — had pegged the Canucks as a team headed for a rebuild, and if not a rebuild, then a team that would foolish attempt to make eighth place, only to place ninth or tenth, delaying the inevitable rebuild, and missing out on prospects.
Then the draft happened. Benning created a drastically different team — partly out of necessity — and the Canucks found themselves an actually decent pool of prospects.
Still, the thought was that this was a team likely looking to the future, with many still pegging the team to probably just miss the playoffs. New pickup Nick Bonino was not seen as an actual second line center, many had written off the Sedins, and despite the pickups, there was still this question of where was the scoring going to come from?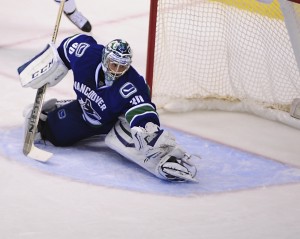 Once the season came, though, the Canucks were a completely new team. Now, it's distinguishing feature was a high-flying offence, not just limited to the Sedin line either, with Bonino and the second line contributing their part as well.
Goaltending was also dynamite with Ryan Miller looking like the all star goalie that he was allegedly no longer.
Add to that a solid-looking fourth line, and a third line that's finally starting to click, the Canucks certainly were having a great start to the season.
However, questions remained. The defence looked shaky and the team gave up too many goals. Aside from problems in general scoring lots and letting in lots of goals (it's not usually sustainable), you've got to remember that the Canucks are in the Pacific Division — featuring the dreaded California triad: the San Jose Sharks, LA Kings, and the Anaheim Ducks.
Last season, the California teams had the Canucks' number with the Canucks only gaining two wins in 14 games against them with one being a 9-1 loss. It should also be noted that many of these losses came when the Canucks were rolling last year, before their January collapse — one thing consistent about the team was an inability to compete with California.
This season, when the Canucks won, there was always that question: Can they win against California?
They had not yet played a contest against one of these teams. Last year this time, we saw what looked like a good team collapse instantly upon contact with any team from California. Would this year be more of the same? The Canucks finally got a look over the weekend.
Four Out of Six Ain't Bad
Yes, the Canucks escaped California with four out of a possible six points — and two wins.
Sure, one of those games was a 5-1 loss, and the 3-2 victory against San Jose was only due to Ryan Miller standing on his head.
But the fact is that they got those four points, the right players stepped up (a good team with a great goalie will always have a few games where the goalie bails out a subpar — or worse — performance).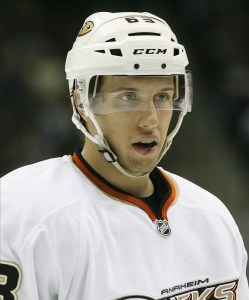 Against San Jose, you do have to notice that the Canucks actually did get three goals. In the last season, the Canucks would have struggled to net two when they were the ones dominating — never mind when they were being greatly out-played.
The thing is, it doesn't matter how you get those points, but that you did get them, as a good team wins more than it loses.
Of course, playing the "wrong way" (ie having the other team have possession nearly the entire game) is usually unsustainable (just look at the Toronto Maple Leafs). But, this road trip even had a game where the Canucks did look competitive in that, perhaps in the game's scope better.
In the Canucks' 2-1 victory against Anaheim, the Canucks weren't lagging behind; they weren't just saved by a brilliant performance by Eddie Lack (though he did have one, more on that later).
The Canucks looked just as good as Anaheim, able to match their speed-based game, able to handle the fast pace at which the Ducks play.
Some cynics — or Ducks fans — might want to point out that Anaheim lacked Corey Perry, or other injuries, the Canucks lacked Radim Vrbata, who has become one of the Canucks' best scorers, Zack Kassian, whose third line has just started to heat up, Luca Sbisa, who though initially maligned for poor defensive play is looking more and more effective by the game, as well as effective fourth liner Derek Dorsett.
It showed that the Canucks can still win with a depleted roster and can rely on both goaltenders for a win against any team. Eddie Lack has been cursed playing the tired ends to back-to-backers but looked fully confident in his first win of the season.
Sporting a .966 SV% and saving 28 out of 29 shots, and facing one of the best teams in the league, it can't be said it was an easy game for Lack.
What California showed is that the Canucks can step up their game with these elite teams. Whether it happens every time they face is hard to say, but Anaheim showed that the Canucks can compete. And San Jose showed that the Canucks could win when they have no business doing so.
These are marks of a good team, not one just inflated by easy early competition. With what we see now, it's not too far of a stretch to say the Canucks are for real. And certainly not too far out to say they are on pace to play more than 82 games.
Austin Cozicar is a student of Simon Fraser University (SFU), and is the sports editor for The Peak, SFU's student newspaper. He covers the Canucks and can be followed on Twitter @TheRealACozicar.