He did it again. Jim Nill never ceases to amaze.
After 79 games, the Sergei Gonchar experiment with the Dallas Stars ended Tuesday when he was shipped to the Montreal Canadiens in exchange for 32-year-old left wing Travis Moen. It may be confusing why the Stars traded for a winger when the team's defense is a major weakness this season. With a closer look, the deal makes more sense.
First, the numbers as far as finances go. Gonchar is in the last year of his contract. The Stars retained nearly 8% of Gonchar's $5 million salary this season. Moen still has another year left on his contract, but his cap hit is at $1.85 million each season. The Stars now have over $5 million of cap space according to capgeek.com.
Gonchar ($5 M salary though Stars retain 8 %) is UFA July 1 while Moen ($1.85 M salary) has another year on his deal next season

— Pierre LeBrun (@Real_ESPNLeBrun) November 11, 2014
Gonchar Before Joining the Stars
When Nill signed Gonchar in the summer of 2013, there was no way to tell Gonchar would have struggled as much as he did in the lone star state. Sure, he was 39 years old so sooner than later he was expected to see a quick descent, just maybe not as quickly as it played out.
Gonchar was coming off an impressive lockout-shortened 2013 campaign with the Ottawa Senators where he tallied three goals and 24 assists in 45 games. His 27 points were good for second-best on the team. He averaged 23 minutes of ice time per game that season, second only behind Erik Karlsson. Gonchar's 12 power play points in 2013 showed he still had the capabilities of helping out on the man advantage.
In the 2011-2012 season, Gonchar registered 37 points in 74 games. Fifteen of those points were earned on the power play. He had averaged at least 21 minutes of ice time per game for his entire career and at least 23 minutes of ice time in nine of the previous 10 seasons before signing with Dallas. Basically, he didn't seem all that bad. Even though he wasn't fast or agile, he could at least pitch in on the power play and be average on defense, right? Well, it didn't quite work out that way.
His Time with the Stars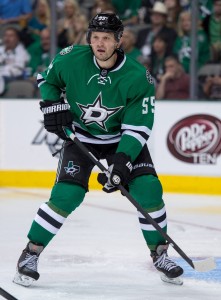 After signing with the Stars, the first thing noticeable about Gonchar's play was his lack of speed. It's one thing to not be as fast as you were when you were a teenager, that's understandable, but his lack of mobility on one of the league's fastest teams really stood out. He was constantly being beaten to the puck, struggled to hold the point on offense, and often lost track of opponents in the defensive zone.
Last season, Gonchar skated in 76 games and notched two goals and 22 points, 14 of which were on the power play. That was the lowest total of points he had registered since his 2008-2009 season was cut short due to injury. Of those 22 points, eight came in a seven games span and another five points came in a four game span. That leaves nine points spread out over 65 games. His -12 rating was third-worst on the team and fourth-worst of his career. Gonchar's ice time took a hit, too, as he struggled to find consistency. He averaged 17:37 of ice time, the lowest of his career.
He also struggled in Dallas' six playoff games last season. He failed to register a point, had the worst plus/minus rating among Stars defensemen and saw his average ice time reach a new low of 13:24. As with the regular season, his possession numbers continued to struggle as well.
Gonchar struggled out of the gates this season with a broken ankle suffered in training camp. He only managed to skate in three games with the Stars before Tuesday's deal. He was no longer a part of the power play this season as Trevor Daley and Alex Goligoski supplanted him, and Daley has been off to the best start of his career. Gonchar's ice time continued to drop as he averaged only 13:02 of ice time in his three games.
Looking at the The Positives
As mentioned before, he did provide power play help in spurts. He was instrumental in getting rookie Valeri Nichushkin acclimated to the NHL, not to mention a new language and a new country. His veteran leadership and Stanley Cup-winning experience could only have helped the young, inexperienced Stars.
As Nill said, Gonchar did show class in his time here. Being one of the oldest players on a team dominated by quick youngsters couldn't have been easy. Even though Gonchar struggled through some statistical career lows, he never seemed to let it bother him on or off the ice. He maintained his play and kept churning as a piece of the puzzle.
Gonchar seems to be moving on to a better situation. First of all, he had to sign off on the trade, so there is something in the deal he likes. With the Canadiens, he should have a bigger role and more ice time than he did with the Stars. He goes to a team that nearly made it to the Final last season, and looks like they should have a shot at it again this season. His experience should no doubt help the Habs in that regard. There are more fellow Russians on the Canadiens, so there might be a little more comfort and quick gelling there in addition to his expecting mentoring of young players.
What Is Next?
So what exactly does the trade mean for Dallas now? With the added cap room, the Stars have the ability to acquire a defenseman, preferably a defensively sound, right-handed defenseman that can slide into the top four. Although Nill may not pursue a trade immediately, he has a lot more wiggle room when the trade deadline approaches to pull the trigger on a deal.
The Gonchar-Moen trade is all about managing assets/salary cap. #stars needed space, #habs had some. The price was two years of Moen. — Chris Johnston (@reporterchris) November 11, 2014
Trading Gonchar opens up more ice time for the young defensemen knocking on the door. Youngsters like Jamie Oleksiak, Jyrki Jokipakka and the recently called-up John Klingberg now have an opportunity to demonstrate their ability to fill the hole in the lineup. Kevin Connauton is in the mix as well. Despite his advantage in NHL experience, he has not yet earned a full-time role so he may continue to be rotated with one of the other young defensemen to see who can stick.
Klingberg looks to get the next chance since he is right-handed and has been very impressive with the Texas Stars in the AHL so far this season. He has bounced back better and faster than expected from his offseason hip surgery, and the Stars have a desperate need for someone who naturally plays the right side.
With Gonchar out and Jordie struggling, Mr. Klingberg is going to get a look on 2nd PP Unit sooner than expected. Maybe tonight — Bruce LeVine (@BruceLeVinePuck) November 11, 2014
As far as Moen goes, it will be interesting to see where he fits with the Stars. When he does get into the lineup, Moen will provide some physical, gritty play in the bottom six. His 6-foot-2, 212-pound frame could help provide the sandpaper and net presence the Stars desperately need.
While there are still questions surrounding Dallas' defense and what role Moen will play this season, the move was a necessary one for the short-term and long-term goals of the team. Whether the Stars bring in a defenseman soon, at the trade deadline or next summer, the added cap room and boost in rookie ice time will help the team in the future.
Mohammad received his Bachelor's Degree in Journalism from the University of Texas at Arlington with a minor in English.