Though Alex Ovechkin was the centre of attention in the Washington Capitals 4-3 overtime win against the Winnipeg Jets, the best story so far has been the performance of Marcus Johansson.
The Swedish winger, who re-signed with the team this offseason, has been looking to prove himself to the organization. So far, he has done that, and more.
Prior to Thursday's game, Johansson was riding a three-game goal scoring streak, which included two multi-goal performances. With five strikes in just three games, Johansson has also put up 11 points in his first 10 games of the season. With six goals so far, Johansson is on pace for at least 50 goals this season.
Call it luck, or call it a hot streak, but right now, Johansson is playing great hockey to start the 2016-17 season. And the Capitals recognize it.
"He's going to the right spots; he's skating," head coach Barry Trotz told the Washington Post of the 26-year-old. "JoJo's using his God-given talent and he's skating."
Capitalizing on Chances
One area that Johansson is thriving is getting scoring opportunities. So far, he is putting up 7.2 shots per 60 minutes on average and is boasting 4.40 points/60 through 10 games. He is getting pucks into the offensive zone, taking plenty of shots and doing whatever he can to get the puck to the net. His unrelenting determination makes him one of the top Capitals on the ice.
Though the forward credits his goals to luck, he wouldn't have these opportunities or bounces without his drive in the offensive zone.
"Sometimes, they find a way to go in, and sometimes, you struggle a little bit," Johansson told the Post. "I guess I'll take it and move on, and hopefully, it keeps going."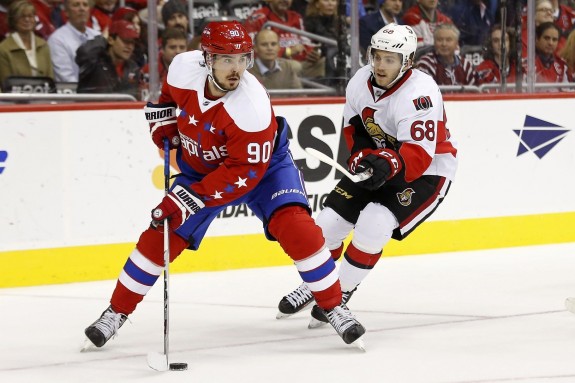 Johansson Strengthening Defensively
One area where Johansson has struggled throughout his career is with puck possession. Last season, his relative Corsi sat at a -0.9, but this year, it has gone up to a 3.9 in his first nine games. Not to mention, he is lethal on the second line alongside Evgeny Kuznetsov and (of right now, Tom Wilson).
Also, he has six takeaways for only two giveaways and is more careful with the puck. Last season, his turnover ratio sat at a .90, and this season, it is at a 3.00. He is looking after the puck and playing smarter hockey, and it shows in his play. When it comes to offensive breakouts, Johansson knows how to lead the way, but he also knows how to get back fast on the backcheck.
Proving His Worth (Literally)
After a tough offseason of negotiations, Johansson finally agreed to terms on a three-year, $13.75 million contract. He originally requested about $5.25 million AAV, but considering his numbers the previous two years, the Capitals were only willing to offer $3 million, as per Elliotte Friedman. He put up 46 points last season, and prior to that, had a 47-point campaign in 2014-15.
In 2015-16, he put up 17 goals and 46 points, and prior to that, scored 20 goals and 47 points the previous season. His consistency was a blessing and a curse, because even though those numbers were good, they weren't impressive enough or too different to warrant an expensive pay raise.
However, the two came to a compromise, and now, Johansson is looking to prove himself worthy of the price he was asking for. So far, he is doing just that, putting up six goals in 10 games and playing smart, logical hockey. So far, he has been the difference for the Capitals in multiple games, and though he may just see it as a fortunate turn of events, it's Johansson finally busting out of his shell.