On Wednesday, it was a night of overtime hockey. Of the 12 games scheduled, six of them went to extra time or a shootout. The Penguins, Predators, Devils, Lightning, Jets and Islanders all lost close games. Only the Blackhawks and the Stars went on to easy victories.
Friday, is relatively quiet with only three games to discuss. The Jets and Coyotes went to extra time on Wednesday, meaning they'll be facing an awful lot of hockey in a 24-hour window. Both teams are in action Friday and facing tough assignments.
Yesterday's Games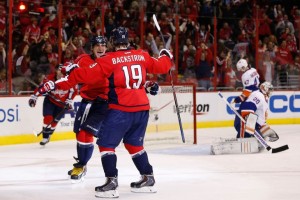 The biggest fantasy winner of the night had to be Alex Ovechkin. With two goals and an assist, eight shots on goal and a power play marker, he was a huge success for fantasy players who selected him. Nick Backstrom played well along side him. If you took the pair, you did well.
Other notables were Tyler Seguin paired with Jamie Benn of the Dallas Stars and Kevin Hayes of the New York Rangers.
Tonight's Games
Montreal Canadiens at Columbus Blue Jackets
Winnipeg Jets at Detroit Red Wings
Arizona Coyotes at Anaheim Ducks
Centers
Alex Galchenyuk ($6500)
With 10 points in 10 games and five points in his last three games, Galchenyuk is still a very good selection for a decent price. He's showing he has the tools to be Montreal's go-to first line center and with Montreal on an unreal tear to start the season, he's a good fit for a slower night in the NHL.
My suggestion would be to pair him with Brendan Gallagher. The two seem to be steady selections in fantasy play and Gallagher is locked into a number one spot earning fantasy points in every one of his games this season. Gallagher is a more expensive selection, but at under $14000 in salary for fantasy, you can still put together a solid supporting cast around these two.
Forwards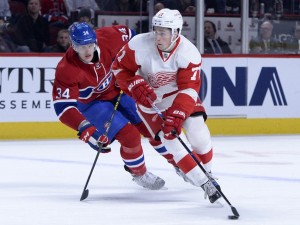 Dylan Larkin ($5700)
I mentioned Gallagher, but if you want to move off of the Canadiens and hedge your bets a little, Dylan Larkin is a nice choice from the Red Wings. He's only got five points in 11 games, but he's started to contribute on offense with four goals in his last five games.
Larkin leads the Red Wings in shots on net with 34 so far this season. That puts him around the top 20 in the NHL. Of his four goals, one of those is a game winning tally. And compared to some of his teammates, his shooting percentage isn't atrociously high which means he can sustain his production and he's a bit less of a risk.
Defense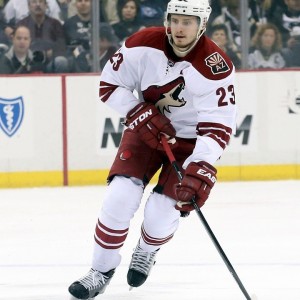 Oliver Ekman-Larsson ($5900)
Ekman-Larsson has seven points in 10 games played. He leads the Coyotes in shot on net for the season with 27 and plays over 25 minutes per night. He is absolutely the backbone of the Coyotes defense and he's good value for fantasy players at $5900.
Sami Vatanen ($4900)
Across the blue line from Ekman -Larsson will be Sami Vatanen who now has seven points in 11 games. Vatanen is going up against an Arizona team that ranks dead last in the NHL for goals allowed per game and shots against per game.
The Ducks have a good chance of winning this game and putting up a lot of points in the process. Vatanen could be considered a good value addition to your fantasy team.
Goaltender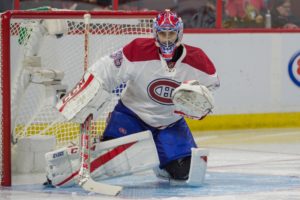 Al Montoya ($8100)
Carey Price is getting a much deserved break and Montoya, who has a .955 save percentage and 1.47 goals against average is a good backup to have if you're the Montreal Canadiens and want to keep your winning streak alive.
Yes, the Blue Jackets are the home team, but they average less than three goals per game at home. This is good news for Montoya.
Value Pick
Brad Richardson ($3800)
Richardson now has eight points in 10 games and while it isn't likely that he continues this pace as a bottom-six forward, he's shown that in limited minutes he can earn your fantasy team some big points. At his price, he clearly is worth the investment.
Jim Parsons is a freelance writer who covers the Edmonton Oilers and news and rumors posts here at The Hockey Writers.
You can also catch him writing at NHLtradetalk.com, The Sportster and hosting weekly video casts, THW News and Rumors Rundown, plus Oilers Overtime.
Follow below on any my social media accounts.