Marek Hrivik went undrafted, and signed with the New York Rangers as a free-agent in May of 2012. He played in his first AHL game in that year, and since then, has been quietly growing as a player in the system. Each year the 6'2″ forward has been posting slightly better numbers, until just recently when he found himself called up by the big team, to play in a game against the Detroit Red Wings.
Marek Hrivik on reaction to being called up: "Yeah, there we go. Four years and I'm here."

— Andrew Gross (@AGrossRecord) February 22, 2016
Hrivik was good against the Red Wings despite only playing 7:32, and proved to the Rangers' staff that he was capable of being a depth player for the club. In the following three games, he would play 9:54, 9:04, and 8:47 respectively, posting one assist in that time. With his solid play he seems to have solidified a bigger role within the organization.
Standing Out
It seems to be incredibly difficult for NHL players to set themselves apart from the pact, especially when they play in organizations that are deep. With the Rangers, Hrivik had to not only fight his way past the regulars in the line-up, but also beat out guys in the AHL, like Jayson Megna, and Ryan Bourque (recently traded), to get the opportunity to play in a small role on the fourth-line.
The 24-year-old showed the team that he could be a physical presence, kill some penalties, and that he has some offense in his game. He only had the one assist, and played only a few minutes (3:18) short-handed, but he still seemed to do everything with a certain grace, and strength to make himself noticeable.
After getting Staal, #NYR have sent Marek Hrivik back to Hartford despite strong play on 4th line that resulted in goals & better depth

— Pat Leonard (@PLeonardNYDN) February 28, 2016
A huge attribute that he has, is his ability to hang onto the puck along the wall, and make good clean passes; on this play he did just that, and started a play that resulted in a Rangers goal.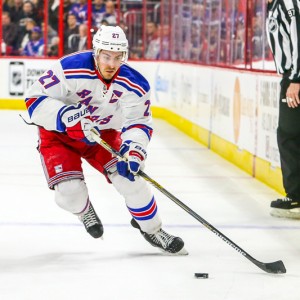 The Rangers' System
A common talking point among Rangers' fans, is  the teams prospect pool; and while I agree that they don't have tons of guys who project to be top-tier elite players, they have proven that they can groom guys to be sound, and consistent professionals. The organization has done an exceptional job of finding skill late in drafts, grabbing talent in minor trades, and putting the players in positions to succeed.
The core of the team is made up of guys who've come through their program. No one came onto the team at 18, ready to tear the league down, instead the players have shown up, and gradually worked their way into bigger roles. Look at the core of the Rangers' defense; Marc Staal, Dan Girardi, and Ryan McDonagh, they've all worked their way onto the club, by first establishing themselves in the lower-levels, and being phased into bigger roles. McDonagh didn't become a top flight defender over night, he learned consistency, and graduated.  Now the next wave of defenders appear to be Dylan McIlrath, and Brady Skjei.
Henrik Lundqvist was a seventh-round-pick that developed into a wonderful goaltender, Jesper Fast was a sixth-round-pick that started as a checker on the fourth-line, but is starting to assume a bigger role, Oscar Lindberg was acquired as part of a small trade, but has become a third-liner whose growing into a larger role everyday. The point is, great players don't have to come out of the top five in the draft, they just need to be developed step by step, with patience.
The Rangers' organization understands that every guy isn't a top-six forward, at least not off the bat; and they've done a good job of making sure that the players in Hartford, can make that smooth transition, and present a well-rounded game at the NHL level.
My Take
I think that the Rangers do a wonderful job of scouting and developing players, and the proof is in the pudding. This is the key reason that the team's been able to find, and maintain consistency. It started with guys like Brandon Dubinsky, and Ryan Callahan, and has continued, with guys like Derek Stepan, and Mats Zuccarello. I think that the team has so much confidence in their scouting, and development, that they feel comfortable trading away picks, hence their willingness to make moves at the deadline.
As for Hrivik, I think that he'll be part of the Rangers' future; he's done some nice things in camp in the past, but now that he's grown into his body, he seems to be a guy that the team could rely on. Throughout the season, New York has been calling up Megna; and Bourque seemed ahead of Hrivik on the depth chart, but after the Rangers' staff went to Hartford to watch a game, they decided that the big Slovakian was the right fit for the time. If he continues to play well in Hartford, I suspect we will see him full-time with the team next season.