As a defenseman, by definition the main job for Marek Zidlicky is to play defense for the New Jersey Devils; but he is one of the more gifted d-men on the team when it comes to moving the puck, creating scoring chances and putting up points. Every team has a player like Zidlicky to varying levels — an offensive defenseman who will have coaches (and fans) saying 'no, no, no…yes!' from time to time. He is unafraid to take chances in the offensive zone and he always is looking to join an up-ice rush to create an odd-man situation.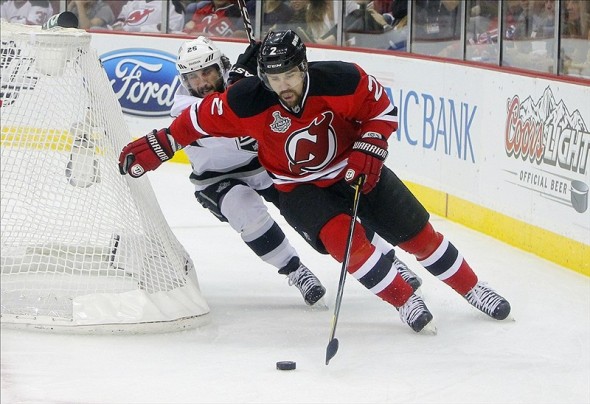 When his gambles pay off the Devils usually score, but if they don't score, chances are the opposition will get an odd-man rush or high quality scoring opportunity because Zidlicky is out of position and at 36-years-old he is just not as fast as he used to be. "If the team needs me to push more offensive or on defense, that is sometimes my decision and sometimes you can feel after the first or second period what you have to do," Zidlicky told the Star Ledger during training camp in September. It's reading the situation."
OFF TO A GOOD START
This season through the first nine games Zidlicky has a team-high seven points (all assists) and has been one of their best players despite only winning once so far (1-5-3). "Zid's been good; when he keeps it simple and plays within himself, he's very effective for us," said coach Peter DeBoer after their only win of the season, a game that Zidlicky had two assists. "(For him) it's just walking that line where he's offensive without being reckless; he knows, he's a smart guy, a veteran guy, he knows when he comes back to the bench and recognizes when he's pushed it a little bit too far. It's nice to have a guy like that."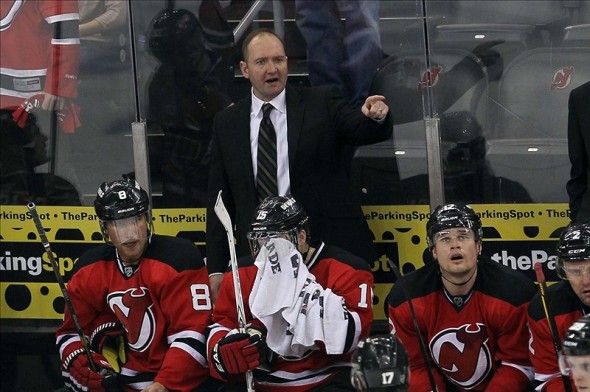 When New Jersey traded for him in 2012, they were hoping he would solidify their defense group and that he did as they came within two wins of the franchise's fourth Stanley Cup. At the time the deal was made it seemed as if the Devils surrendered a lot to the Minnesota Wild, but Zidlicky's performance has made it well worth the price. He and fellow defenseman Andy Greene give the team two offensive-minded d-men that have good shots from the blue line & can play on the power play
A LOPSIDED TRADE?
In the deal Minnesota received Nick Palmieri (currently playing in Germany with Muinch ECH of the DEL), Stephane Veilleux (still with the Wild), Kurtis Foster (currently playing in Russia with Zagreb Medvescak of the KHL), a 2nd round pick in the 2012 draft — Raphael Bussieres (currently in the AHL with the Iowa Wild) & 3rd round pick in the 2013 draft — Eamon McAdam (currently at Penn State University; this pick was traded to and made by the New York Islanders); so basically they got him for a bag of peanuts.
During the 2012 playoffs in the 24 games New Jersey played Zidlicky had 9 points (1g-8a) and he had 43 shots on goal. He was a major player as they eliminated the Florida Panthers, Philadelphia Flyers & New York Rangers before falling to the Los Angeles Kings in six games.
Marek Zidlicky takes a gamble and scores a humongous big goal against Ilya Bryzgalov in the 2012 playoffs:
He knows he is a bit of a riverboat gambler on the ice, but he embraces the role and knows the consequences. "You have to read the situation, but that's my style. That's what I've done my whole life," Zidlicky said during training camp. "If our team needs offensive help, I will be there. If I have to stay on defense, I will do it. I'll battle to get to the Stanley Cup (Finals) like two years ago. That was a good time for me. I want to feel that again."
COMFORT MEANS EVERYTHING
Zidlicky, who is from the Czech Republic, feels comfortable in New Jersey with longtime friend and fellow Czech Patrik Elias on the Devils, who also added two more Czechs this offseason — Jaromir Jagr & Rostislav Olesz. Zidlicky was an unrestricted free agent and could have signed with any team but chose to remain in New Jersey (1 year, $3 million), which has become home for him after spending 4 years in Nashville and then 4 years in Minnesota.
Marek Zidlicky shows some creativity while playing for the Czech Republic vs. Germany in 2011:
Elias is happy to have a player of Zidlicky's caliber on the team, and some one he knows so well. "I've know him since I was 14 years old and he's a great friend to me," the 37-year-old Elias said when the trade was made. "I think that he likes that up-tempo game, the first (defenseman) to pinch in at a certain time, the (defensemen) always involved and I think that's the game we're trying to play. At the same time, defensively, he can have a mean streak to him."
"There were other teams interested but I kept focused on the Devils because I wanted to stay in New Jersey," he said. "I didn't want to talk to other teams. When we had a meeting after last season I said I'd like to stay here. My family liked it and I was happy with the coaching staff and everything."
Marek Zidlicky makes a crucial play to stop Mike Richards during the 2012 Cup Finals:
Many fans have liked to blame Zidlicky for the team's struggles over the past calendar year, but in reality he's been one of their best players and they would likely be a lot worse off without his presence & production on a nightly basis. If the Devils do start to heat up in parts of the next 73 games, you can be assured Zidlicky will be a part of that success with his high risk, high reward style.
Dan Rice can be reached via Twitter: @DRdiabloTHW or via email: drdiablo321@yahoo.com
Dan Rice is in his 9th year of reporting for THW & has covered NJ Devils home games for 15+ years at various websites. He began his journey working for legendary broadcaster/writer Stan Fischler from 2002-04 & completed an internship at the ECHL; he also has been writing features for the NWHL (nwhl.zone) website since 2016.