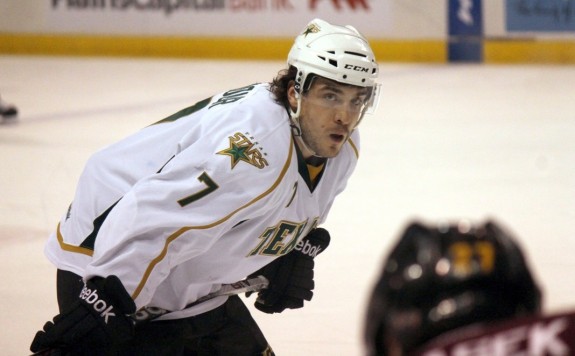 On Wednesday afternoon the news came down that Dallas Stars forward Ryan Garbutt is suspended for five games for his blindside hit to Anaheim Ducks forward Dustin Penner, according to the league's chief disciplinarian Brendan Shanahan and the rest of the NHL Department Of Player Safety.
The decision comes as no surprise, as the NHL has made it clear that such hits are going to be cracked down on more strictly this season.
At first glance, the suspension appears to be just another setback in what has been a disappointing start to the Stars' season. The team currently sits dead last in the Western Conference with an underwhelming record of 3-5, and while Garbutt isn't one of the team's top superstars, he is a reliable depth forward and frequent penalty killer.
However, while losing a regular roster player for five games would normally be seen as a detriment, it could turn out to be a blessing in disguise for this Dallas team.
One of the main issues plaguing the Stars so far this season has been scoring. Outside of the mostly established Top Six, goals have been few and far between. Dallas' other six regular forwards have only accounted for a paltry three goals in their eight games, with one of those goals being scored by Erik Cole during a brief early stint on the top line.
Clearly, something needs to be changed, but recently hired head coach Lindy Ruff has been steadfast in keeping his lines consistent, which is understandable to a certain extent. The newfound first line of Jamie Benn, Tyler Seguin and Rich Peverley is showcasing lots of chemistry and the second line of Cody Eakin, Ray Whitney and Alex Chiasson has shown some flashes of brilliance, so Ruff has been hesitant to mess with those successes. And despite the overall team struggles, Ruff is brand new to the team and is taking as much time as he needs to assess the talent that he has at his disposal.
But with Garbutt now forced to watch the next five games from the comfort of the press box, Ruff will be forced to make some changes, some of which seem like they could provide a possible solution to the team's depth scoring woes.
The Stars have only been carrying 13 forwards as of late, and with Garbutt getting suspended it goes down to 12, with young scrapper Lane MacDermid as the 12th. Also announced on Wednesday was the Stars' decision to waive veteran defenceman Aaron Rome, who was the team's 8th defender.
While the team has yet to announce whether or not Rome will be assigned to the AHL's Texas Stars if he clears waivers, the move appears to be made with the intention in mind of recalling another forward up from that same Texas team.
And when it comes to bringing in talent from the AHL, there's no better time than now for Dallas.
The Texas Stars are currently 1st in the AHL's Western Conference with a sparkling record of 5-1-1, and are sitting there thanks in large part to the play of three forwards: Travis Morin, Colton Sceviour, and Chris Mueller, all of whom have made very strong cases for themselves that they deserve some time in the NHL, and all of whom could help provide some much-needed depth scoring relief.
Morin is, hands down, riding the most momentum out of the three. His stat so far is a scorcher: eight goals, nine assists and a plus-minus rating of a +10, in just seven games played. His 17 points are by far and away tops in the AHL right now, and helped him recently come away with AHL Player Of The Week honours. Even though Morin is older than most of his teammates at 29 years old and wasn't given many chances to prove himself during Dallas' training camp and preseason, it's impossible to not consider the possibility of a call-up when a player is dominating at such a high level.
Mueller started the season in Dallas, playing in the team's season opening 4-2 loss to the Florida Panthers, but was sent down to the AHL right after because of Rich Peverley returning from the injured reserve. The 27 year-old Mueller has 38 games of NHL experience, mostly from his last few seasons in the Nashville Predators organization, and looks every bit of being an NHL-caliber player, scoring eight points in the four AHL games that he's played this season.
Sceviour hasn't played a game for Dallas yet this season, but wasn't far off, losing out on the final forward roster spot to Mueller at the start of the year, thanks in large part to an impressive hat trick, four point performance that he recorded during the preseason. He has seven goals and four assists so far this season, and also led the Texas Stars in scoring last season with an impressive 52 points. Sceviour is the youngest of the three at age 24, so that room to grow could help his chances of getting called up to Dallas.
What's more, even if the Stars decide to try to fill the hole that Garbutt left from within, it could also lend itself to better results. With Garbutt gone and the bottom lines thinning out, Ruff might try to cycle one of the top six forwards down a line or two to balance out the scoring. Would a Peverley or an Eakin playing on the third line help boost offensive production? It's certainly possible, and could be something that remains intact if the top two lines can find some way to continue producing without them.
One way or another, Stars fans have become restless about their team's 3-5 start, and have been calling for some sort of change. While losing a player to a suspension might not be an ideal situation to necessitate such a change, it could somehow find a way to be the blessing in disguise that this team so badly needs right now.
Derek Neumeier primarily covers the Dallas Stars, but also other various topics related to the sport of hockey. A Journalism graduate of Mount Royal University, Derek also writes for Defending Big D, and has done previous work with the Edmonton Oilers as a communications intern and Hockey Canada as a freelance writer. You can follow him on Twitter at @Derek_N_NHL