When it comes to the most dominating forward lines in the NHL, a few celebrity names come to mind.  Namely, Crosby's line in Pittsburgh, the Toews and Kane line in Chicago and the Sedin twins up in Vancouver.  But there's a new troop in town that has utterly embarrassed the competition so far.  The Thornton line in San Jose.  Comprised of captain and center Joe Thornton flanked by the soon-to-not-be-hairy Brent Burns and the always smiling Tomas Hertl, the Sharks have enjoyed beautiful play from the Thornton line.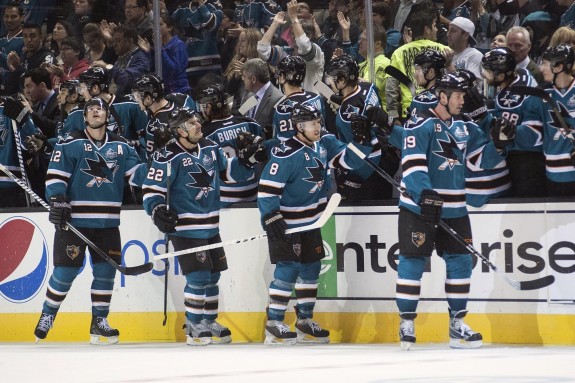 Thornton Line Producing Early and Often
They are currently the second-best line in the entire league in terms of points produced.  With a +24 through nine games and a combined total of 29 points, this line is right up there with Sidney Crosby and whoever benefits from playing next to him.
They boast a balance of speed, grit, and hockey IQ that makes just about any opponent a mismatch.  The Thornton line enjoys confident playmaking and balance from their center every night.  Jumbo usually starts with a faceoff win as he is once again averaging over 50% at the dot.  Brent Burns brings in a physically bruising, yet talented forecheck that keeps defenses spread out.  And of course, the youngster brings in the sharpest shot of the three.
Hertl Far Exceeding Expectations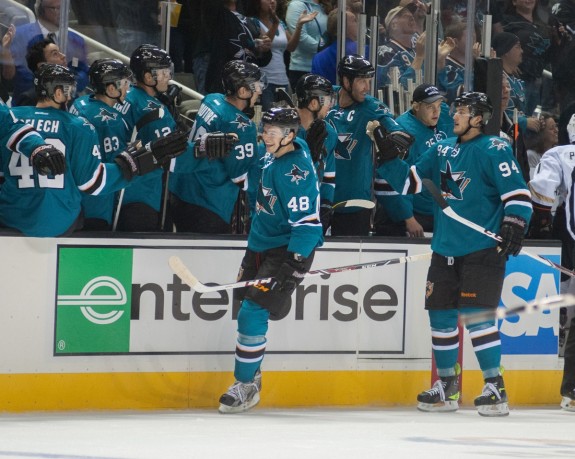 The headlines during the preseason for Tomas Hertl were more about if he could thrive in the NHL.  Having never played in North America prior to this season, some doubted he would even make the squad.
A quick six goals will put an end to all that.  While there was never any doubt that Hertl was talented, it was not expected to see this kind of a surge to start the season.  His captain has led him very well and has had a hand in many of his goals so far.
But it definitely is not a one-way street.  What the Sharks  have lacked in the past is a lovable personality as a team.  Watching Sharks games was great if you were one of their fans, but neutrals had nothing really to root for.  There was no feel-good story about them.  The teenager has energized the entire team.  The game has become fun.  Even normally composed captain, Joe Thornton, is making comedic statements (even if they are a bit crude).
The Energy is Back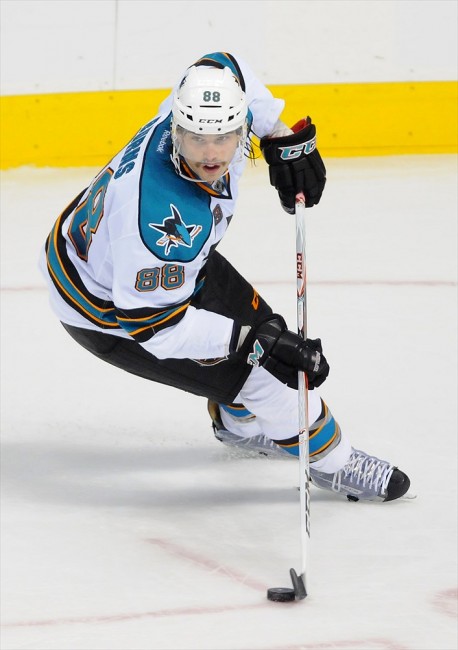 Late last season, Joe Thornton looked flat.  The fight seemed to fade out of his eyes a little.  Todd McLellan came to the rescue of his captain.  The infusion of Brent Burns into the Thornton line along with then-Shark TJ Galiardi brought a smile back to Jumbo's face.  While the speed of his youth has all but left Joe Thornton, his partners picked up the slack.  Burns' high-octane forecheck opened up the ice and gave Joe more opportunities to feed his teammates.  And TJ Galiardi brought maximum effort to every play as he crashed the net for rebounds.
This year, Burns is still up to his old antics.  He has displayed a knack for finding the puck in space and making every clearing attempt a nightmare.  The obvious upgrade comes from rookie Tomas Hertl.  Smiling during every play, mainly because he doesn't speak English yet, he brings a youthful zest for the game.  And, as corny as it sounds, that smile is infectious.  His speed and skill have made this line not just an energetic puck possession line, but a major scoring threat.
This line has proven that it can hang with the best in the league.  They are brimming with confidence right now and it only seems like they will get better as the lines below them continue to make matchups a nightmare.  Thornton's CF% (an indicator of puck possession) hovers above 65%.  With these two on the ice with Jumbo, the line maintains the offensive zone for 65% of their shifts.  To put that into perspective, Sidney Crosby's line (paired with Pascal Dupuis and Chris Kunitz) maintain a CF% around 63%. That's right,  Joe Thornton dominates his shifts more than Sidney Crosby right now.
The NHL regular season schedule was released on Friday. Check out our partners at TiqIQ for the best deals on San Jose Sharks tickets for all 2013-14 games.
Kenneth is a graduate of the University of San Francisco in Politics and Chemistry. But his passion in life has always been hockey. He has played since he was four and even coached a few teams. Kenneth writes for the San Jose Sharks at thehockeywriters.com