Marian Hossa has played in parts of 18 NHL seasons, spanning between 1997-2015, while representing five different teams.
Over that time, Hossa has tallied 490 goals and 1066 points in 1194 career regular season games. He has also had quite the postseason career, scoring 49 goals and 144 points in 194 games. He has racked up three Stanley Cups in his time, appearing in two other Cup Finals.
It wasn't until July of 2009 that Hossa decided to sign in Chicago at the age of 30. The Blackhawks signed him to a massive 12-year, $63.3 million contract, coming with an annual cap hit of $5.275 million, that will last until Hossa is a 41-year-old.
This season marks the halfway point of that contract, and both parties have to be happy with the results so far. Three Stanley Cups in a matter of six years, creating arguably the NHL's first dynasty in over three decades. But it is going to be the second half of the contract that may turn sour for the Blackhawks and their salary cap situation.
Marian Hossa Is Finally Running Out Of Gas
Hossa has scored no less than 60 points in any season that he had played more than 65 games since 1999-2000. In that time, his lowest points per game in any season came in his sophomore year, when he scored 0.717, and last year, when he scored 0.744 points per game.
However, this season has been a different story. Through approximately a quarter of the year, Hossa has scored just four goals and 10 points. That puts him on pace for a grand total of 15 goals and 37 points in 2015-16. His goal total would be tied for the lowest in his career, including many shortened seasons; and 37 points would be better than only his rookie year, but his points per game would be the lowest ever.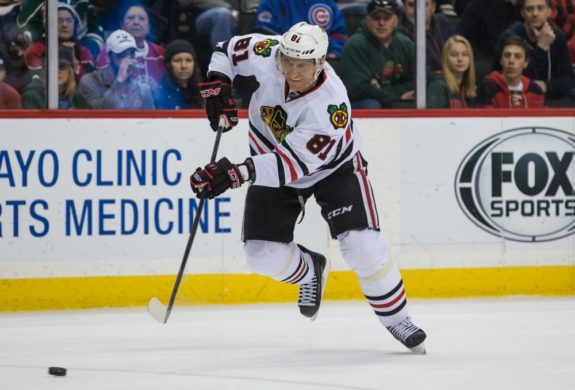 It should be mentioned that Hossa has been producing a little more efficiently lately, with six points over his last nine contests. But regardless, he is now 36 years old, and any year now he is expected to begin to put up fewer points and play less each night. Unless, of course, he goes on a miraculous Jaromir Jagr like run, but that seems to happen only once in a generation.
With the idea of time on ice, Hossa has been averaging 17:13 minutes of ice time per game in 2015-16. That is a relatively low number compared to the 18:33 he got each night in 2014-15. The last major decline came after the 2011-12 season, at the age of 32, when he lost almost two minutes a game, from 19:57 to 18:03.
When considering the potential decline of Marian Hossa, his contract is one of the first things that comes to mind. He is signed for another five years after this. With the Blackhawks annually trying to squeeze under the salary cap, Hossa's $5.275 million cap hit could become a serious problem.
Blackhawks May Need To Consider a Buyout
The Blackhawks can look at Hossa's 2015-16 campaign in one of two ways. He began the year on a slump, with four points in the first 13 games. Or, his age is beginning to set in, and he is no longer the threat in all situations that he used to be. They had better hope that it isn't the latter option.
Looking ahead to the 2019-20 season, when Hossa will be 41 years old for the second half of the year, the Blackhawks have $49,238,462 already tied up in salaries for just seven players.
The cap limit is currently at $71.4 million, up $2.4 million from last year. If we add that same amount until the 2019-20 season (just for a rough estimate), more than enough to be realistic, the salary cap would be $81 million. Then, the Blackhawks would have about $31.761 million to sign the remaining 16 players to fill out their roster, assuming they do not sign another player to a long-term deal before them. That would leave them less than $2 million per player, on average.
If that is going to be the case, then Hossa will likely be GM Stan Bowman's first choice for a buyout, if one became necessary. That potential buyout would very likely come within three or four years of now, in order to make it efficient for clearing cap space.
Of course, if they were to buy him out, there would also be recapture penalties which would limit the cap space being cleared by said buyout. Once again, this is just a hypothesis of what could possibly occur if Hossa's production continues to steadily decline.
So, to sum up, if Hossa continues on a slight decline for the next several seasons, you can expect talks of a buyout to pick up. Depending on how valuable he is at that time remains to be seen. One thing is for sure though, the Blackhawks simply cannot afford to have Hossa on their team if he is no longer producing at a top-six level.
It is the sad truth that comes with signing players into their 40s, but the Blackhawks had to accommodate for that in order for Hossa to sign there. In the end, they have already captured three Stanley Cups together through six years, and remain one of the top contenders in the league. That in itself makes this contract a success, regardless of what happens as Hossa ages.
Do you think Hossa is nearing the end of his career? Share your opinion in the comments section below!